Class 3A: Sky Pointe advances to title match in first season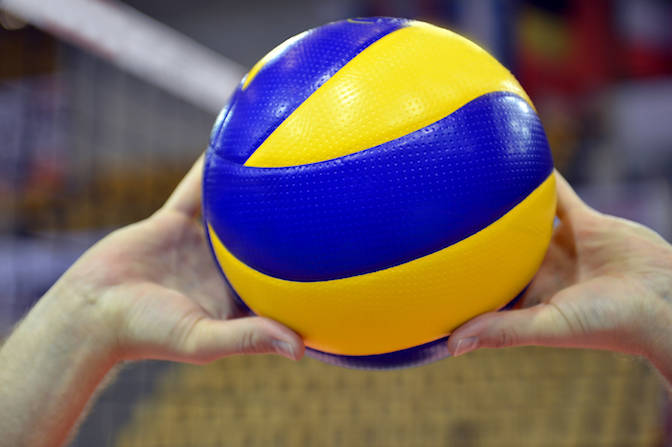 The Sky Pointe boys' volleyball team is one step away from pulling off one of the rarest achievements in sports – winning a championship in its inaugural season.
Sophomore Jaegen Driscoll recorded 27 kills for the Eagles as they swept the host Cheyenne Desert Shields 25-19, 25-20, 25-21 in a Class 3A state semifinal match. The Desert Shields defeated the Eagles twice in three matchups during the regular season.
"It feels great. It is a really big accomplishment for our school to do this in our first season and come out playing for state," Driscoll said. "(Tuesday night) we were talking to each other and just putting in hard work."
While making it to the state title match is impressive in any season, the second-seeded Eagles (21-8) had to build from the ground up. Head coach Kristi Driscoll said she had to teach her team how to play the game. Her lesson plans worked as Sky Pointe won nine straight matches.
"I had a good base with two players from club teams," Kristi Driscoll said. "The rest of my team stepped on the volleyball court for the first time on the first day of practice. It has been a building process. I taught them baby steps, baby steps, baby steps, and we built on it. I was also lucky to get some pretty awesome athletes."
The Eagles dominated from the start jumping out to a 9-2 lead in the first start against a surprised Cheyenne team. The Desert Shields, who played for the state title last season, eventually recovered from their slow start to cut the Eagles lead to 24-19. However, Brayden Dorsey recorded a kill to give the Eagles the first-set win.
The second set was more of the same.
The Eagles jumped out to an early 11-7 lead. The Desert Shields were finally able to mount a rally, cutting into Sky Pointe's lead at 20-19. Then, Jaegen Driscoll took over as he recorded four of his kills in the final points of the set to give the Eagles a 2-0 lead.
"And he's a sophomore," Kristi Driscoll said. "That's what's scary is that he's a sophomore. He just is unstoppable."
Cheyenne (17-18) appeared to regain its momentum in the third set, jumping out to a 3-0 lead, but the Eagles quickly recovered.
"The difference tonight is we served," Kristi Driscoll said. "The times that we played them before we didn't serve well, and we didn't pass well. The two things that got us going tonight were serving and passing."
Carson Driscoll dished out 42 assists, and Jaden McFarlane had eight digs for the Eagles.
Ryan Buchanan and Anthony Walker each had 12 kills to lead the Desert Shields, and teammate Brian Orellana dished out 31 assists.
The Eagles will now face Mojave (23-8) for the title at 5 p.m. on Thursday at Arbor View.
"We have to come out, push points, be loud, and most of all we have to play defense and get passes," Jaegen Driscoll said.
Mojave 3, Del Sol 0 — Daronde McKinney had 12 kills, two aces and four digs to lead the Rattlers (23-8) back to the Class 3A state title game with a 25-19, 25-21, 27-25 sweep of the Dragons in the other semifinal.
Bobby Rodgers had five kills, and Nathaniel Arredondo dished out 35 assists for the Rattlers, who will play for a fifth straight state title Thursday night.
Alejandro Marin had 10 kills, eight digs and two blocksto lead the Dragons (18-18).
Tyrell Hampton had six kills and two blocks, Alan Ramos-Flores had three kills, 18 digs and 11 assists, and Angel Vargas had three digs and 11 assists for Del Sol.
Box scores: