Roundup: Lehi Ausage powers Patriots past Silverado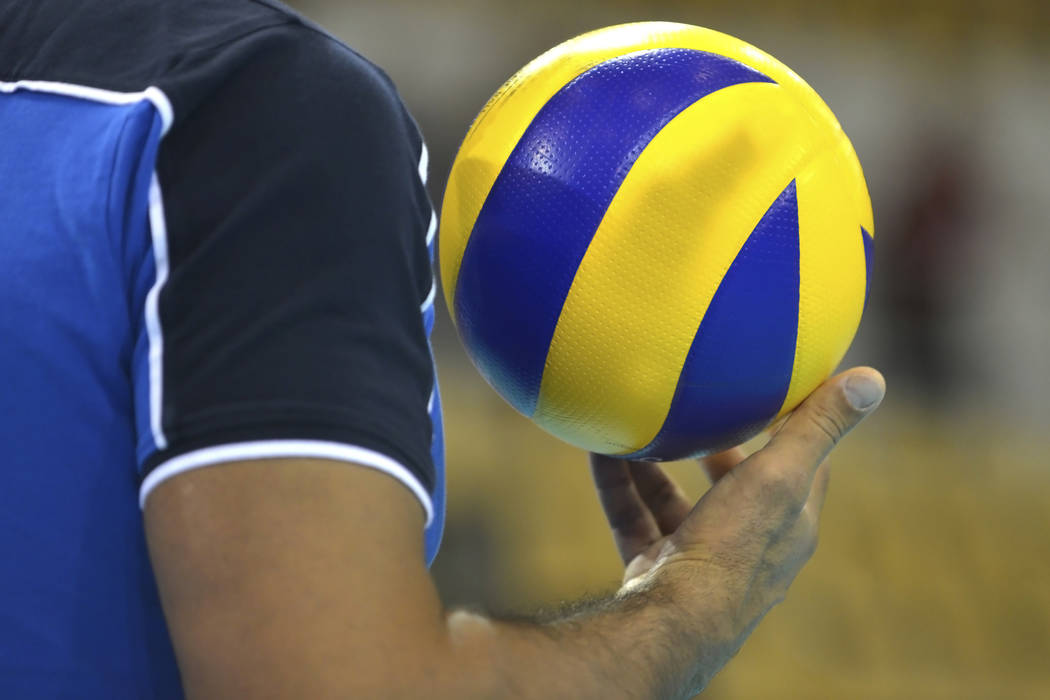 Liberty's Lehi Ausage had 14 kills Thursday to lead the Patriots to a 25-20, 20-25, 26-28, 25-22, 15-11 boys volleyball win over host Silverado.
Martin Velasco had 35 assists and eight aces for Liberty. Seth Monterde had 19 digs, and Atapana Malele-Faaifo had 29 assists and seven aces for the Patriots.
Tyler Olson led the Skyhawks with 19 kills and 11 assists. Jon Francis added 13 kills, and Dillon Marshall had 25 digs for Silverado.
Green Valley 3, Las Vegas 1 — At Green Valley, Kyle Cronic had 17 kills and three aces to lead the Gators past the Wildcats, 25-20, 21-25, 25-22, 26-24.
Kyle Webbb had 10 kills, four digs and three blocks, and Tanner Wenner had five blocks for Green Valley.
Shaun Kampshoff had 21 kills and 14 assists to lead Las Vegas.
Leander Gates had nine kills and 12 digs, Ashton Barney had 20 digs, and Kevin Sweitzer had 19 assists and 18 digs for the Wildcats.
Sunrise Mountain 3, Western 0 — At Sunrise Mountain, Emerald Acasili had 11 kills and 12 digs to lead the Miners past the Warriors, 25-13, 25-21, 25-23.
Charles Thomas had three kills and two aces, and Tee Williams had three kills and three digs for Sunrise Mountain.
Jason McCoy had three kills and three aces to lead Western. Bernard Jimenez-Pascual dished out 13 assists for the Warriors.
Foothill 3, Eldorado 0 — At Eldorado, Tanner Lester notched seven aces, six digs and six kills to help lead the Falcons to a 25-13, 25-14, 25-16 win over the Sundevils.
Richard Reid had 12 kills, and Caleb Stearman added 17 assists for Foothill.
Dahlton Stack provided four kills and four digs, and teammate Anthony Tolentino had six digs to lead Eldorado.
Valley 3, Canyon Springs 0 — At Canyon Springs, Isaac Frazier had 10 kills to power the Vikings to a 25-16, 25-20, 29-27 sweep of the Pioneers.
Mel Dinogan added six aces for Valley.
Sho Hampton supplied 25 assists, and Sirron White had nine kills to pace Canyon Springs, which got seven digs from Oscar Marquez.
Rancho 3, Boulder City 0 — At Boulder City, Brennan Berti had 12 kills to lead the Rams to a 25-12, 25-15, 25-20 win over the Eagles.
Jesus Gonzalez added 26 assists, and teammate Sergio Delgado had six kills for Rancho.
Preston Jorgensen led Boulder City with 10 kills and two blocks. Dylan Leasure added four kills and 11 digs, and Boen Huxford had two kills and 12 assists for the Eagles.
Sky Pointe 3, Del Sol 0 — At Del Sol, Carson Driscoll had 19 assists to lead the Eagles to a 25-15, 25-14, 25-19 sweep over the Dragons.
Jaegen Driscoll supplied 13 kills, and Jaden MacFarlane added four kills for Sky Pointe.
Alan Ramos-Flores had 10 assists, and teammate Alejandro Marin notched seven kills to pace Del Sol.
Mojave 3, Desert Pines 0 — At Desert Pines, Daronde McKinney and Tredall Blanchard-Davis each had six kills to lead the Rattlers past the Jaguars, 25-16, 25-14, 25-12.
Nathaniel Arredondo added 12 assists for Mojave.
Coronado 3, Basic 2 — At Basic, the Cougars beat the Wolves, 25-23, 22-25, 25-19, 18-25, 15-8.
Skylar Freitas had 14 kills for Basic.
Chaparral 3, Tech 0 — At Tech, the Cowboys coasted to a 25-14, 25-22, 25-16 win over the Roadrunners.
Abraham Garcia had 11 digs for Tech.
Box scores: