'Incredibly hesitant': Nevada lawmakers question A's ballpark backers
Updated June 8, 2023 - 10:09 am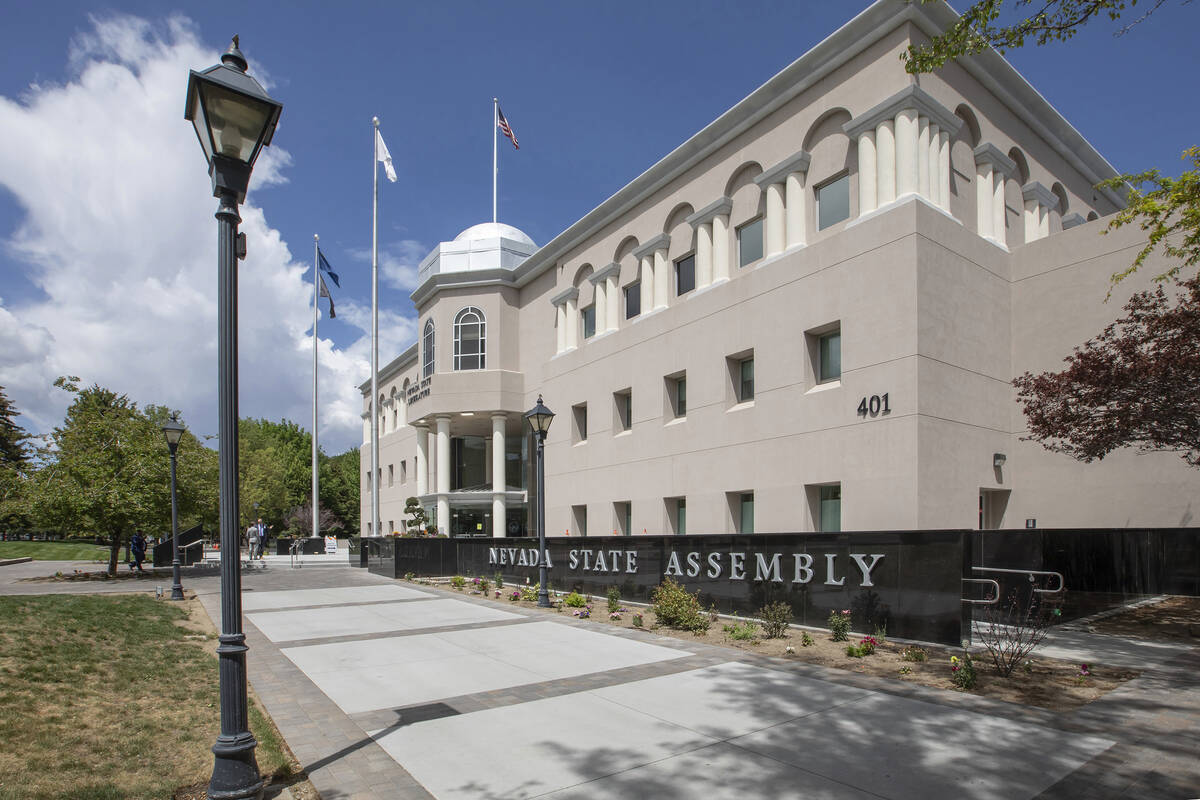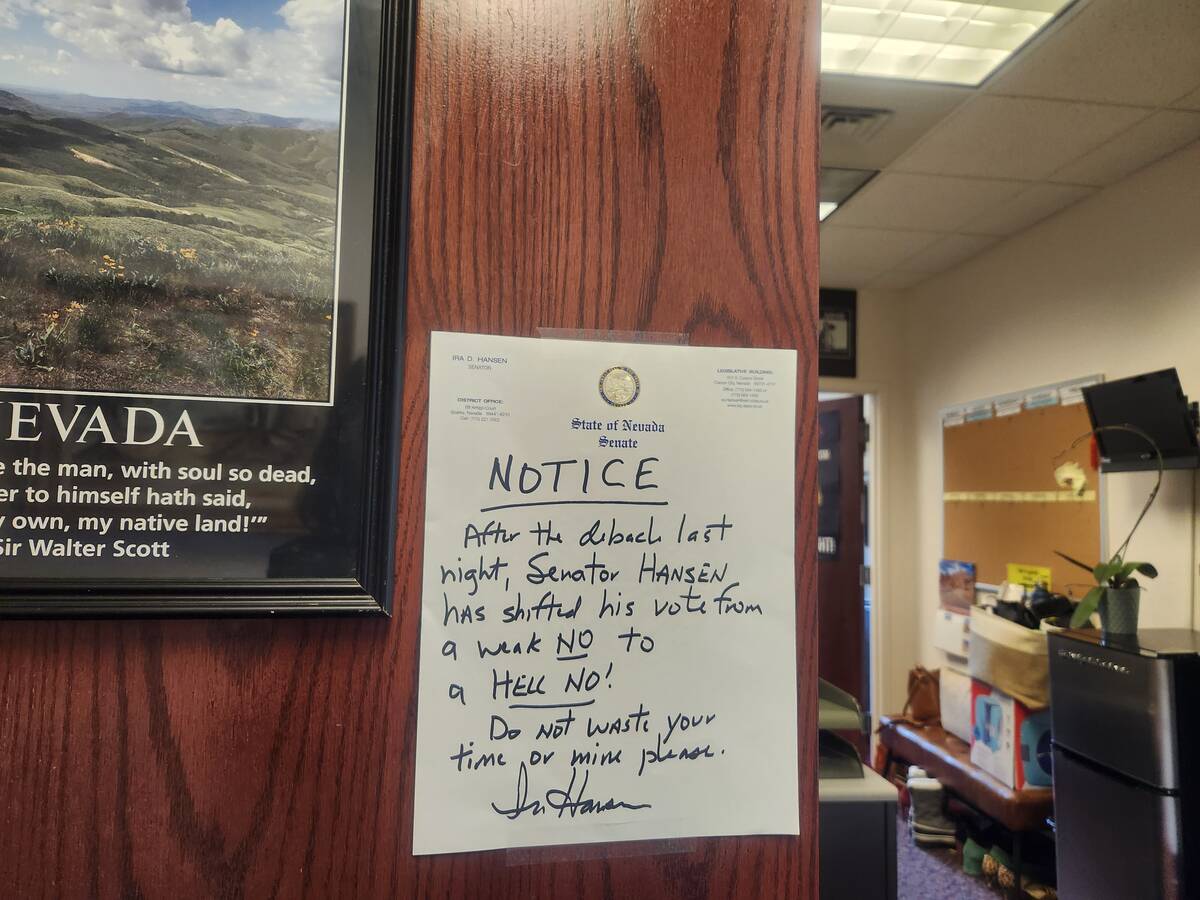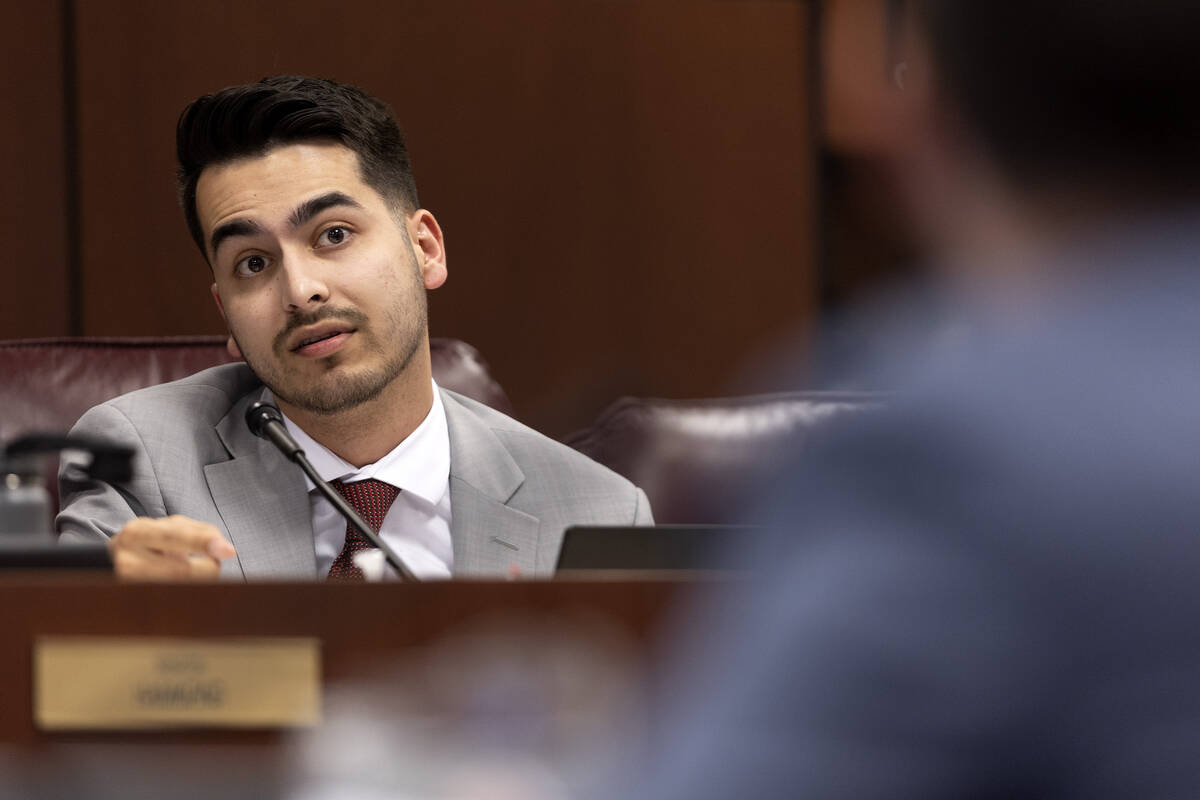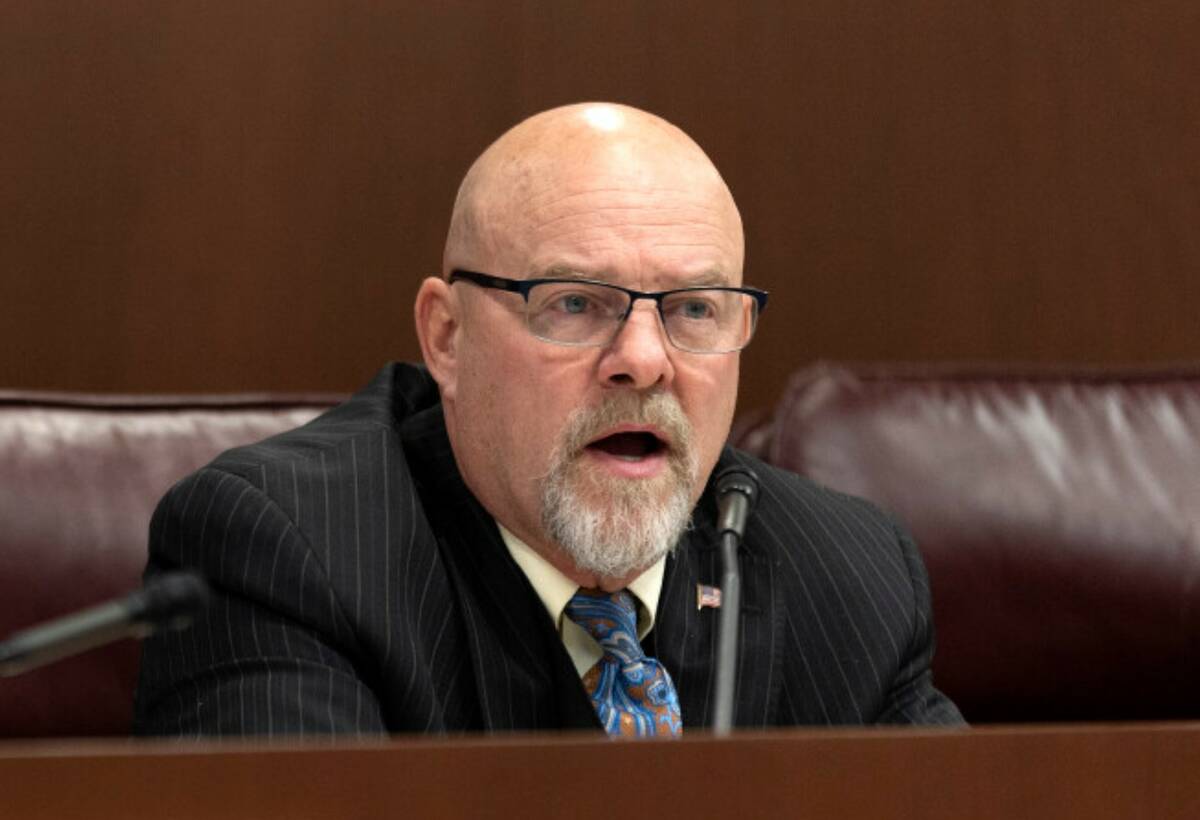 CARSON CITY — Oakland Athletics President David Kaval and other supporters of a proposal to build a $1.5 billion baseball stadium in Las Vegas fielded dozens of questions from lawmakers during a hearing on the Senate floor Wednesday.
Fresh off the regular session that ended Monday, and a special session that lasted just a couple of hours on Tuesday, senators on both sides of the aisle expressed frustration and concerns about the bill, which would provide up to $380 million in public funding for a 30,000-seat, partially retractable roof stadium.
Lawmakers directed their questions to A's leadership, Las Vegas Convention and Visitors Authority CEO Steve Hill and Applied Analysis analyst Jeremy Aguero during a special session of the Legislature. The hearing ended late Wednesday without a vote, which could take place Thursday. The Senate is scheduled to reconvene at 11:30 a.m. Thursday.
"I just want to get this correct," said Sen. Rochelle Nguyen, D-Las Vegas. "You called us in here for a special session and are asking minimally for the state to give you all $36 million per year for the next five years for a taxpayer funded stadium at the same time that the governor has vetoed funding for summer school, a bill to support children's mental health, a bill requiring paid family leave all because the governor said we couldn't afford it?"
Other lawmakers, such as Sen. Edgar Flores, pushed presenters on how the community would benefit from the A's relocation to Southern Nevada.
"We are incredibly hesitant," Flores said, referencing previous promises made when the Raiders came to Las Vegas that he said were not fulfilled.
He asked what community benefit programs were done in Oakland, and suggested investing in more community benefits in a potential partnership with Nevada, including more donations to food banks, scholarships and little league clinics.
"We ask for just a little bit more buy-in," he said, "extending our hand with a firm foundation of commitments in this actual bill that extend beyond just saying 'community benefit program.'"
Catherine Aker, vice president of communications and community of the A's, explained the different community benefits the team has given to Oakland, including working with 1,600 organizations and 56 little leagues in California.
Flores asked why those commitments could be guaranteed by adding it to the bill, but Steve Hill said many of those commitments would be "extremely problematic" to include in statute.
Sen. Fabian Doñate, D-Las Vegas, asked Kaval if the A's would commit to paying the live entertainment tax on baseball games, although sporting events are generally exempt. After initially dodging the question, Kaval said the bill doesn't provide for the A's paying that tax.
"This project is not without risk. It is not without risk for the A's. It is not without risk for the state of Nevada," Aguero said. "I do believe the ballpark will be iconic and the ability to draw folks, that will gravitate them."
Sen. Marilyn Dondero Loop, D-Las Vegas, said "a few" amendments are in the works, but didn't provide further details.
Sports capital
Hill said adding the A's would be the next phase in cementing Las Vegas as the "Sports and Entertainment Capital of the World," as the convention authority has coined in an ad campaign.
"The message that it sends when these professional sports leagues choose our city and highlight our city," Hill said. "We get better marketing from having these events, these teams, than we could ever afford to possibly buy. That value is not in the numbers either."
"This is another huge step in creating that image, that environment, that reality, and we are separating ourselves from other cities, so we can become more permanent, more stable," Hill said. "I think that's important as well."
Culinary Union, MGM in support
Several groups supported the proposal, including the Culinary Union, MGM Resorts International, Las Vegas Chamber of Commerce and scores of unions.
"We believe their relocation to Las Vegas would cement our destination status as the premier sports and entertainment destination in the world," MGM Resorts Vice President of Government Affairs Jason Gray. "A major league baseball stadium to bring material positive economic impacts to state and local governments and to the resort corridor."
The Progressive Leadership Alliance of Nevada and Battle Born Progress testified in opposition to the bill.
"This deal will leave taxpayers on the hook because, as you heard, there are no new revenue sources backing bonds. I don't care how anyone tries to spin this," said Battle Born Progress Executive Director Annette Magnus. "If this team wants to build a stadium, their billionaire owner can build it with his own money."
Many other Las Vegas residents also stayed up late to speak in opposition, arguing that there are more pressing matters public funds should support.
"There's no reason to take this risk, said Declan Pastorino, a Las Vegas resident. "We have bigger priorities. We have mental health problems, education, affordable housing, public transit. I mean, you've heard all of it, we know what we need, and we don't do it."
'HELL NO!'
On Wednesday before the hearing, Sen. Ira Hansen, R-Sparks, posted a notice on his office door.
"After the debacle last night, Senator Hansen has shifted his vote from a weak NO to a HELL NO! Do not waste your time or mine please," read the note, which was signed by the Sparks Republican.
Hansen was upset with Democratic legislators for not funding pay raises to public charter school teachers on Tuesday night during the special session.
Gov. Joe Lombardo issued the A's stadium proclamation on Tuesday, just after lawmakers adjourned their special session to approve a capital projects budget that was left unfinished after Monday's midnight deadline.
During the regular session, the A's bill had a single, five-hour hearing before the Senate Finance and Assembly Ways and Means Committee concerning the plan, known as Senate Bill 509. But because the regular session ended without a vote, the matter had to be re-heard.
The bill would allocate $180 million from the state in transferable tax credits, of which $90 million would be repaid via a sports entertainment improvement district set up around the 9-acre stadium site. Clark County is contributing $145 million; $120 million would be generated by the tax district and $25 million would go toward infrastructure improvements.
Gaming and Leisure Properties Inc., which owns the 35 acres on which the Tropicana is situated, would transfer the ownership of nine acres to the A's. Following the construction of the stadium, the A's would transfer ownership of the land and ballpark to the Las Vegas Stadium Authority, making it a publicly owned facility.
Hill said there are approximately 20,000 parking spots in the parking garages in four properties near the ballpark that will be available.
Still fighting for A's
As the session began, Oakland area politicians let it be known they are still fighting to keep the team in the Bay Area.
Oakland Mayor Sheng Thao has said numerous times that the city and the A's were close to a deal and that she is open to restarting negotiations with the MLB club.
"We want the Oakland A's here. I'm fighting for the Oakland A's," Thao said in an emailed statement on Wednesday. "The fans are fighting for the Oakland A's. And why not here in Oakland where it's diverse, one of the most diverse cities in the nation? And I know MLB has this great concept of wanting to diversify. We deserve a baseball team. And we want the Oakland A's to be rooted here. Whether it's with this current ownership or with the new ownership."
California Congresswoman Barbara Lee on Wednesday also joined in the effort to sway the A's to stay in Oakland, sending a letter to MLB Commissioner Rob Manfred, urging him to limit the league's involvement in the team's relocation process.
"Many of my constituents in the East Bay and I are increasingly frustrated with the continuing apparent failure of the team and Major League Baseball to deal in good faith with local government agencies," Lee wrote in the letter. "The City of Oakland and Alameda County have been home to the A's for five and a half decades. Multiple generations of Oaklanders have grown up identifying with the team's dogged efforts and hard-earned triumphs. The A's organization adds significant tangible economic benefit to our region, including numerous good-paying jobs at Oakland Coliseum."
Lee specifically highlighted the notion that MLB would waive the relocation fee should the A's funding bill be approved by Nevada lawmakers.
"MLB's continued active encouragement of the A's abandonment of Oakland and the East Bay runs counter the rationale supporting MLB's century-old exemption from federal anti-trust law," Lee said in the letter. "I ask you to reconsider efforts to subsidize or otherwise encourage the relocation of the Oakland A's out of the East Bay."
Lee is also considering exploring legislation to address the MLB's antitrust exemption relating to franchise relocation.
Contact Taylor R. Avery at TAvery@reviewjournal.com. Follow @travery98 on Twitter. Contact Jessica Hill at JeHill@reviewjournal.com. Follow @Jess_hillyeah on Twitter. Contact Mick Akers at makers@reviewjournal.com or 702-387-2920. Follow @mickakers on Twitter.
A previous version of this story misidentified Senate Bill 509.