Despite loaded roster, losing All-Star guard still a blow to Aces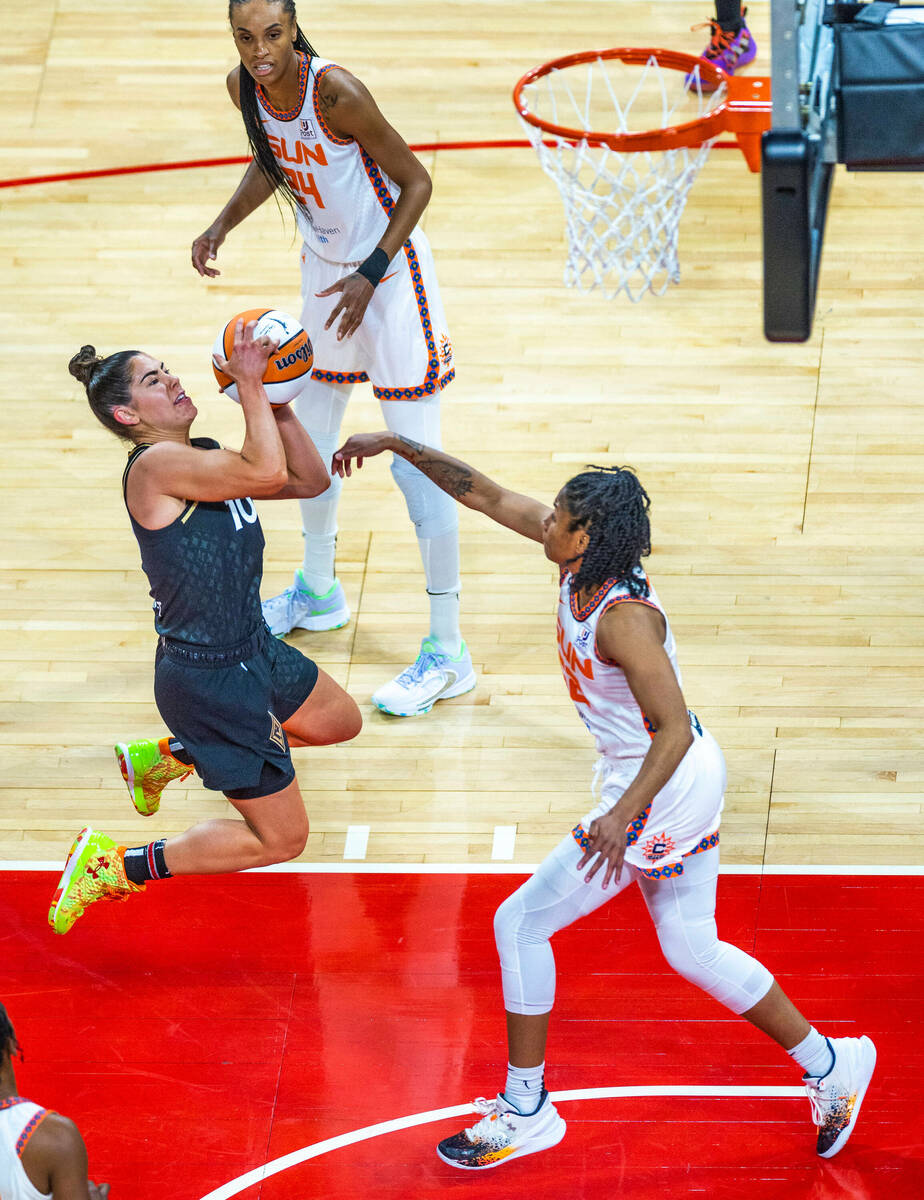 Becky Hammon is certainly spoiled with options.
Not many coaches in the WNBA can lose an All-Star guard like Kelsey Plum for a game and simply pivot to any of the other three All-Stars in her lineup.
However, the Aces certainly missed Plum during Wednesday's 89-82 win against the Dallas Wings at Michelob Ultra Arena. The 2022 first-team All-WNBA guard was a late scratch because of a non-COVID illness.
The Aces (16-1) and the Wings (8-9) will rematch at 5 p.m. Friday at College Park Center in Arlington, Texas.
An Aces spokesperson told the Review-Journal on Thursday that Plum is traveling with the team and is expected to be listed as questionable for Friday.
"She's different," Hammon said. "I'm not just talking with our group. She's different from any other athlete I've ever seen, male or female. She's just cut from a different cloth."
Plum's absence Wednesday meant the Aces were forced to change their starting lineup for the first time this season.
The game was also a reminder of how remarkably healthy the team has been since Hammon arrived in 2022. The Aces' only notable injuries during their championship season were Riquna Williams' early season foot injury and Dearica Hamby's knee injury, suffered shortly after Hammon moved her to the bench late in the season.
While the Aces still pulled out the win against Dallas, the game was a good reminder of exactly what Plum brings to the team. Hammon said the Aces' offense didn't look as fluid against Dallas, in part because the Aces missed Plum's ability to attack closeouts and find kickouts to 3-point shooters at the rim.
"We kind of had to win differently," Hammon said.
The Aces' roster is undoubtedly filled with stars, but part of their success has come from the fact that they all bring something different to the team.
Hammon's All-Star backcourt is a good example. The coach said All-Star guard Chelsea Gray is a master of pick-and-roll offense, analyzing the court from the top of the key. Plum's unique combination of speed and shooting, and her probing approach to playmaking, has been a perfect complement to Gray's slower, methodical approach this season.
"The combination of the two of them, a lot of times you have to game-plan and prepare for a lot of different things," Hammon said.
Already missing Plum and Williams, who has yet to make her season debut while battling a lower back injury, the Aces almost suffered two more injuries against the Wings.
Two-time MVP Candace Parker went down holding her right ankle after colliding with Dallas guard Crystal Dangerfield while leading a fast break midway through the second quarter and hobbled off the court. She returned two minutes later and finished the game.
Then, All-Star wing Jackie Young caught an elbow to the face from teammate A'ja Wilson while running a pick-and-roll with less than a minute remaining in the third quarter. Young spent a significant amount of time on the floor before leaving, though she also returned.
Contact reporter Andy Yamashita at ayamashita@reviewjournal.com. Follow @ANYamashita on Twitter.
Up next
Who: Aces at Wings
When: 5 p.m. Friday
Where: College Park Center, Arlington, Texas
TV: ION
Radio: KKGK (1340 AM, 98.9 FM)