51s first baseman Dominic Smith waits for call from New York Mets
August 2, 2017 - 10:07 am
Updated August 2, 2017 - 5:08 pm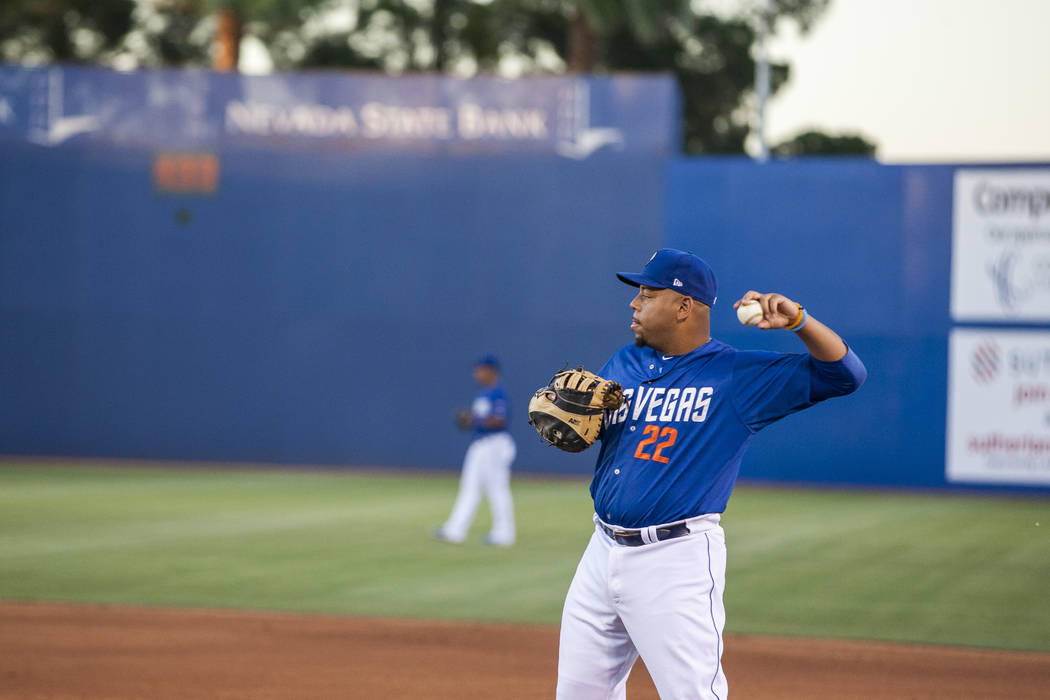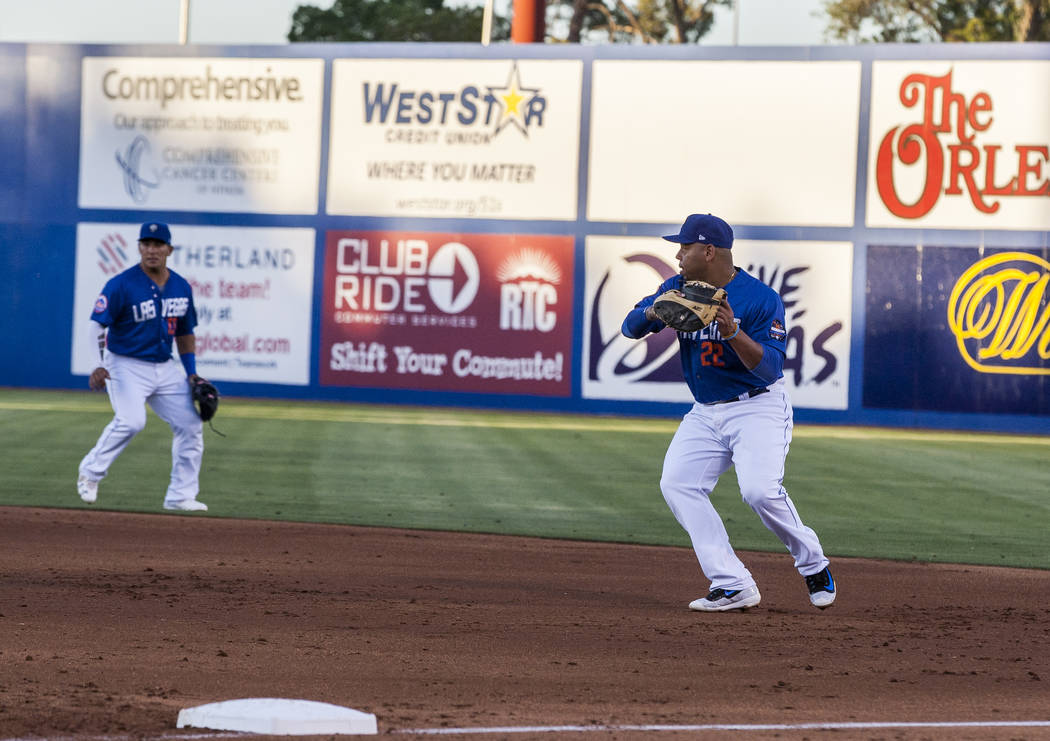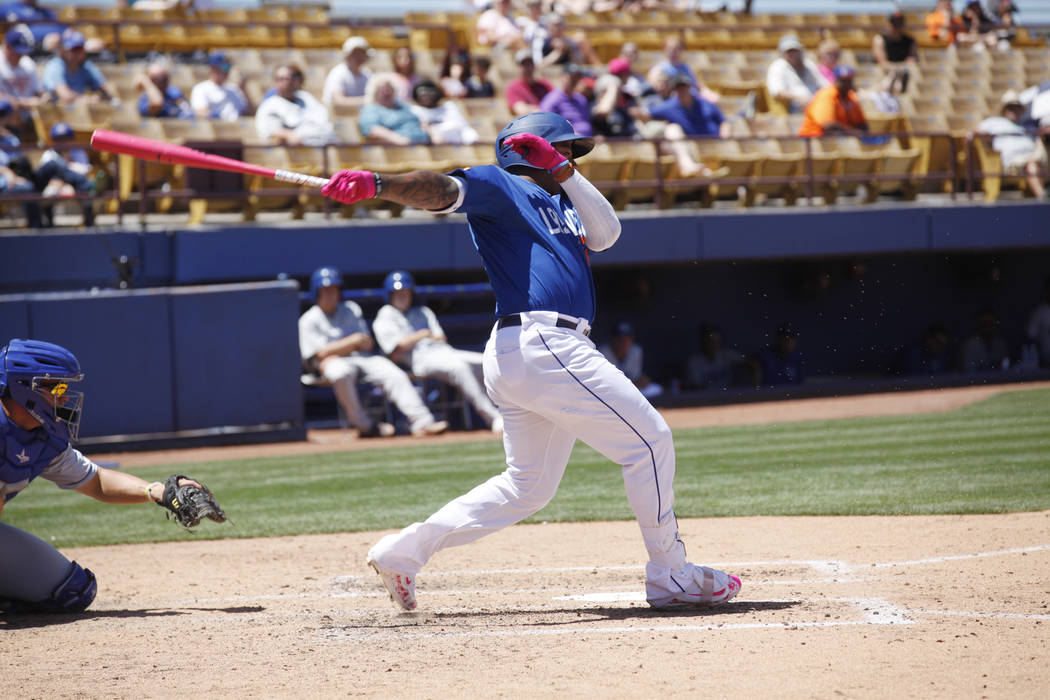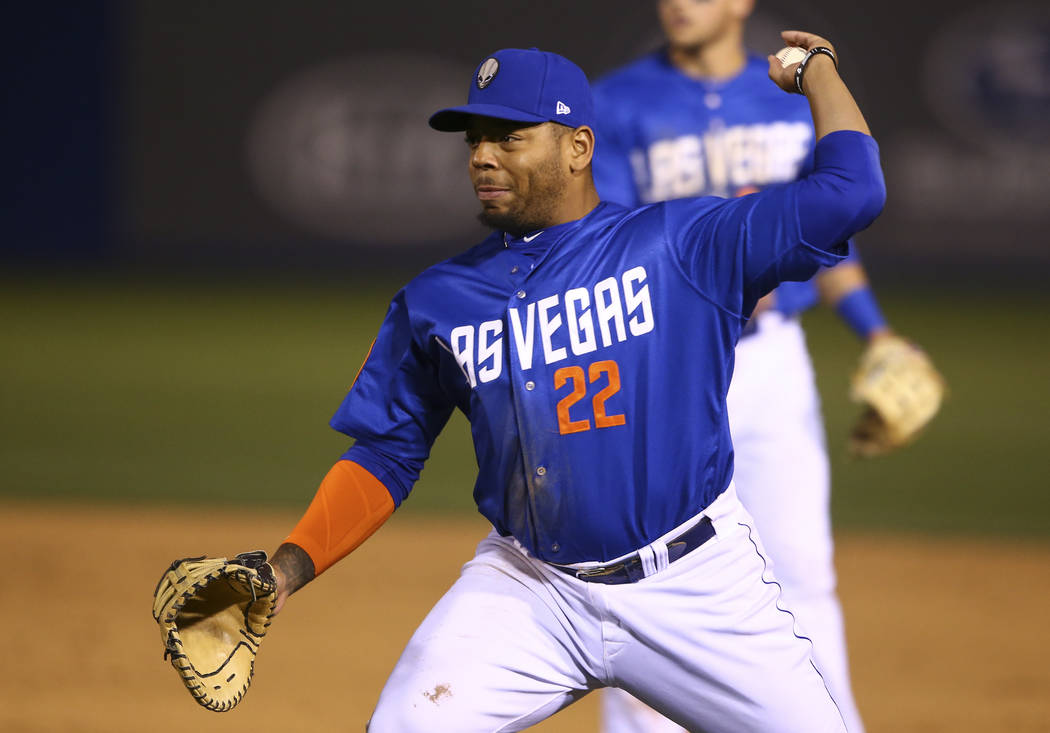 Amed Rosario and Dominic Smith had talked about getting the call to the majors at the same time.
The topic came up late last year when both were at Double-A. And jokes and chatter about it continued throughout this year, with both guys — the Mets' No. 1 and 2 prospects respectively — playing well at Triple-A and the Mets suffering injuries.
Even 51s manager Pedro Lopez thought it might happen until Monday, when the Mets promoted only Rosario.
That left Smith in Triple-A waiting to join his good friend. It likely will be a short wait; Mets general manager Sandy Alderson told reporters Monday that Smith's call up "shouldn't be far behind."
Whether that's a week away, two weeks or longer than that, Smith is doing his part to try to not focus on it as the 51s open a four-game series against the Oklahoma City Dodgers at Cashman Field.
"I'm just trying to get better every day down here and hopefully just keep playing well enough to the point where they think I'm ready to come up," he said.
Smith, 22, the Mets' first-round draft pick — 11th overall — in 2013, boasts a .340 batting average, leads the Pacific Coast League with 146 hits, and has 16 home runs, a new single-season high for him. He also has 33 doubles and 73 RBIs.
The calls from fans for his promotion have gotten more frequent and harder to ignore. Social media and New York talk radio especially have been a flurry of activity this week after the Mets dealt first baseman Lucas Duda to the Tampa Bay Rays last Thursday.
As a result, Smith powered down his phone.
"It can be very annoying, especially playing well down here and then that happening and everybody's texting you and everybody's hitting you up on social media, Twitter, Instagram," Smith said. "Even family members. They hit you up and it's like, 'Man can you just leave me alone? I mean can we talk about something besides that because it's out of my control?' "
With Rosario's promotion, it made Smith's week a little longer, with more attention now being turned toward his future call-up.
"It's all a part of the territory," Smith said. "I know there are a million other players and people that wish they were in my shoes. I'm not complaining about it, but it's definitely been a long week and I definitely did shut off the phone for a little bit."
Since the All-Star break, he's hitting .389 with 28 hits 18 games. He has multiple hits in 11 of those games.
"I saw him play all last year. I've seen him play to this point and he's always been a second-half player and I've never seen him play and have at-bats the way he has in the last week and a half, so that goes to show you the kind of athlete and the kind of hitter he is," Lopez said.
After Rosario was promoted, Lopez talked to him to "make sure that he didn't get discouraged," telling him to be patient and that his time would come.
"Somebody once told me that the one thing that's for sure in life is death," Lopez said. "Everybody's going to die at one point. And I think that in his case, he can say that there's something else that's for sure and it's going to be him playing in the big leagues."
For now, he's practicing patience and avoiding distractions. When he gets the call, he wants it to be for good.
"Whenever that time comes, make sure you're ready," Smith said. "You can want it but when you go up there and if you're not ready, they'll send you back down.
"I trust the process. I feel like when they feel like I'm ready then I'll go up but I've just got to make sure that when I do go up, I do perform and I do play well so I won't just be back down here."
More 51s: Follow all of our Las Vegas 51s coverage online at reviewjournal.com/51s and @RJ_Sports on Twitter.
Contact Betsy Helfand at bhelfand@reviewjournal.com. Follow @BetsyHelfand on Twitter.
Related
Amed Rosario records first major league hit in Mets loss