MLB commissioner calls Las Vegas an option for team relocation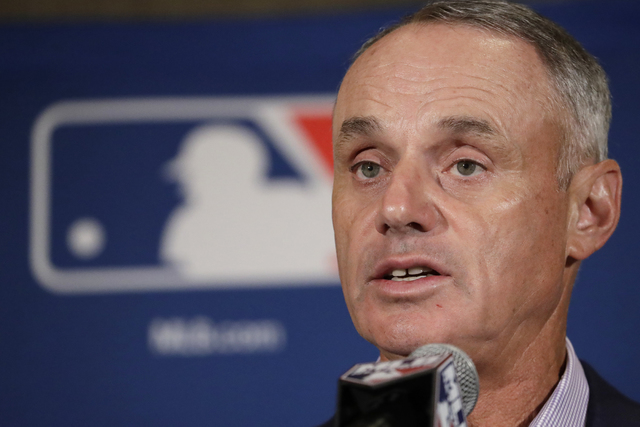 Major League Baseball in Las Vegas is on the table once again.
Commissioner Rob Manfred said this week that Las Vegas would be on the list for relocation, according to a report by the Chicago Tribune.
"If we were looking at relocation, Las Vegas would be on the list," Manfred told a group of sports editors at an annual meeting at MLB headquarters Thursday.
MLB teams that could soon be facing relocation are the Oakland Athletics and Tampa Bay Rays after both franchises have struggled to secure financing for new stadiums.
In February, the commissioner called Las Vegas a "viable" market during his Cactus League news conference in Phoenix, and said that legalized gambling was not keeping the city from being considered.
"Las Vegas could be a viable market for us," Manfred said. "… I don't think that the presence of legalized gambling in Las Vegas should necessarily disqualify that market as a potential major league city."
Manfred also noted Thursday that Las Vegas could be considered for an expansion franchise, but not until the Athletics and Rays situations were sorted out.
"Until the Tampa Bay and Oakland situations are settled," Manfred said. "I cant see talking about expansion."
Las Vegas has gained two major league teams in the last year with the National Hockey League awarding the city an expansion team in the Golden Knights and the Oakland Raiders getting approval to relocate to Southern Nevada.
"Those are two big moves, "Manfred said. "We'll be watching that carefully."
The Golden Knights will begin play this fall for the 2017-18 season while the official date the Raiders will arrive in Las Vegas is still undecided. A stadium for the Raiders in Southern Nevada should be completed by the 2020 season, but the team could also relocate sooner if fan support decreases in Oakland and officials believe a sooner move could benefit the franchise.
Contact Kira Terry at kterry@reviewjournal.com or 702-477-3880. Follow @kiraterry on Twitter.