Aces rookie A'ja Wilson among WNBA leaders in scoring
Updated June 6, 2018 - 8:51 pm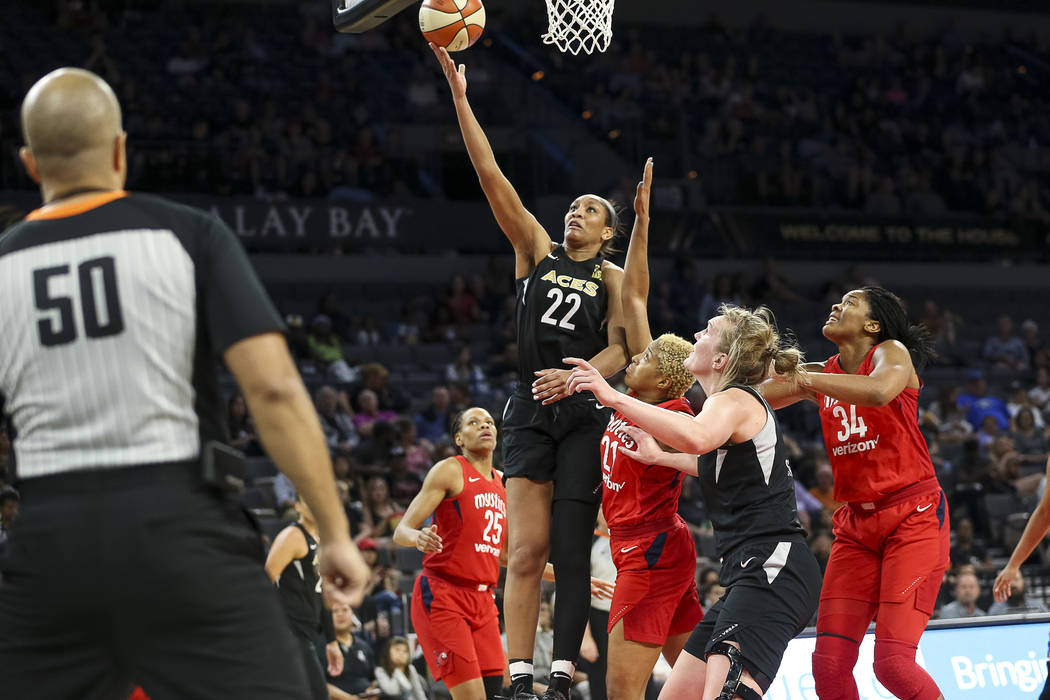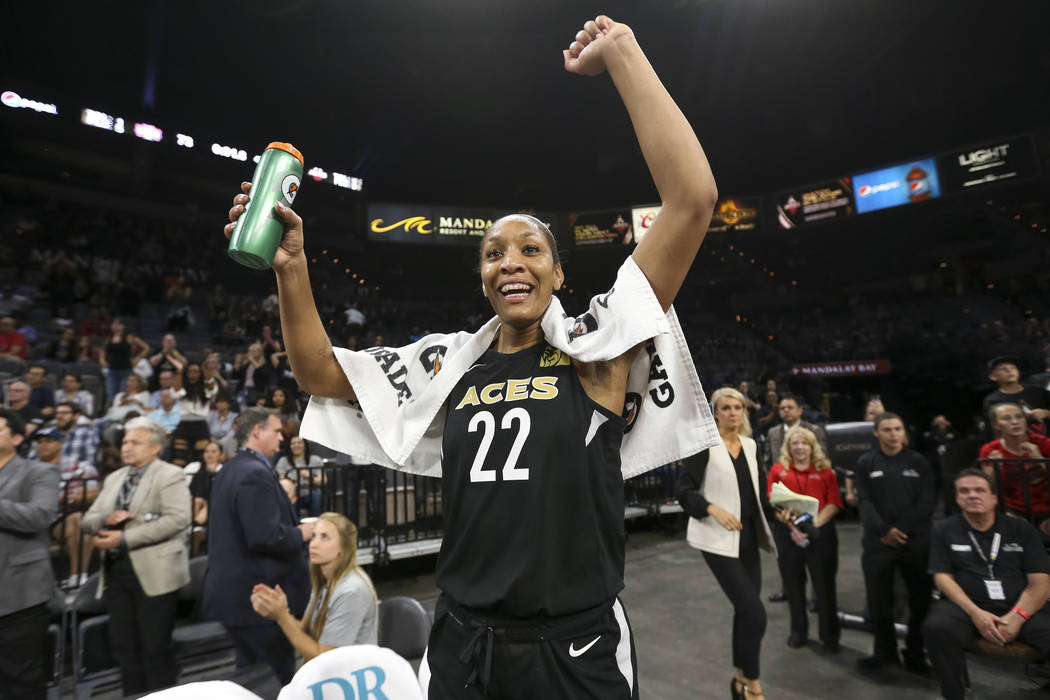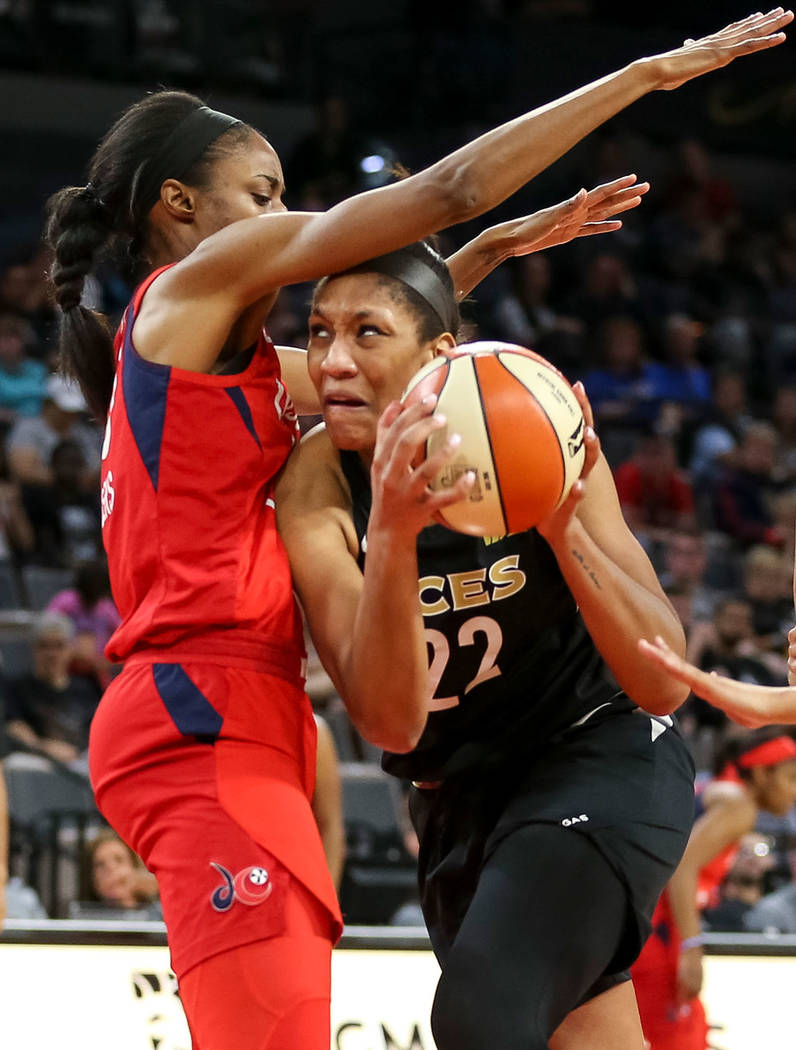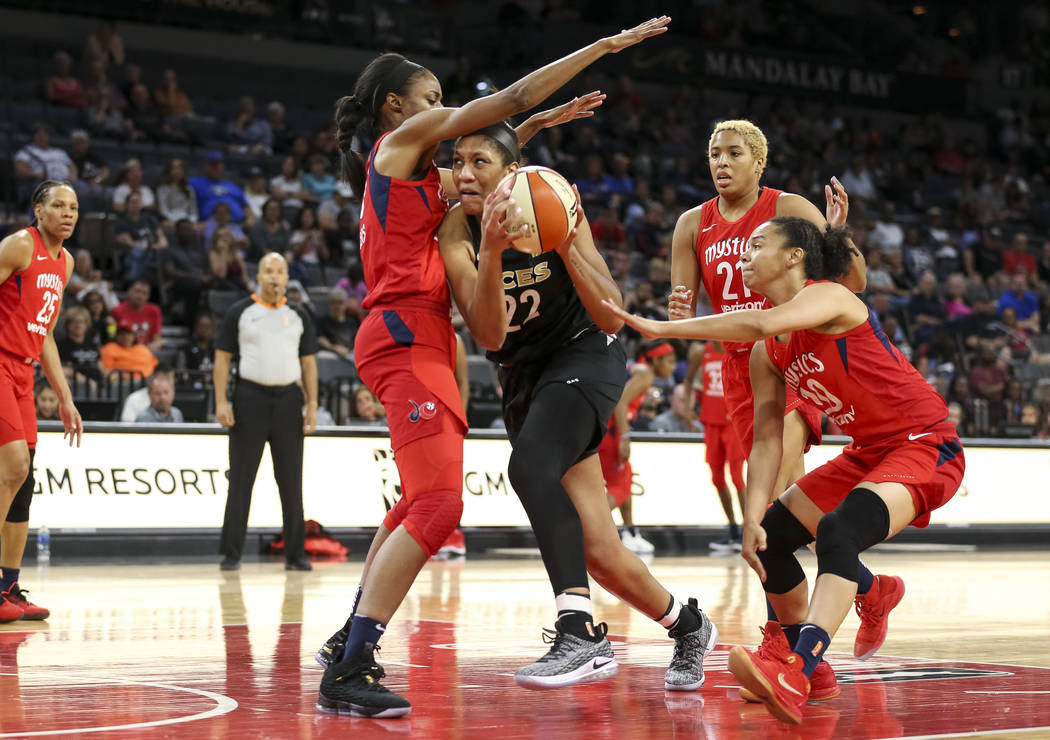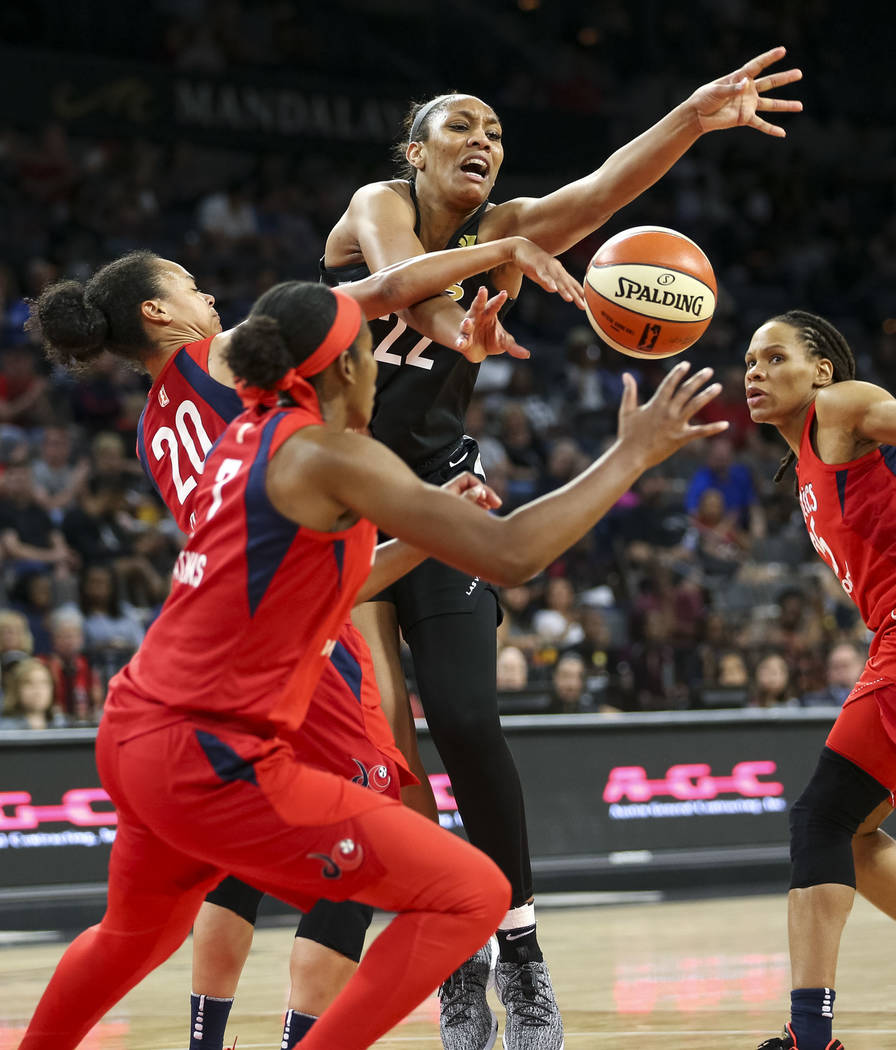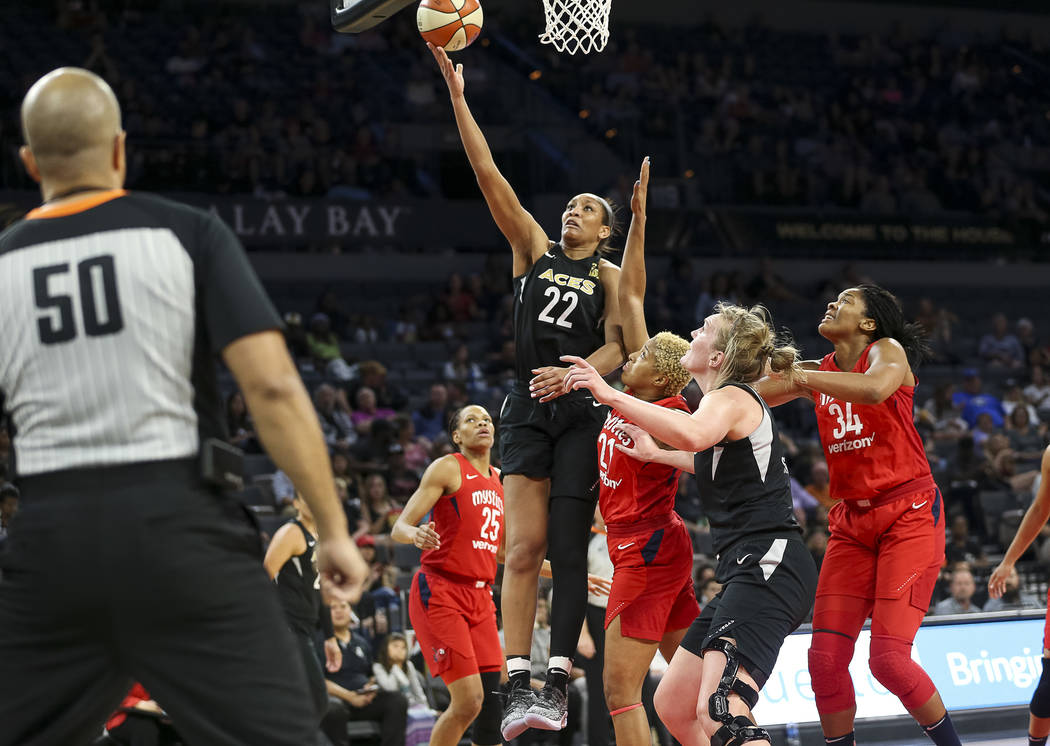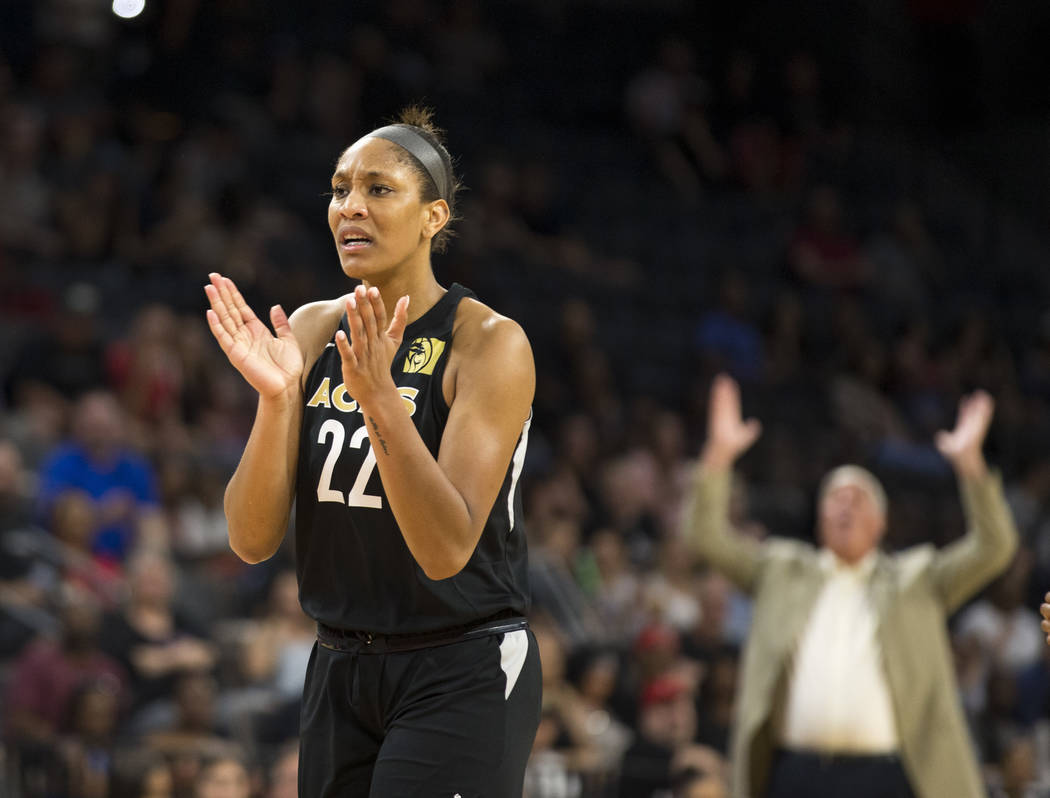 The double teams are increasingly less effective.
The game seems to be slowing down.
Aces rookie center A'ja Wilson is doing quite all right in the WNBA.
The No. 1 overall pick in the draft is starting to have her way with defenders, and, after using the first two games to adjust to the speed of professional basketball, is growing into one of the league's toughest covers.
Wilson has scored more than 20 points in each of her past four games and is averaging 21.7 points, fourth best in the league.
"I finally got adjusted to the look of things, and how things operated, and how plays are called, and how refs may call and how girls may play," she said. "Once I got comfortable with that, I got comfortable within myself."
Wilson acknowledged at the start of the season that the speed and physicality of WNBA players made for a tough transition. She shot 31 percent from the field in her first two games and was bothered by the presence of multiple defenders.
But guards Kayla McBride and Kelsey Plum returned to the lineup, and their perimeter shooting has opened the paint for Wilson, who has feasted on single coverage with her handle and first step.
"Nobody can guard her one-on-one, she's just too fast," Aces coach Bill Laimbeer said. "You have to respect her 15-footer or else she'll drive right by you also."
That combination has made Wilson elite at drawing fouls, and she's relied on her offensive package to earn a league-high 9.8 free-throw attempts per game.
She tied franchise records for single-game makes (14) and attempts (18) on Friday against the Washington Mystics, and Laimbeer said she's going to continue to draw contact at a high rate.
"I'm not really playing for the foul, but that's the way that they call it, so I'm going to keep attacking," Wilson said. "When in doubt, always attack, always attack. The way that I attack, they have to call a foul. It's pretty apparent that they have … It's either I get the two points or I'm going to the line."
More Aces: Follow all of our Aces coverage online at reviewjournal.com/aces and @RJ_Sports on Twitter.
Contact reporter Sam Gordon at sgordon@reviewjournal.com. Follow @BySamGordon on Twitter.
A'ja Wilson's stats the past four games
May 27 vs. Seattle: 27 points, 9 of 17 FG, 9 of 10 FT
May 31 vs. Seattle: 21 points, 8 of 12 FG, 5 of 6 FT
June 1 vs. Washington: 26 points, 6 of 15 FG, 14 of 18 FT
June 3 vs. Chicago: 22 points, 9 of 15 FG, 4 of 7 FT