League president blasts Las Vegas school's hiring of Dave Bliss
Updated August 3, 2017 - 7:51 pm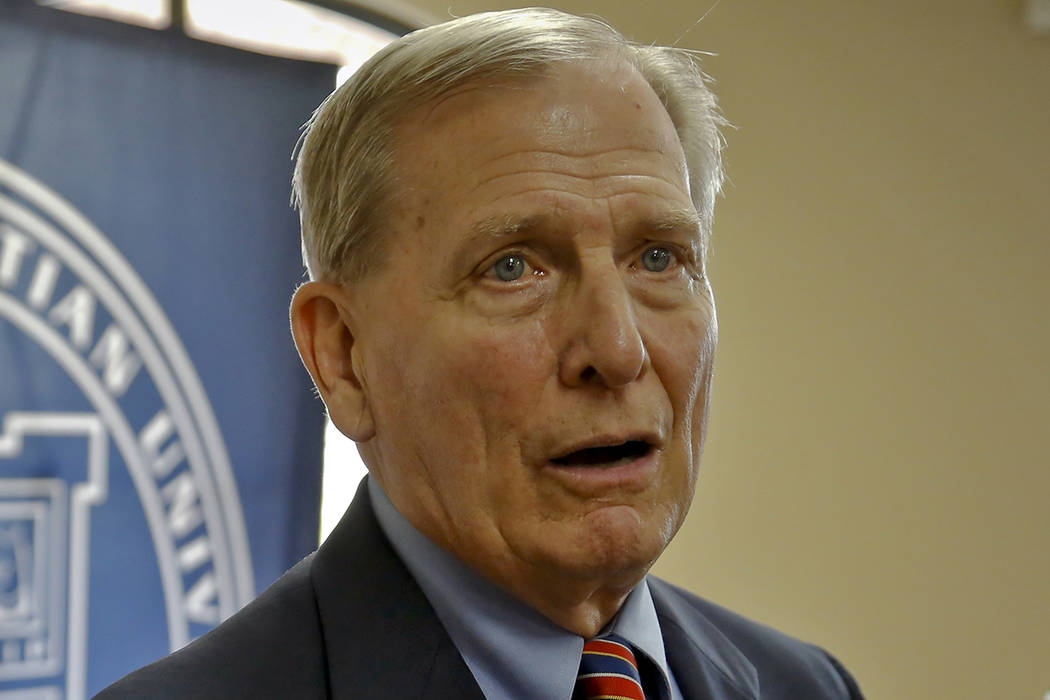 Calvary Chapel Christian School faced a swift backlash from Class 2A Southern League President Bill Darrow on Thursday for its hiring of Dave Bliss as boys basketball coach and athletic director.
Darrow cited Bliss' troubled track record at the collegiate level, which includes multiple major NCAA violations and a scandal surrounding the 2003 murder of one of his players at Baylor University.
"If you own a bank and someone robs 10 banks, would you make him your bank manager?" Darrow said. "Where has he been that he hasn't had a problem?"
Calvary Chapel officials and Bliss did not respond to multiple phone calls seeking comment.
The Review-Journal reported Wednesday that Bliss, 73, had been hired by Calvary Chapel. The Las Vegas school competes in the nine-member Southern League, which includes Needles High in Needles, California, where Darrow works as athletic director.
Darrow said there is a league meeting Monday at which he expects Bliss to be the main topic of conversation. He hopes Bliss attends the meeting.
"It is disconcerting for everybody," Darrow said. "People are worried."
At least one Southern League coach was not critical of Calvary Chapel's decision to hire Bliss.
"It doesn't really change things from my perspective," said Sean FitzSimons, who is in his first season as coach at Lincoln County High. "It's none of my business who Calvary Chapel hires."
FitzSimons said he has not met Bliss and emphasized that as a new coach he did not want to sound like he was speaking for the league as a whole.
"Everybody has their own transgressions against them," FitzSimons said. "It was very shocking at first when most people got the news, but again, maybe this is a new start for him.
"To me, it's another league opponent in my mind. It's two league games we're going to have to try win to get to where we want to go."
In April, Bliss resigned from Southwestern Christian University, an NAIA school in Bethany, Oklahoma, after the Showtime documentary "Disgraced" featured Bliss' assertion that Baylor slaying victim Patrick Dennehy was a drug dealer.
Darrow said there is nothing he, the Class 2A Southern League or the Nevada Interscholastic Activities Association can do to block Bliss from coaching. A spokesperson for the NIAA said Bliss can coach as long as he follows association standards.
Calvary Chapel finished 7-17 last season after making the playoffs the previous two seasons. The Lions won the 2004 league championship, but have never won a state title.
Contact Justin Emerson at jemerson@reviewjournal.com or (702) 387-2944. Follow @J15Emerson on Twitter. Review-Journal writer Jonathan Saxon contributed to this report.
Related
Las Vegas school hires disgraced Baylor hoops coach Dave Bliss
Kantowski: There's no justifying hiring Dave Bliss to coach
Social media users react harshly to Dave Bliss hiring