Lady Rebels survive Aztecs, will play for NCAA berth in MW final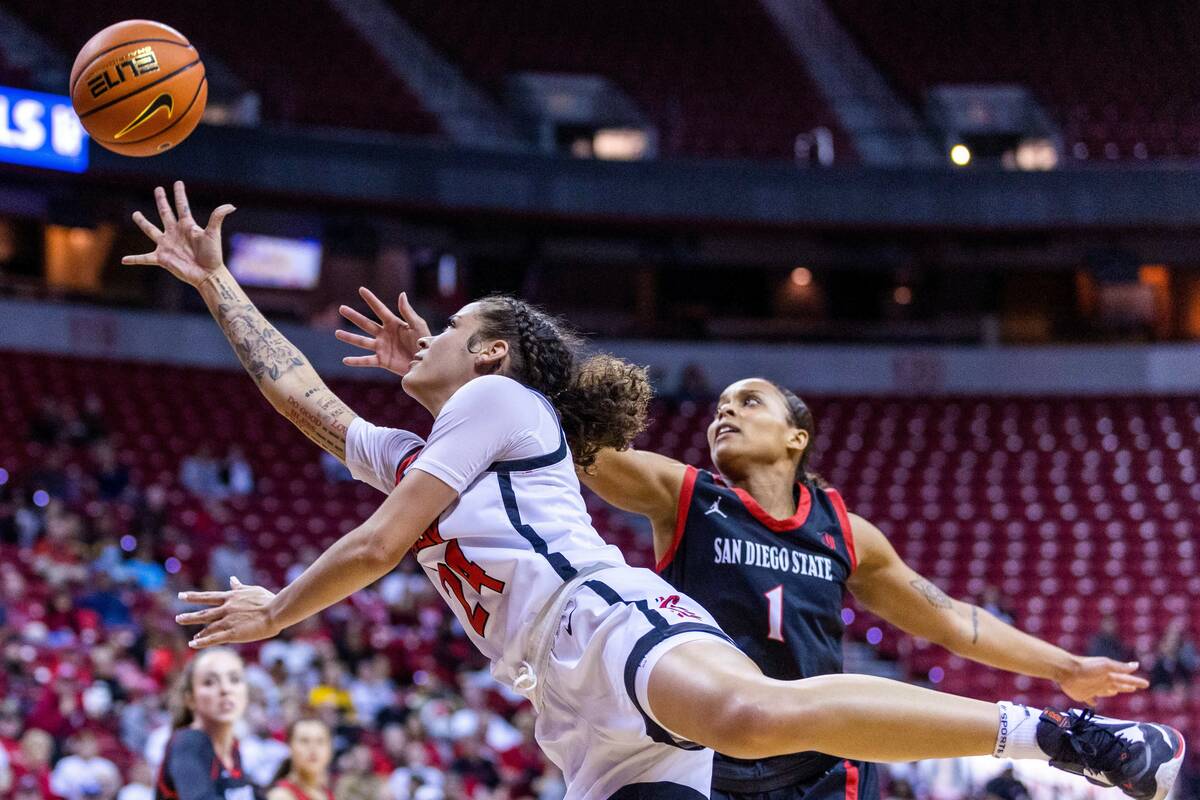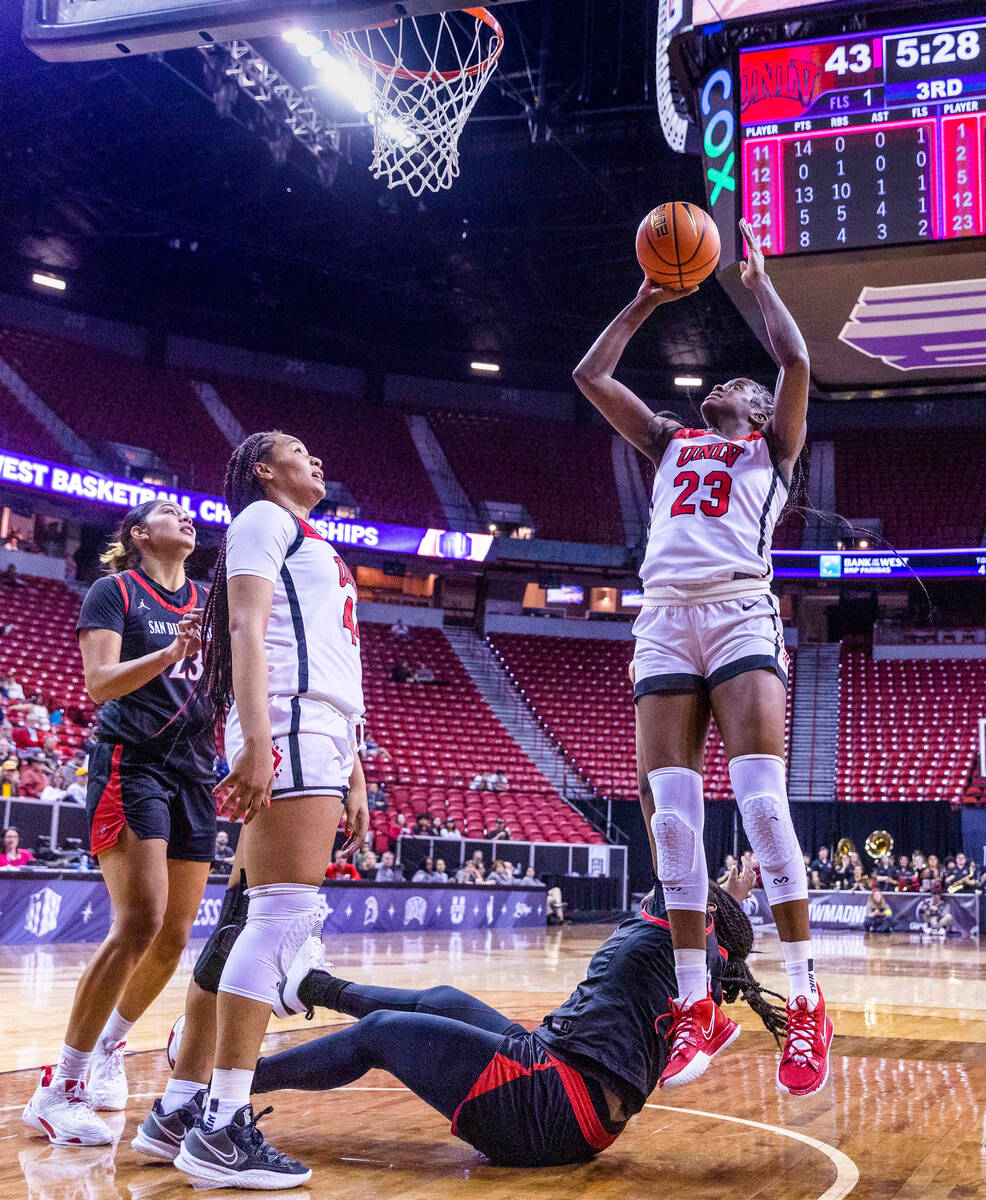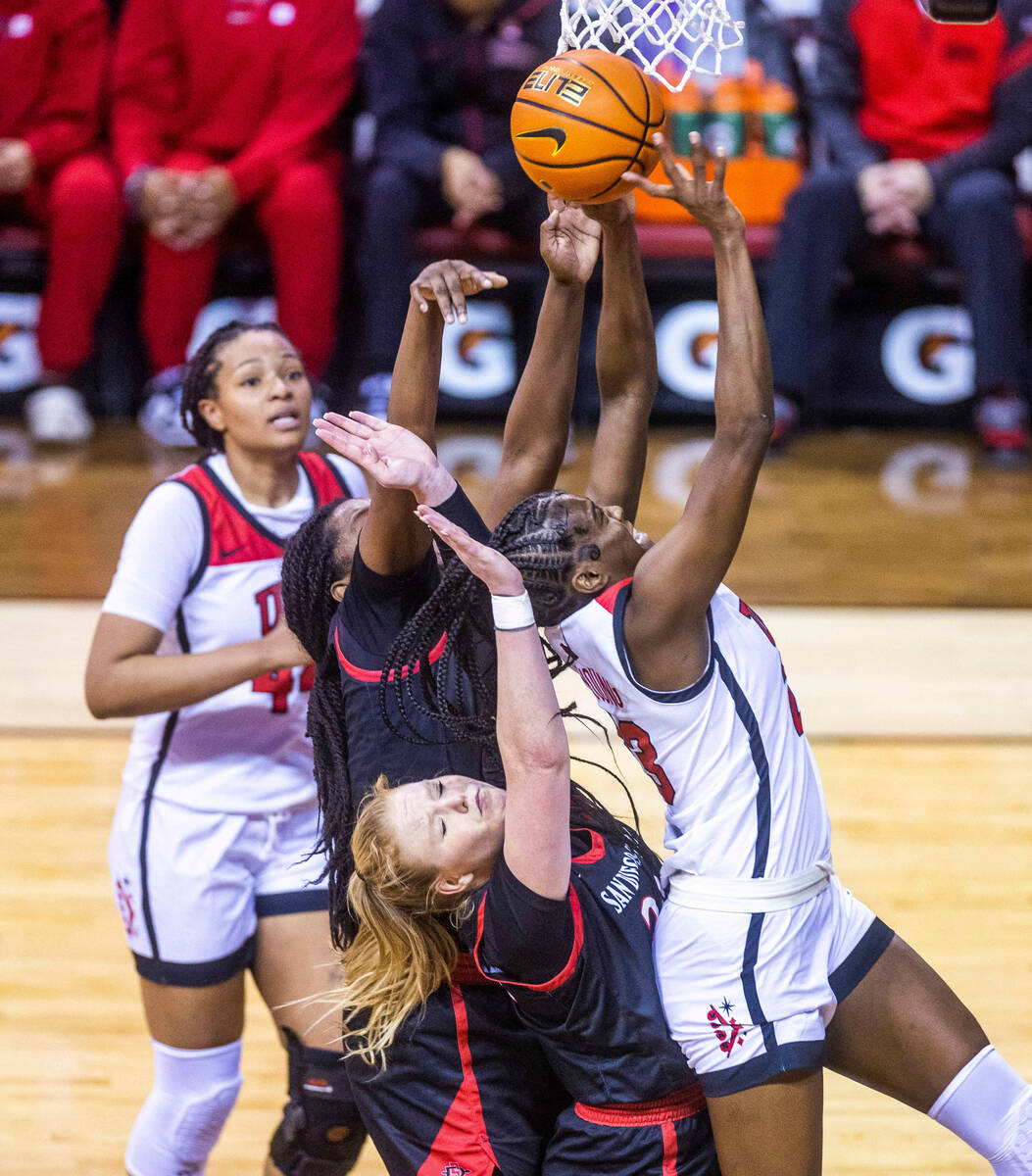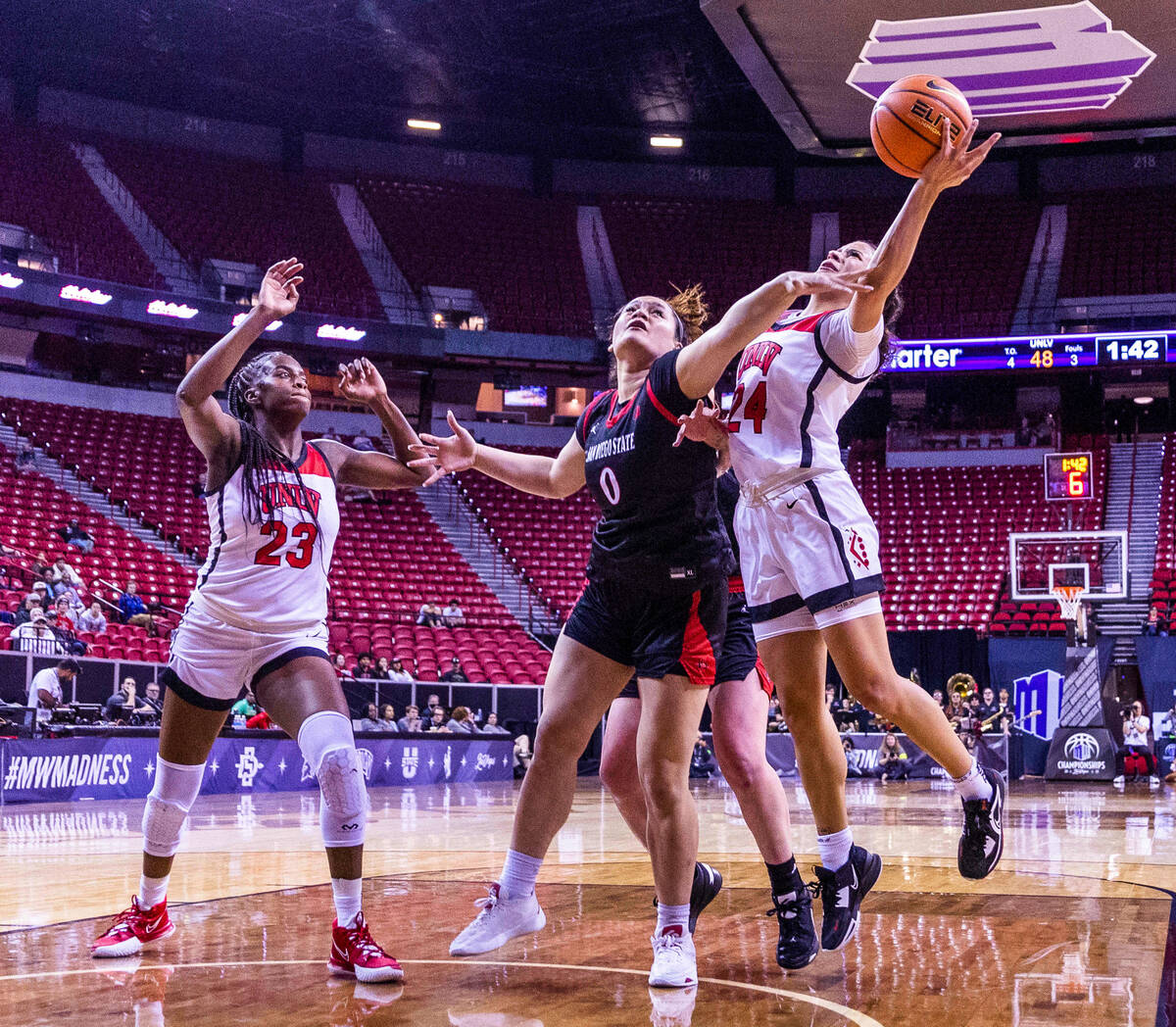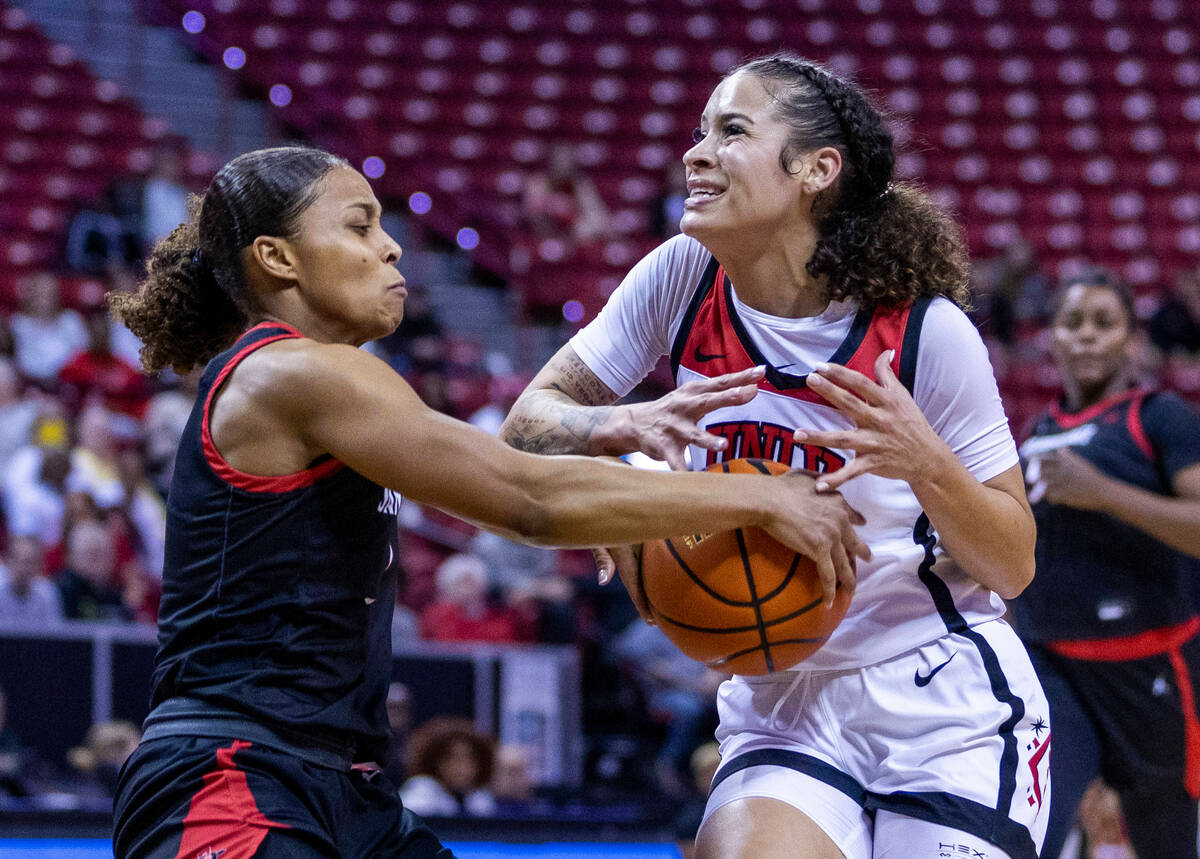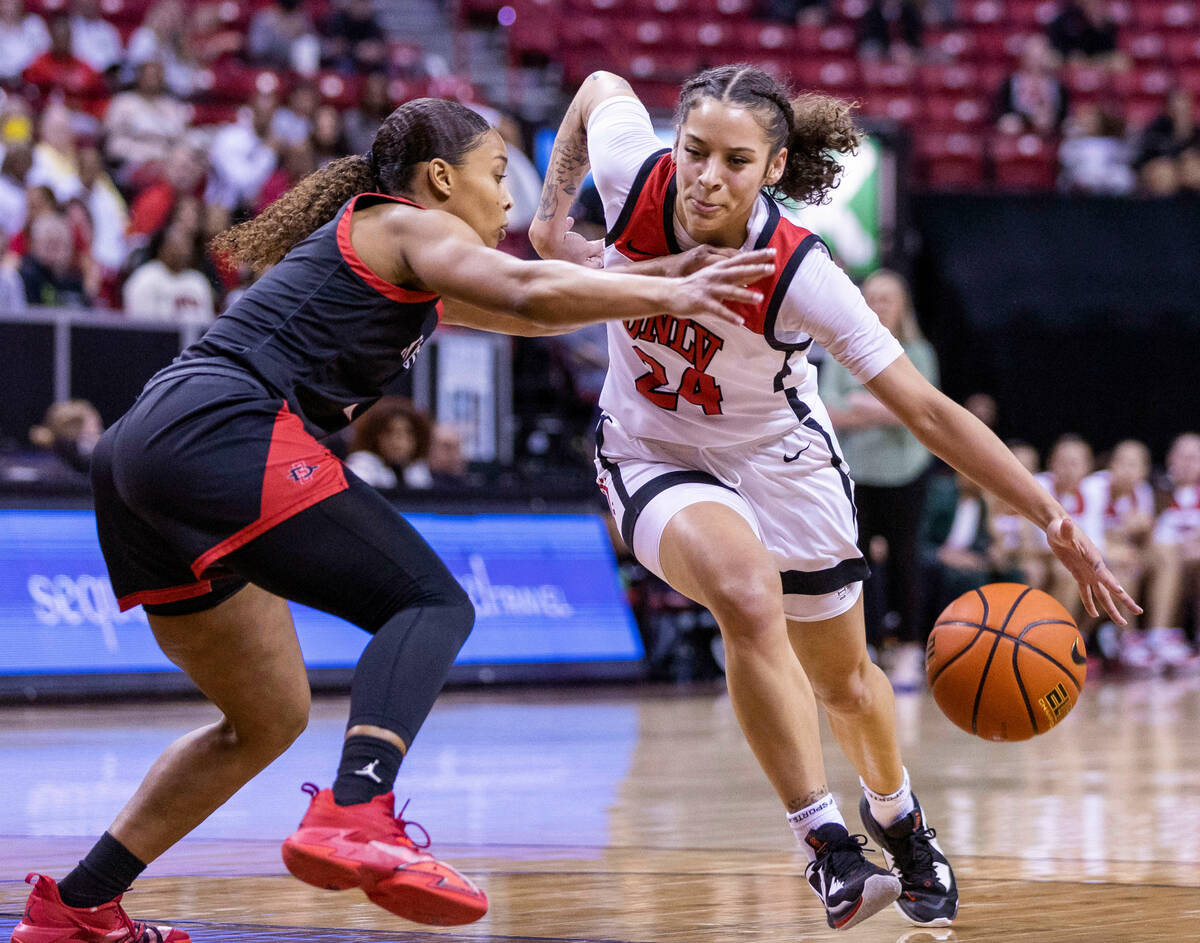 UNLV senior Essence Booker was trying to exude confidence as she strode to the free-throw line.
With mere seconds remaining and the top-seeded Lady Rebels clinging to a one-point advantage, Booker needed to sink her free throws to reinforce the team's lead in the Mountain West tournament semifinal.
No. 5 San Diego State was heating up. The Aztecs had hit two 3-pointers in the span of five seconds after the Lady Rebels turned the ball over on a jump ball off an inbound pass. They fouled Booker with six seconds remaining, their hopes of an upset very much alive.
"I was just trying to not look stressed," Booker said. "I just knew I had to hold it together for my team."
She made both.
UNLV then blocked San Diego State's 3-pointer at the buzzer, securing a 71-68 win Tuesday at the Thomas &Mack Center. The No.21 Lady Rebels (30-2) can lock up a second straight NCAA Tournament berth by winning the Mountain West final against Wyoming at 7 p.m. Wednesday.
Booker led all scorers with 22 points, including 13 free throws. Junior center Desi-Rae Young bounced back from a quiet performance Monday with a 20-point, 13-rebound effort, and senior guard Justice Ethridge added 15 points on 70 percent shooting.
It's the first 30-win season in program history.
"We knew it was going to be like that, a battle for 40 minutes," coach Lindy La Rocque said.
UNLV and San Diego State (23-10) were tied at 33 at halftime. Young had 11 first-half points, and a step-back jumper from the right elbow by Ethridge beat the buzzer to pull the Lady Rebels level.
La Rocque's squad wasn't quite at its best in the first half. San Diego State punished UNLV in the low post, scoring 20 points in the paint mainly through senior center Yummy Morris, who had eight points on 4-of-5 shooting before the break.
UNLV established its first substantial lead by outscoring the Aztecs 17-8 in the third quarter. Ethridge found creases in the Aztecs' defense to get downhill and attack the basket. She scored six points in the quarter.
"Justice was carrying," Booker said. "That's what she does. She's a silent assassin, so we depended on her to do that, and she showed up today."
San Diego State responded in the fourth quarter. The Aztecs erased a double-figure deficit with a barrage of 3s, making their first five attempts after going 0-for-4 in the first three quarters.
UNLV answered with Booker. The Las Vegas native had a tough shooting night, going just 4-for-15 from the field, but she was clutch in the fourth quarter. She made a step-back mid-range jumper with two minutes remaining, then drove down the lane and Euro-stepped past a defender for a layup to put UNLV up 63-59 with 33 seconds left.
Booker's best performance came at the free-throw line, where she went 13-for-14. The Spring Valley alum converted all eight of her fourth-quarter free throws and finished the period with 12 points. Outside of Booker, the rest of the team went 10-for-19 from the charity stripe.
"She misses one or two of those, then it can get really scary," La Rocque said. "I'm just proud of our group from top to bottom for just really battling."
Contact reporter Andy Yamashita at ayamashita@reviewjournal.com. Follow @ANYamashita on Twitter.
Up next
What: Mountain West women's final
Who: No. 1 UNLV vs. No. 2 Wyoming
When: 7 p.m. Wednesday
Where: Thomas & Mack Center
TV: CBS Sports Network