Patrick Mahomes props among early movers at sportsbooks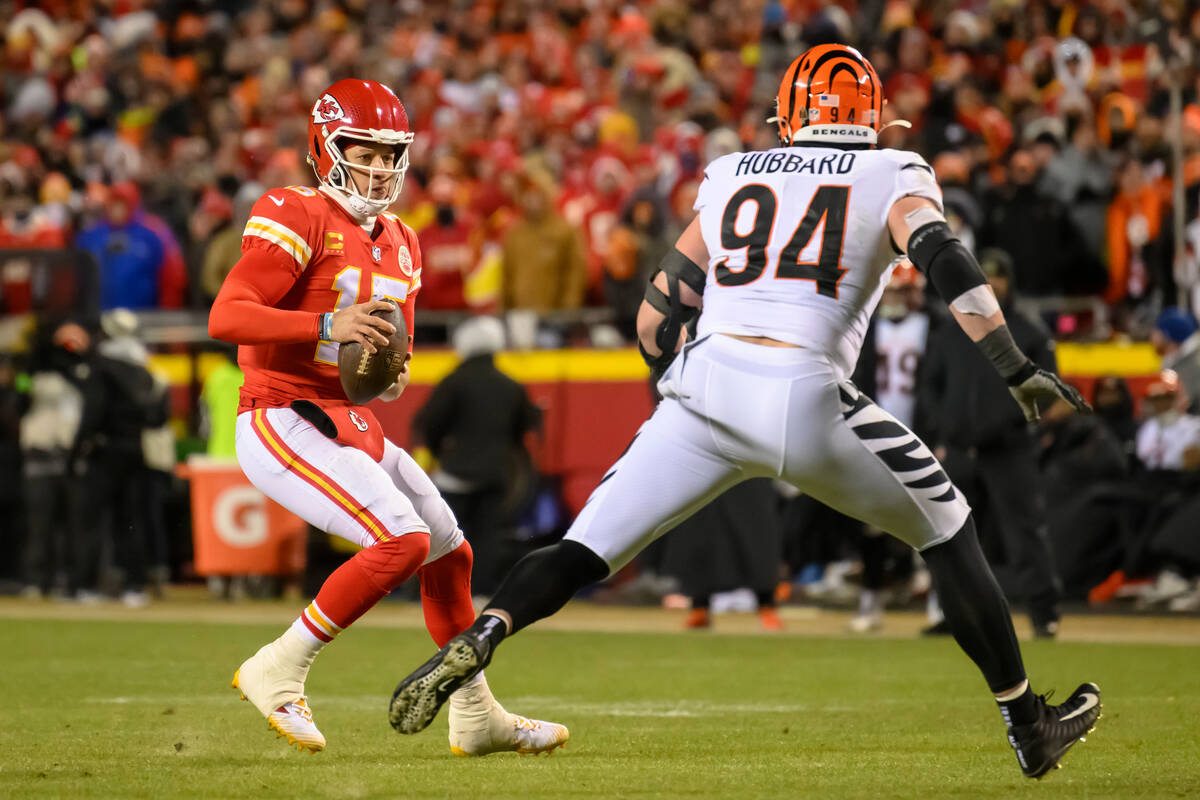 In honor of the historic Super Bowl prop that revolutionized the sports betting industry, Caesars Sportsbook is offering a wager on whether a defensive player will score an offensive touchdown in the NFL title game.
It pays 20-1 and also pays homage to the wildly popular wager that captivated the country in 1986, when bettors pounded the prop on Bears defensive lineman William "The Refrigerator" Perry to score against the Patriots in Super Bowl XX.
According to Caesars, the odds opened at 20-1 at Caesars Palace and closed at 2-1, and the betting public won big when the 335-pound Perry plowed into the end zone in the third quarter of Chicago's 46-10 win.
None of the countless prop bets for this year's Eagles-Chiefs Super Bowl have moved that much. But there have been many notable shifts caused by sharp money at Las Vegas sportsbooks.
"Ninety-nine percent of the action is sharp this early," Caesars assistant director of trading Adam Pullen said. "The public will get involved next week."
In one of the biggest moves at Caesars, Patrick Mahomes' passing yards prop has soared from 280½ to 294½ while garnering the most over money of any prop.
"Mahomes had his injury issues put to bed last week when he threw for 326 yards," Pullen said. "The Eagles have one of the top pass defenses, but Mahomes is a machine that keeps cranking out 300-yard games."
A prop that has moved significantly at Caesars and the Westgate SuperBook is on the number of Chiefs to have a rushing attempt. Over 4½ opened at -140 at the Westgate and has been bet up to -220.
The move was even more dramatic at Caesars, where under 4½ opened at -230 and over 4½ is now -190.
Kansas City has eclipsed that total in its last three games.
The South Point and the SuperBook took a bevy of bets on under 7½ total punts.
"Don't even ask if they're sharp. It's all sharp action," South Point sportsbook director Chris Andrews said.
The under opened at -125 at the South Point and has been bet up to -160.
Both books also took action on Mahomes to go over his rushing yards. The total is up to 18½ at both spots after opening at 10½ at the Westgate and 13½ at South Point.
Also at the Westgate, the first rushing attempt by Mahomes moved from 2½ yards to 4½ (over -120), and Boston Scott's rushing yards plummeted from 14½ to 8½.
Bettors at Station Casinos are still banking on Scott to score. Scott to score a TD opened at +400 and is down to +340.
Here are some other notable moves at the South Point:
— Last score of the game will be a TD opened at pick'em and is now TD -180.
— Shortest TD of game opened 1½ yards (under-140) and is now -165.
— Longest TD of game has dropped from 46½ yards to 41½.
— Longest score of game will be a TD or field goal opened TD -125 and is now field goal -140.
— First turnover of game will be an interception or fumble opened at pick'em and is now interception -150.
— Number of players to have pass completion opened 2½ (under -180) and is now -220.
— What will Jalen Hurts throw first, a TD pass or interception? A TD pass opened -210 and is up to -250.
— Eagles' first scoring play will be a rushing TD opened at +200 and is down to +160.
Caesars has taken two-way action on a unique prop matching up the Kelce brothers — Chiefs tight end Travis Kelce and Eagles center Jason Kelce.
Travis Kelce receiving yards is -6½ over Jason Kelce snaps.
"We've never done a prop on an offensive lineman. But we were looking into box scores and saw snaps played. So here we go," Pullen said. "Travis Kelce figures to get in the high 70s and Jason in the low 70s.
"Travis could get 100-something receiving yards or he could get 30 receiving yards. Snaps are a more finite number. Jason Kelce should be in the 70 range unless he gets hurt or something else dramatically changes the game plan."
Contact reporter Todd Dewey at tdewey@reviewjournal.com. Follow @tdewey33 on Twitter.