Fans say nosebleed seats worth the cost at Super Bowl
Updated February 12, 2023 - 4:49 pm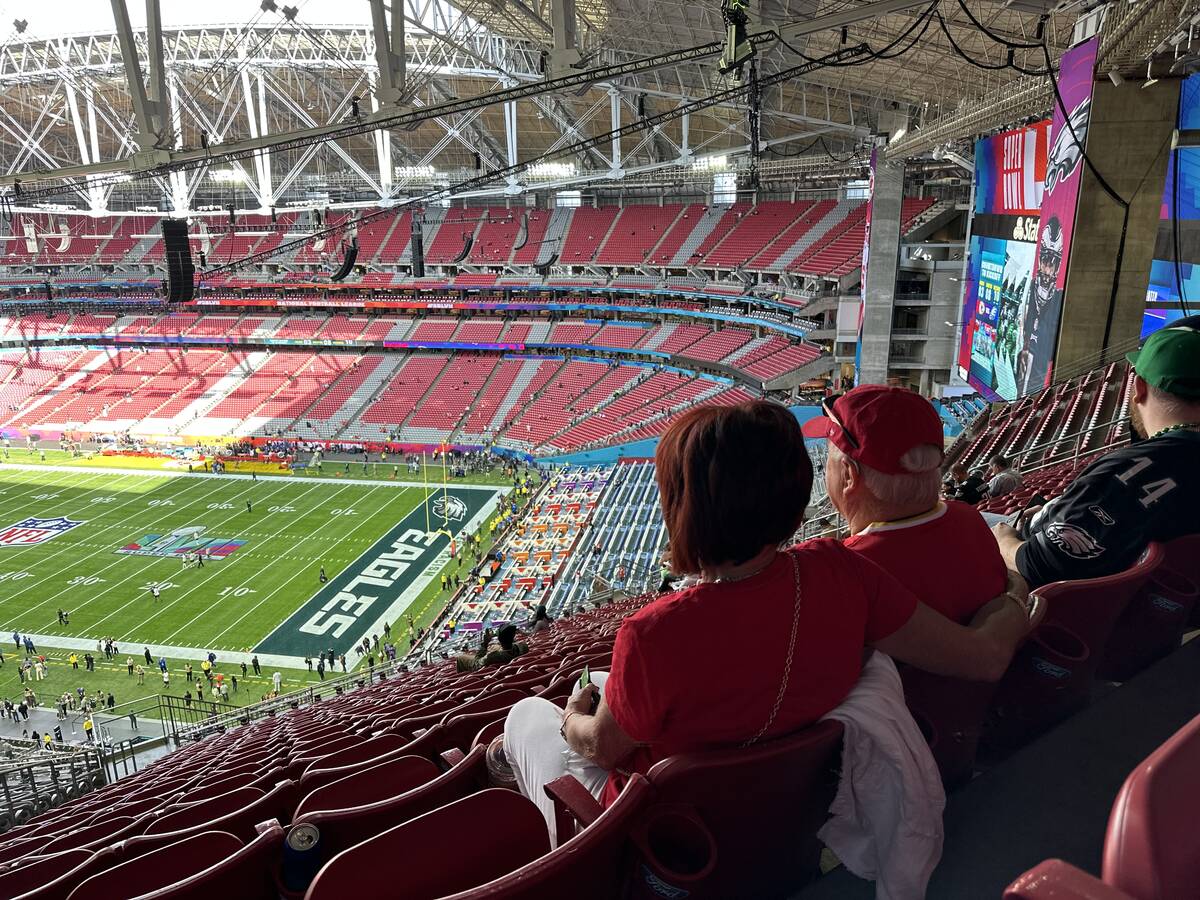 GLENDALE, Ariz. — The excitement of a Sunday at the Super Bowl muted the online critics who earlier in the week complained about the service at the Phoenix Sky Harbor Airport, local restaurants and the various events being spread out as far as 20 miles from State Farm stadium.
Adam Wolbers, who traveled to Arizona from Brisbane, Australia, said his experience in the Phoenix valley has been top notch.
"It's been fantastic," Wolbers, a Philadelphia Eagles fan, said. "I've loved every minute of it. Phoenix has been awesome. It's such an amazing town, I've really enjoyed it."
Wolbers and his group started in Los Angeles, taking in LeBron James breaking Kareem Abdul-Jabbar's NBA scoring record, with the next stop Las Vegas, then New Orleans, Philadelphia and New York.
"This is going to top seeing LeBron," Wolbers said. "I don't know (what to expect in Vegas). I'm hoping for an experience."
Cindy Moses surprised her husband Woody, a lifelong Kansas City Chiefs fan, with Super Bowl tickets for his 74th birthday, which happened to fall on Super Bowl Sunday. The couple splits their time between the Phoenix area and Topeka, Kansas.
Purchasing the $5,400 apiece tickets in the 400 level was an easy decision for Cindy, as she knew attending a Chiefs Super Bowl game was on Woody's bucket list.
"He was a season ticket-holder until he married me and I said I don't want to sit out in the cold," Cindy Moses said. "Today is his birthday and I surprised him with tickets."
After Cindy surprised Woody with a hot air balloon ride last year for his birthday, he didn't think his wife could top that, "but she did," Woody noted.
Mitch Friedman, from Yardley, Pennsylvania, and his buddy Bob Weyand, from Wildwood, Florida, both longtime Eagles' season ticket-holders, made the trip to Arizona to see the Eagles go for their second Super Bowl win.
To do so, Friedman had to gain the blessing of his significant other.
"I had to bribe my wife," Friedman said. "My daughter is pregnant with our second grandchild, like she was due yesterday. That was the big debate. My daughter said you got to go, don't worry about it. She said she'll wait until I get back. She's hanging in there, no contractions so far, so it's looking good."
The two friends paid $6,500 apiece for their tickets in the 400 section of the stadium, but any regrets the small fortune it cost them to obtain tickets was offset by their money going to charity as part of an auction.
"At least we knew we gave money to charity and we got our seats for the game," Weyand said.
Weyand said in total with travel, hotel and tickets attending the game will cost him about $9,000.
Whether or not they are ultimately happy with the outcome of the game, both the Moses family and Weyand, despite the steep cost of being at the Super Bowl, say it was worth every penny.
"The atmosphere of the Super Bowl and everything going on here it's been a great experience," Weyand said. "I can afford it … I do have that money. I didn't have to borrow it or anything, so I just had to be out here."
Although they don't mind the view or price, there is one downfall of sitting in one of the highest points in the stadium.
"It is his 74th birthday today, so it was a little challenging walking up here," Cindy Moses said. "So guess who is going to get dinner? Me."
Contact Mick Akers at makers@reviewjournal.com or 702-387-2920. Follow @mickakers on Twitter.