How will Vegas meet high expectations for 2024 Super Bowl?
Updated February 11, 2023 - 4:44 pm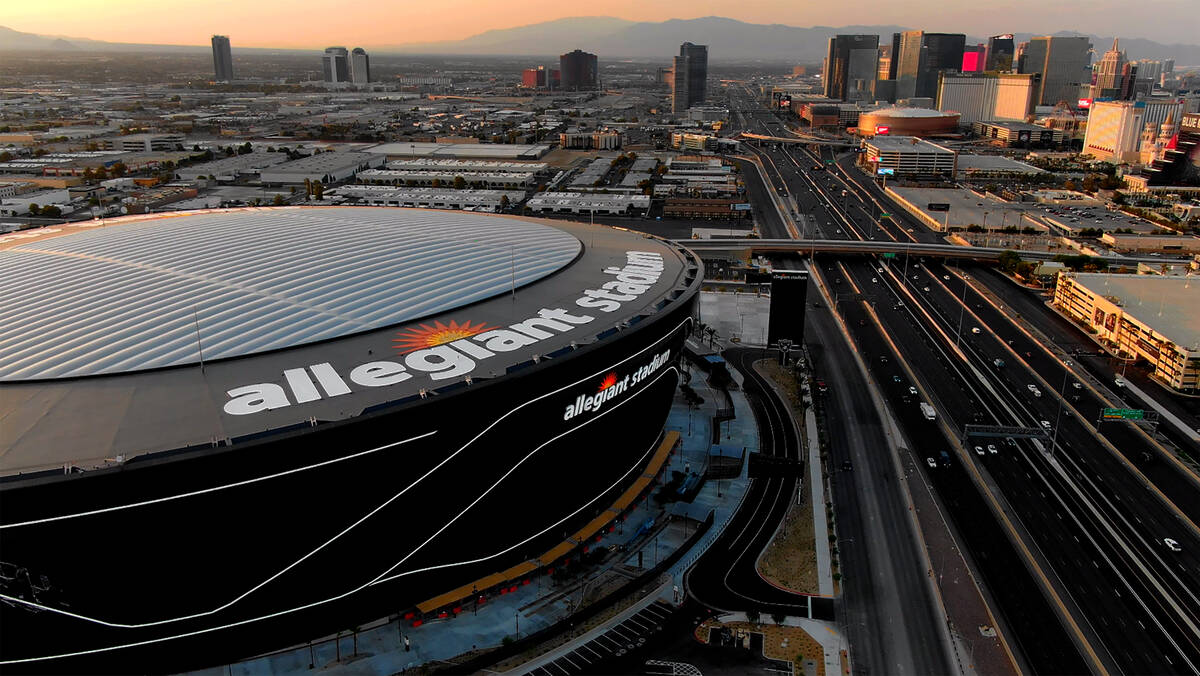 PHOENIX — What once seemed like a farfetched dream is about to become a reality: Las Vegas is a year away from hosting the Super Bowl.
Based on the success of the most recent NFL events held in Las Vegas — the NFL draft and two Pro Bowls — NFL Commissioner Roger Goodell said last week there is no telling how big next year's Super Bowl will be.
"I think I'd be making a mistake underestimating anything that happens in Vegas," Goodell said. "The draft was incredible for us, and the Pro Bowl was extremely well done."
Steve Hill, president and CEO of the Las Vegas Convention and Visitors Authority, spent a few days in Arizona this week attending various Super Bowl events and meeting with the NFL and Arizona Super Bowl Committee to get a feel of what it takes to host the big game. Everyone Hill has met with is expecting a Super Bowl in Las Vegas to be the biggest one yet.
"We're at some level feeding those expectations," Hill said. "I don't have any questions that we'll do a great job of hosting the Super Bowl. The challenge we're going to have is meeting the expectations of our customers and visitors and the expectations that we're frankly setting for ourselves."
Super Bowl LVIII will take place Feb. 11, 2024, at Allegiant Stadium and is expected to be one of the largest events in Las Vegas' history, according to Jeremy Aguero, principal analyst with Applied Analysis and member of the Las Vegas Super Bowl Executive Committee.
The economic impact from those traveling into Las Vegas who will attend the Super Bowl itself is expected to be $600 million. But when added to the figure of those who will be in Las Vegas to watch the game at different properties, that will boost that number to around $1 billion, Aguero noted.
Las Vegas will have more visitors in town to watch the Super Bowl at the various resorts and sportsbooks, as is the case each year, than Arizona will see during Super Bowl weekend, Aguero said. That usual crowd will mix in with the Super Bowl attendee crowd making for a lucrative weekend for the city.
"Even without the Super Bowl (in town), it's already a very busy and lucrative weekend for Las Vegas," Aguero said. "There's 65,000 seats in Allegiant Stadium and 150,000 hotel rooms in Las Vegas. Balancing that is going to matter."
It is expected that up to 450,000 people could be in Las Vegas for Super Bowl weekend next year, according to Las Vegas Super Bowl Committee President and CEO Sam Joffray.
"We already knew that Super Bowl weekend is already the second-biggest weekend next to New Year's Eve, so there's already 300,000 people in town for Super Bowl weekend," Joffray said. "We have shoehorned another 125,000 to 150,000 that will be coming to town for the actual game itself."
Making it special
Peter O'Reilly, NFL executive vice president of club business and league events, who heads the planning and execution of the league's major events, said adding Las Vegas to the Super Bowl mix will lead to something different.
"It's going to be pretty special," O'Reilly said. "What you have is what's the beauty in Vegas, such a condensed environment where you can create the type of fan experiences that make up Super Bowl week. … You've got the core elements of Super Bowl Week, the Super Bowl Experience, NFL Honors, all of those big things and the concerts, but how do you do it in a special way for Vegas? I think that's what we're focused on at the moment."
In Arizona, State Farm Stadium in Glendale, where Super Bowl LVII will take place, is nearly 20 miles from downtown Phoenix, where the majority of Super Bowl Week events will occur.
The locations of the events tied to the Super Bowl have yet to be determined, Joffray noted. The Las Vegas Super Bowl Committee was out in Arizona for a week, meeting with broadcasters and the NFL to get a sense of what they need and where they will work best.
"With this Super Bowl in Vegas, we're working with all these plans from scratch," Joffray said. "As we do that we're laying the playbook for all future Super Bowls. … It's going to be exciting to see how it unfolds."
There isn't a shortage of event location possibilities in Las Vegas. Allegiant Stadium is located just west of the south Strip. From there, a world of opportunities await event planners.
Starting at the Mandalay Bay, which boasts plenty of convention spaces and the 12,0o0-seat Michelob Ultra Arena to T-Mobile Arena and the MGM Grand, which boasts its own meeting space and the 17,000-seat MGM Grand Garden arena.
Moving farther north, each casino boasts its own event, meeting, nightlife and other spaces. Not to mention the Las Vegas Convention Center and the MSG Sphere, which is set to be open by then.
"That was a big part of the proposal that was submitted by Las Vegas being able to use so many of those unique venues and spaces," O'Reilly said. "There's obviously no shortage of hotels, but also spaces to put on fan events, concerts or hospitality events, so you'll see us using those in all kinds of different ways."
'Impactful' road closures
There were road closures aplenty in downtown Phoenix, with officials urging those planning to attend the events to plan their routes ahead.
In Las Vegas there also will be significant road closures in event areas. The closures around Allegiant Stadium will be different in scope than those seen during a regular-season Raiders game.
"There will be impactful closures," said Clark County Commissioner Michael Naft, who is also co-chair of the Super Bowl Committee's traffic subcommittee. But closing portions of the Las Vegas Strip hasn't been at the forefront of any transportation-related discussions as of yet, Naft noted.
The majority of attendees probably will take private cars, limousines and higher-end shuttles, Naft noted.
The massive weekend will also see room rates and other amenities skyrocket, with visitors who attend the game expected to spend more than the usual tourist.
Caesars Entertainment's hotel booking schedule includes Super Bowl weekend next year. The cheapest price for their resort group was listed at $649 per night at the recently rebranded Horseshoe. A three-night stay for Super Bowl weekend — Feb. 9-Feb. 12 — would cost a fan $2,343 after fees and taxes are added.
Other Caesars properties nightly room rates are advertised as: The Linq at $699; Flamingo at $799; Planet Hollywood at $882; Harrah's at $899; Paris at $949; and Caesars Palace and Nobu Hotel listed at $9,999 per night.
MGM Resorts, Wynn and Resorts World didn't yet have February dates available for booking.
Most expensive Super Bowl?
This year's game between the Kansas City Chiefs and the Philadelphia Eagles is the second-most expensive Super Bowl on record, according to no-fee secondary ticket marketplace TickPick.
Next year when the game is in Las Vegas, it is expected to end up being the most expensive ticket-wise on record, according to Aguero.
The cheapest price for a ticket to Super Bowl LVII was tracking at around $5,700 and was noted by TickPick to be the second-most expensive Super Bowl on record. For Super Bowl LVIII in Las Vegas next year, Zorn expects the cheapest tickets to range between $6,500 and $7,500.
With the Super Bowl being deemed a top-level security event each year by the U.S. Department of Homeland Security, there is a noticeable law enforcement and security presence at all Super Bowl-related events. This will also be the case next year in Las Vegas.
With the Las Vegas Super Bowl 12 months away, the planning process with law enforcement entities has already been well underway, said CathyLanier, senior vice president, chief of security for the NFL.
All of the planning leading to the Super Bowl will be out of sight, but Las Vegas residents will begin to see road closures and other security measures start in late January, Lanier said.
Having all that Las Vegas has to offer at its fingertips, the NFL is looking at making next year one of, if not the biggest, Super Bowls on record.
"How we challenge ourselves every year is how do we take Super Bowls to the next level and how do you make it that much bigger," O'Reilly said. "You've (Las Vegas) got the raw materials in terms of incredible facilities, the proximity of everything, the stadium is not far from the Strip. Those components of really impactful, memorable Super Bowls are there. Now we've just got to bring it to life with our partners."
Contact Mick Akers at makers@reviewjournal.com or 702-387-2920. Follow @mickakers on Twitter.