3 takeaways from Knights' OT loss: Late goals spoil inspired effort
Updated January 24, 2023 - 9:27 pm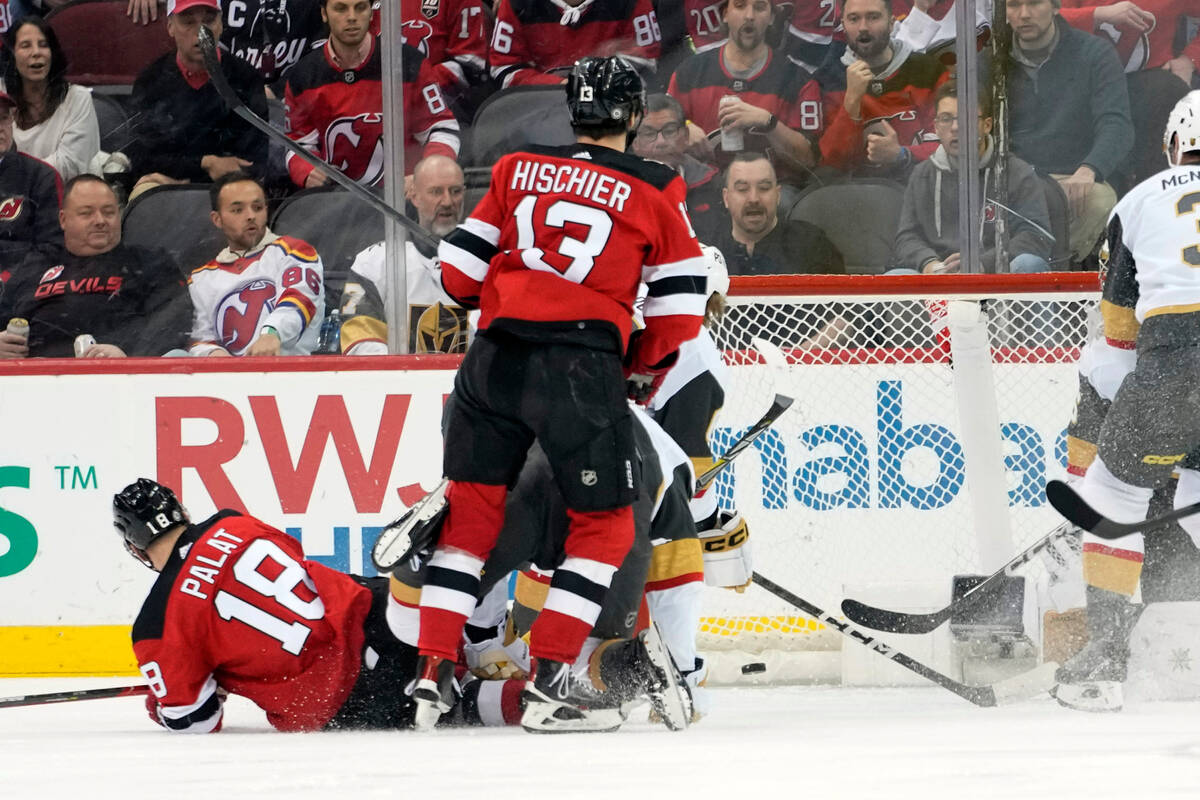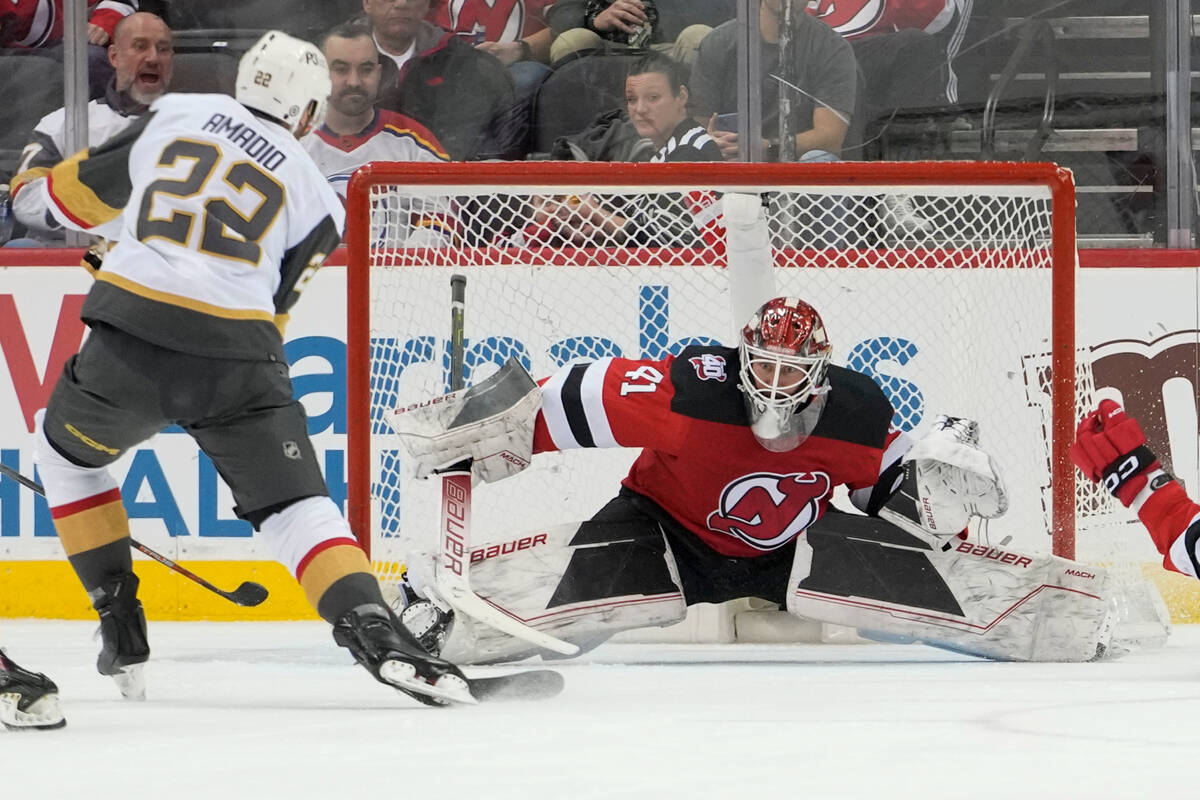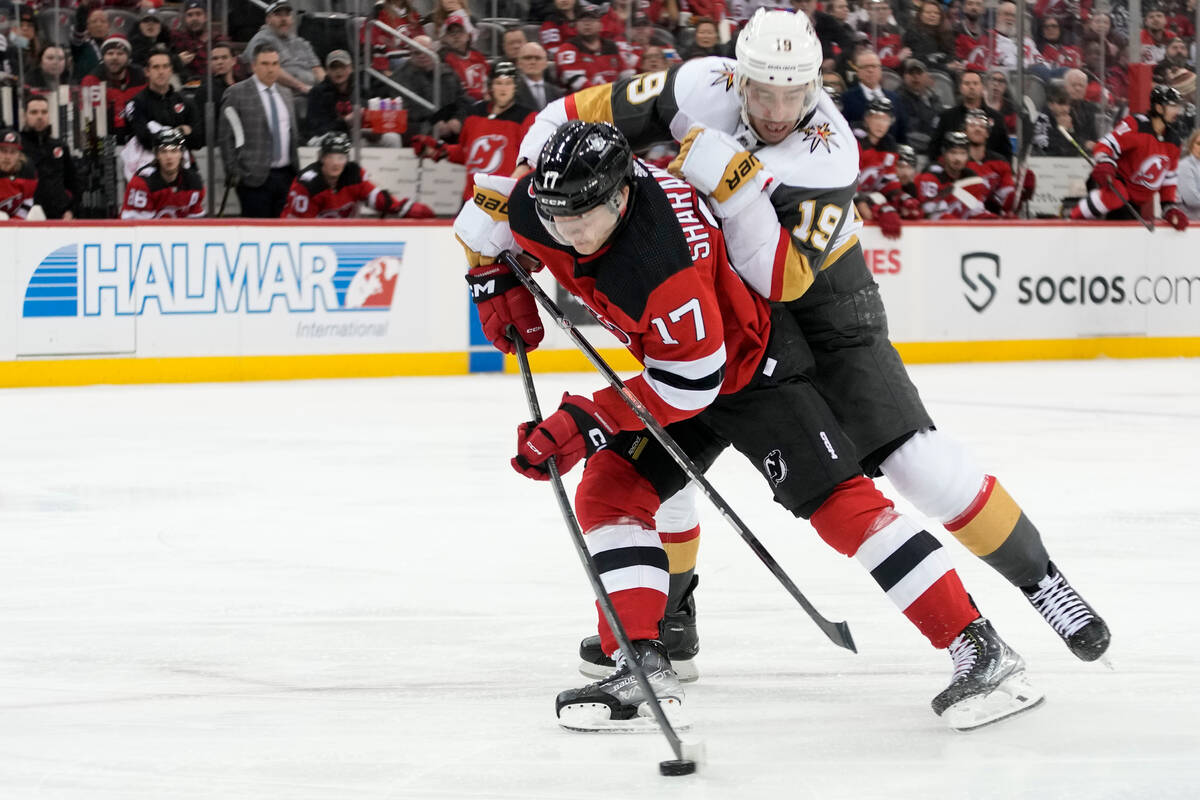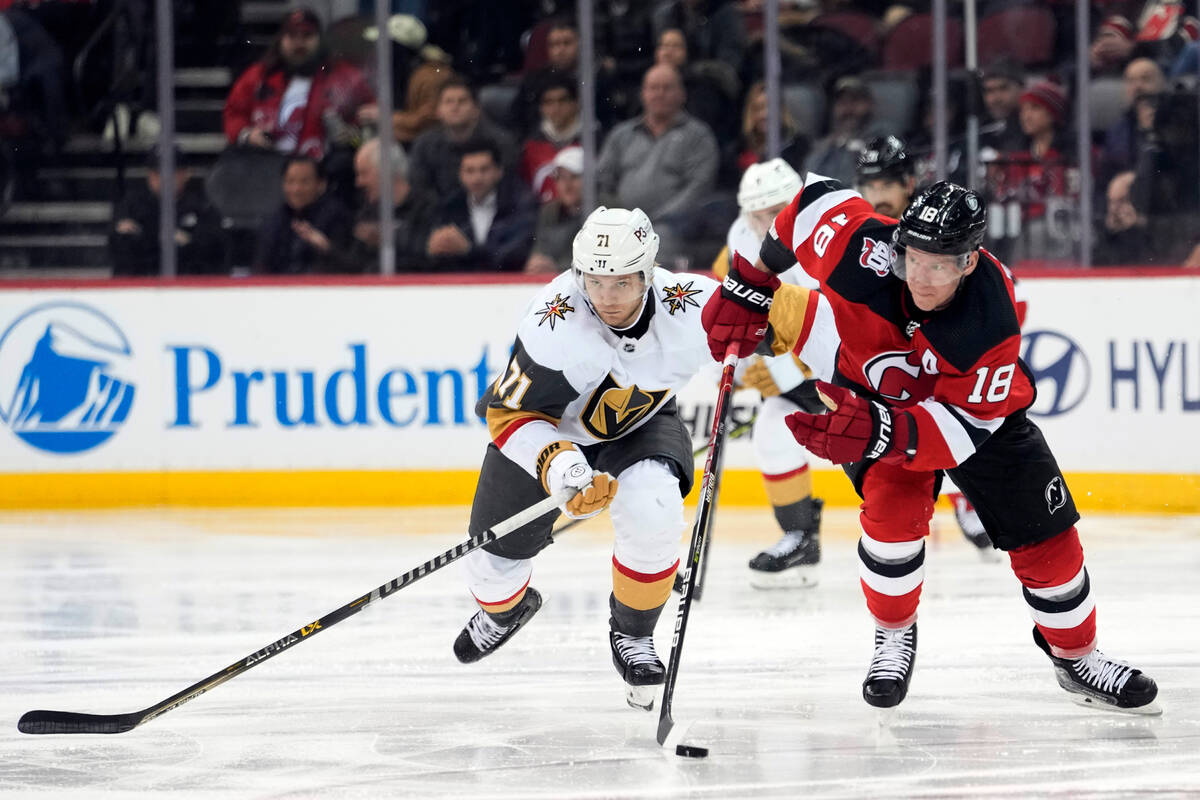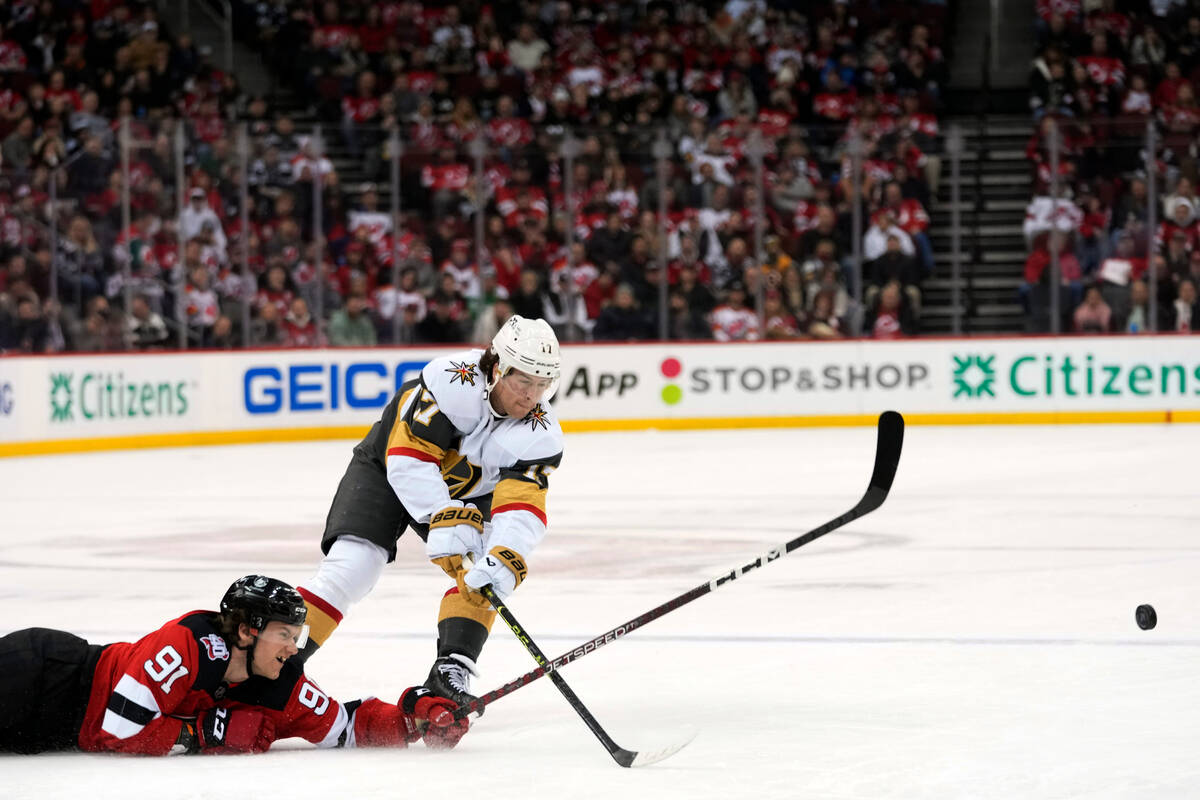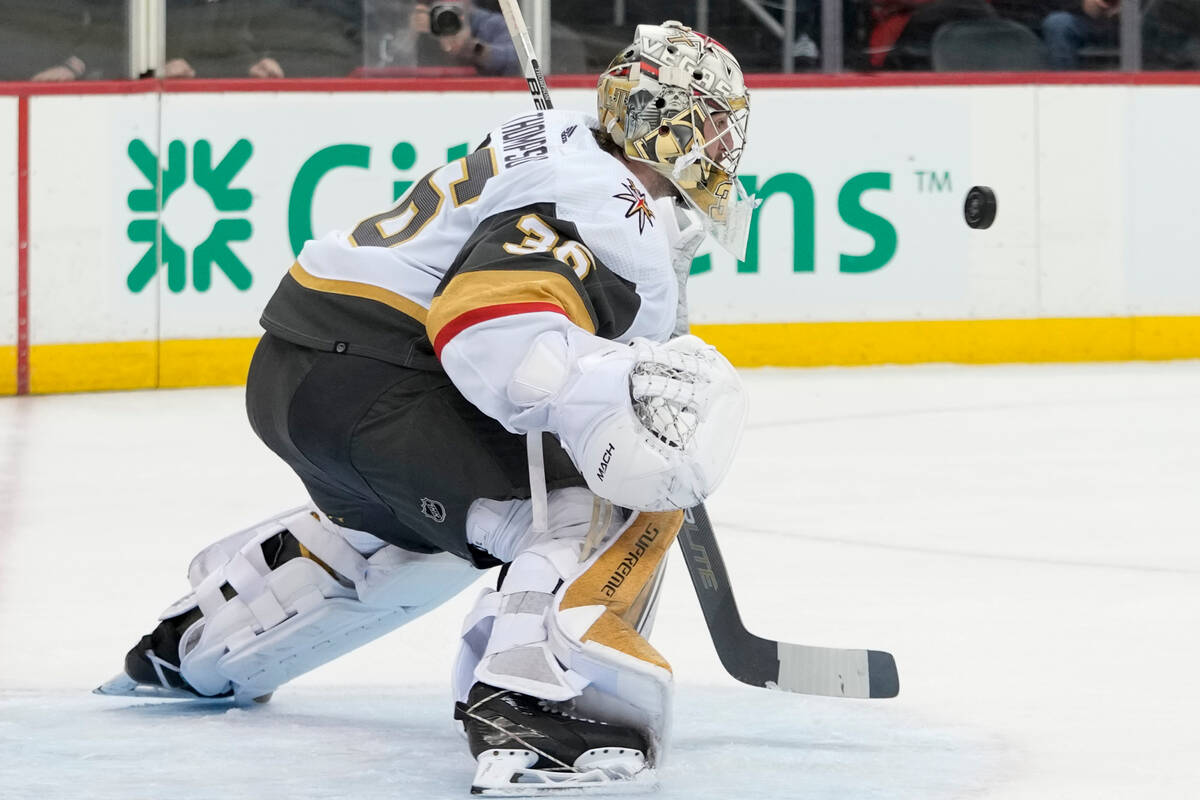 Ben Hutton could only slap his stick on the ice.
The Golden Knights defenseman, like many of his teammates, put forth an inspired effort Tuesday at New Jersey's Prudential Center. The injury-depleted lineup fought hard against the team with the NHL's third-best record.
But it all unraveled at the end.
Hutton was called for tripping center Yegor Sharangovich with 2:19 left in overtime. His frustration was obvious and warranted. Defenseman Dougie Hamilton's subsequent goal gave the Devils a 3-2 win.
The successful power play completed a two-goal comeback for New Jersey, which tied the game with a six-on-five goal from Hamilton with 1:10 to play.
The rally gave the Devils their seventh win in eight games. The Knights fell to 1-4-1 in their past six.
"I had a good feeling and thought we played well," center William Karlsson said. "It's never over until it's over."
The loss stung because of how close the Knights (29-17-3) came.
Left wing Ondrej Palat's first-period goal put them behind 1-0 for the seventh time in eight games, but they fought back.
Hutton tied the game with an incredible shot to the top of the net with eight minutes left in the second period. Karlsson followed with a goal 2:51 later to give the Knights a 2-1 lead.
It looked for most of the third period as if it would hold up. The Devils (31-12-4) pushed, but goaltender Logan Thompson kept turning them aside in an excellent 33-save performance.
New Jersey still just needed one bounce to break through. Eventually, the Devils got it.
Hamilton's shot came from 60 feet away with goaltender Vitek Vanecek pulled. It hit defenseman Brayden McNabb in front, causing the puck to deflect past Thompson and tie the game.
It was only the Knights' second five-on-six goal allowed this season. They also gave one up in a 5-4 overtime win against Nashville on Dec. 31.
New Jersey stayed in control when play continued and possessed the puck for most of overtime before Hutton's penalty.
Center Jack Hughes, the No. 1 overall pick in 2019, then set up Hamilton in the slot to win it after an incredible pass from the right wall.
Hamilton's powerful one-timer gave him his first two-goal game of the season. It kept the Knights sputtering, as they fell to 0-1-1 to start their four-game road trip before the All-Star break.
"One point out of four," Karlsson said. "Not so good."
Here are three takeaways from the loss:
1. Injury information
One positive for the Knights was left wing Brett Howden played his first game since Nov. 23.
Howden, who had been out with a lower-body injury, was noticeable right away. He dropped the gloves with right wing Nathan Bastian in the second period for his second NHL fight after Bastian boarded right wing Keegan Kolesar.
"It feels like it's been a really long time," Howden said Tuesday morning. "I guess it has been. Just really excited to be back with the guys, back on the road. Nice to be back in the lineup."
Defenseman Shea Theodore, who hasn't played since Dec. 9 with a lower-body injury, participated in the morning skate Tuesday in a no-contact jersey. The team is hopeful he can return Friday against the New York Rangers, rinkside reporter Emily Kaplan said on the ESPN+/Hulu broadcast.
2. Drought continues
Tuesday marked the fourth time in five games the Knights scored two goals or fewer.
Vanecek finished with 28 saves, but there were missed opportunities. The Knights' power play was 0-for-3 with three shots.
Center Jack Eichel was hooked with 9:34 to play, but the team couldn't take advantage.
"What let us down tonight was probably our power play," coach Bruce Cassidy said. "We didn't generate nearly enough in terms of extending the lead, especially in the third period."
3. Hard-luck loss
The lack of goal support caused Thompson to lose a game in which he deserved better.
He made 33 saves, several of them in tight. It was hard to blame him for any of the Devils' goals. New Jersey's first, like its second, was deflected close to Thompson. Palat's shot hit off defenseman Kaedan Korczak's stick and went over Thompson's glove 3:58 into the first period.
The rookie was still hard on himself after falling to 1-4-1 in his past six starts.
"It's frustrating," Thompson said. "I feel like everyone's doing their job right now except for me."
Contact Ben Gotz at bgotz@reviewjournal.com. Follow @BenSGotz on Twitter.