3 takeaways from Knights' win: Goalie stands on head against Devils
Updated March 3, 2023 - 11:31 pm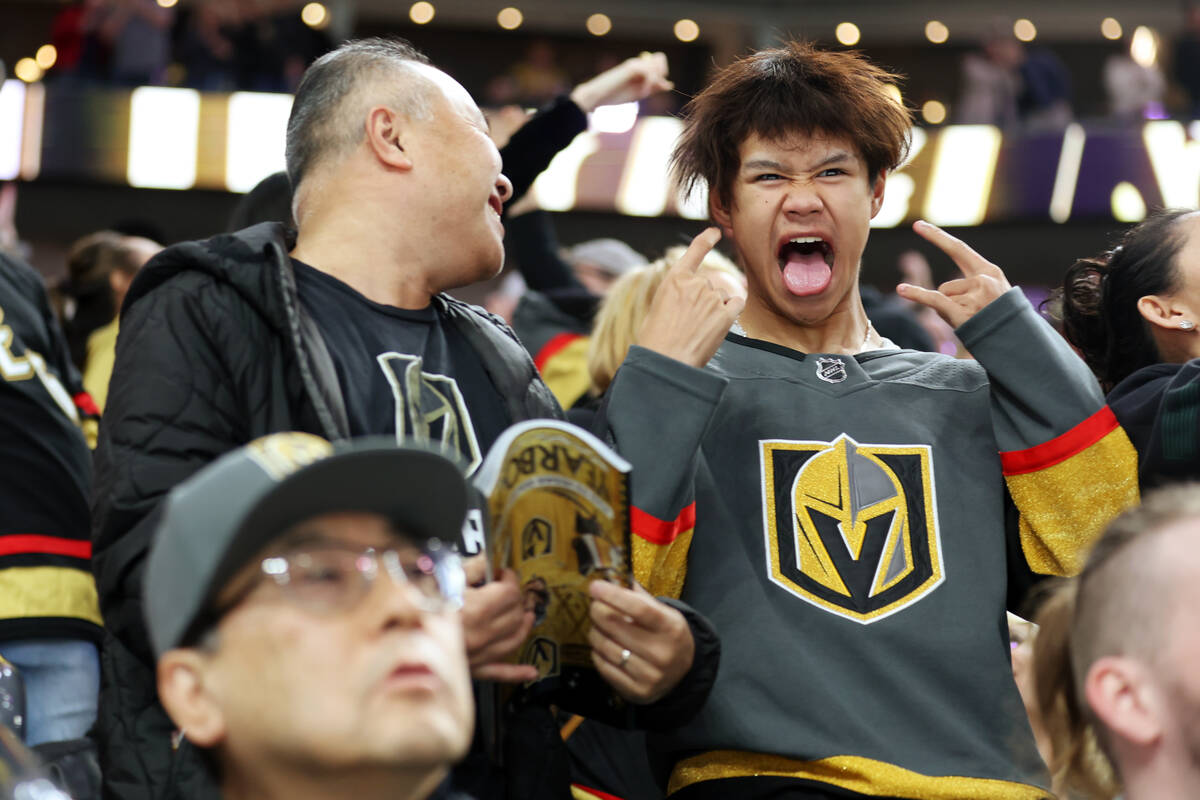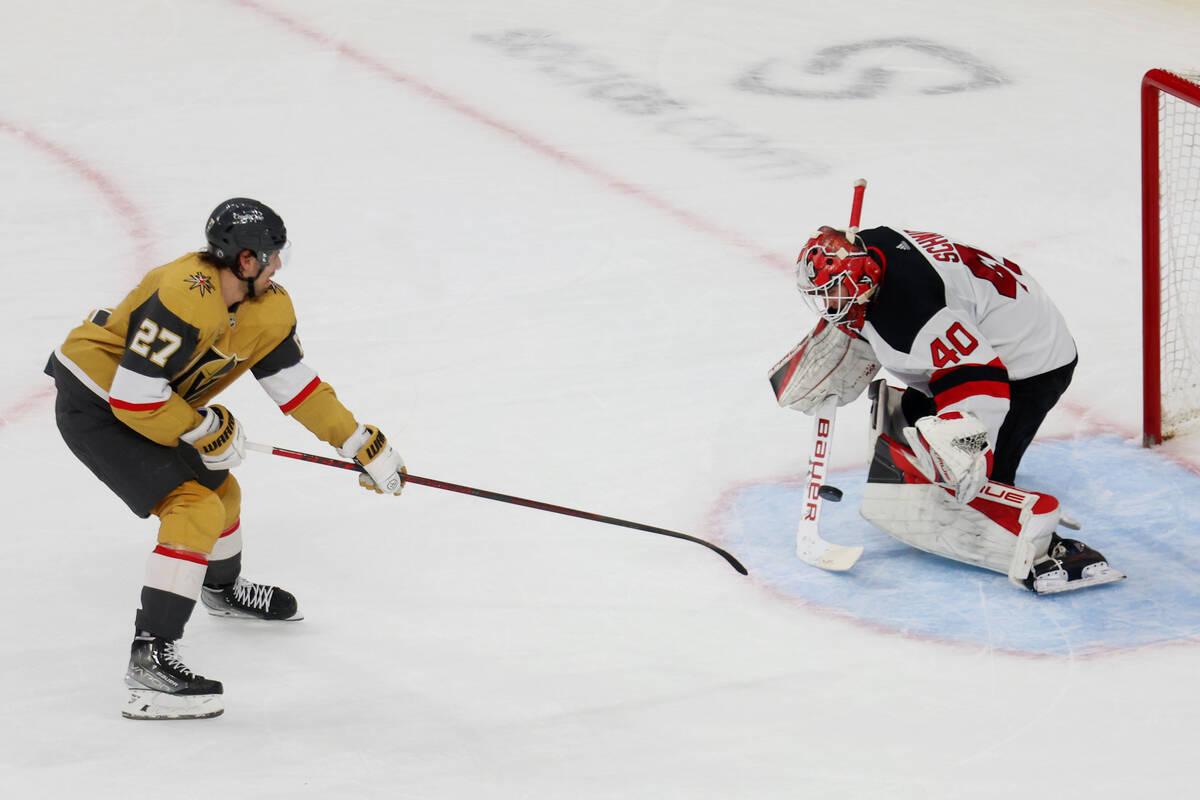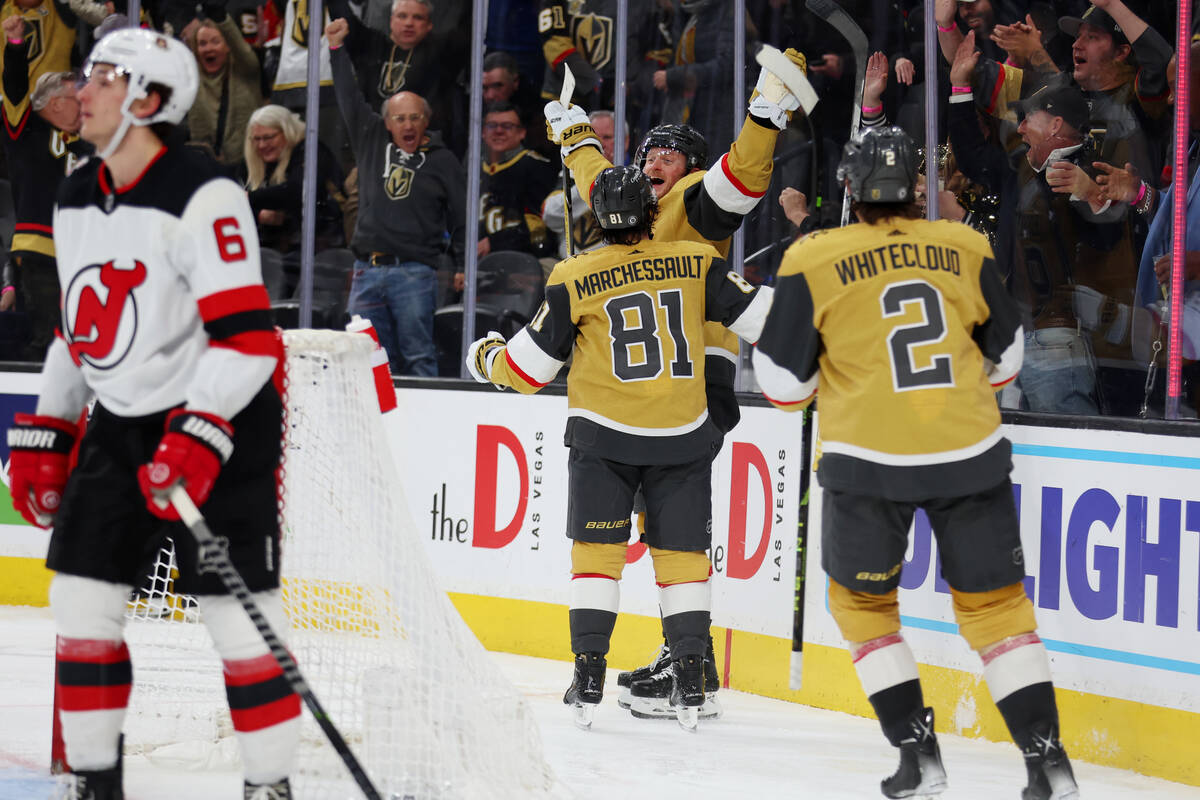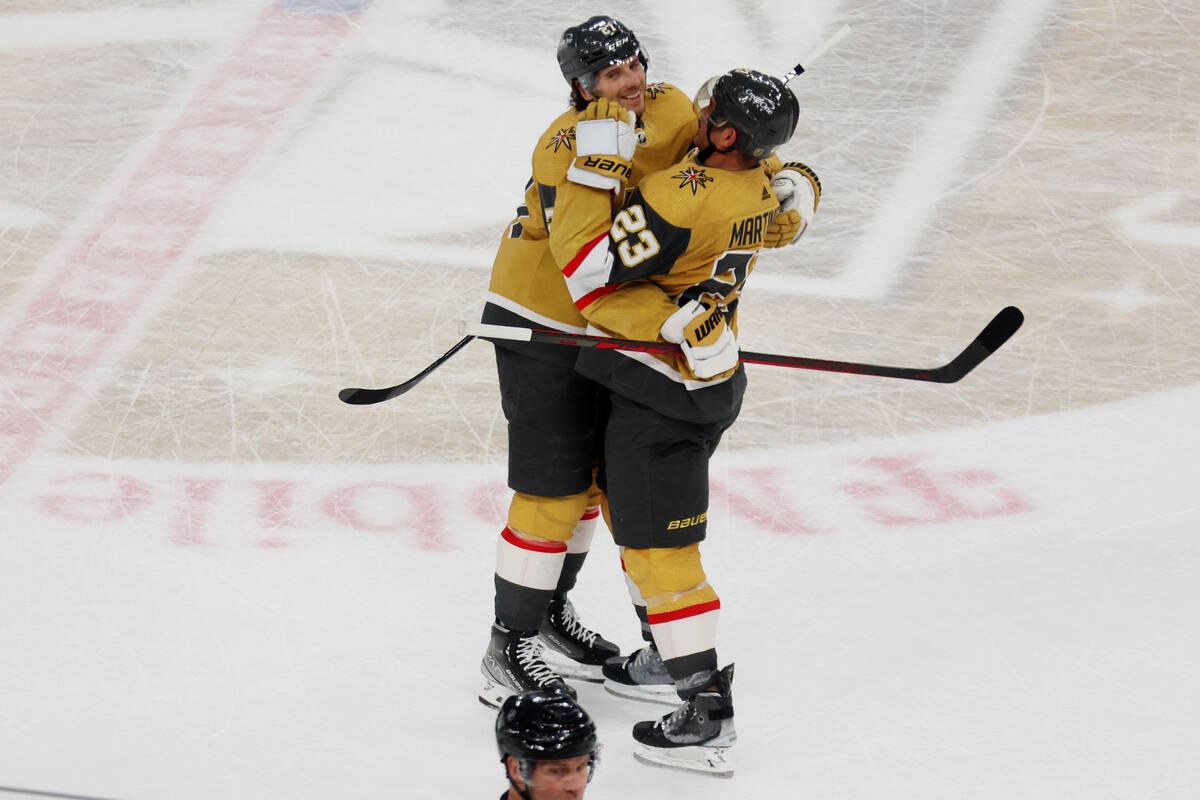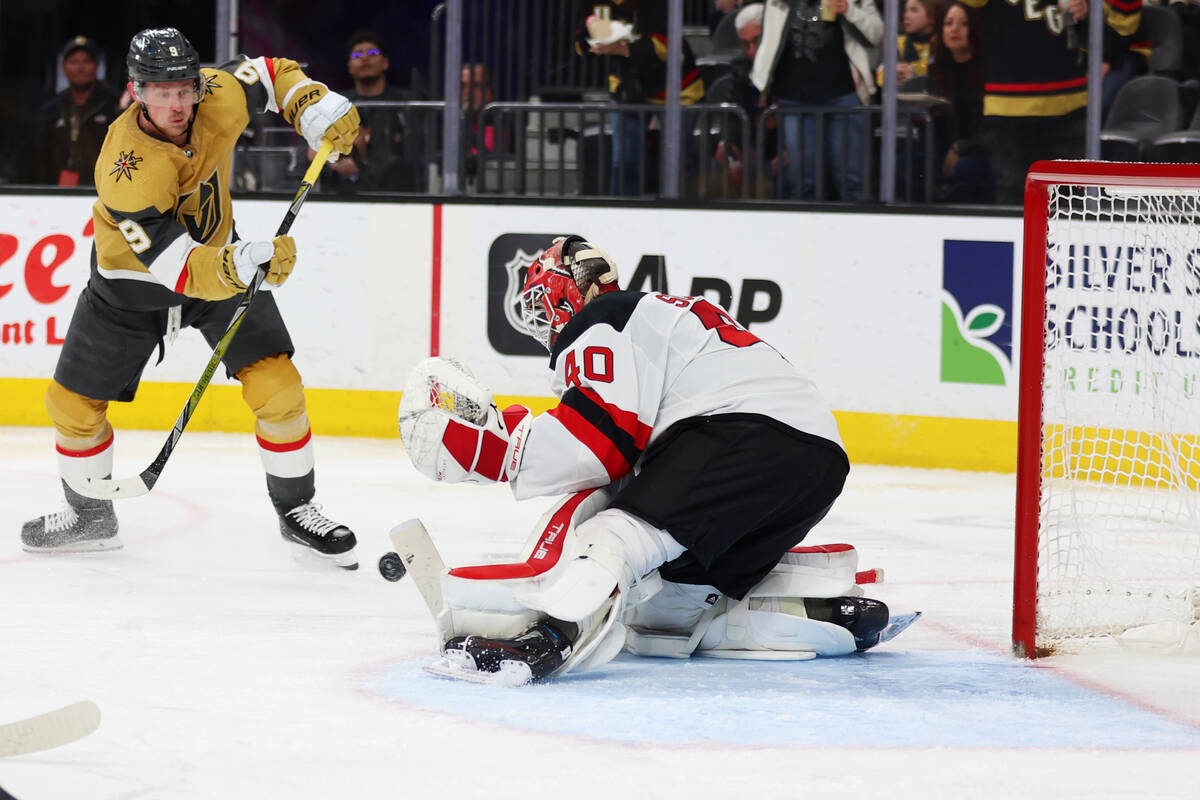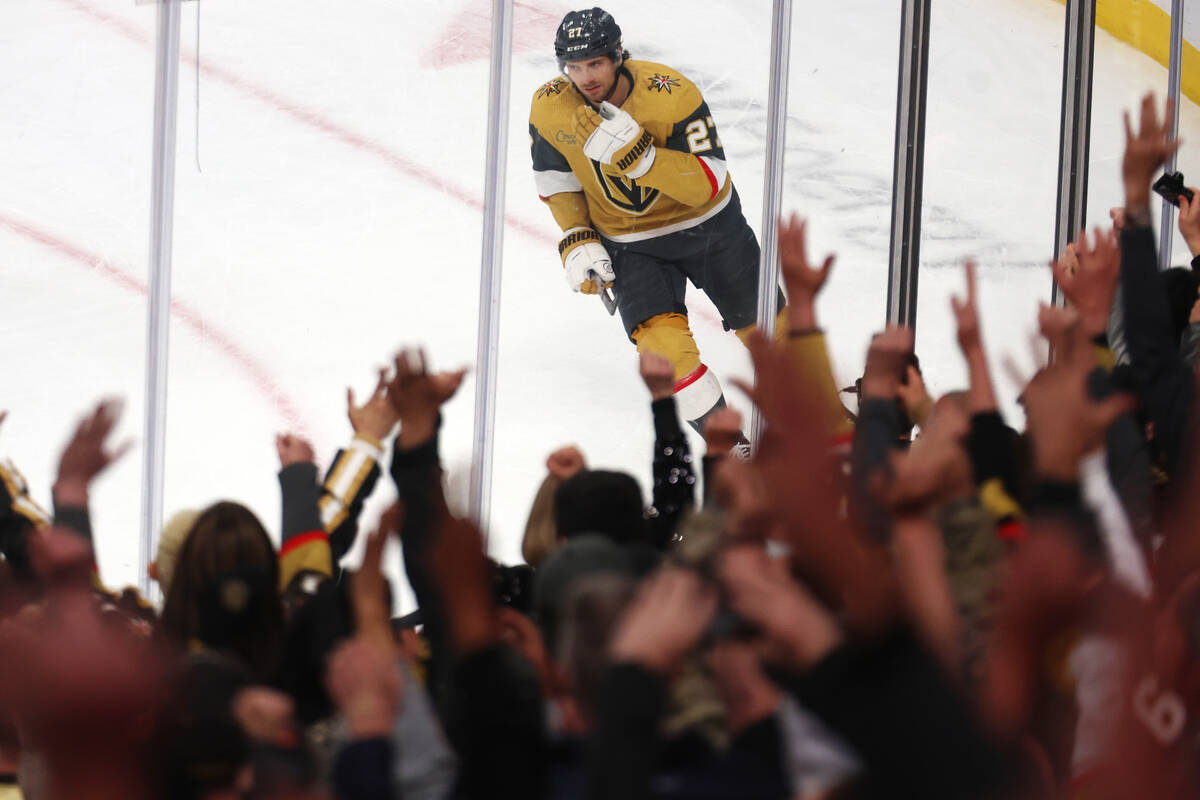 Golden Knights coach Bruce Cassidy accidentally referred to his starting goaltender as "Aaron Hill" on Friday morning, confusing his netminder with a former MLB second baseman.
Adin Hill responded with a performance that should stick out in Cassidy's mind.
Hill was spectacular Friday night against the high-flying New Jersey Devils, making a career-high 46 saves in a 4-3 shootout win. Eight of those came in overtime during a period in which the Devils dominated the puck.
Hill never conceded, which brought much of the announced crowd of 18,033 at T-Mobile Arena to its feet by the end.
The 26-year-old made four more stops in the shootout to set up defenseman Shea Theodore's winner. The victory pushed the Knights to 7-0-1 in their last eight home games, and 2-1-1 in a difficult stretch that included games against playoff contenders Dallas, Colorado, Carolina and New Jersey.
Hill stopped short of saying it was the best game of his career. If it wasn't, it had to be close.
"I felt like I had a good game," said Hill, which drew a chuckle from his audience in the locker room. "We got the win. That's all that matters."
Hill had to be sharp from puck drop.
The Devils (40-15-6), who score the fourth-most goals per game in the NHL, came out flying. New Jersey used its speed to create all sorts of problems for the Knights' defense. Their normally tight structure sprung leaks throughout the game, resulting in rare odd-man rushes Hill had to stop.
He was up to the task in a game Cassidy said the Knights "weren't prepared to play." Hill improved to 5-1 since the All-Star break with a .926 save percentage in that span.
The Knights (37-19-6) never needed Hill more than in overtime, when they were outshot 8-0. He turned away chance after chance from the Devils to give his team the opportunity to get two points.
Hill's heroics capped off a captivating back-and-forth duel between two playoff contenders.
Despite New Jersey's strong start, right wing Jonthan Marchessault got the Knights on the board first 7:48 into the first period by firing the puck into the net while falling to the ice. He celebrated his 400th career point on his back.
Right wing Jesper Bratt tied the game for the Devils with a power-play goal with 4:44 left in the first. Right wing Dawson Mercer gave New Jersey a 2-1 lead with 28 seconds remaining, setting a franchise record by scoring in his eighth straight game.
Marchessault tied the game again with 7:10 left in the second. He then set up a go-ahead goal for center Jack Eichel 3:47 into the third. Left wing Miles Wood brought the game level once more at 3-3 with 7:07 remaining in regulation.
Hill, after being beaten for the third time, locked things down from there.
His skaters didn't give him much help in overtime and didn't score on their first three shootout attempts. He made sure none of that mattered.
"Overtime was just one save after another," Cassidy said. "So good for Adin, Aaron, whatever you want to call him. He was really on tonight."
Here are three takeaways from the win:
1. First line clicks
Three games in, the Knights' new first line of Marchessault, Eichel and left wing Ivan Barbashev is looking sharp.
Marchessault recorded his fourth two-goal game of the season Friday and his 19th multigoal game with the Knights, tied for the most in franchise history.
Eichel scored his third goal in two games. He has eight goals and 13 points in his last 10.
Barbashev picked up two assists for his first multipoint game with the Knights. He has three assists in his first three appearances with the team after being acquired in a trade with St. Louis on Sunday.
"We knew that's the kind of guy that we needed," Marchessault said. "He's going to be a huge factor for the rest of the year."
2. Carrier exits early
Left wing William Carrier left Friday's game with 2:11 left in the first period with a lower-body injury and didn't return.
Carrier has been one of the Knights' most important forwards despite spending most of the year in the bottom six. His 16 goals are the fifth-most on the team. His 25 points are tied for the 10th-most.
Cassidy didn't have an update on Carrier after the game.
3. Pencils down
The Knights didn't make another move Friday before the NHL's trade deadline arrived at noon.
They got all their business done ahead of time, adding Barbashev, center Teddy Blueger and goaltender Jonathan Quick throughout the past week.
Blueger made his Knights debut against the Devils at fourth-line center Friday, while Quick backed up Hill.
"It was great," Blueger said. "It's pretty well-known that this is one of the most exciting buildings to play in in the league. Obviously, being on the home side of it was pretty cool."
Contact Ben Gotz at bgotz@reviewjournal.com. Follow @BenSGotz on Twitter.