3 takeaways from Knights' win: Roy snaps drought at key time
Updated January 2, 2023 - 8:46 pm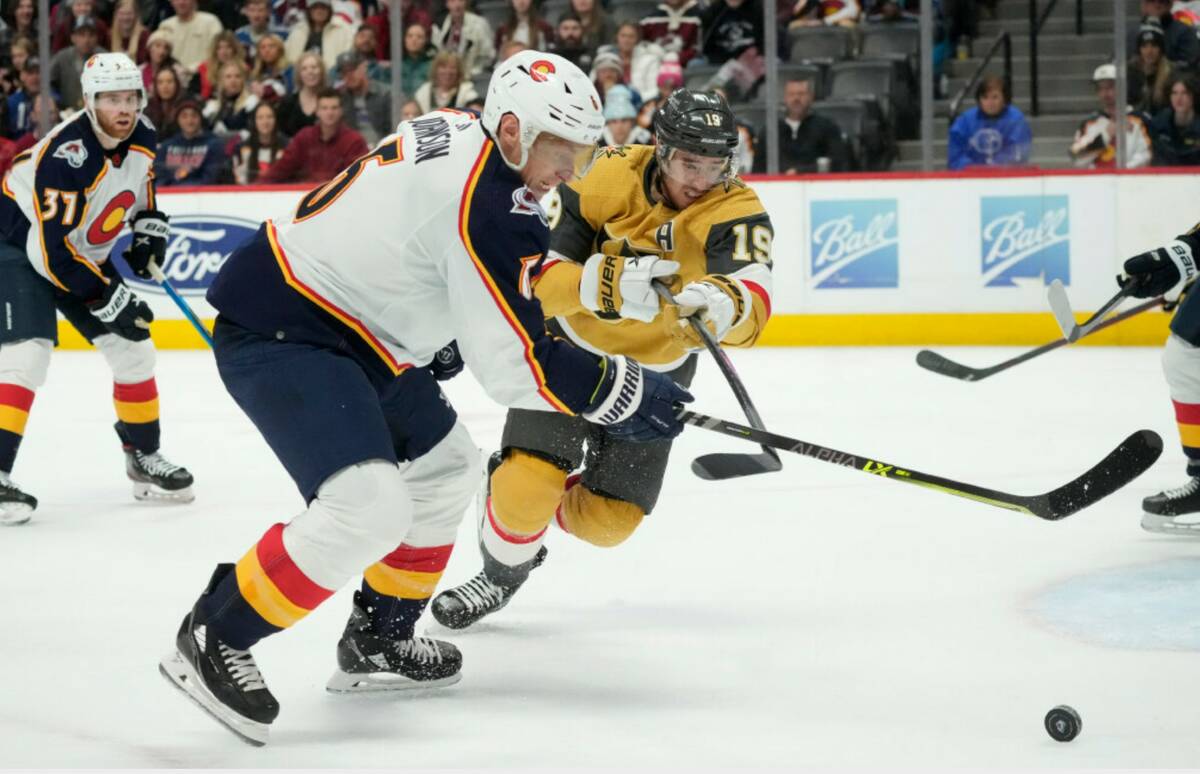 Nicolas Roy pumped both his gloved fists through the air when the first puck went in the net. He only used his left hand after seeing it happened a second time.
Roy, for more than a month, had seen every shot he fired turned aside. His offensive production seemed to come easy early in the season. Then points all of a sudden became almost impossible to get.
That meant Roy was ready to let out some steam during his celebrations when he snapped a 17-game goal drought Monday against the Colorado Avalanche. The 25-year-old, playing in his 200th NHL game, scored twice in the same contest for the second time in his career as the Knights defeated the defending Stanley Cup champions 3-2 at Denver's Ball Arena.
"Happy to see Nic get rewarded," coach Bruce Cassidy said. "You go that long without scoring, it can affect you mentally. You're a forward, right? And it bothers you. So I was happy to see him not only get one but get the extra one (that) turns out to be the game-winner."
The Knights needed the spark Roy provided Monday.
They continued to be short-handed against Colorado, with eight players out of the lineup with injuries. Those absences include three of their eight top scorers in center Jack Eichel, right wing Jonathan Marchessault and defenseman Shea Theodore.
The Knights need secondary scoring to survive stretches like this. For a while, they weren't getting enough.
Roy's line, which played a major role in the Knights' impressive start, cooled off as the season went on. His last goal before Monday was Nov. 25. Left wing William Carrier had three goals in that 17-game span. Right wing Keegan Kolesar had a goal and an assist, both of which came Saturday against Nashville.
The group stepped up in Colorado. The teams traded goals in the first period, with center Nathan MacKinnon giving the Avalanche a 1-0 lead only 25 seconds into the game. Left wing Michael Amadio answered 2:58 before the first intermission.
Roy gave the Knights the lead by beating goaltender Alexandar Georgiev glove-side from below the left faceoff dot 7:14 into the second period. He extended the lead 7:32 later by tipping a Carrier shot into the net.
The two-goal cushion was enough for the Knights to end their three-game losing streak to Colorado, though right wing Mikko Rantanen's goal with 8:53 remaining made things interesting.
Rookie goaltender Logan Thompson finished with 27 saves for his 18th win, tied for the second-most in the NHL.
"I think our first line has been doing a great job and scoring a lot of goals," Roy said. "It's nice to help them, and I think we've been able to do that the last two, three games."
Here are three takeaways from the win:
1. Lineup changes
The Knights continued to mix things up Monday.
Defenseman Kaedan Korczak, 21, made his season debut in place of Daniil Miromanov, who suffered a lower-body injury Saturday. Center Byron Froese, 31, also joined the lineup after being called up from Henderson on Sunday.
Korczak got an assist on Roy's first goal, giving him his first NHL point in his second game.
"Just a lot of excitement," Korczak said. "Confidence kind of grew on me as the game went on and (after) the first 10 minutes nerves went away and (I) could feel my game."
Korczak and Froese were the 29th and 30th players the Knights have used this season, tied for the second-most in team history. Colorado has used an NHL-high 37.
2. Amadio keeps it going
New year, same Amadio.
The 26-year-old didn't let the calendar changing slow him down. His first-period goal extended his point streak to a career-high seven games. Amadio has five goals and four assists in that span.
He had two points in 18 games before the streak began.
3. PK stays strong
The Knights went a perfect 5-for-5 on the penalty kill Monday.
What was once an early-season weakness has started turning into a strength. The Knights, after allowing a season-high three power-play goals to Vancouver on Nov. 26, are 40-for-48 (83.3 percent) on the penalty kill.
"We were on the wrong side of every call," Cassidy said. "We killed five power plays, so give our guys credit for digging in."
Contact Ben Gotz at bgotz@reviewjournal.com. Follow @BenSGotz on Twitter.