Golden Knights' Shea Theodore reveals cancer diagnosis
Updated September 12, 2019 - 9:14 pm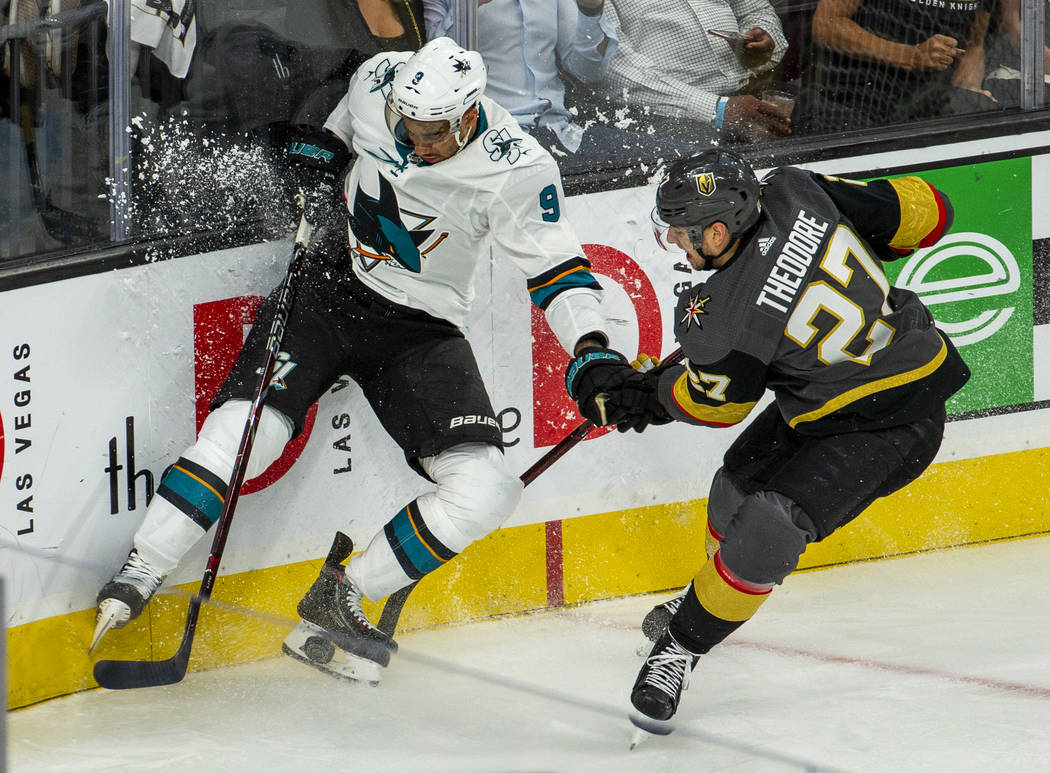 Ryan Reaves cornered teammate Shea Theodore after an errant tee shot during the Golden Knights' charity golf tournament last week and peppered the defenseman with questions.
The brief interview was part of a video for the team's social media accounts and started with the gregarious forward asking Theodore how his summer went.
"It was good," Theodore replied.
"Didn't want to get that (missing) tooth fixed, eh?" Reaves then heckled.
Theodore, sounding as if he had more important things on his mind the past few months, answered that he might get it done next summer before Reaves ended by teasing Theodore that he looks "homeless."
The humorous exchange took on a completely new context Thursday.
Theodore shattered the peace and quiet at the start of Knights training camp when he revealed in an emotional essay on The Players' Tribune website that he was diagnosed with testicular cancer more than three months ago.
Thank you to everyone who took the time to read my story and reach out. The kind words and support has been incredible. Excited to be back in Vegas with the boys, season three is right around the corner! #VegasStrong #EarlyDetection

— Shea Theodore (@stheodore17) September 12, 2019
The 24-year-old from Langley, British Columbia, was not available to the media Thursday, but general manager Kelly McCrimmon said Theodore is fully recovered and cleared to participate in the first day of practice Friday at City National Arena.
"I thought it was really courageous by Shea," McCrimmon said. "Early detection obviously was a big part of this story ending the way that it did. I think that's in large part why Shea wanted to tell his story, to try to encourage others to be tested.
"We're extremely grateful and happy for Shea and his family that it's turned out the way that it has. And again, he is fully recovered and has been skating and training here for quite some time."
Theodore wrote that he was administered a drug test before the quarterfinals of the IIHF world championship in May and was informed by officials that he failed after Team Canada's loss to Finland in the gold medal game.
The hormone (hCG) that triggered the positive test can be a sign of testicular cancer, Theodore wrote, and blood tests confirmed the cancer diagnosis once he returned from Slovakia.
"At that point, I wouldn't even say I was scared," Theodore wrote. "Everything was just happening really fast, you know? Almost too fast to process."
Theodore underwent surgery to remove a 5 millimeter by 5 millimeter lump soon after his diagnosis. Before the procedure, he received a text from Arizona Coyotes forward Phil Kessel offering support.
Kessel, who shares the same agent as Theodore, had surgery for testicular cancer as a rookie in 2006 and made a full recovery.
"After everything I've gone through this summer, I just can't wait to be back doing what I love," Theodore wrote. "I truly want to enjoy every single moment this season. Every practice, every game, every plane ride … all of that could have been taken away from me. Honestly, it's kind of a miracle that things worked out the way they did."
Theodore announced he will donate to early detection causes for every point he records this season, and the Vegas Golden Knights Foundation will match his contribution dollar for dollar.
"After seeing that (essay) today, it's nice seeing him in camp, and looking at him, you'd never know, right?" rookie defenseman Nic Hague said. "Obviously, wish him the best and want what's best for him, and I hope he's doing OK."
Theodore missed half of training camp last season before he signed a seven-year, $36.4 million contract.
He led all Knights defensemen with career highs in goals (12) and points (37).
"He is an effortless skater that we expect is really going to continue to develop for a few years," McCrimmon said. "I think he's improved so much, and yet I think he's got all kinds of potential still to continue to be a better and better player than what he has."
More Golden Knights: Follow at reviewjournal.com/GoldenKnights and @HockeyinVegas on Twitter.
Contact David Schoen at dschoen@reviewjournal.com or 702-387-5203. Follow @DavidSchoenLVRJ on Twitter.