Hague slap shot gives Knights overtime win over Predators
Updated December 31, 2022 - 5:12 pm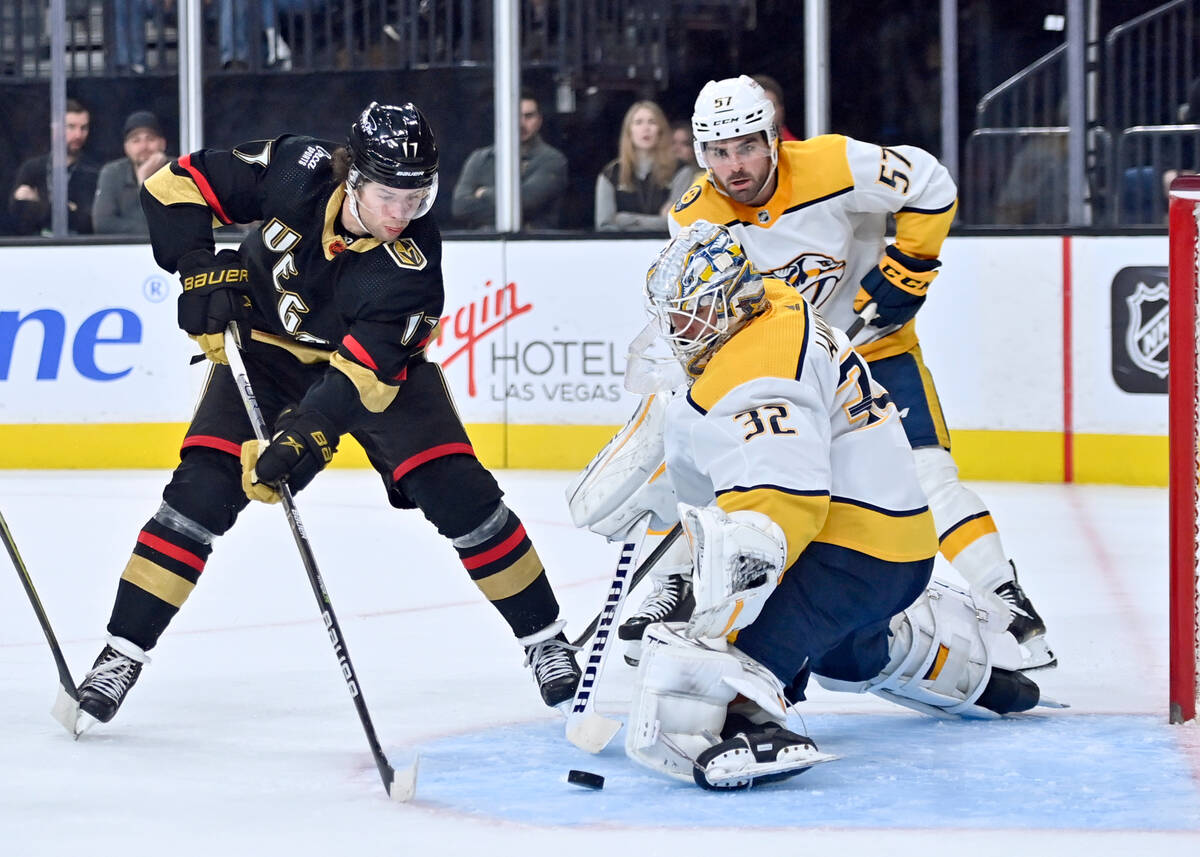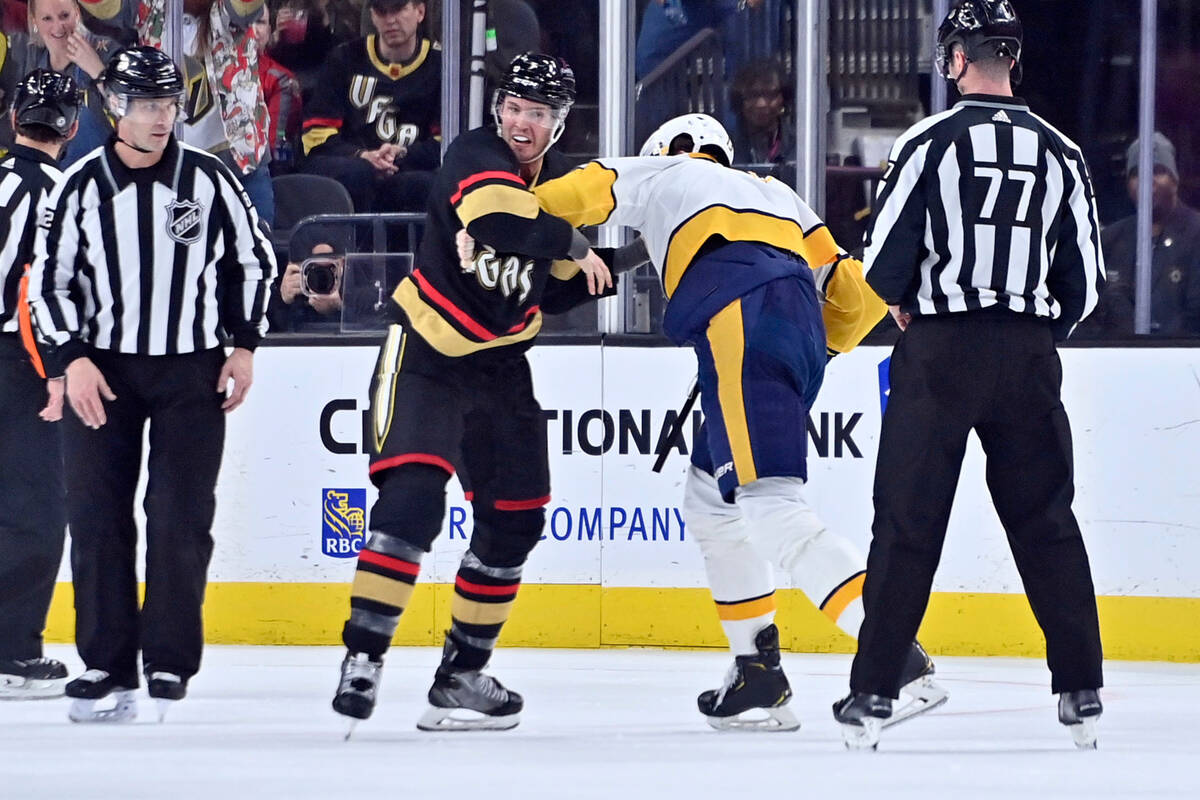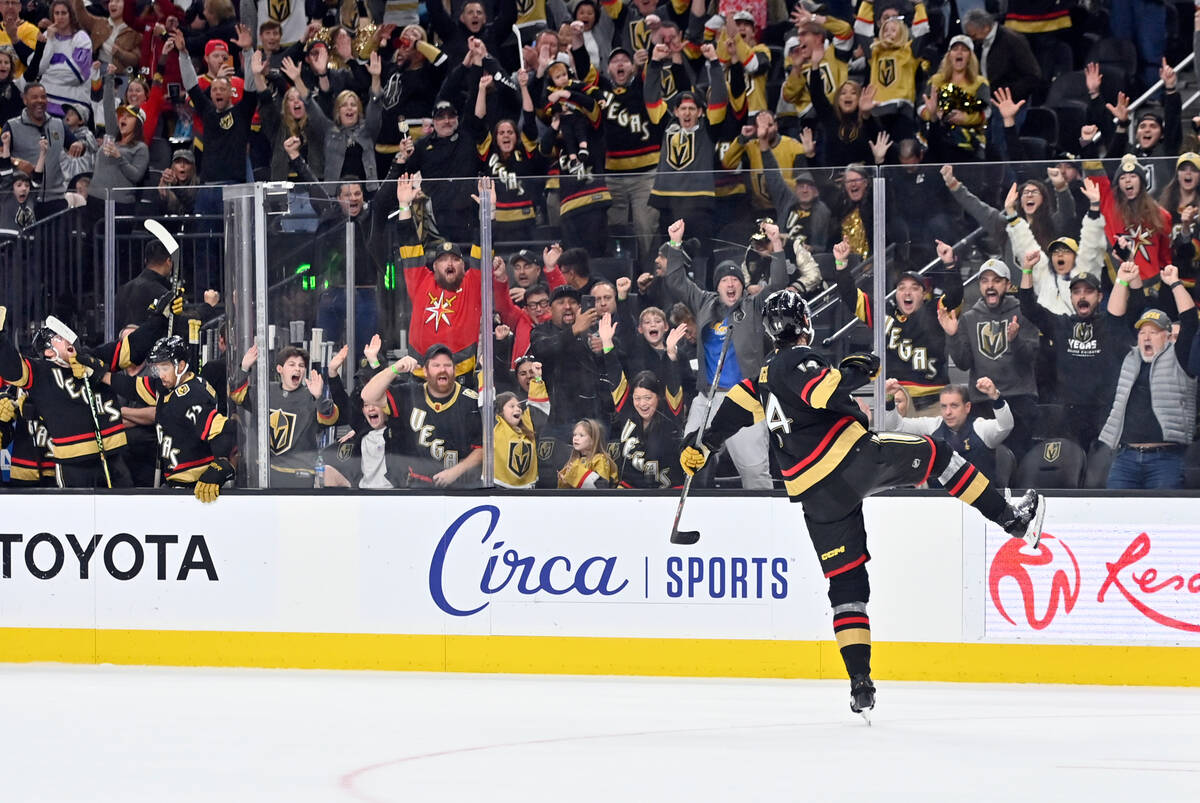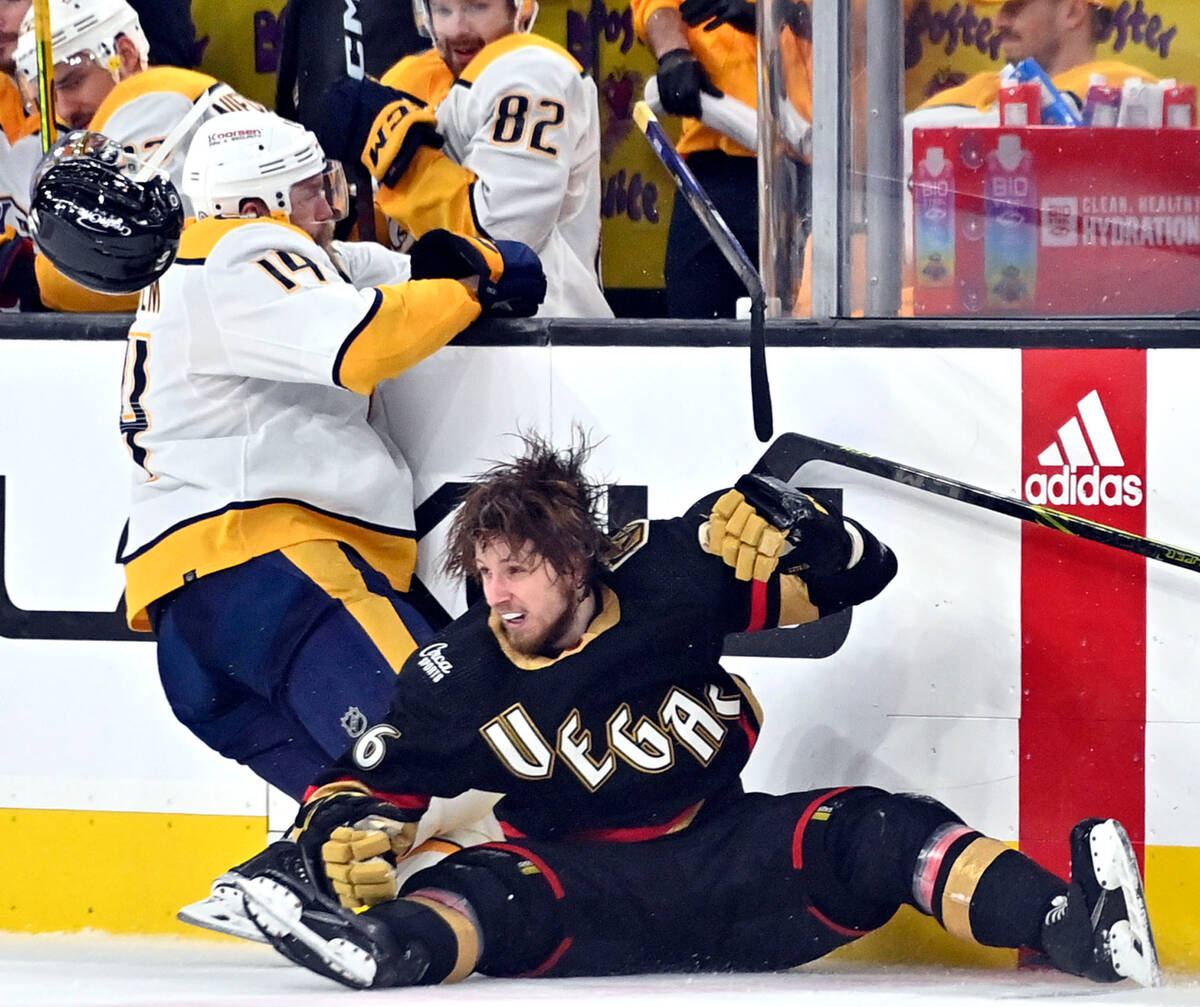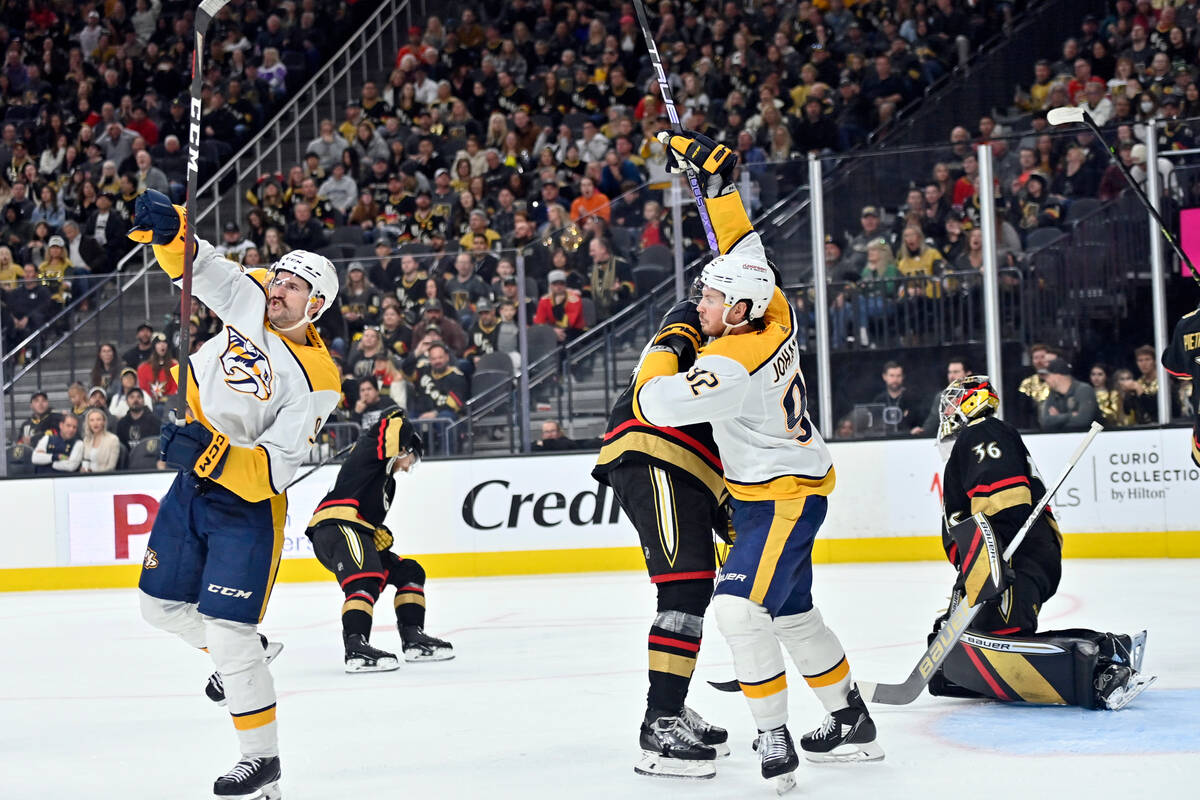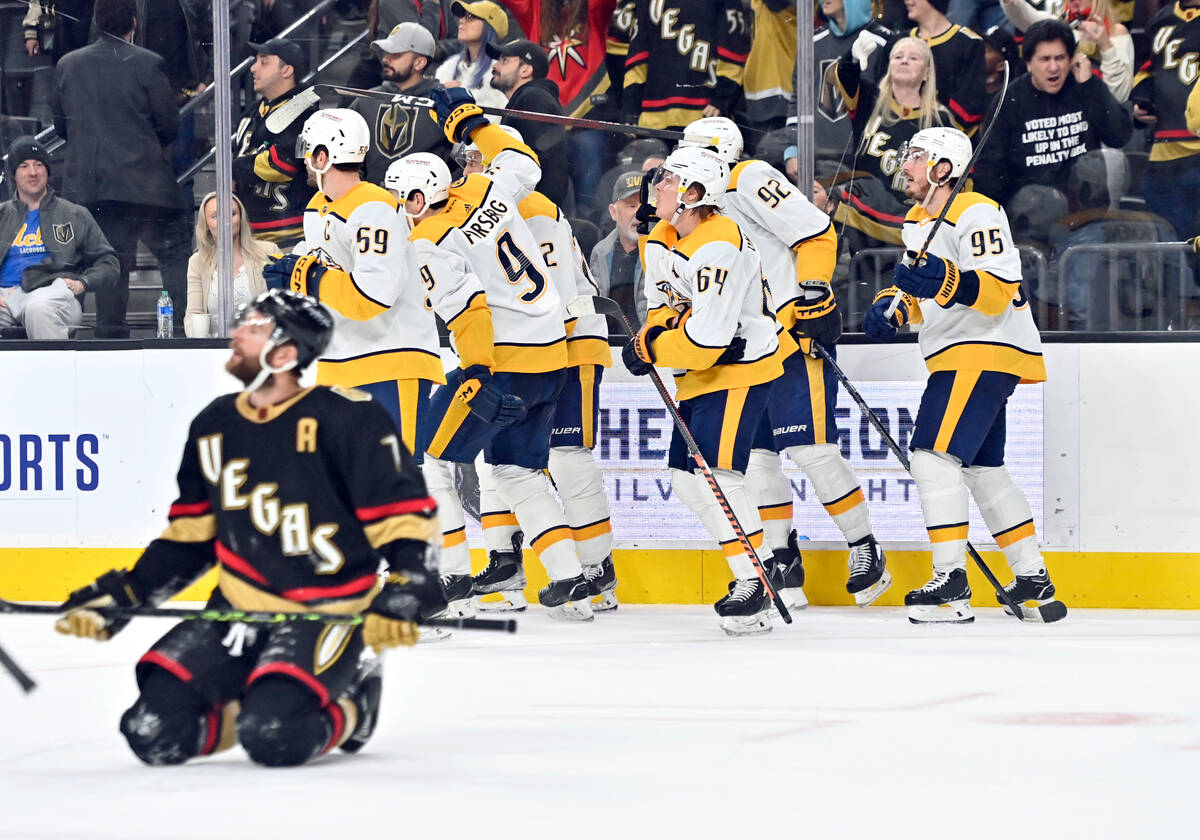 The Golden Knights were down to four defensemen by the time the Predators forced overtime with a goal in the final five seconds of regulation.
Fortunately for them, one of them was Nicolas Hague.
He blasted a slap shot past Kevin Lankinen 2:04 into overtime to give the Golden Knights a dramatic 5-4 win in a Saturday matinee at T-Mobile Arena.
"I leaned into it," Hague said. "I feel like I lean into all of them, that one's just from a good spot. I just have to try to hit the net and see what happens. It ended up going in, which is nice.
"That was fun. Nice to end it like that and get a win, especially after giving up a late one there. That was a little tough, but we stuck with it and focused on the next play. We'll take a win any way they come."
The goal came as the Knights (25-12-2) had an extra attacker on the ice for a delayed penalty call. Mark Stone got his third assist of the game by feeding the puck back to the middle of the ice for Hague, who drifted toward the Knights bench and wound up before unleashing a bullet that ripped into the back of the net.
"He's got a cannon of a shot," said Stone, who was encouraging Hague to be the one to fire away while they were in a delayed penalty situation. "We were trying to find a way to get him into a little bit of ice, and we kind of got them out of place and he makes a great shot.
"Real happy for him to get a big goal like that."
Coach Bruce Cassidy said the bench was hoping to see Hague rotate to a better angle to get a shot that would be more difficult for the goalie to stop and was pleased when he saw him do just that.
"That one was just a freaking bomb," Cassidy said. "It's just hard to stop from there with those guys that shoot it that hard."
The already short-handed Knights lost a pair of defensemen in the game as Brayden McNabb was ejected in the second period for delivering a check to the head of Mark Jankowski, who did not return for the Predators (15-14-6).
Daniil Miromanov didn't take a shift after the second period. He was on the ice before the start of the third, but didn't look comfortable on his right skate.
That left Hague, Ben Hutton, Brayden Pachal and Alex Pietrangelo to pick up even more of the slack with Zach Whitecloud on injured reserve, Shea Theodore still out and Alec Martinez dealing with the effects of taking a blocked shot off his foot against the Kings earlier this week.
Pietrangelo was on the ice for 29:05 and is averaging 29:52 of ice time over the last four games.
"I'm very proud of our group," Cassidy said. "We're going into the new year in first place with a lot of different faces contributing. There's a lot of positives and I'm happy for the guys and looking forward to seeing what our team looks like when we do get healthy, because I think we'll be a real dangerous team."
The Predators, who had tied the game with 4.3 seconds left in regulation on Filip Forsberg's third goal of the game, scored twice on their first seven shots of the game to take a 2-0 lead.
The Knights answered with four straight goals to seize a 4-2 lead early in the third period after Chandler Stephenson scored. He also had an assist on the overtime game-winner and finished with three points. Keegan Kolesar scored the first goal of the game for the Knights late in the first period and also added an assist.
Forsberg's second goal got the Predators back within 4-3 with 8:19 remaining. The Predators went on the power play with 1:10 left in regulation, and the Knights nearly killed it off despite the extra attacker, only to allow Forsberg to find the space to complete the hat trick on the last-gasp opportunity.
Cassidy was pleased the Knights were able to overcome the heartbreaker and find a way to collect themselves in time to salvage the extra point by scoring in overtime.
"It was a grind to get through it, but we got the two points," he said. "It shows some real resiliency in the group to stay with it. You don't want to give up a lead in the third ever, but sometimes it happens. Good for us to keep our heads on straight after they scored and get back to it in overtime."
Contact Adam Hill at ahill@reviewjournal.com. Follow @AdamHillLVRJ on Twitter.