Jack Eichel joins Golden Knights for 1st practice
Updated January 11, 2022 - 4:58 pm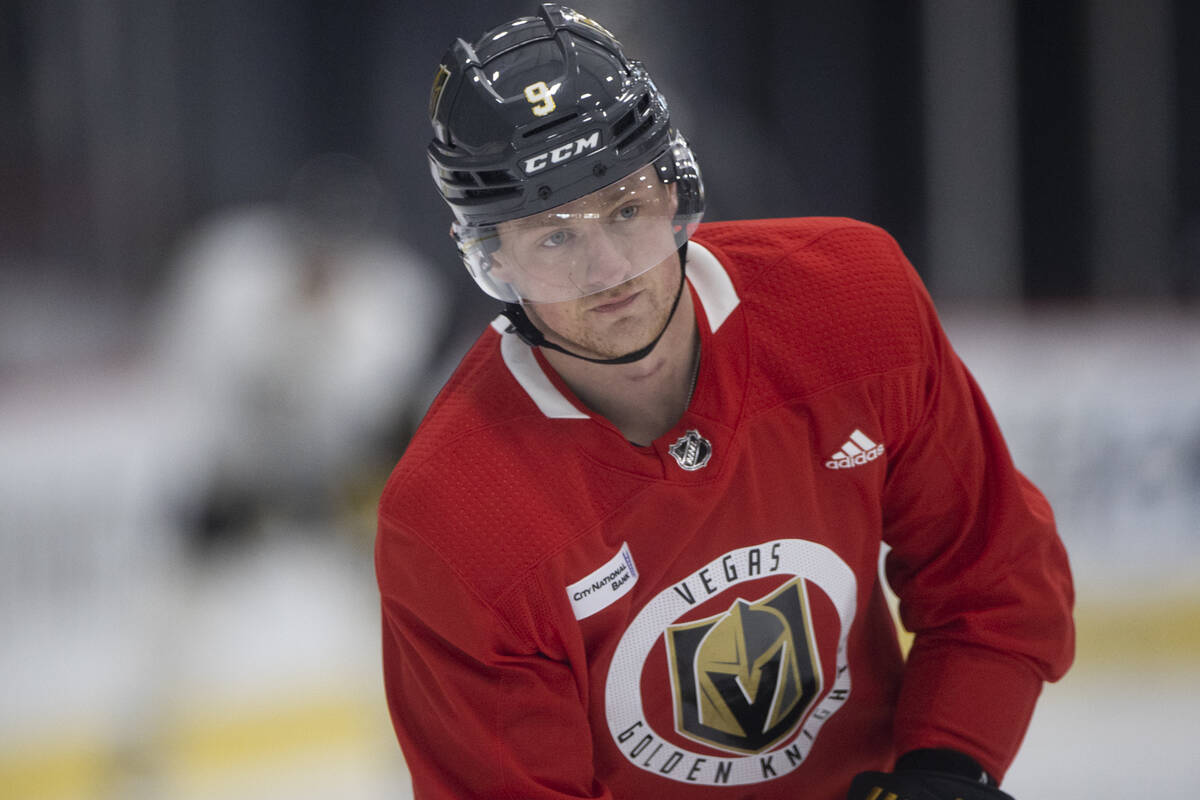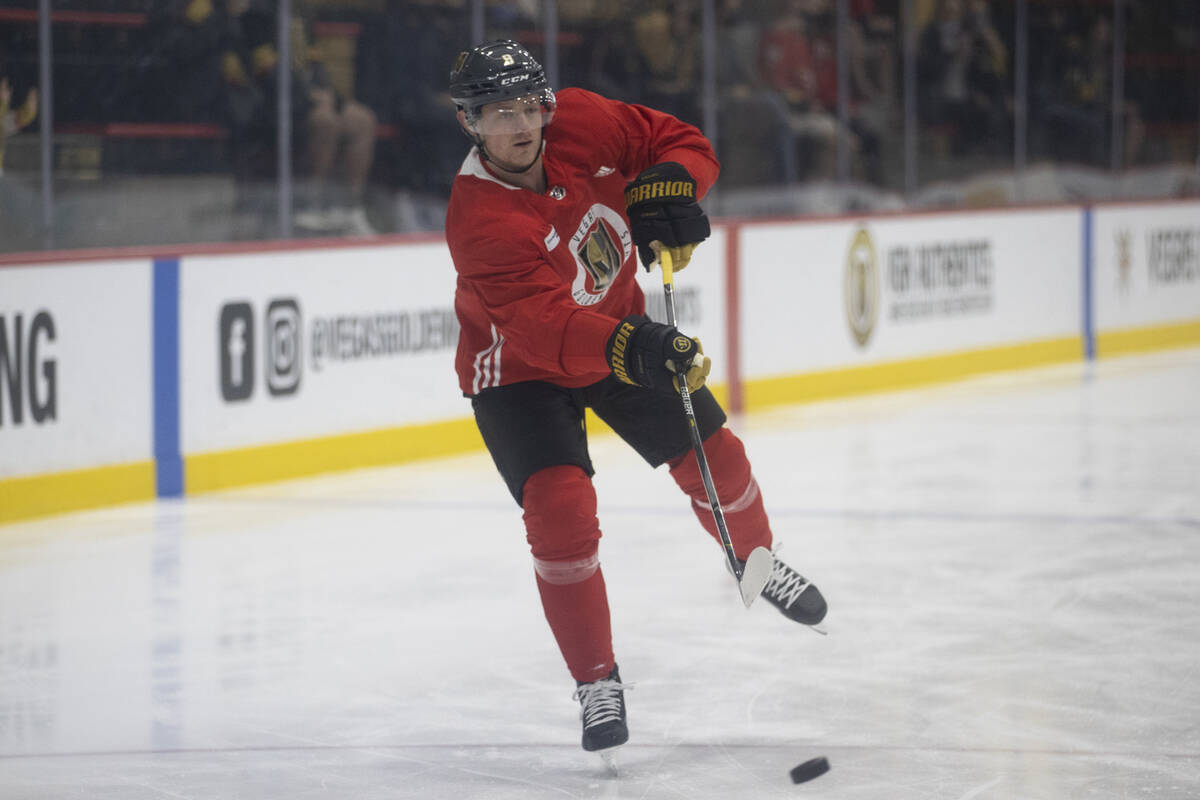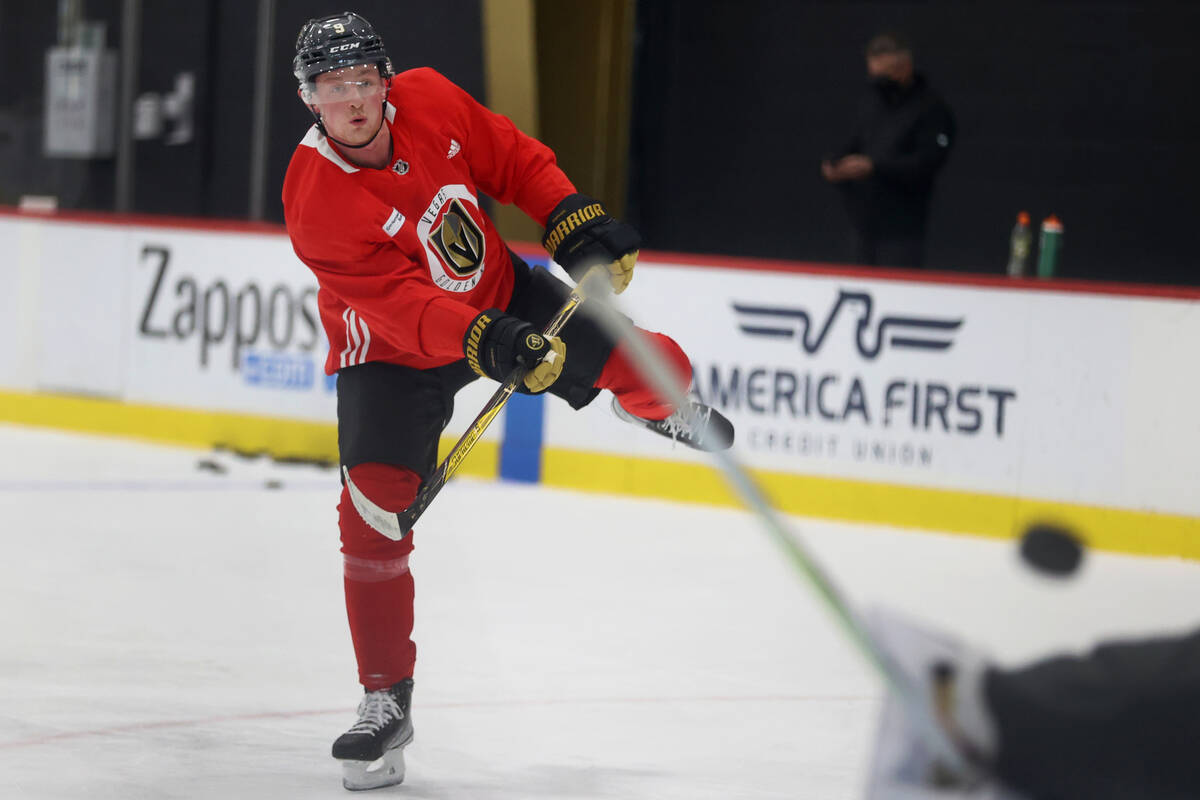 It didn't matter that Jack Eichel was wearing a red noncontact jersey. It didn't matter that the Golden Knights' marquee acquisition was only taking part in an optional morning skate at City National Arena before a game in which he wouldn't play.
On Tuesday, Eichel got to feel like a hockey player on a hockey team again. That meant everything. He was glowing after his first practice with the Knights following his Nov. 4 trade from the Buffalo Sabres.
"With everything that I've been through, it seems like things are getting back to normal for me," Eichel said. "That's what I wanted all along."
Eichel's first practice brings him one step closer to playing in his first NHL game since March 7.
The 25-year-old All-Star center appeared in Las Vegas briefly after the trade, then became the first NHL player to undergo artificial disk replacement surgery on his neck Nov. 12.
Eichel rehabbed in Charlotte, North Carolina, before rejoining the Knights on Tuesday.
"The recovery has been pretty smooth," Eichel said. "The last few weeks, it's like, 'Wow, I feel really good now. I almost feel basically back to normal.'"
Eichel still has hurdles to clear before he appears in a game. General manager Kelly McCrimmon said in an interview last month with the Review-Journal that determining when Eichel is ready for contact will be the most difficult decision and could take the most time.
Coach Pete DeBoer said Tuesday that Eichel will not be allowed to take contact "for a while." Eichel said he didn't have a target date, either. McCrimmon said after the trade the recovery timeline was three to five months.
"I was actually thinking about suiting up tonight, but they wouldn't let me go," Eichel said jokingly. "No, I wish. … I feel like I'll know mentally and physically and emotionally when I'm ready to go."
Being around the team is an important part of the process.
Eichel can get to know where he will be living. He can bond with teammates. He can start to build chemistry on the ice.
Those teammates are looking forward to having him around. Captain Mark Stone called Eichel "a top-10 player in the league." He could give the franchise the elite No. 1 center it hasn't had in five seasons.
"It's awesome to have him back," defenseman Zach Whitecloud said. "It's probably good for Jack to get in here and get back in the swing of things. It's exciting for everyone."
It was especially meaningful to Eichel. He said he was emotional getting back to the rink with a new team. His months in the spring, summer and fall were spent feuding with the Sabres over treatment options and waiting for his next opportunity.
The Knights swooped in and gave him the chance to play hockey again, his way. Now he's closer than he's been in a long time to playing again.
"I had a big smile on my face all day," Eichel said. "It's what I love, so I'm just really happy that it feels like things are getting better to normal for me. I'm very, very fortunate."
Contact Ben Gotz at bgotz@reviewjournal.com. Follow @BenSGotz on Twitter.