Knights don't expect changes in net for Western Conference Final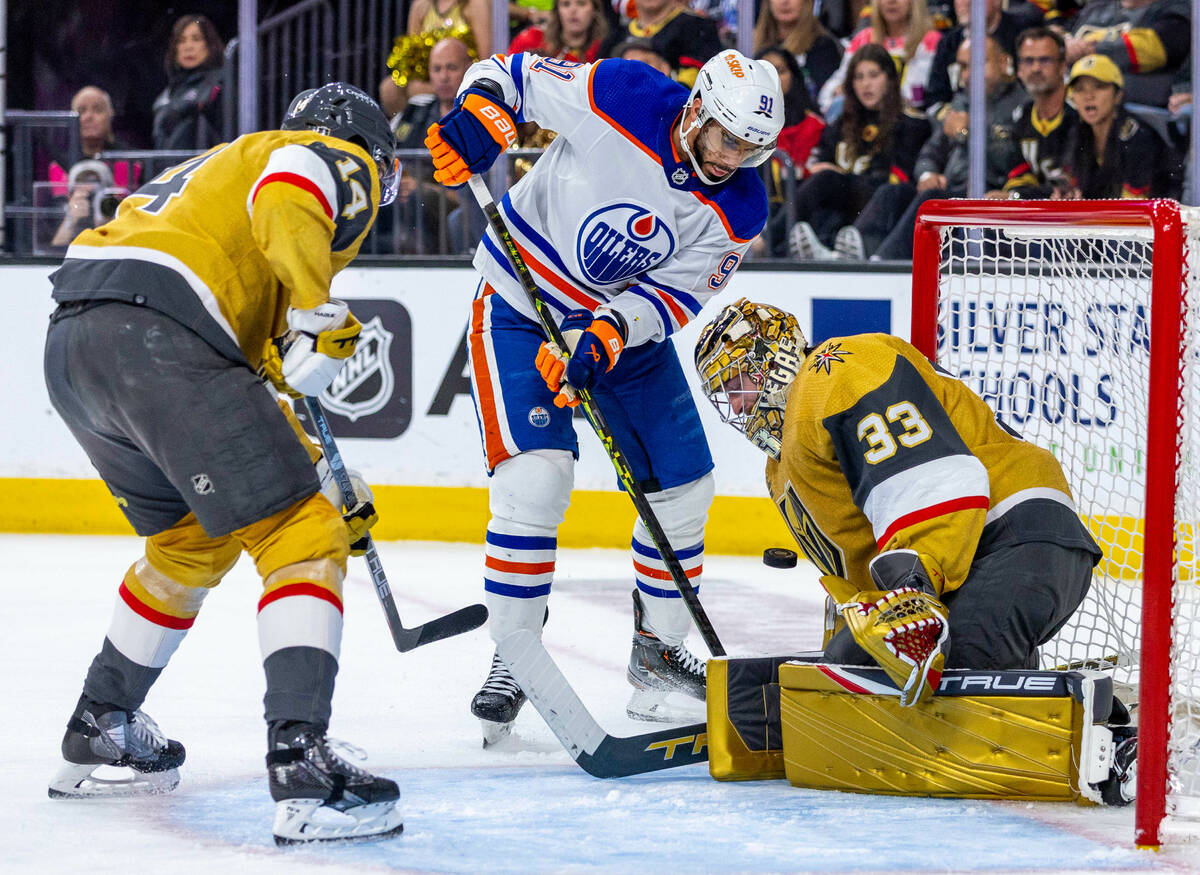 The Golden Knights will start the Western Conference Final with the same goaltending tandem they ended their last series with.
Coach Bruce Cassidy said goaltender Laurent Brossoit has not started skating since suffering a lower-body injury in Game 3 of the Knights' second-round matchup against the Edmonton Oilers. That means they will continue to roll with goaltender Adin Hill as their starter against the Dallas Stars and two-time Stanley Cup winner Jonathan Quick as the backup.
Hill was excellent in four appearances against the Oilers, posting a .934 save percentage in the first playoff opportunity of his career.
"He's played well for us all year," Cassidy said after the Knights' series-clinching win Sunday. "He stepped up. And you're not advancing without that."
Losing Brossoit could have been a huge blow for the Knights. He was incredible down the stretch, going 7-0-3 in the regular season to earn the No. 1 job entering the playoffs.
But dealing with injuries in net is nothing new for the Knights. They started a franchise-record five goaltenders this season. They also lost last season's primary starter, Robin Lehner, to a hip injury that required surgery in August.
Like Brossoit, Hill has responded to the competition those absences have opened up in the crease. The 27-year-old, acquired from the San Jose Sharks for a fourth-round pick Aug. 30, set career bests in starts (25), wins (16) and goals-against average (2.45) this season.
"When I got traded here, I was excited because I know the expectations," Hill said. "I'm trying to fulfill those expectations with these guys."
Cassidy said it's possible rookie Logan Thompson starts skating with the Knights again at some point. He has made only one appearance since Feb. 9 because of lower-body injuries.
Insider knowledge
Stars coach Pete DeBoer will know plenty about the tendencies of Knights players after working with them for 2½ seasons behind the T-Mobile Arena bench.
But that knowledge also cuts both ways.
Knights assistants Ryan Craig and Misha Donskov were on DeBoer's staff, so they're aware of how his teams like to play. Assistant John Stevens also knows the Stars players well after spending the previous three years in Dallas.
"We have our (coaches) meeting this morning; I'm just putting my feet up and relaxing because those guys have all the information," Cassidy said. "It's up to me to decide what to do with it in a couple days."
Northmen
The Knights are the northernmost team remaining in the Stanley Cup playoffs.
Along with Dallas, the Carolina Hurricanes and Florida Panthers are still alive. It's not a traditional final four, but that doesn't mean it's an undeserving group.
The Hurricanes had the NHL's second-best record in the regular season, the Knights were tied for fourth and the Stars finished eighth. The Panthers were tied for 17th, but they won the Presidents' Trophy last season.
"If the four best teams are left, it doesn't matter where they're from, right?" Cassidy said. "That's just the way it falls this year. Four good hockey teams, and I'm sure they'll create good storylines and create a deserving champion."
Contact Ben Gotz at bgotz@reviewjournal.com. Follow @BenSGotz on Twitter.