Knights' locker room chemistry 'as good as it was the 1st year'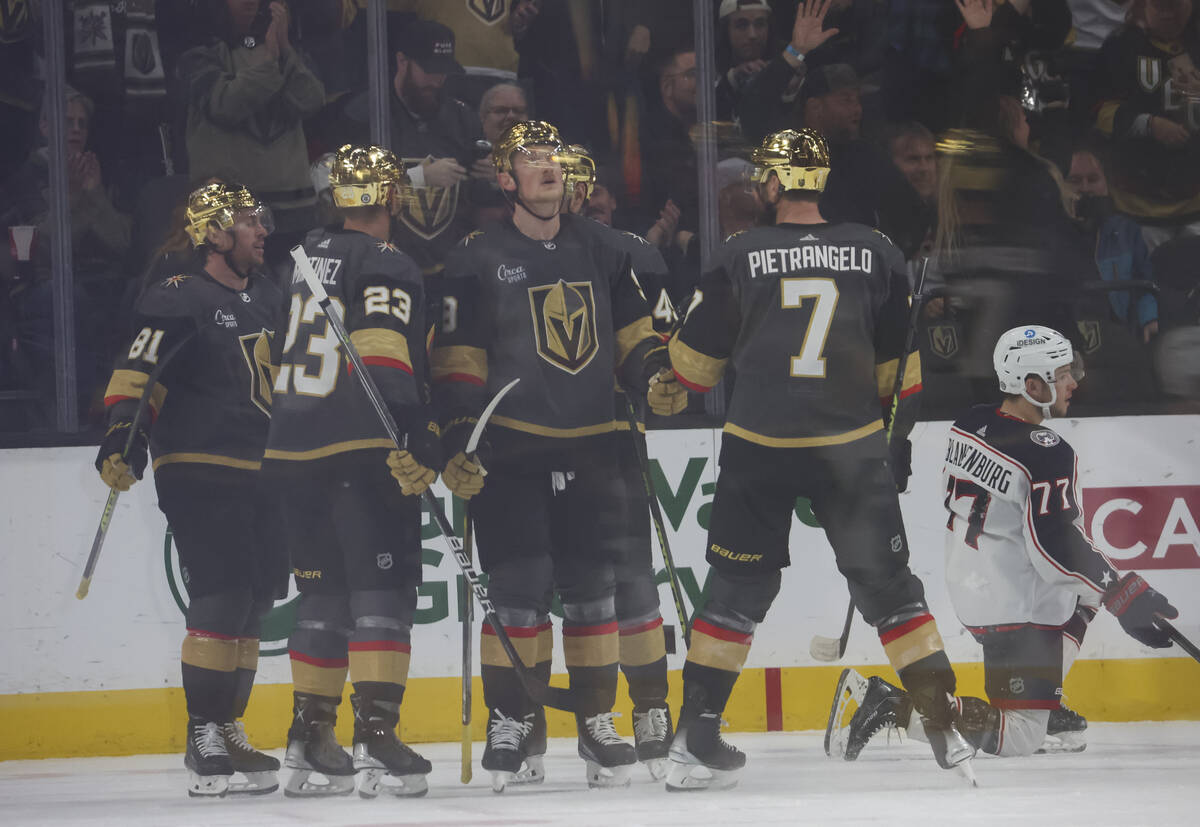 Golden Knights goaltender Adin Hill played one of the games of his life March 3 against the New Jersey Devils.
His reward? A giant black wig and a pair of sunglasses. That's the deal for the Knights' best player after every win. They get to dress like Elvis. Whether it suits them or not.
Thank you. Thank you very much. 🕺 #TheGoldenAge pic.twitter.com/6Kc7vUT2Bc

— Vegas Golden Knights (@GoldenKnights) March 2, 2023
"I don't know if that's my style," Hill said sheepishly. "Sunglasses are tough to pull off inside, right?"
The Elvis get-up — which right wing Jonathan Marchessault said was the brainchild of center Jack Eichel — is one of many traditions the Knights have established this season. They play the song "Never Going Home" by Kungs after wins. They grab a cap off the ice to commemorate hat tricks.
None of it is groundbreaking, but it's all evidence of a tight locker room with players who like spending time together. That matters. At least it does to the players who are a part of it.
"The chemistry is as good as it was the first year," Marchessault said. "We were definitely searching for it the last few years, but this year we've found it."
There are a lot of reasons the Knights have grown closer.
There have been no COVID-19 restrictions or disruptions this season, as there were for the past several. The players had more time to miss one another after the longest offseason in franchise history. The Knights have also experienced so much together this season, from right wing Phil Kessel setting the NHL record for consecutive games played to defenseman Alex Pietrangelo missing nine games to care for his ill 4-year-old daughter Evelyn.
But to Marchessault, it comes down to the players in the locker room.
The team already had a strong leadership group with captain Mark Stone, former NHL captains Eichel and Pietrangelo, and longtime veterans such as Marchessault, left wing Reilly Smith and defenseman Alec Martinez.
Kessel arrived this summer with a reputation as a legendary character. He was tied for second in the NHL Players Association's recent poll for "best guy in the locker room." He's lived up to the billing. He doesn't take himself too seriously and is willing to trade barbs with teammates.
Rookies Logan Thompson and Paul Cotter likewise have brought energy to practices and a joy to the ice. They're not the only ones. Other young players such as Pavel Dorofeyev and Daniil Miromanov gave the Knights juice with the impact they made during difficult stretches.
Even the team's recent pickups have been good additions. Pietrangelo said left wing Ivan Barbashev, whom he played with in St. Louis, would "fit in with anybody." Defenseman Brayden McNabb called goaltender Jonathan Quick an "unbelievable teammate" after spending three years with him in Los Angeles.
"I think that just adds up," Marchessault said.
The Knights' closeness, as it did the first season, seems to have played a role in their success.
They've used a franchise-record five goaltenders since the All-Star break and never blinked. They've been without Stone for 30 games and still have the best record in the Pacific Division and Western Conference. They've played 38 one-goal games, the second-most in the NHL, and won a league-high 24 of them.
On some level that reflects their belief in one another.
"We're definitely a tight group," defenseman Nic Hague said. "We all have one common goal in mind, right? We're all pulling the rope the same way to get there. And that brings us all closer together, doing that."
That bond doesn't guarantee playoff success. But it's nice to have when the games matter the most.
A video showing Eichel donning the Elvis wig March 1 — revealing the Knights' player of the game tradition for the first time — had some telling cameos. Stone, Thompson and goaltender Laurent Brossoit were in the locker room taking part despite being injured.
It was a sign of how much these players like being around one another and creating traditions. They've enjoyed the ride. It's on them to finish it.
"Little things like that can go a long way," Eichel said. "Whatever can bring the group closer. It's been a lot of fun coming to the rink and hanging out with these guys every day."
Contact Ben Gotz at bgotz@reviewjournal.com. Follow @BenSGotz on Twitter.
Up next
Who: Golden Knights vs. Oilers
When: 7 p.m. Tuesday
Where: T-Mobile Arena
TV: ESPN+/Hulu
Radio: KKGK (98.9 FM, 1340 AM)