Knights' net fills up as 2 injured goalies return to practice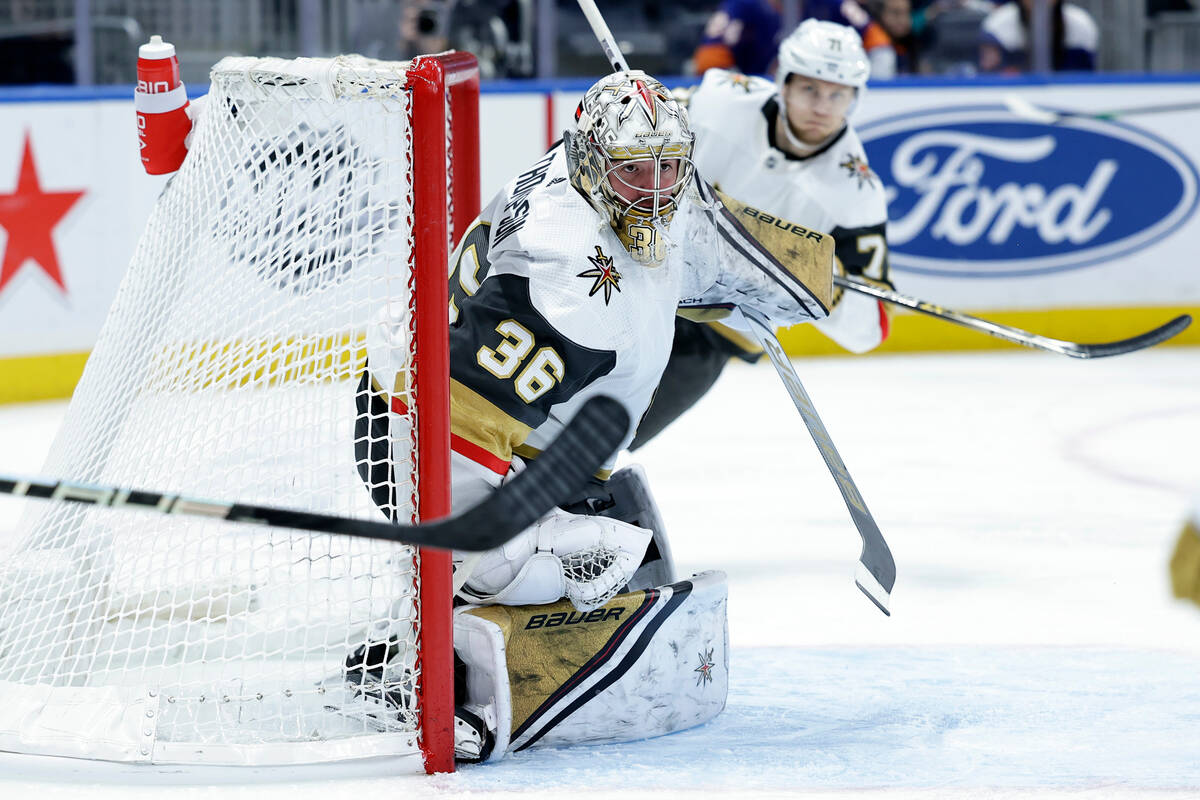 The Golden Knights' crease, ravaged by injuries for weeks, is starting to heal.
The upside is the Knights will have more options down the stretch as they fight for their third division title in six seasons. The downside is the net will get crowded. In fact, it already is.
The Knights couldn't fit all their available goaltenders into Saturday's practice at City National Arena. Goaltender Jonathan Quick did individual work on a separate sheet of ice.
Rookie Jiri Patera got one net to himself to prepare for what will likely be his second NHL start Sunday against the Columbus Blue Jackets. Rookie Logan Thompson and Laurent Brossoit traded reps in the other in their first practice since going on injured reserve with lower-body injuries.
The Knights will take the extra help, but it will be a challenge to keep each goaltender sharp when everyone is ready to play. Thompson and Brossoit will not dress Sunday, but coach Bruce Cassidy said they could travel on the team's three-game road trip afterward.
"We knew we'd go through this when (Quick) came in," Cassidy said. "Those (injured) guys would have to get integrated."
The Knights have used a franchise-record five starting goaltenders this season. Each one has made an appearance since the All-Star break ended Feb. 7.
Thompson was injured in a 5-1 win in Minnesota on Feb. 9 and hasn't played since. Brossoit was called up and suffered an injury Feb. 25 in a 3-2 shootout loss to Dallas.
Adin Hill, Thompson's backup for most of this season, didn't play for three games after sustaining a lower-body injury Feb. 18 against the Tampa Bay Lightning. He returned, played well and then re-aggravated the injury March 7 against Florida.
That's why the Knights have used the tandem of Patera and Quick, who was acquired in a trade with the Columbus Blue Jackets on March 2, in their last five games.
It hasn't cost them. The Knights' .920 team save percentage since the All-Star break is the third-best in the NHL. Their 13-3-2 record is the second-best in the league in that span entering Saturday.
"It's been great no matter who's in net," defenseman Brayden McNabb said. "We're very fortunate to have all those guys who can play well."
The trick for the Knights moving forward will be determining who plays and how often.
Patera seems in line for Sunday's game after getting the most reps in Saturday's practice. He said the Knights flew in his parents from Prague, and his best friend is in town as well.
Patera, 24, impressed in his debut. The 2017 sixth-round pick stopped 30 of the 33 shots he faced in a 5-3 win against the St. Louis Blues on March 12.
"It's been a long journey, but I appreciate every step that I took," said Patera, the first goalie drafted by the Knights to start and win a game for the team. "I've been working my butt off a long time for this."
After Sunday, the team will have to determine how best to divide starts between their goaltenders. Cassidy said Thursday that the Knights have a plan in place, but he didn't want to get too far ahead of himself before Thompson and Brossoit were game-ready.
The fact that both practiced Saturday indicates they're close to a return. Getting both back would be a massive boost for the Knights after all the moves they've needed to make in the crease. It would also come with logistical hurdles, as Saturday's practice showed.
"We had to divide it up somehow," Cassidy said. "That's how it came out."
Contact Ben Gotz at bgotz@reviewjournal.com. Follow @BenSGotz on Twitter.
Up next
■ Who: Golden Knights vs. Blue Jackets
■ When: 1 p.m. Sunday
■ Where: T-Mobile Arena
■ TV: AT&T SportsNet
■ Radio: KKGK (98.9 FM, 1340 AM)
■ Line: Knights -330, total 6½