Robin Lehner stops ex-team as Golden Knights open with win
Updated August 12, 2020 - 12:23 am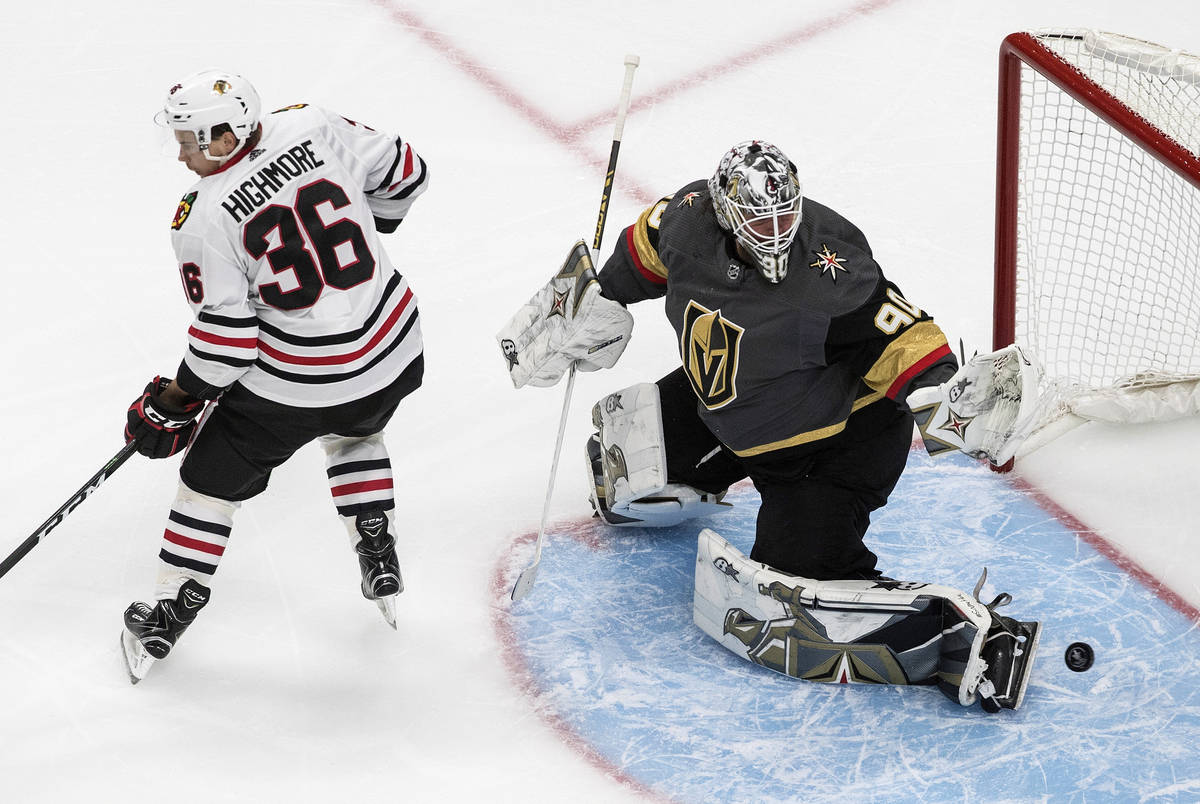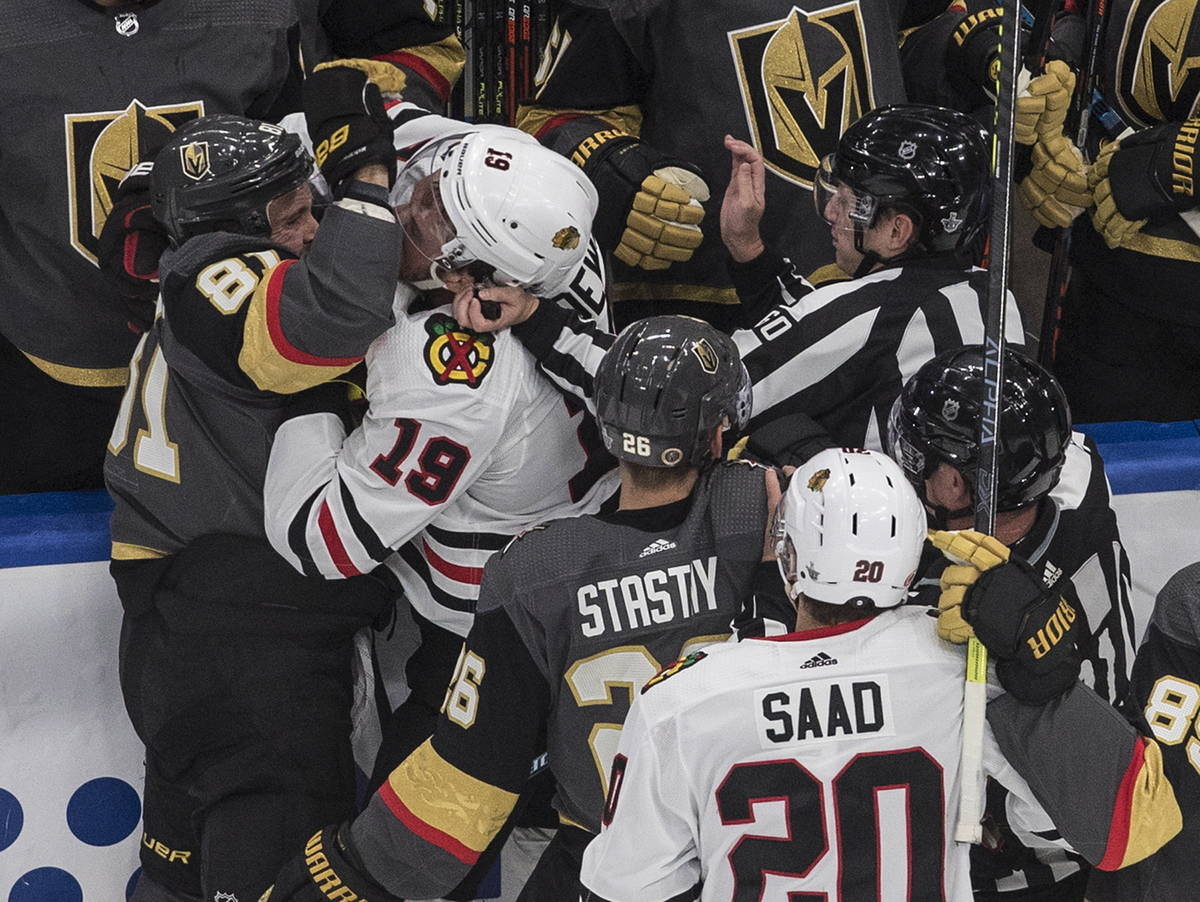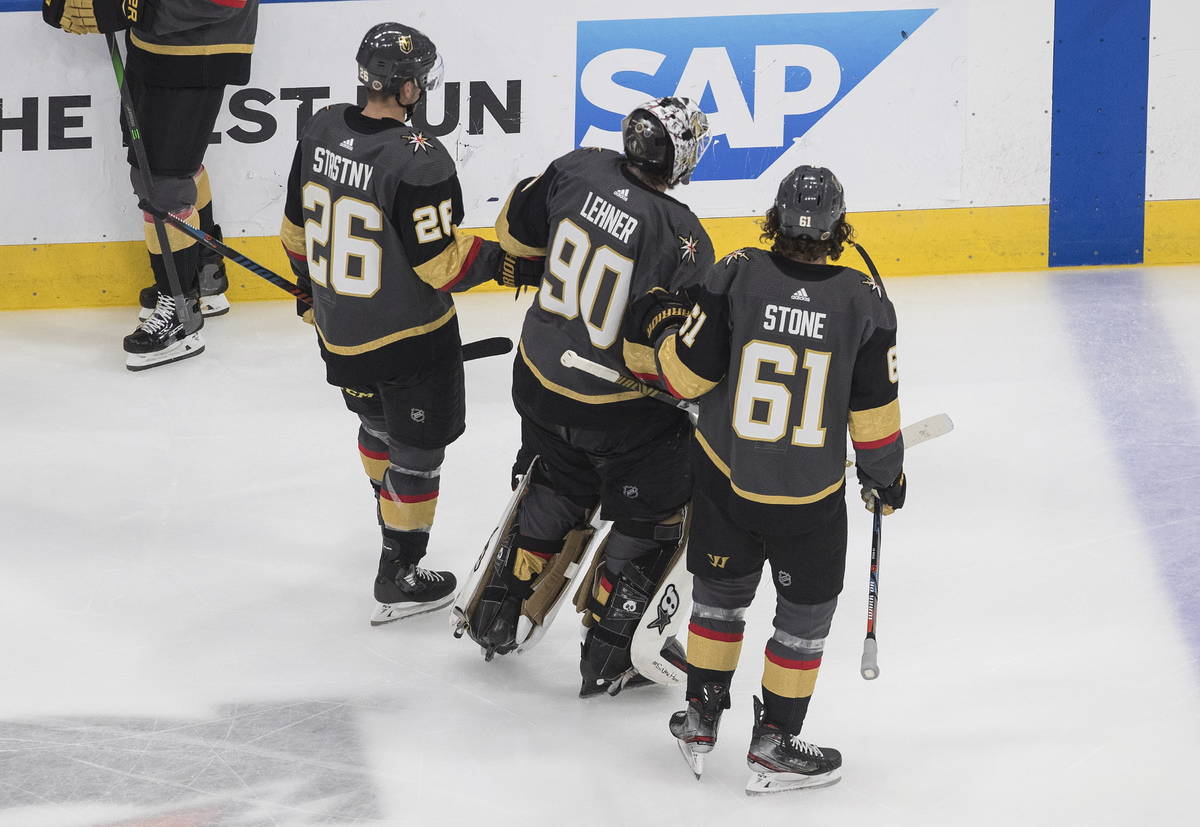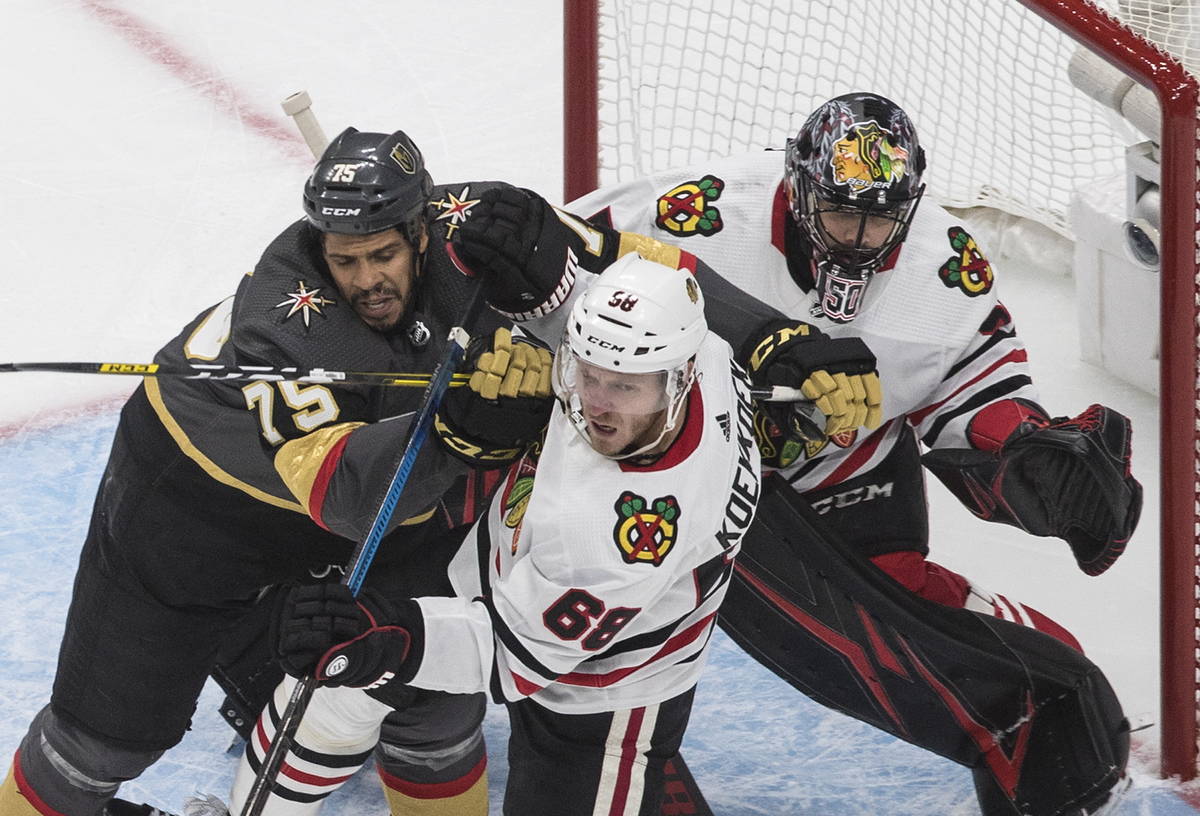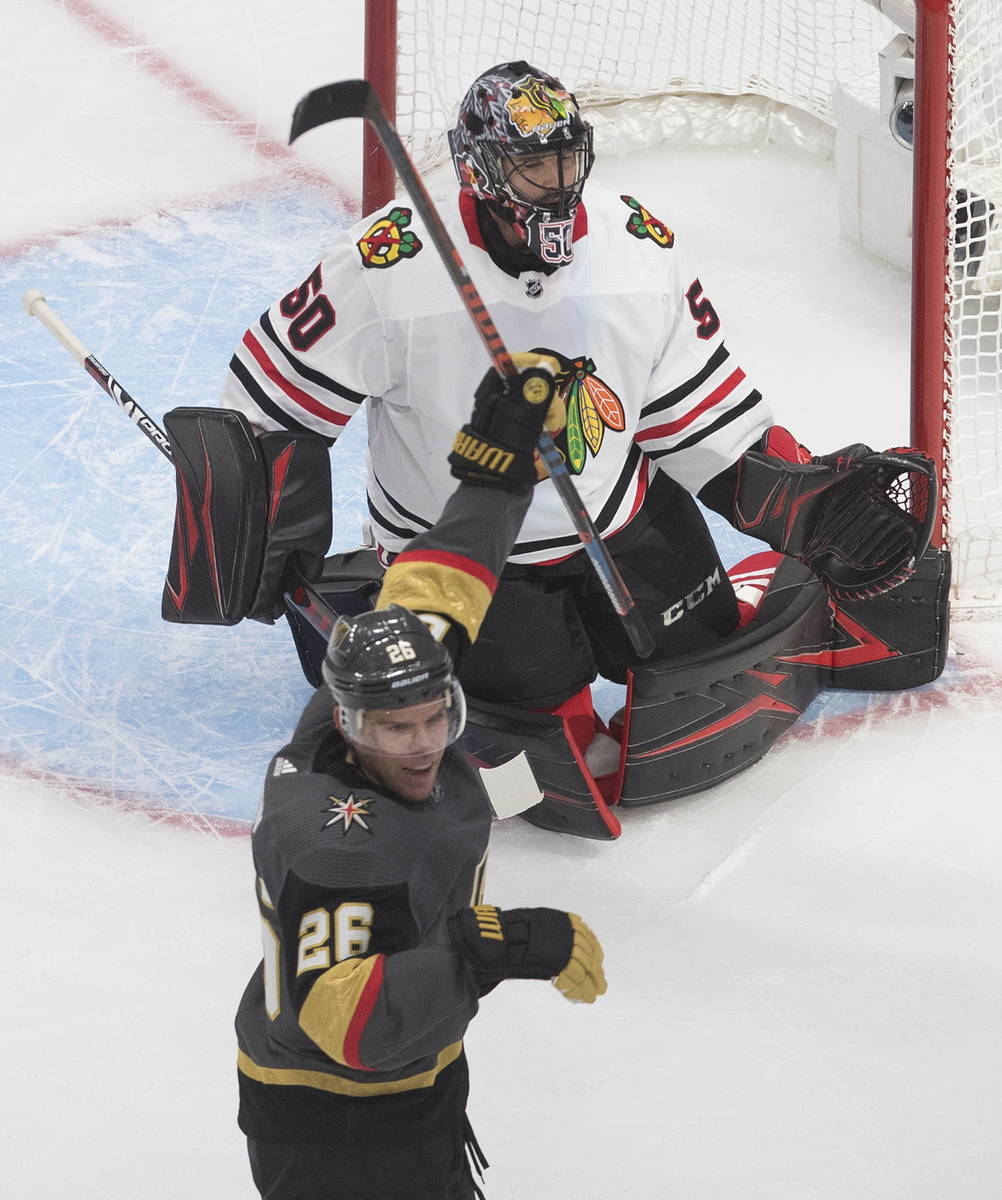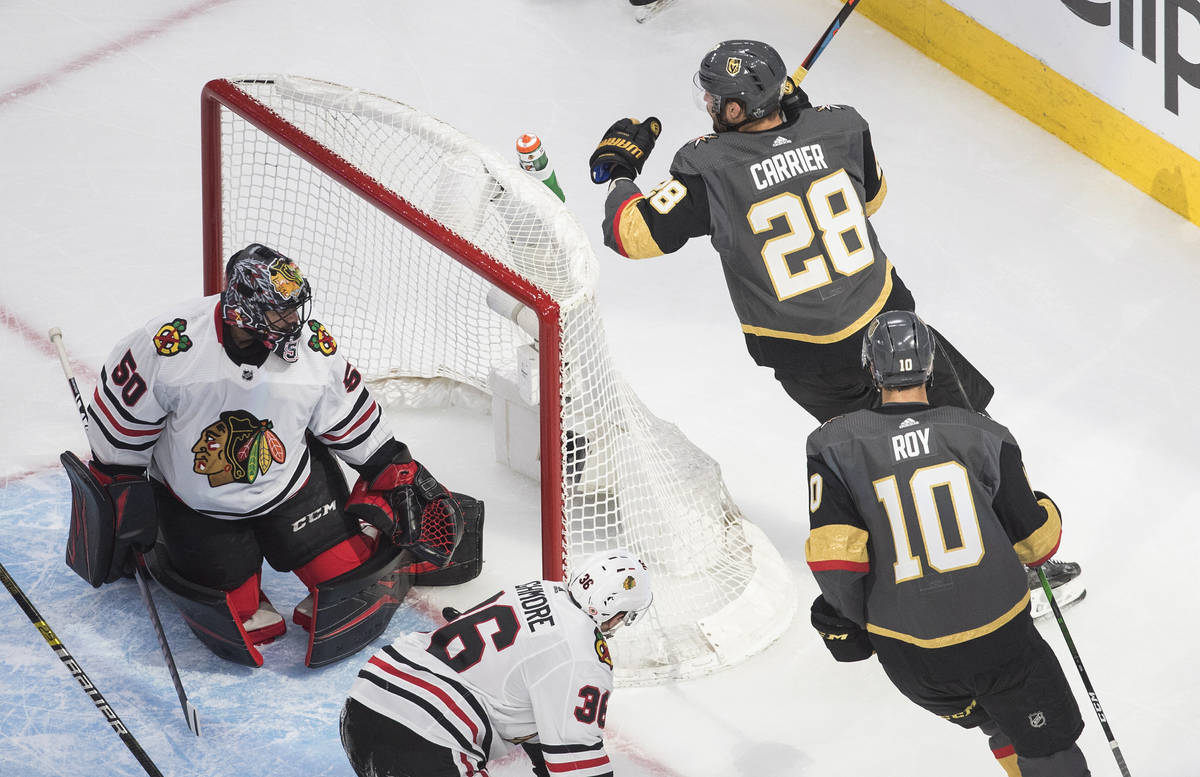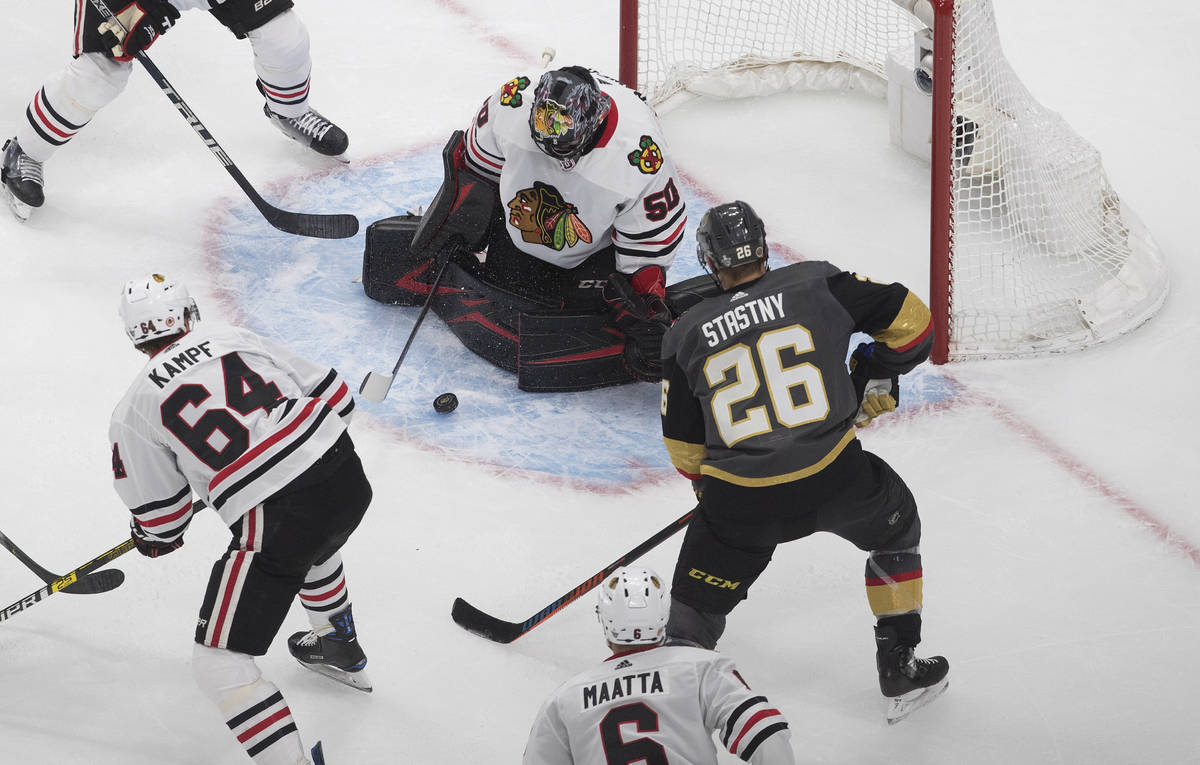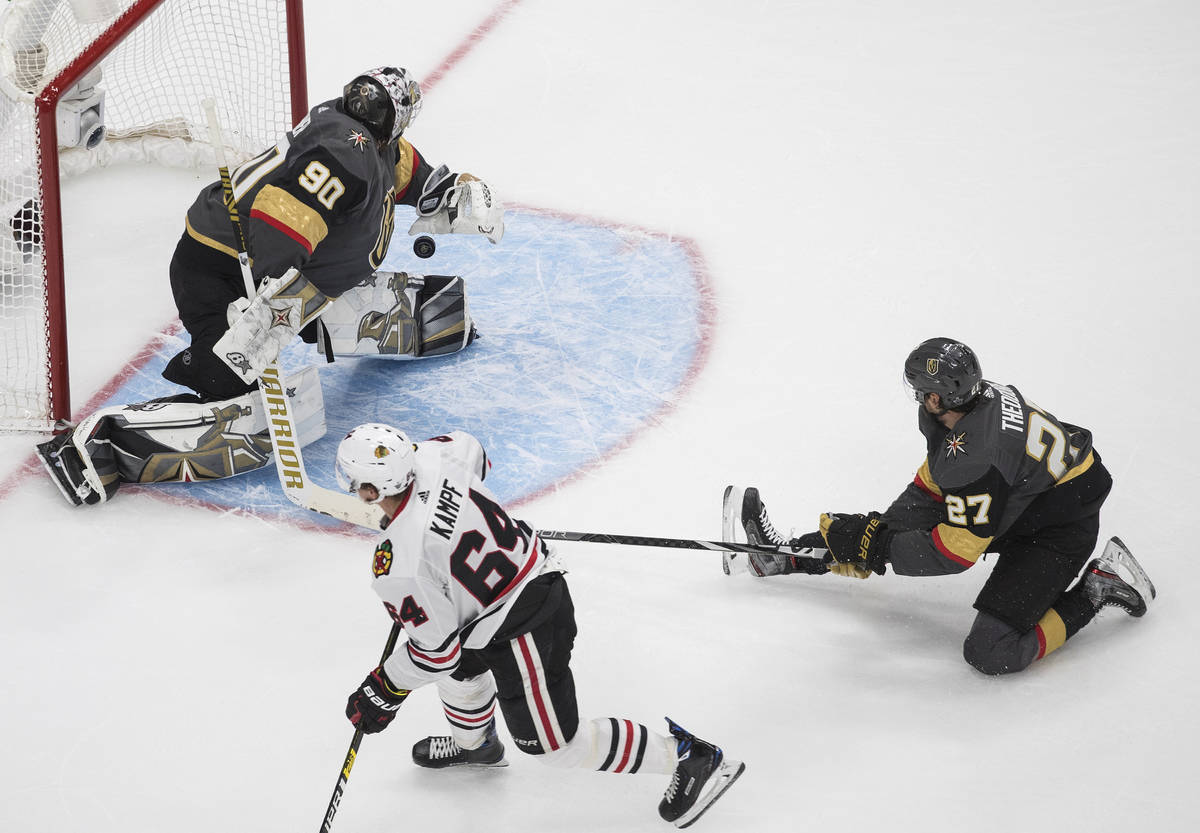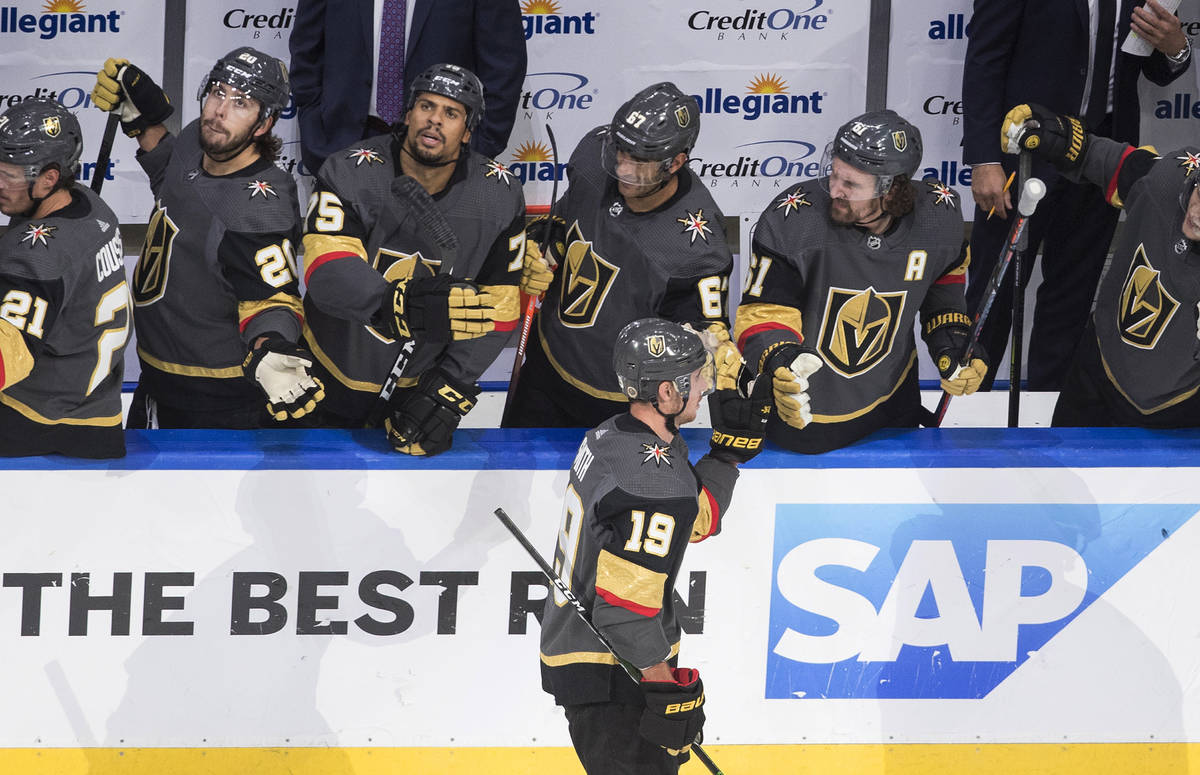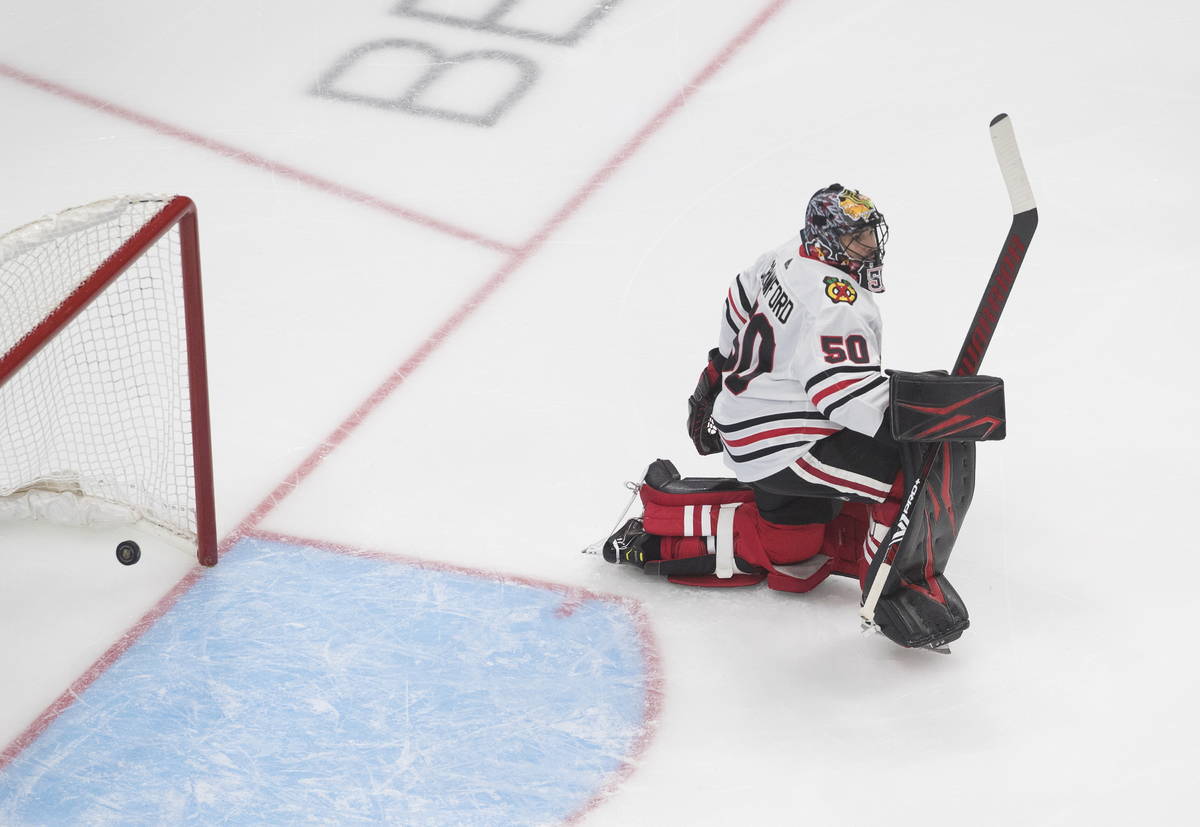 Robin Lehner had more trouble with his skate blade Tuesday than he did stopping the puck.
The Golden Knights goaltender saw his blade pop out on two occasions in the second period, but he finished with 19 stops in a 4-1 victory over the Chicago Blackhawks to open the Western Conference quarterfinals at Rogers Place in Edmonton, Alberta.
"It's the first time that's happened to me," Lehner said. "I don't really know what happened there at first, but you have to battle through it. The rule is, when we have possession they can blow it. It's kind of tough for a goalie with one skate."
Reilly Smith scored twice in the third period and finished with three points.
Shea Theodore and William Carrier added second-period goals for the Knights, who welcomed back leading scorer Max Pacioretty after he missed the exhibition and all three round-robin games while recovering from a minor injury that was not related to a positive COVID-19 test.
Game 2 of the best-of-seven series is Thursday.
"I thought it was a little bit of a feeling-out game," coach Pete DeBoer said. "For us, I thought we did some things really well, some things we need to clean up. We found a way to win. I thought we got better as the game went on. It's nice to get the first one."
Lehner found out Monday he won the starting job from Marc-Andre Fleury, and in an ironic twist, faced the team that traded him to the Knights at the deadline in February.
Lehner was critical of his lack of playing time in Chicago and tweeted a GIF with the caption "Awkward Alert" after learning the Knights' first-round opponent.
"I made some good friends there," Lehner said. "But on the ice, I'm focused on my game, so there's no talk."
The Knights held Blackhawks stars Patrick Kane and Jonathan Toews to three shots on goal combined, though Toews hit the crossbar in the opening minute of the second period.
About two minutes later, Lehner scrambled to keep the puck out when the blade on his left skate came free. Chicago's Drake Caggiula hit the post moments before officials stopped play and allowed Lehner to go to the bench for repairs.
The blade came out again with less than four minutes remaining in the period, causing a brief delay as the Knights' pit crew worked to fix the blown tire.
"I haven't seen that. I've seen guys lose their skate blades before, but not goalies and sure not twice," DeBoer said. "I just found out after the game I think those skates are 4 years old, so he's got to take some responsibility for that.
"I think between our sponsorship agreement and our ownership, I'm sure he's had multiple opportunities to change out his skates. For whatever reason, he fell in love with this pair. Sounds like they just wore out, so we'll have to get that fixed."
The Knights weren't crisp early and struggled to create scoring chances, but broke through with two goals 2:17 apart in the second period en route to their ninth win over the Blackhawks in 10 all-time meetings in the regular season and playoffs.
Theodore put the Knights on top 1-0 with his third goal of the postseason. He moved in from the right point and slinged a shot that beat Blackhawks goaltender Corey Crawford to the glove side at 7:22 of the period.
Carrier made it a 2-0 lead at 9:09 when he jammed home a loose puck in the crease after Ryan Reaves threw a shot on net. The Blackhawks challenged that Reaves was offside entering the zone, but video replay upheld the goal.
"I think it's part of being on the fourth line," Carrier said. "As soon as you score a goal, there's something that might be wrong, so they challenge it right away. I think that's what it is."
However, a rare mistake by Theodore allowed Chicago to cut the deficit in half at 10:51.
Theodore whiffed on a pass with Chicago's Brandon Saad in hot pursuit and was stripped of the puck. Saad left it for the onrushing David Kampf, who went high over Lehner's glove for a short-handed goal.
In the third period, Smith gave the Knights a 3-1 advantage at 3:32 when Crawford couldn't handle his shot from the right wing. He added a second less than five minutes later, lifting a backhand over Crawford after gathering a pass from Jonathan Marchessault.
"I think we did a better job of controlling the puck in the offensive zone in the second period and on," Smith said. "They're a rush team, and we don't want to get into a track meet with them, so once we can get them to stop in the (defensive) zone, we can control the game a little bit more."
Contact David Schoen at dschoen@reviewjournal.com or 702-387-5203. Follow @DavidSchoenLVRJ on Twitter.
Golden Knights vs. Blackhawks
Game 1: Knights 4, Blackhawks 1
Game 2: Thursday, 2:30 p.m. (AT&T SportsNet)
Game 3: Saturday, 5 p.m. (NBC)
Game 4: Sunday, 3:30 p.m. (AT&T SportsNet)
x-Game 5: Aug. 18, TBA
x-Game 6: Aug. 20, TBA
x-Game 7: Aug. 22, TBA
x-if necessary