Bo Nickal out to prove there's substance behind hype at UFC 285
Updated March 3, 2023 - 11:58 am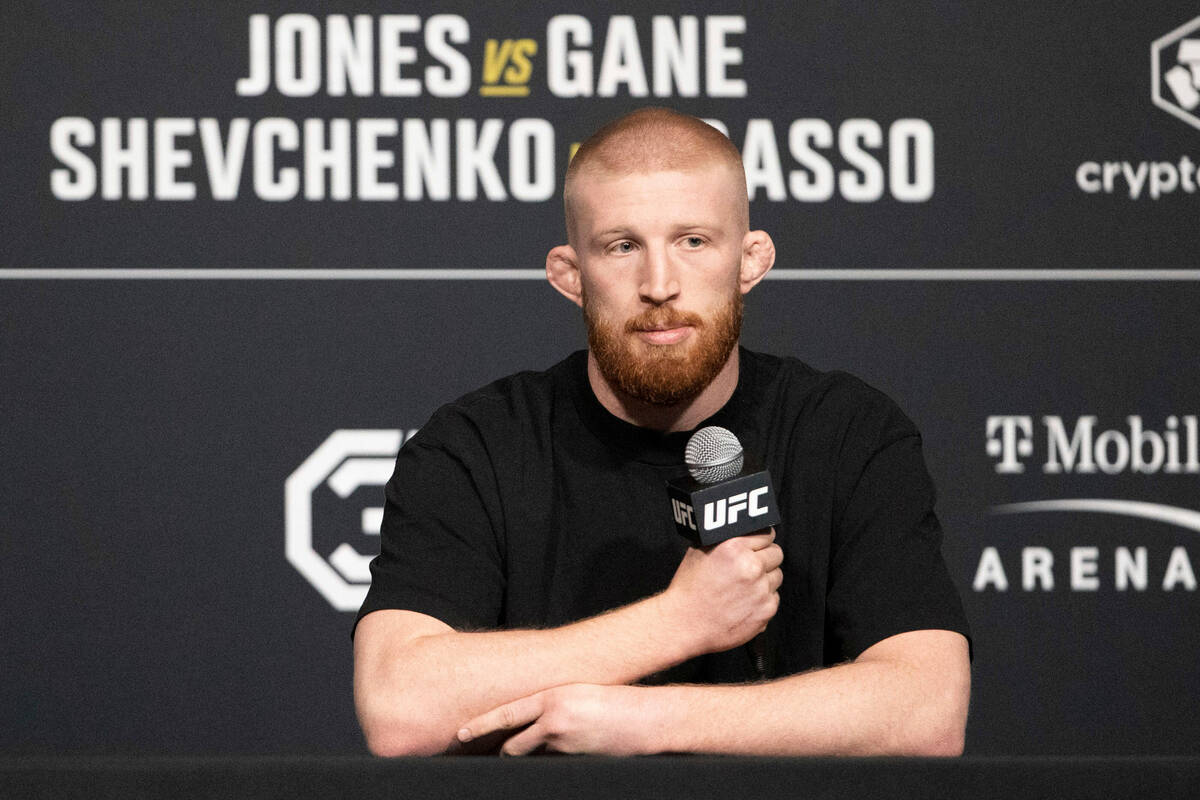 One of the UFC's most-hyped prospects will make his official debut in front of a sold-out crowd at T-Mobile Arena on Saturday with his eyes set on an even bigger venue in Las Vegas.
Middleweight Bo Nickal insists he is focused on Saturday's main card bout against Jamie Pickett but knows the hype is growing for a potential showdown against fellow undefeated rising star Khamzat Chimaev.
"It would be huge," Nickal said at Wednesday's UFC 285 media day of a showdown with Chimaev. "Whether it happens in a year or three years or five years, I'll be ready. I do a lot of visualization, and I see that fight happening in a main event at (Allegiant Stadium). I think it will be the biggest event in UFC history. Only time will tell if we'll actually get that, but I'm doing everything in my power to make that happen."
Such a matchup would require both fighters to keep winning.
Nickal, who enters as close to a -2,000 favorite, looks as if he will be tough to beat.
The three-time NCAA national wrestling champion from Penn State started fighting in MMA only 1½ years ago but won both of his amateur bouts in the first round before dismantling all three professional opponents in a total of 2:27.
"This has already been a lot faster than I anticipated," the 27-year-old said of making his UFC debut on what is expected to be one of the biggest pay-per-view cards of the year. "I expected to have quite a few more fights before getting to this point. Obviously, there were different plans in store for me, and I'm just riding with it."
Nickal's immense talent despite his inexperience makes him a difficult enigma for matchmakers.
His only real challenge on paper would be top contenders, but he's not ready to take that leap.
So he was more than a 30-1 favorite in his last Dana White Contender Series bout and is again a massive favorite Saturday.
That means the pressure is on Nickal to win without much of a sweat.
"As far as the hype train stuff, I'd say it has to have some effect because I do hear it and I do notice it," Nickal said. "It's information that is coming in. But there is more pressure put on me from myself than anyone else. I'm going to finish people and keep this hype train going because that's just in me. I really want to achieve my goals and be the best fighter in the world."
Nickal believes he is more equipped to handle the pressure and nerves of the moment he is about to experience than other fighters of his experience level because of his time wrestling at an elite level, including a national championship tournament at New York's Madison Square Garden.
"I'm ready for this moment," he said. "A lot of people are thrust into this with no previous life experience. But I'm 27, and I've competed hundreds of times in front of sold-out crowds. It's just something that's normal for me. I've competed in front of 30,000 people on a regular basis. It's definitely bigger. I don't want to diminish how big this event is because it's definitely the biggest event I've taken part in, but I feel prepared for this moment and I feel better prepared than almost anyone to go out there and perform my best."
Nickal's confidence bred online critiques, particularly early in his transition to MMA, but he says he is feeling his fan support growing.
"There's been talk of people hating on me or whatever, but I'd say 95 percent of the interactions have been super positive," he said. "A lot of people believe in me and believe in what I'm doing, especially if they get to know me or listen to some interviews and hear my thought process."
The 7 p.m. pay-per-view card features two title fights, including a headliner pitting Ciryl Gane against former light heavyweight champion Jon Jones for the vacant heavyweight belt.
Contact Adam Hill at ahill@reviewjournal.com. Follow @AdamHillLVRJ on Twitter.
UFC 285
Main card bouts on Saturday's pay-per-view card at T-Mobile Arena:
— Jon Jones (26-1, 1 no contest) vs. Cyril Gane (11-1), for the vacant heavyweight title
— Valentina Shevchenko (23-3) vs. Alexa Grasso (15-3), for Shevchenko's women's flyweight title
— Geoff Neal (15-4) vs. Shavkat Rakhmonov (16-0), welterweights
— Mateusz Gamrot (21-2) vs. Jalin Turner (13-5), lightweights
— Bo Nickal (3-0) vs. Jamie Pickett (13-8), middleweights