Davante Adams breaks Tim Brown's receiving record for Raiders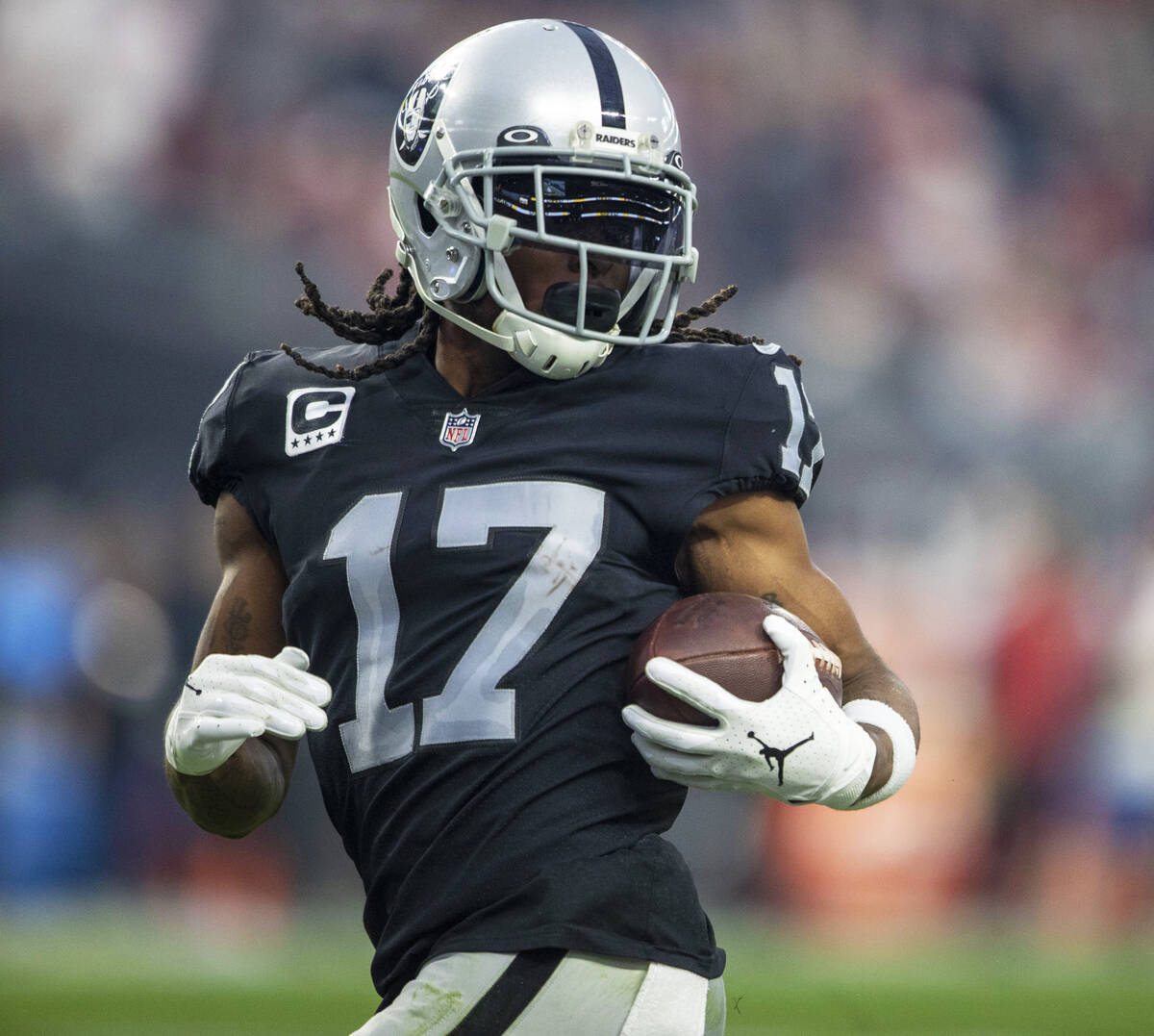 Raiders legend and Pro Football Hall of Famer Tim Brown had one request of Davante Adams when the standout receivers first spoke last spring.
"Be kind to me when you go by me," Brown told Adams.
"That's all I ask."
Adams fulfilled the request Sunday, catching seven passes for 153 yards to eclipse Brown's franchise record for receiving yards in a season during a 37-34 overtime loss to the 49ers at Allegiant Stadium. In 16 games, Adams has 1,443 receiving yards — topping the mark of 1,408 set in 1997 by Brown.
"Tim and I, we speak often. It means a lot. He says a lot of good things that help me with my game and help me with my mindset and everything," said Adams, who scored two touchdowns and leads the NFL with 14 receiving scores. "We know the type of player that he was and the mark he left on this game. To be able to come in here my first year to my dream organization, dream situation, and to be able to have success … it definitely would feel a lot better if we'd came out of the right side in this game.
"But it still means a lot."
The connection between Adams and Brown actually predates the former's tenure in Silver and Black, dating back instead to the latter's — which ranged from 1988 to 2003. It was toward the end of Brown's tenure that he met Adams, who was raised a Raiders fan in the Bay Area.
Adams' stepmother, Brown said, was Brown's wife's hair stylist with whom she maintained a friendship in Oakland.
"He would come over to the house and I wouldn't be there," said Brown, acknowledging he was probably at practice or on the road with the Raiders. "I've had a relationship with him, but he didn't have one with me."
They relate now as the top two receivers in Raiders history, an accomplishment Adams achieved Sunday with his eighth 100-yard outing of the season.
Without his friend and former college teammate Derek Carr at quarterback for the first time this season, Adams dominated anyway — catching a picturesque fade from Jarrett Stidham for a 4-yard score in the final minute of the first half and adding a 60-yard scoring catch and run on the first possession of the second half.
But the record-breaking reception — which came on a first-and-20 and 34-27 deficit with 1:53 to play — was even more impressive.
Opposite 49ers cornerback Deommodore Lenoir, Adams ran vertical down the right sideline as Stidham lofted a high-arcing pass in his direction. As the ball descended, Adams adjusted, knifing behind his defender and diving with both arms extended to secure the ball before it could carom off the field.
Honestly, is Davante human?

📺 FOX | @tae15adams pic.twitter.com/BnU94F9WcI

— Las Vegas Raiders (@Raiders) January 2, 2023
"One day, I'm hopefully going to be able to throw the (gold jacket) on him and welcome him to the Hall of Fame," said Brown, enshrined in 2015. "From that standpoint, it's great that a guy of his stature broke the record."
Brown ceded that particular franchise record to Adams, but he still proudly holds career records in receiving yards (14,374) and touchdowns (99) that are poised to stand for years.
He said Sunday he thinks he'll always hold those.
"They're playing a different game today than what we played, and I think everybody realizes that. So from that standpoint, if you have a guy like Davante and he doesn't break the record, then there's a problem," Brown said. "There's nothing for me to hang my hat about today. This was a day I knew I was coming six or seven months ago."
Contact Sam Gordon at sgordon@reviewjournal.com. Follow @BySamGordon on Twitter.