How should Raiders replace Derek Carr? Not with Aaron Rodgers
Updated February 18, 2023 - 9:03 am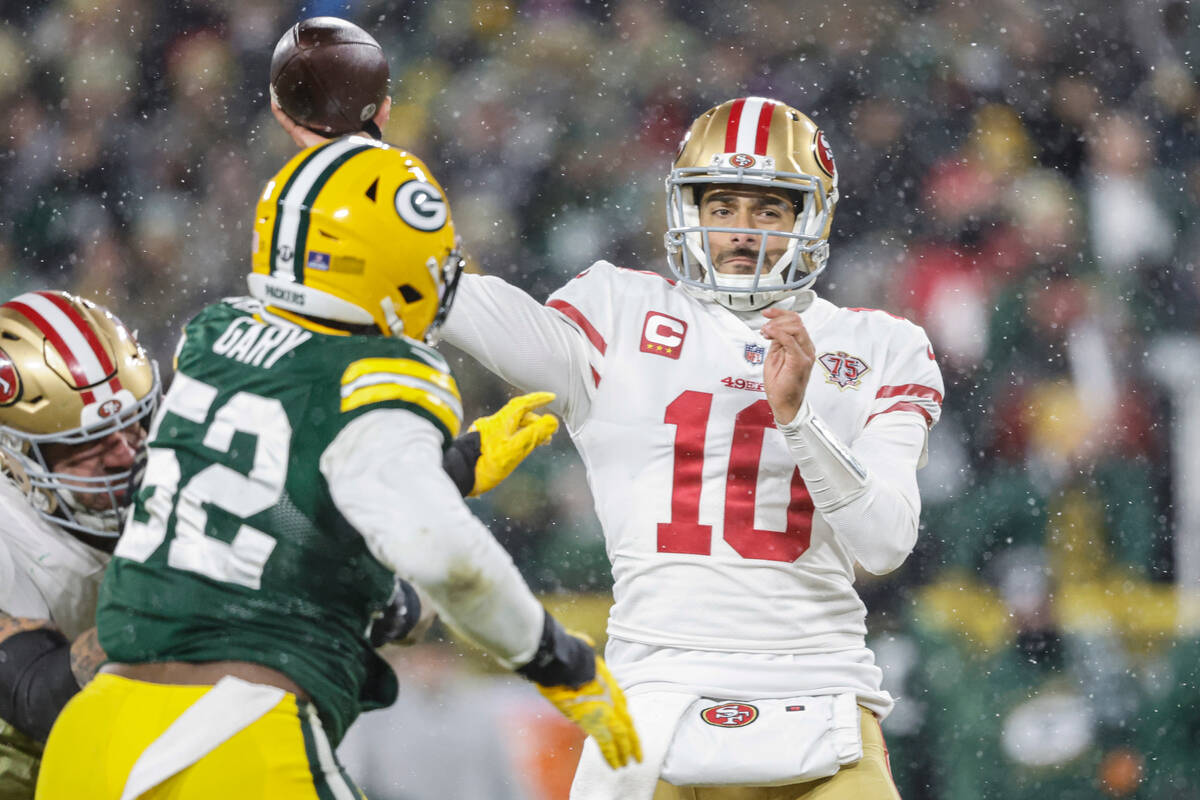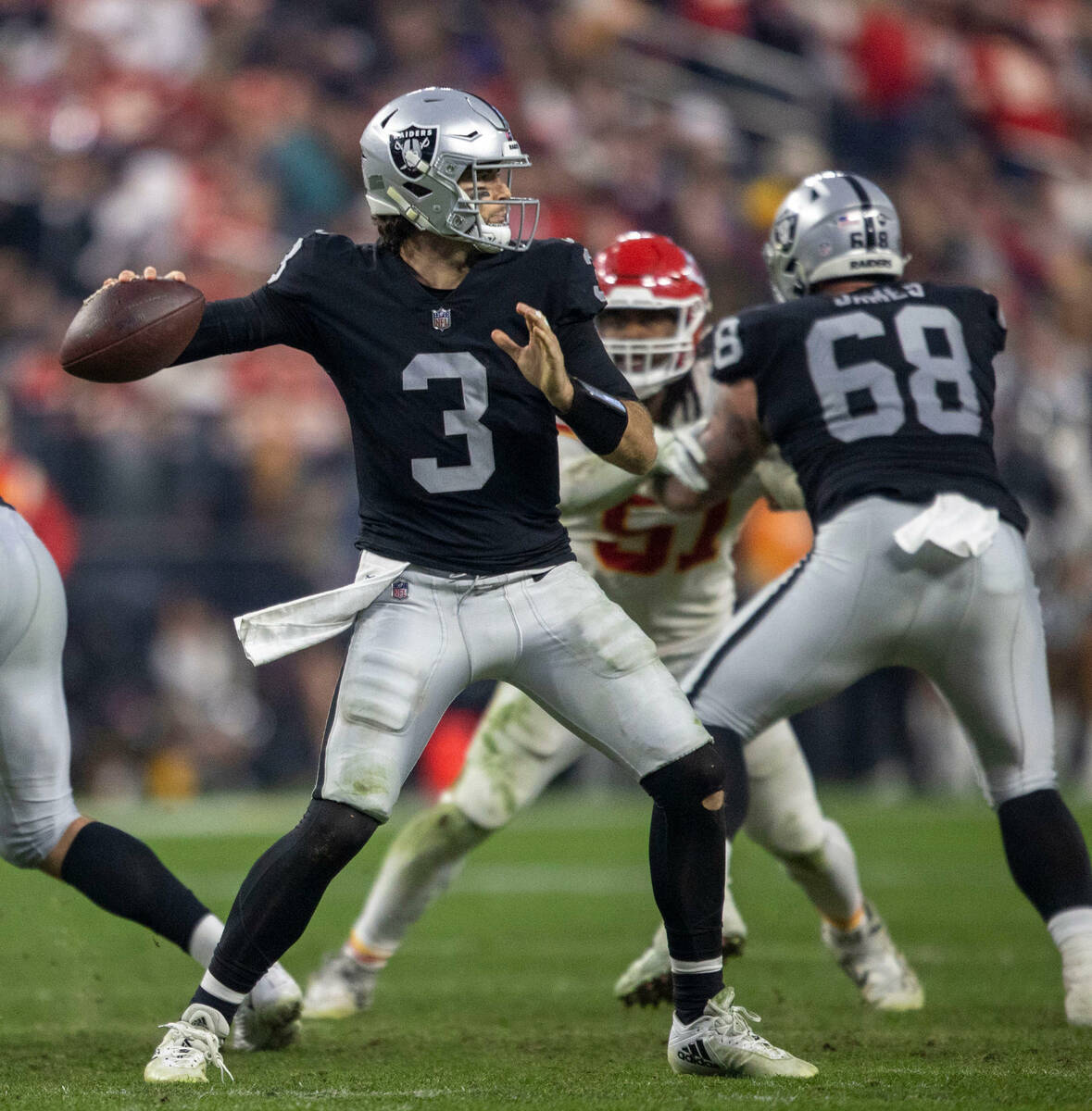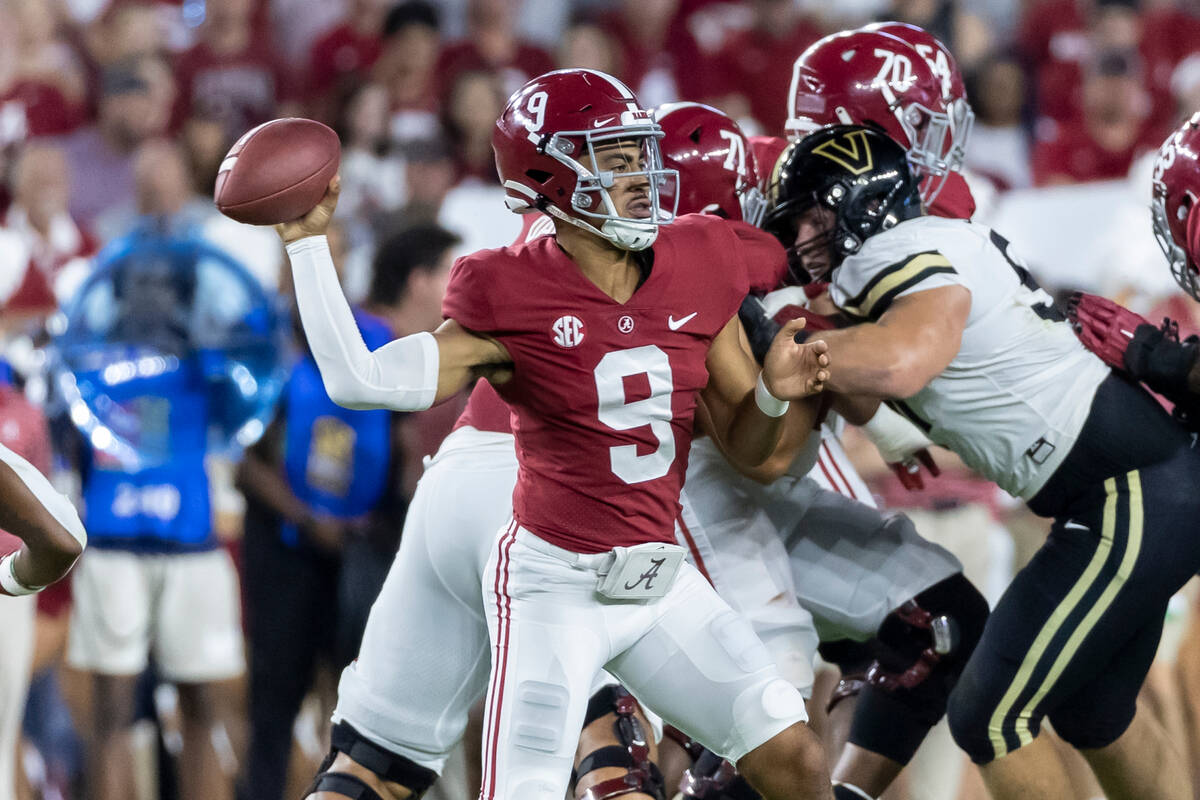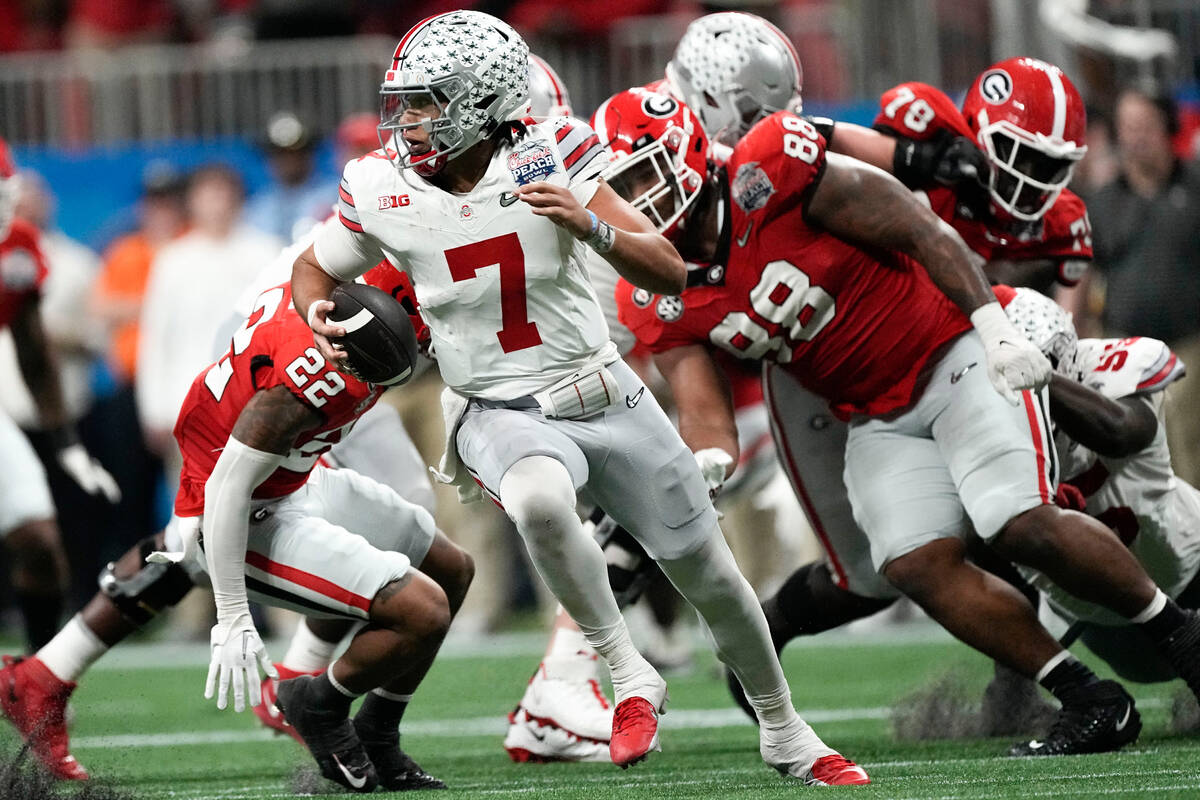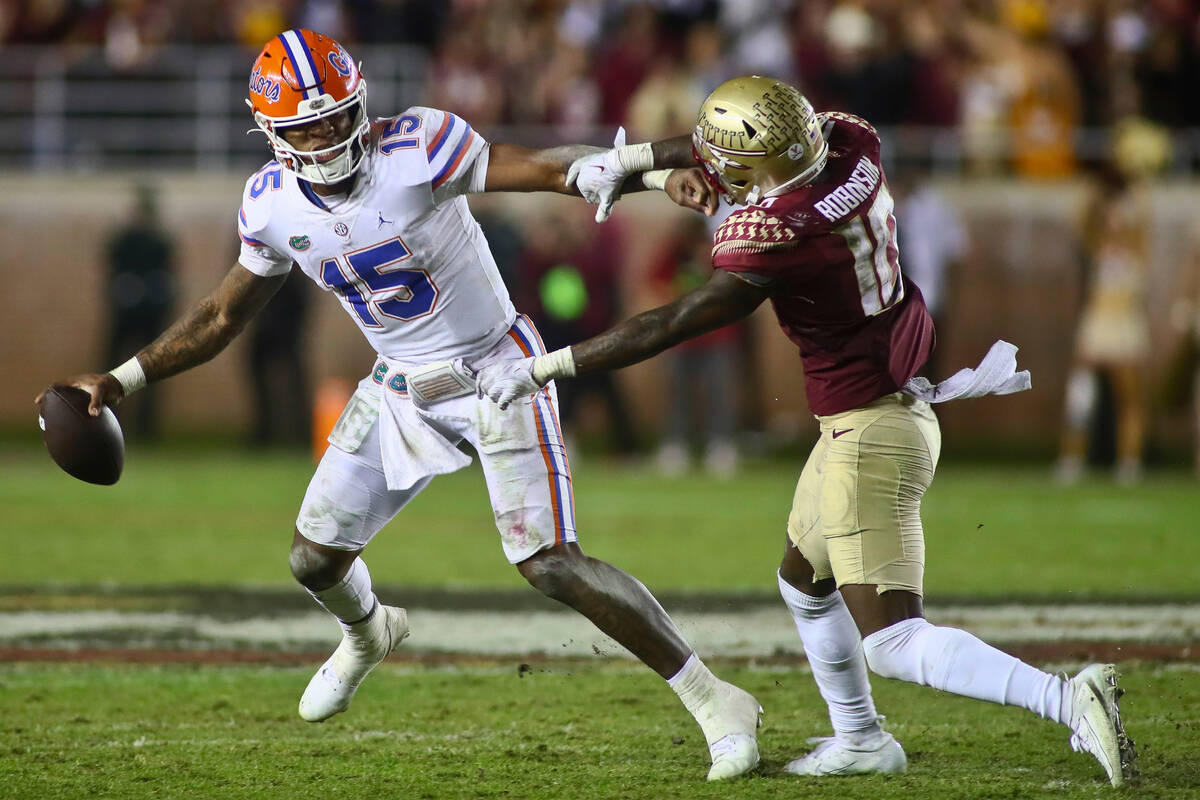 As the Raiders contemplated moving on from Derek Carr last season, the decision became less about who would replace him and more about cutting ties with a quarterback they didn't believe could help them achieve their ultimate goal.
To be more blunt, general manager Dave Ziegler and coach Josh McDaniels' quest to build the Raiders into a championship-caliber franchise left no desire to pour championship-caliber quarterback money into someone they deemed unable to deliver that level of production.
Carr, of course, is officially gone — and with him the $40.4 million he would have been guaranteed had he been on the roster after Feb. 15, the bulk of it his $33 million salary for next season.
So, too, though, is the level of reliability and certainty of Carr. Maybe not in wins, but certainly the ability to perform among the top half of quarterbacks each season.
The question that now faces the Raiders is how much they prioritize replacing Carr with someone who immediately improves his level of performance — knowing full well the financial and draft capital it would take to make that happen.
Or, is it more prudent to play the longer game by going younger and more cost-effective at quarterback, then using their draft and financial resources to address areas of the roster that have gone unattended for far too long?
What will Ziegler and McDaniels do? Well, here's what they should do.
Say no to Aaron Rodgers
Rodgers makes a lot of sense for the Raiders. He would lift the offense to potentially elite levels. He would put smiles on the faces of wide receiver Davante Adams and running backs Josh Jacobs, respected veterans to whom the Raiders owe their unquestioned and urgent commitment to winning. He would generate immediate excitement for the fan base.
But the Raiders can't afford to look only through an optimistic lens, because Rodgers brings a definite downside, too.
The cost to trade for him would be the Raiders' first-round pick — seventh overall — and future picks. That's a lot to pay for a soon-to-be 40-year-old quarterback. And even if Rodgers is willing to renegotiate his contract, he's still going to cost $60 million to $70 million over the next two seasons. And that's presuming he would commit to a second year with the Raiders.
So two seasons of Rodgers at the cost of valuable draft assets and substantial money that can be spent on other areas of the roster? For the potential return of a couple of playoff berths but no guarantee of an AFC championship game appearance, let alone the Super Bowl?
Then what do the Raiders do in 2024 or 2025?
Hard pass on Jimmy Garoppolo
As a free agent, Garoppolo wouldn't cost the Raiders draft picks. But the inevitable bidding war in chasing him along with other quarterback-needy teams would drive the cost up.
Would a hefty financial commitment be wise for an injury-plagued quarterback, especially given all the other pressing roster needs facing the Raiders?
No doubt Garoppolo has been a winning quarterback when healthy, but he's also played on teams with well-built, high-end defenses and strong supporting casts offensively. The Raiders have nowhere near the caliber of roster those 49ers teams had, especially on defense, all of which makes adding Garoppolo so misguided.
Go young at quarterback
The Raiders are well positioned to move up in the draft to secure one of the top three prospects — Alabama's Bryce Young, Ohio State's C.J. Stroud or Kentucky's Will Levis — or trade down and select Florida's Anthony Richardson.
They also could stay at No. 7 and draft the best player available — preferably an offensive lineman or interior or edge defensive lineman — and take a quarterback in the second or third round. Tennessee's Hendon Hooker and Stanford's Tanner McKee would be available on Day 2 of the draft.
In either scenario, McDaniels would get a talented prospect he can develop.
Going young would be tied into bringing back Jarrett Stidham, or perhaps adding a relatively inexpensive veteran, as a bridge starter for 2023. Doing so would allow the Raiders to divert more money and assets to build a better roster, specifically on defense.
Provided the Raiders make sound personnel decisions, it's possible their young quarterback and rebuilt roster are ready to soar together within two years.
Remember, the Eagles were a four-win team two years ago. They then decided to move on from high-priced veteran quarterback Carson Wentz in favor of Jalen Hurts, who was drafted in the second round in 2020. The Eagles made smart decisions in the draft, free agency and the trade market to help support Hurts' development and build a championship-level roster.
A week ago, they almost beat the Chiefs in the Super Bowl.
A similar strategy wouldn't guarantee the same results. But Ziegler and McDaniels seem eager to build the Raiders in their likeness. Moving on from Carr gives them a chance to get started.
Contact Vincent Bonsignore at vbonsignore@reviewjournal.com. Follow @VinnyBonsignore on Twitter.