Jason Witten to sign one-day contract with Cowboys, retire
Updated January 27, 2021 - 6:02 pm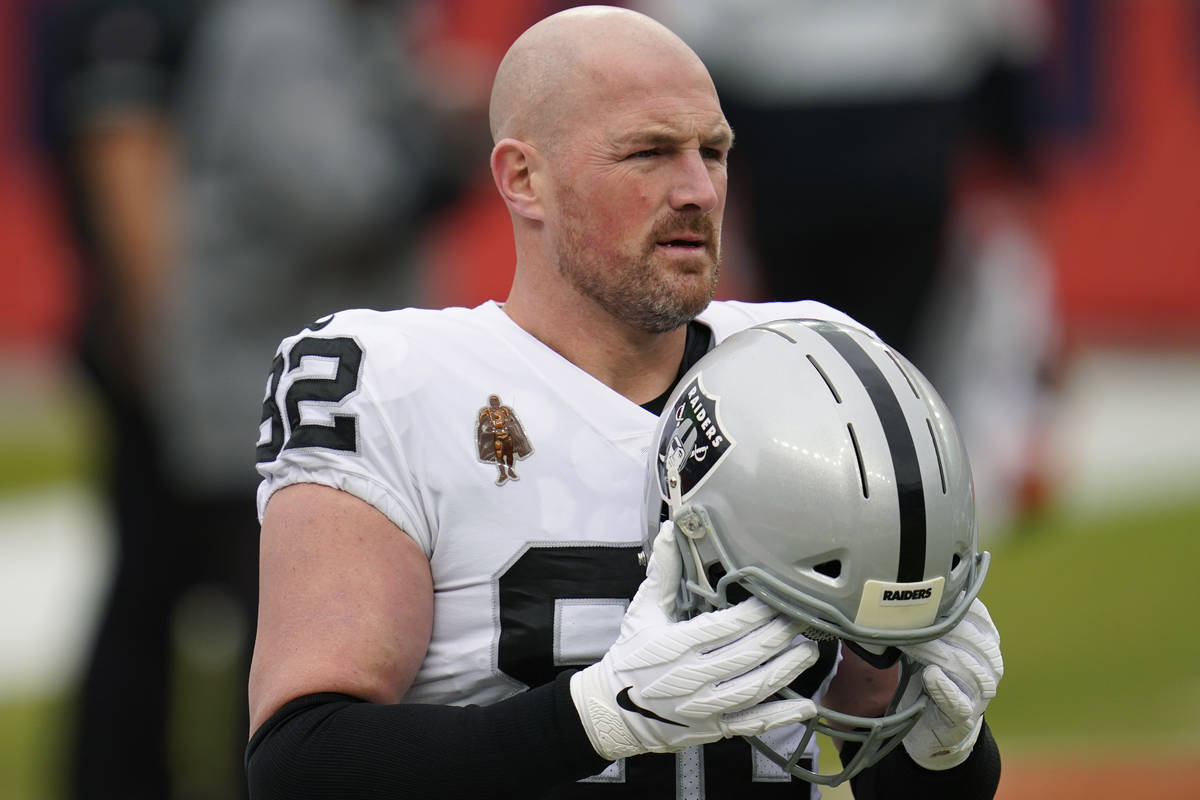 Jason Witten is retiring from the NFL after one season with the Raiders, according to multiple reports.
The longtime Dallas Cowboys star set the league's all-time record for games played by a tight end (271) in the final game of the 2020 season, breaking a mark previously held by Tony Gonzalez.
He caught 1,228 passes for 13,046 yards and 74 touchdowns over his career. His reception total ranks fourth in NFL history, behind only Jerry Rice, Larry Fitzgerald and Gonzalez.
Witten intends to sign a one-day contract with the Cowboys in March in order to retire as a member of the organization in which he spent his first 16 seasons.
"A coach once told me, 'The legacy of heroes is the memory of a great name and the inheritance of a great example,'" Witten told ESPN, where he worked as an analyst during his first retirement in 2018. "As I hang it up, I walk away knowing that for 17 seasons I gave it my absolute all. I am proud of my accomplishments as a football player on the field and the example I tried to set off of it. Football is a great game that has taught me many valuable lessons, and I look forward to passing on that knowledge to the next generation."
Witten has long been rumored to be interested in coaching after his playing days are over.
Late in the season, Raiders coach Jon Gruden said he believed Witten could be successful should he choose to pursue a job in football.
"I think he's going to get back into TV or go do something else," Gruden said. "But yeah, I think he'd be a stellar coach. I think he'd be a Tom Landry, a Bill Cowher. I think he's got very good football intellect. He's got great motivational skills. He's an excellent communicator and he loves the game."
Witten was briefly linked in media reports to the head coaching job at Tennessee, his alma mater, though nothing materialized.
He first retired after the 2017 season and served one year as the color commentator on "Monday Night Football" in 2018 to mixed reviews.
Witten came back to the NFL in 2019 with the Cowboys and then signed with the Raiders for the 2020 season.
The 38-year-old played in all 16 games this season, including seven starts, and finished with 13 catches for 69 yards and two touchdowns.
Witten, a third-round pick of the Cowboys in 2003, made the Pro Bowl in 10 of 11 seasons between 2004 and 2014. He was a first-team All-Pro in 2007 and 2010.
He was named to 11 Pro Bowls in all and is a likely Hall of Famer when he becomes eligible beginning in 2026. Witten was awarded the prestigious NFL Walter Payton Man of the Year award in 2012 for his charitable work off the field.
Contact Adam Hill at ahill@reviewjournal.com. Follow @AdamHillLVRJ on Twitter.