Jon Gruden to get 10-year, $100M deal from Raiders
January 5, 2018 - 10:13 am
Updated January 5, 2018 - 6:02 pm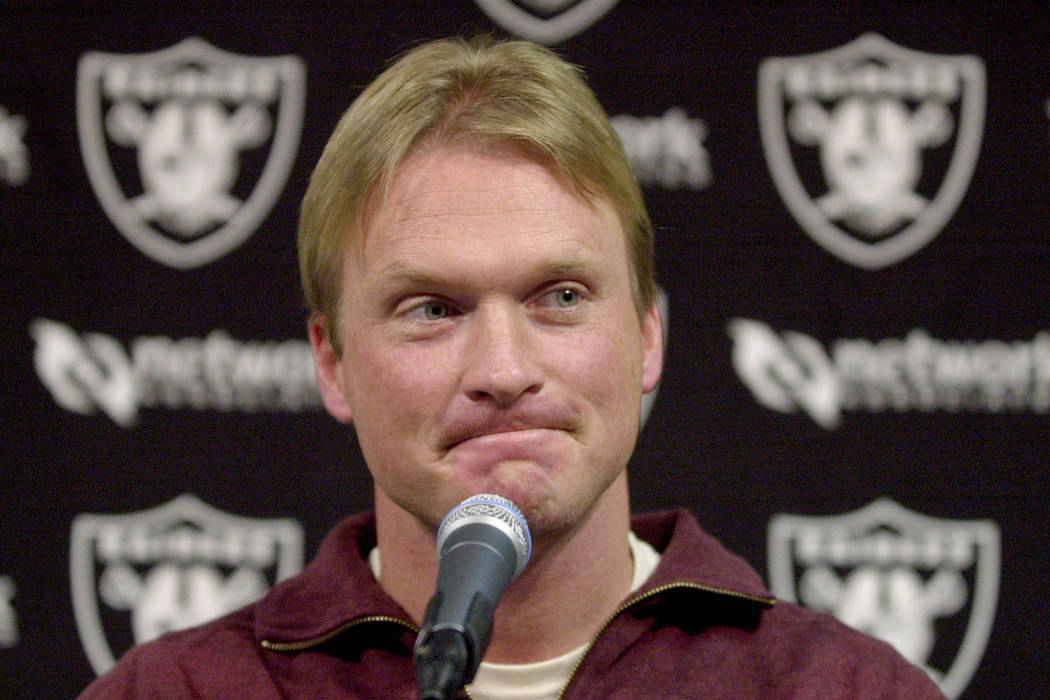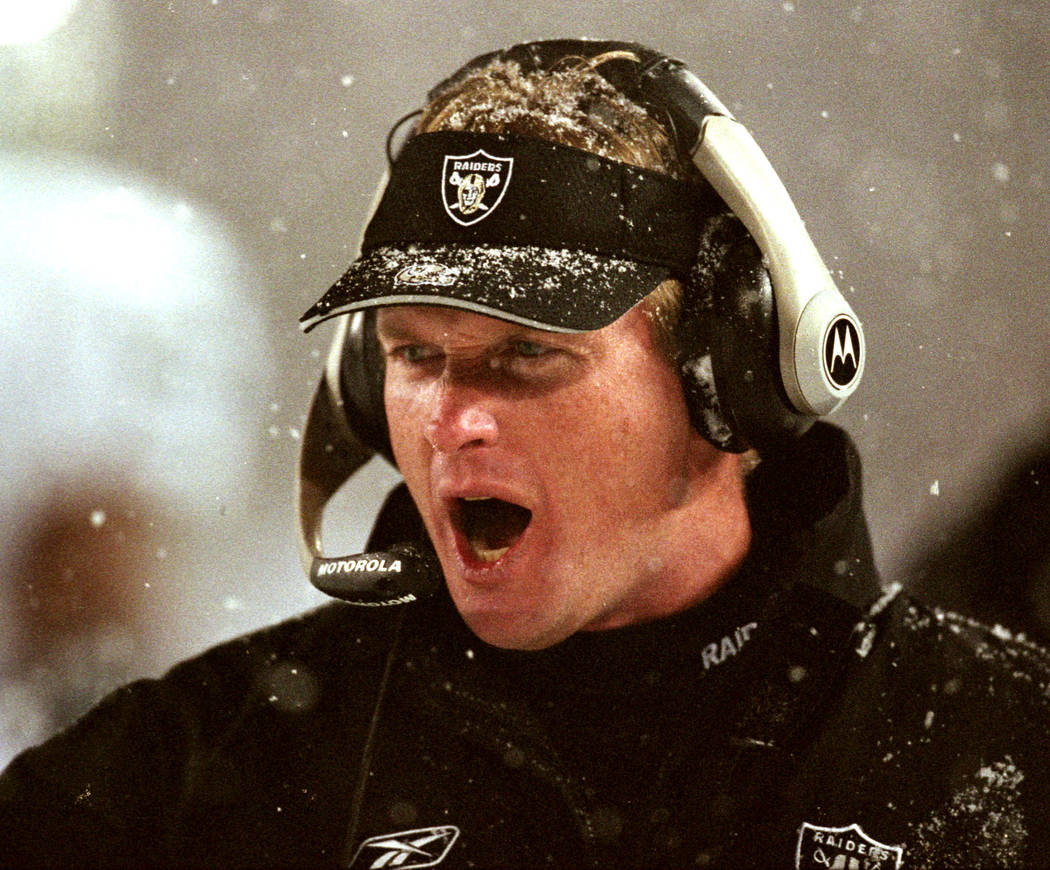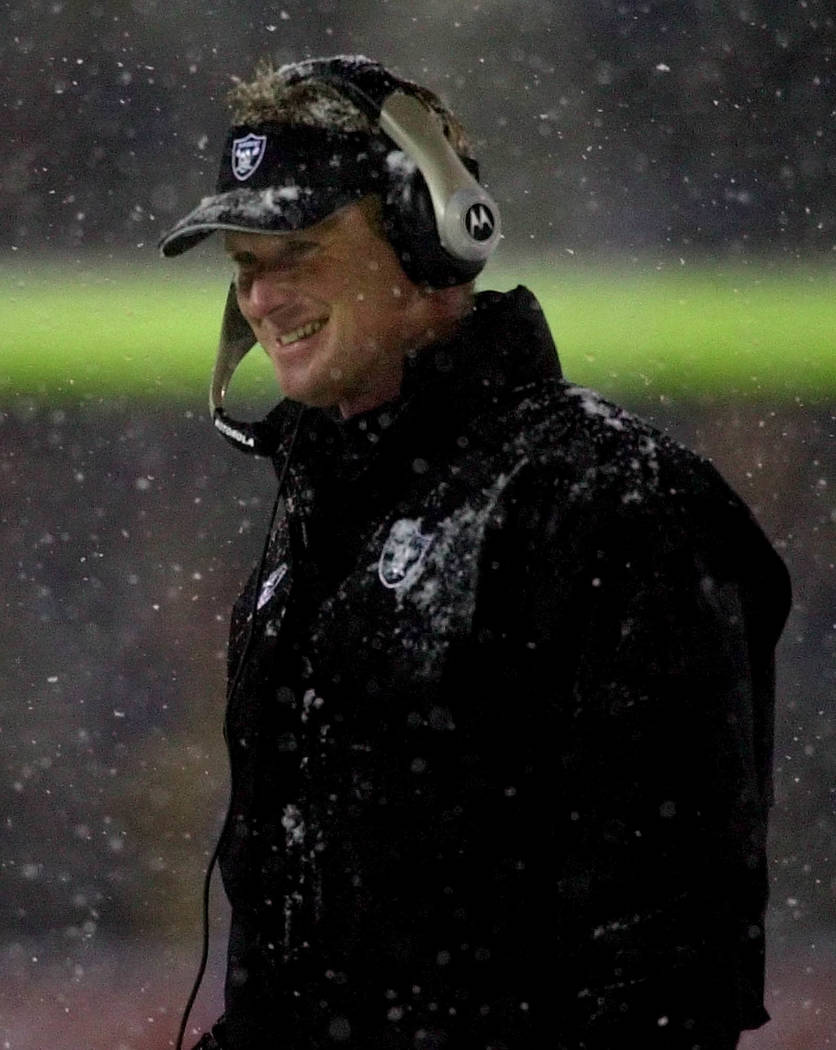 OAKLAND, Calif. — When owner Mark Davis envisions the Las Vegas Raiders, he imagines a team in silver and black sprinting onto the turf of a new, state-of-the-art stadium. Fireballs and music fill a 65,000-seat dome. Legendary alumni look on, linking the franchise's past and future. Quarterback Derek Carr and defensive end Khalil Mack are among those in uniform.
Davis could visualize Jon Gruden as the Raiders' head coach in 2020.
He will be, and he starts next week after agreeing to the richest and one of the longest coaching deals in NFL history.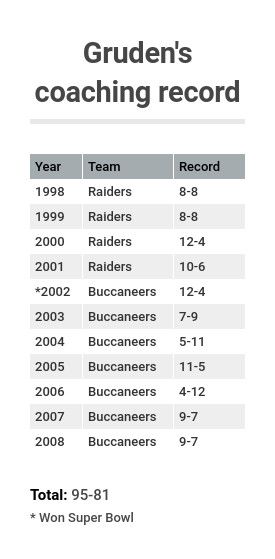 Gruden is set to sign a 10-year contract worth $100 million, sources said Friday. Some of the financials are backloaded beyond the deal's first two years, taking into account the absence of state income taxes in Nevada. The Raiders are scheduled to relocate from Oakland to Las Vegas in 2020.
Davis reportedly will introduce Gruden at a Tuesday news conference. A team spokesman said he was unable to confirm those reports, but a formal announcement to that effect is anticipated in the coming days.
Gruden, an ESPN analyst, first will fulfill a final broadcast assignment before arriving in the Bay Area. He will work Saturday's playoff game between the Tennessee Titans and Kansas City Chiefs.
The Raiders are ready to roll out the red carpet for the 54-year-old.
Or more aptly, green.
Gruden's contract carries unprecedented worth and — with that — job security. He previously served as the Raiders' coach from 1998 to 2001. Since then, none of the franchise's nine head coaches, including one single-season interim choice, have lasted more than three years. Davis has discontinued the carousel ride. He also got his man.
It is no secret in league circles that Davis, who couldn't be reached for comment, long has coveted Gruden. His father, Al Davis, traded the coach to the Tampa Bay Buccaneers in 2002 for a package that included two first-round and two second-round draft picks.
Gruden and the Bucs won the Super Bowl for the 2002 season over the Raiders. After Gruden was fired following the 2008 campaign, he entered broadcasting.
If Mark Davis had his way, Gruden would have rejoined the Raiders long ago.
He tried in 2012, but Gruden decided the timing was not ideal. Dennis Allen was hired.
Davis tried again in 2015, but Gruden again decided the timing was not suitable. Jack Del Rio was hired.
Those failed attempts laid the groundwork to this current deal, effectively streamlining what otherwise would have been a more complex negotiation.
Interest in a reunion was mutual. Gruden, who is nicknamed Chucky for his facial expressions, feels a sense of "unfinished business" with the Raiders, a source close to him said this week. Each time he considered a return to coaching, Gruden considered the coaching staff he would like to assemble.
That staff is coming along. When including Gruden, it is considered the highest-compensated staff in NFL history.
Greg Olson, former Raiders offensive coordinator and Los Angeles Rams quarterbacks coach, will reprise the coordinator role he held for Oakland in 2013 and 2014. His second year overlapped with quarterback Derek Carr's rookie season, offering familiarity amid sweeping changes. Bill Musgrave was Carr's coordinator in 2015 and 2016. Todd Downing was in 2017.
Olson received a four-year deal, a source said. So did Paul Guenther, the Cincinnati Bengals' defensive coordinator of the past four seasons. He joins the staff as Gruden's defensive coordinator, with Rich Bisaccia the special teams coordinator, sources said.
Bisaccia worked for Gruden in the same role during the entirety of Gruden's tenure with the Tampa Bay Buccaneers from 2002 to 2008. There was no other coach Gruden envisioned to lead his special teams unit.
In recent days, the expectation was for Gruden to be introduced as early as next week. Steve Corkran of RaidersSnakepit.com first reported Friday that the news conference will be Tuesday. ESPN confirmed it shortly thereafter.
The Raiders are coming off a 6-10 campaign. Davis fired Del Rio on Dec. 31, notifying the coach of his decision at the StubHub Center in Carson, California, shortly after a 30-10 loss to the Los Angeles Chargers.
Del Rio signed a four-year extension in February. His job status seemed safe given the lucrative investment.
Eleven months later, Davis showed what a lucrative investment in a head coach truly is.
Highest-paid NFL coaches
— Jon Gruden, Raiders: $10 million per year
— Sean Payton, Saints: $9-plus million
— Pete Carroll, Seahawks: $8-plus million
— Bill Belichick, Patriots: $7.5 million
— Andy Reid, Chiefs: $7.5 million
Note: Estimated salaries are based on various reports.
More Raiders: Follow all of our Raiders coverage online at reviewjournal.com/Raiders and @NFLinVegas on Twitter.
Contact reporter Michael Gehlken at mgehlken@reviewjournal.com. Follow @GehlkenNFL on Twitter.