Raiders agree to terms on new deal for key running back
Updated March 9, 2023 - 10:22 pm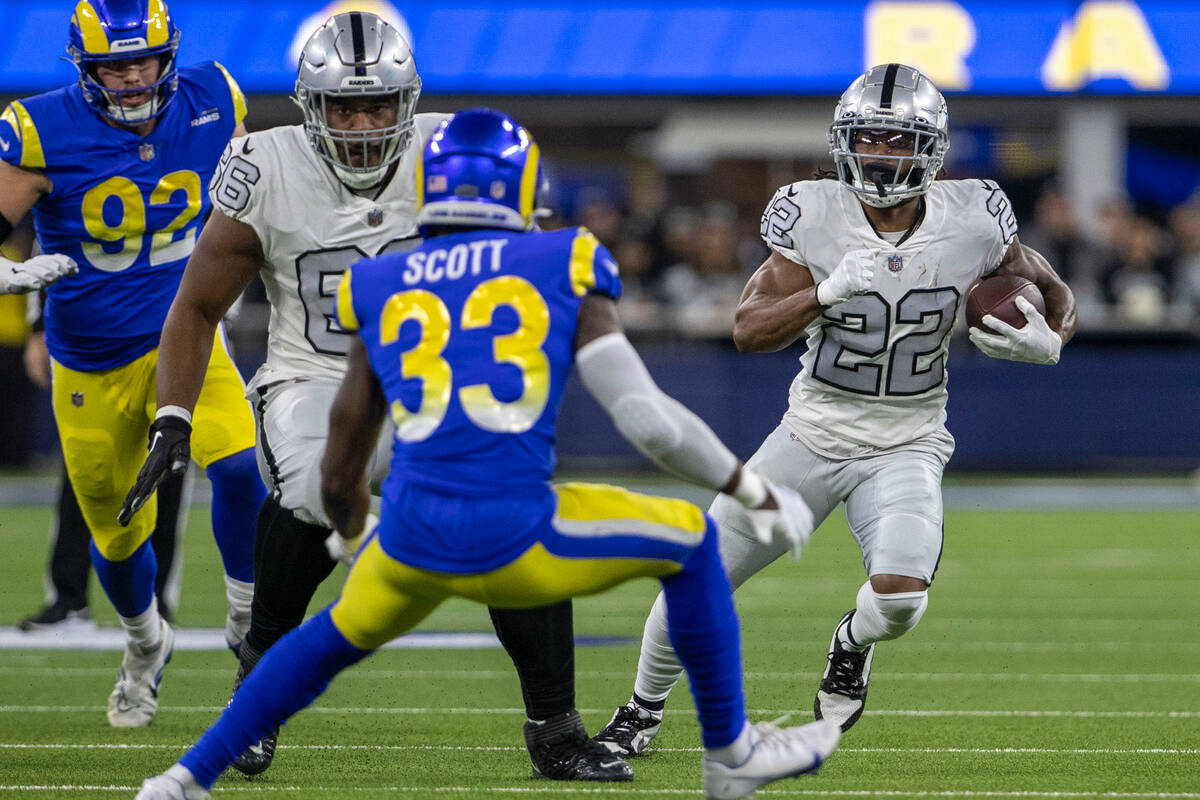 The Raiders have agreed to terms on a new deal with running back Ameer Abdullah, a person with knowledge of the agreement confirmed Thursday.
Abdullah, a pending free agent, emerged last season as a versatile player for the Raiders as a third-down back and on special teams. The 29-year-old former Nebraska standout had 25 catches for 211 yards and a touchdown and accumulated 225 snaps on special teams while playing all 17 games. He carried the ball only four times for 20 yards.
The Raiders now have all five of last season's running backs under control — Josh Jacobs, Abdullah, Brandon Bolden, Zamir White and Brittain Brown. White and Brown were rookies last season, and though neither got any significant playing time, both remain squarely in the team's plans.
Jacobs, of course, is the key piece in the short and long term after leading the NFL in rushing last season with 1,653 yards. He scored 12 rushing touchdowns and added 53 receptions for 400 yards.
The 25-year-old is technically under control for next season on the nonexclusive franchise tag designation. But he and the Raiders have indicated they want to extend the relationship considerably longer.
Doing so means coming to terms on a long-range contract, and the Raiders face a July 17 deadline to make that happen. If not, Jacobs will play next season on the $10.09 million franchise tag salary.
Ideally, the Raiders and Jacobs would agree to a new deal that would put more money in his pocket over the length of the contract but lessen the salary cap hit for next season. In other words, structure a deal that pays Jacobs through a combination of salary and signing and roster bonuses to reduce a $10 million cap hit to as low as $2 million. Doing so would create more cap space to address other roster needs.
General manager Dave Ziegler indicated last week at the NFL scouting combine that the sides are working to accomplish that.
"I can't put a specific time on it … what it's going to be or not going to be is just irresponsible," he said. "I've done this too many times now, (and) that would kind of paint yourself in a corner. But I'd say the commonality is that we want Josh to be a Raider and Josh wants to be a Raider, so that's a really good place to start."
Similarly, coach Josh McDaniels expressed hope that the club and Jacobs could find common ground.
"What we said at the end of the year is the same as it is now — (we) would love for JJ to continue being a Raider," McDaniels said.
Contact Vincent Bonsignore at vbonsignore@reviewjournal.com. Follow @VinnyBonsignore on Twitter.