Raiders ambushed by Jets, lose 34-3
Updated November 24, 2019 - 6:17 pm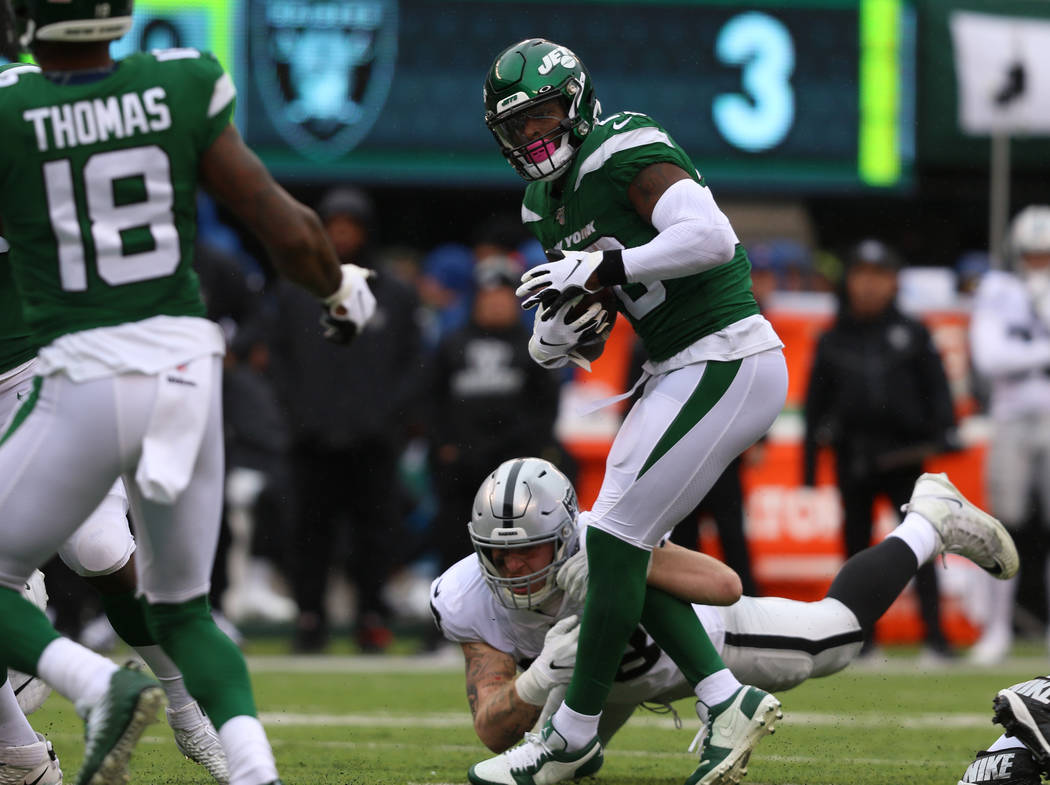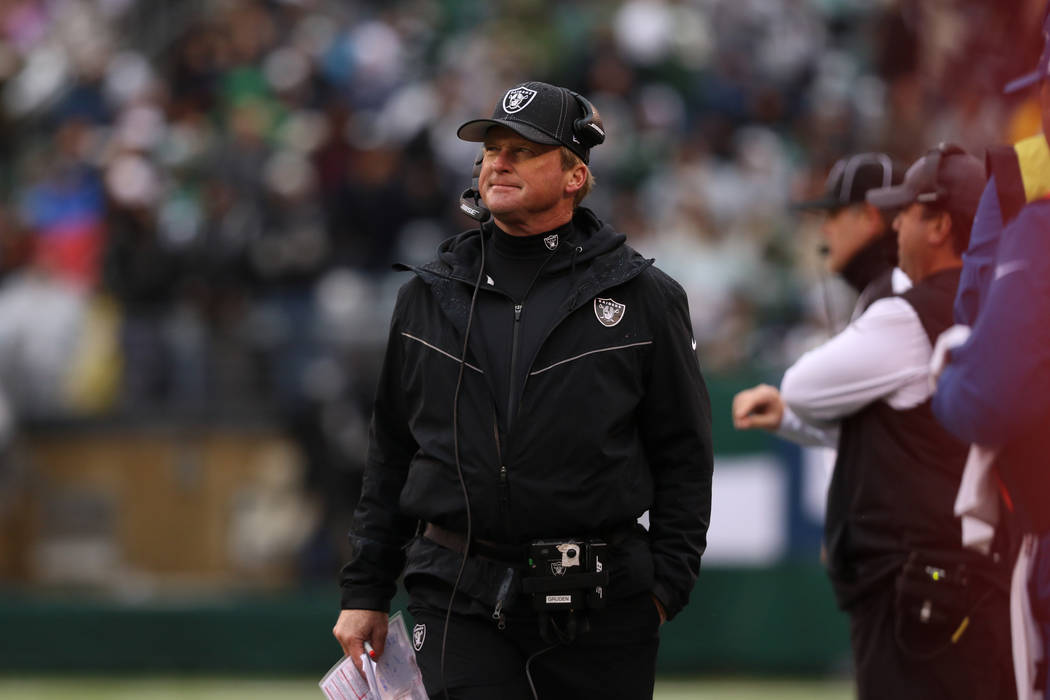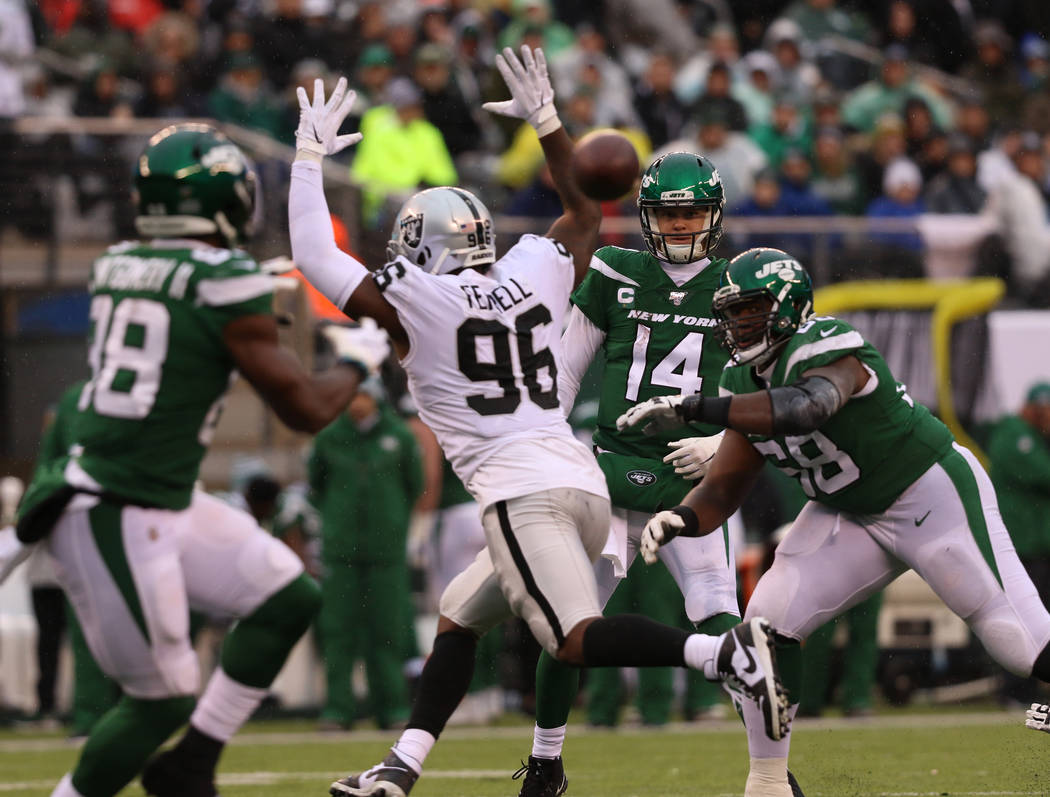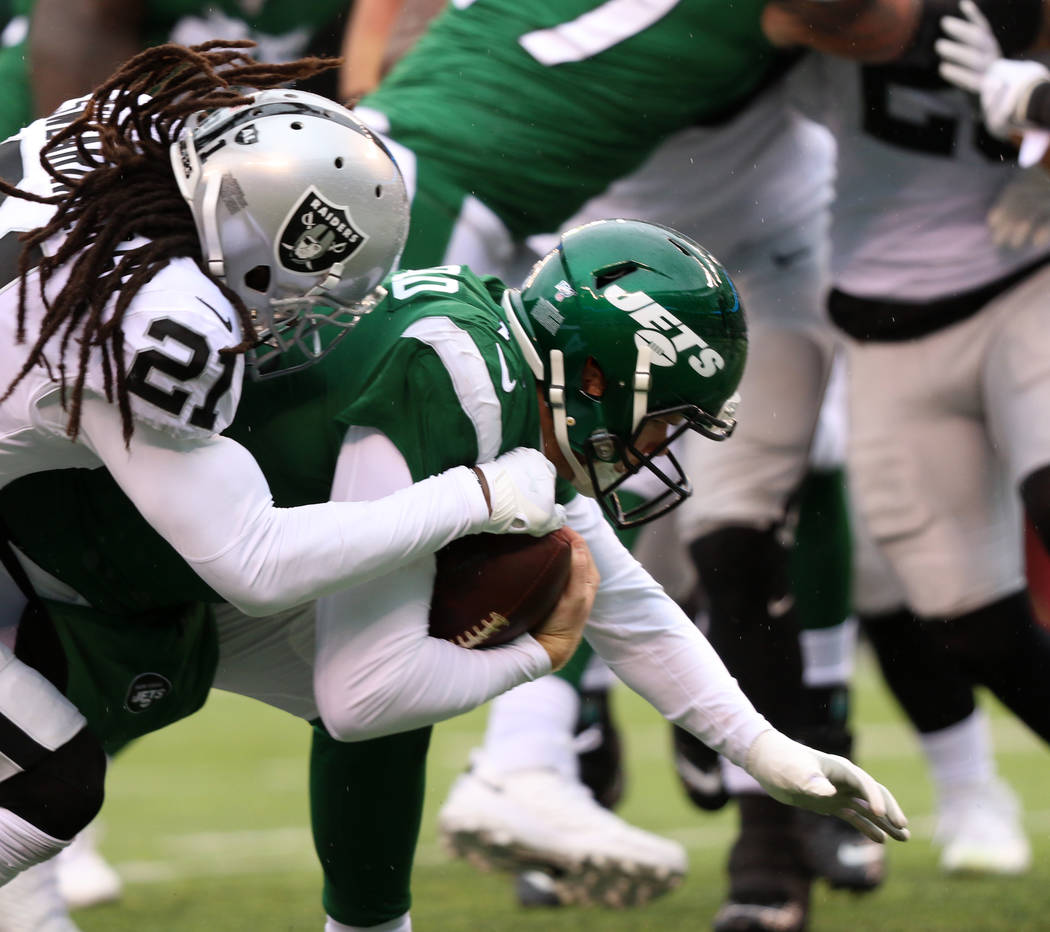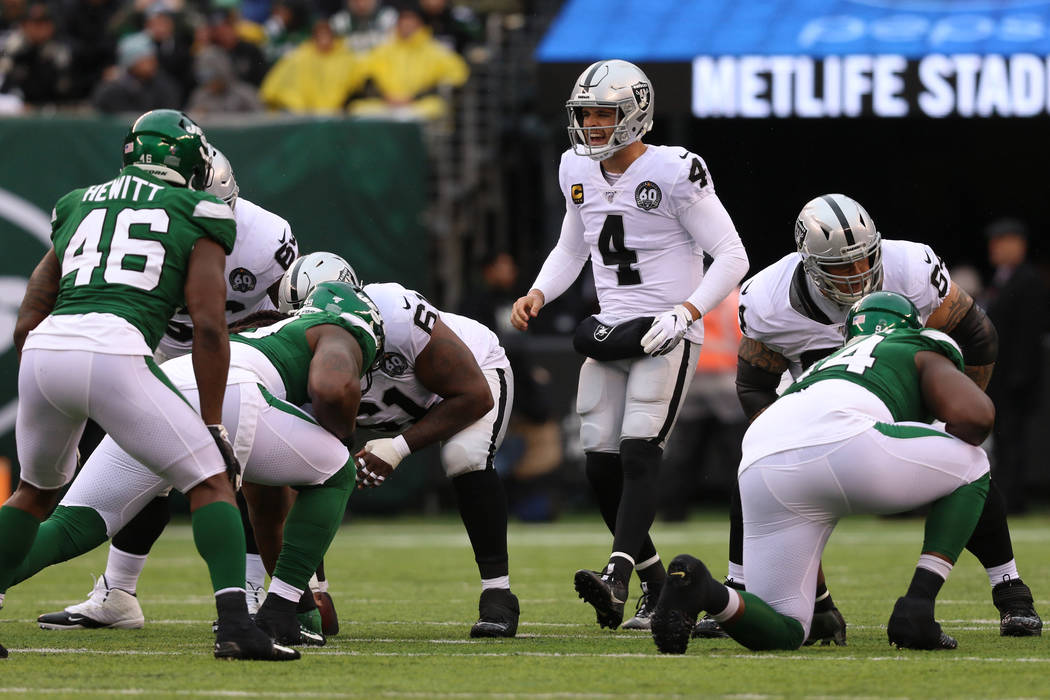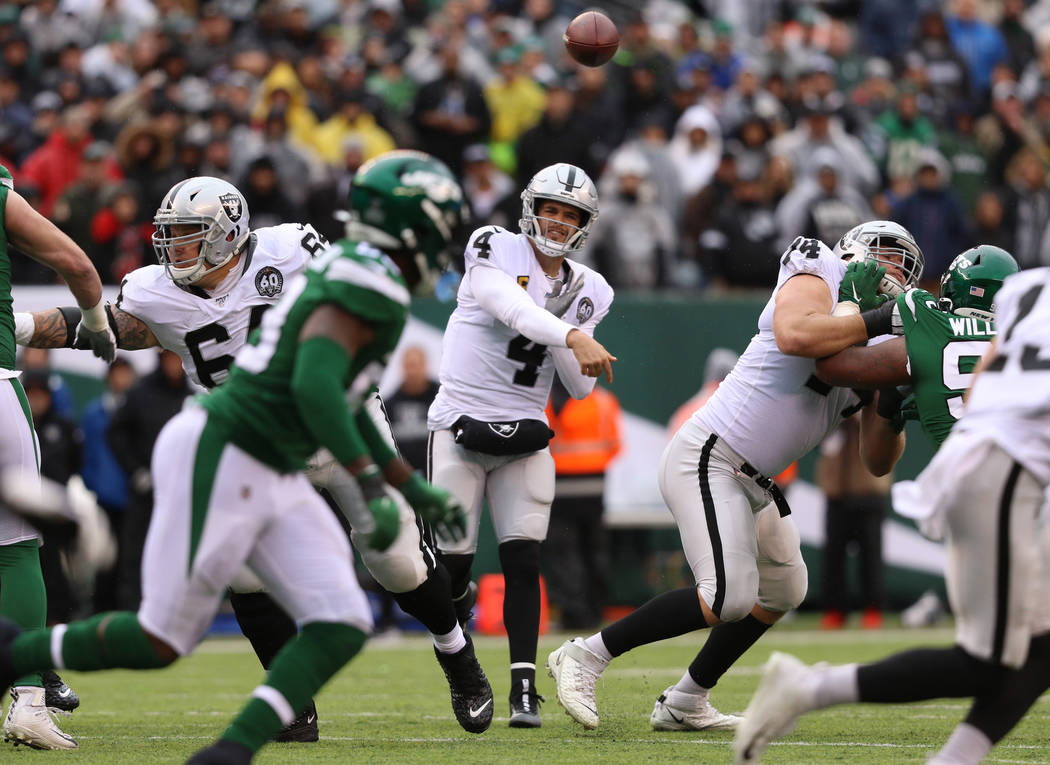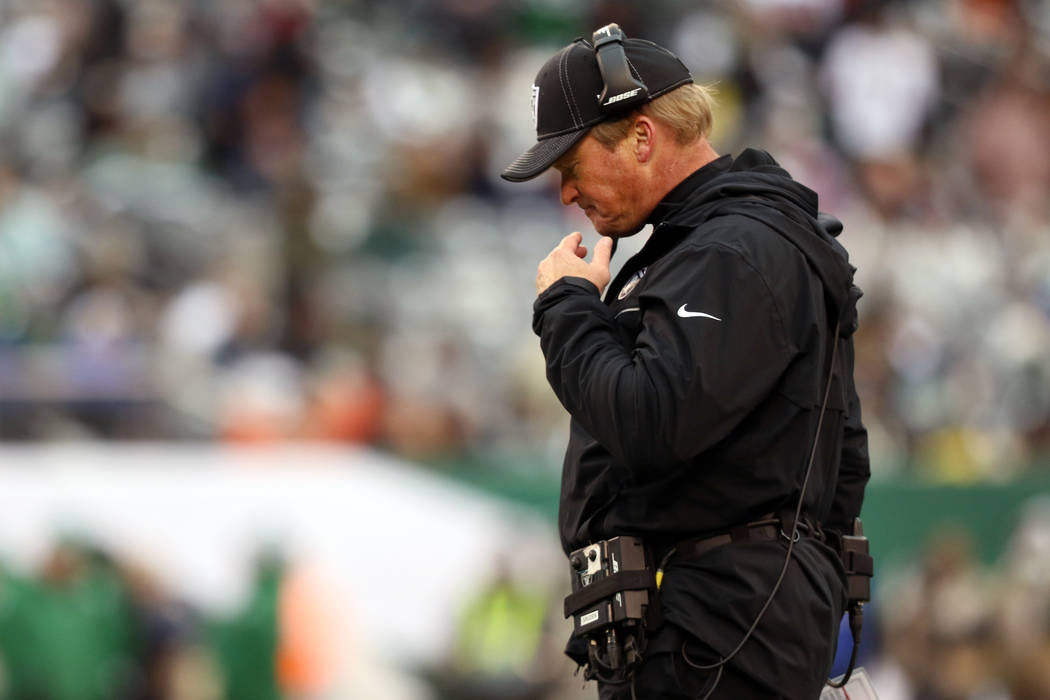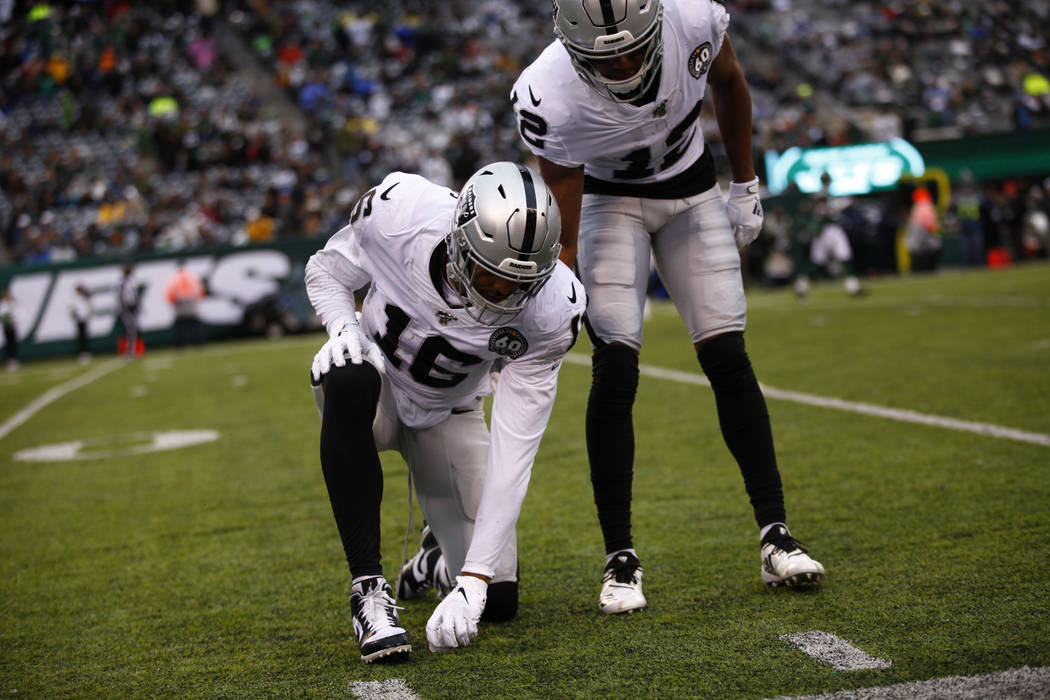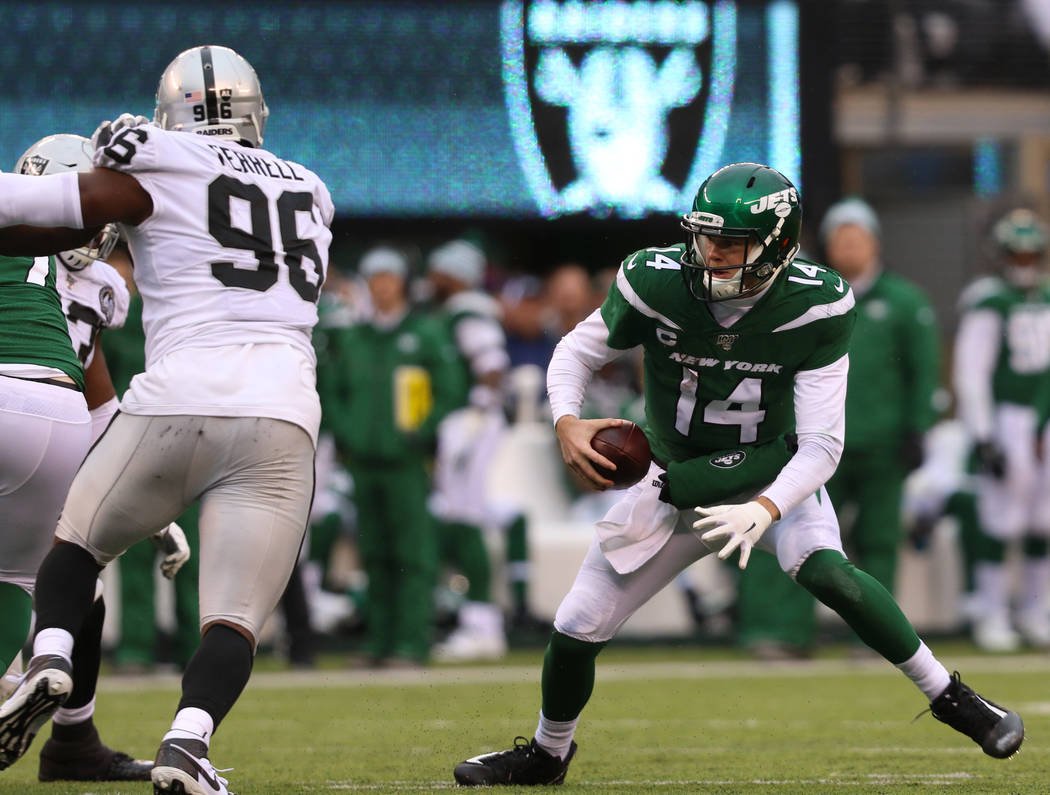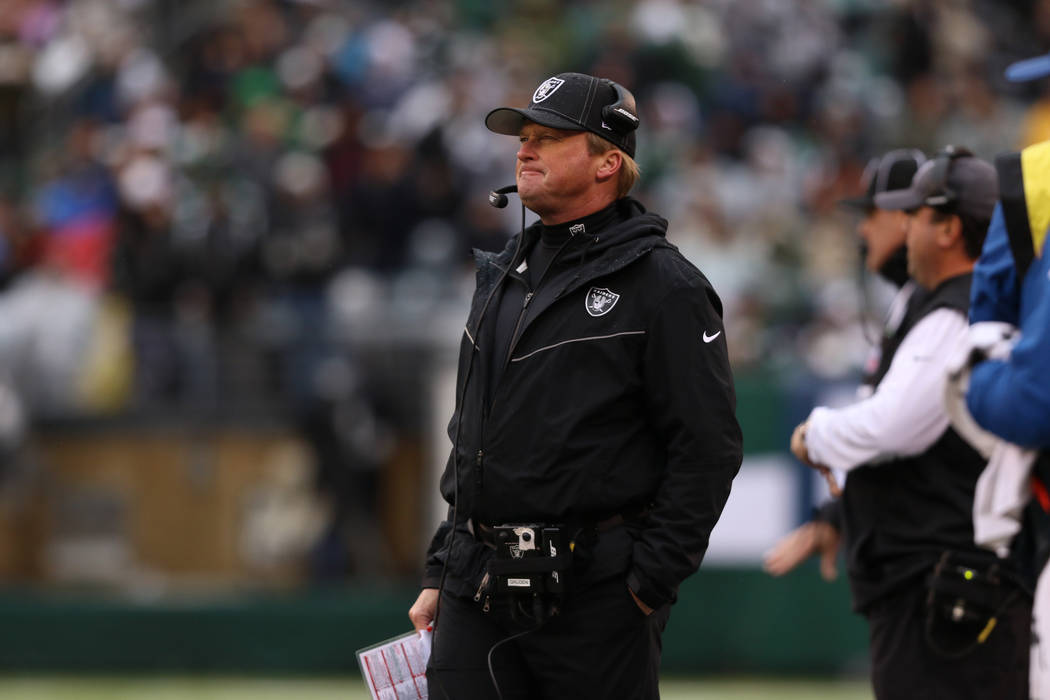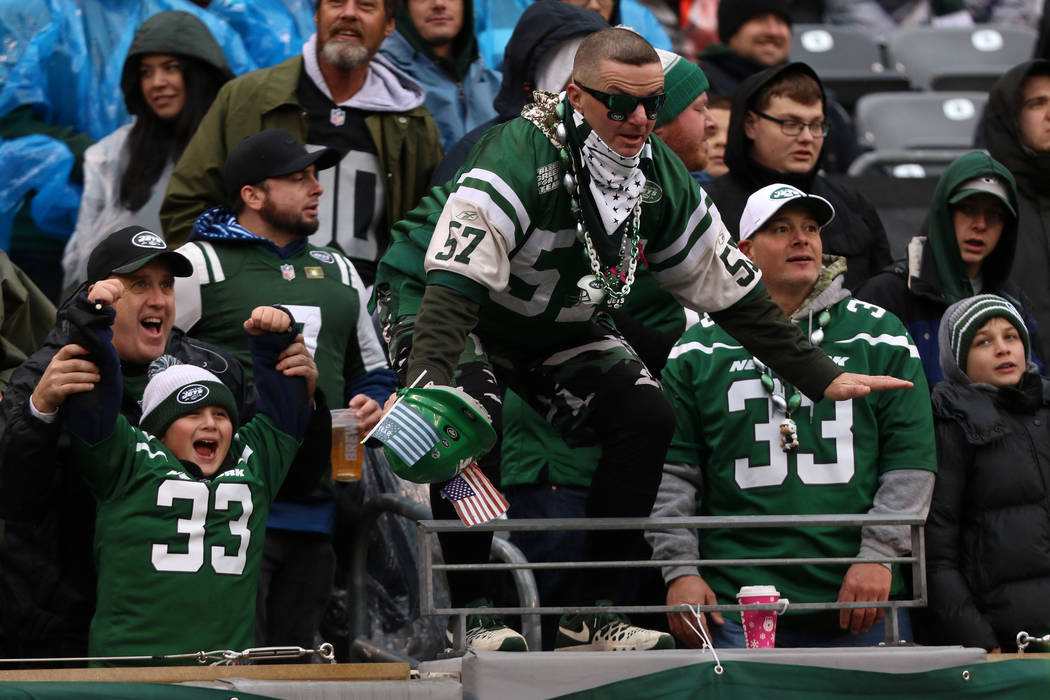 EAST RUTHERFORD, N.J. — The easy thing would be to say the Raiders got caught looking ahead Sunday, and that the 34-3 loss to the New York Jets was retribution for overlooking an outclassed opponent.
At least for now, the Raiders (6-5) are much closer to the Jets than they are next Sunday's opponent, the Kansas City Chiefs.
The Raiders were helpless in slowing the Jets' clever offensive game plan and young quarterback Sam Darnold, who torched the Raiders secondary on 20-of-29 passing for 315 yards and two touchdowns with a 127.8 passer rating.
The Jets (4-7) scored on five of their first seven drives — with one ending on a missed field goal — and took a 27-3 lead with two minutes left in the third quarter. The knockout blow was delivered when Raiders quarterback Derek Carr threw into tight coverage from his own 13-yard line, only for the ball to be tipped into the hands of Jets cornerback Brian Poole for an easy 15-yard touchdown interception.
Mike Glennon took over for Carr just before the end of the third quarter, all but ending the Raiders' afternoon. Carr finished with 127 yards on 15 of 27 passes. His passer rating was 52.6.
Here are three takeaways from the game:
Playoffs, what playoffs?
What was shaping up as a showdown next Sunday between the Raiders and Chiefs for control of the AFC West is now a test of the Raiders' mettle. Can they rebound and still make the playoffs?
They rolled into New Jersey in control of their own destiny, needing to win their last six games to unseat the Chiefs as division champs. They left the Northeast in a more precarious spot, a full game behind Kansas City (7-4) in the division, two games behind the Buffalo Bills (8-3) for one wild-card spot and knotted with the Pittsburgh Steelers, Tennessee Titans and Indianapolis Colts (all 6-5) for the second wild-card spot.
The Raiders went down this road earlier this season when they were served a 34-14 loss by the Minnesota Vikings, only to answer back with a win over the Colts the following week. So there is precedent to draw from. Just as importantly, it's not like there are any unknowns about the Chiefs, who will have the Raiders' full attention unlike the Jets apparently did.
"We better show up or they're going to beat us by 50," Carr said. "They're a really good football team, one of the best in the NFL, so hopefully our guys, myself included, when we show up at Arrowhead a week from now we're ready to go. And I believe that we will."
Beyond the Chiefs, the Raiders face the Tennessee Titans and Jacksonville Jaguars at home before ending the season at the Los Angeles Chargers and Denver Broncos.
Can't overlook anyone
Try as the Raiders did to dismiss the notion they got caught looking past the Jets, there was just too much evidence suggesting otherwise. Open receivers dropped easy passes — Derek Carrier, Hunter Renfrow, Tyrell Williams and Jalen Richard all coughed up receptions during first-half drives. Meanwhile, receivers busted free for easy receptions and kicker Daniel Carlson missed makeable field goals.
"We didn't show up," Raiders defensive end Maxx Crosby said. "We didn't play well in any phase and that's the result you're going to get no matter who you're playing."
It was a frankness that reached every corner of the Raiders' locker room.
"We just didn't show up today," defensive tackle Jonathan Hankins said. "It had nothing to do with the weather. They came out and did what they had to do and we lost. There is not much to say."
New communication issues
Credit the Jets with a clever game plan. They continually disguised receivers as blockers and delayed their release off the line of scrimmage. That sent them as wide-open targets, revealing a lack of chemistry in the Raiders' secondary.
The Raiders were without veteran defensive back Lamarcus Joyner for the second game in a row with a hamstring injury, and his communication skills were sorely missed. They also were feeling the loss of safety Karl Joseph, who suffered a foot injury against the Los Angeles Chargers two weeks ago.
"We've got a lot of new faces back there, obviously," head coach Jon Gruden said. "Lamarcus (didn't) play, we've got some new safeties, some changes at linebacker. And they did a nice job protecting (Sam) Darnold and he bought time, at times."
More Raiders: Follow at vegasnation.com and @VegasNation on Twitter.
Contact Vincent Bonsignore at vbonsignore@reviewjournal.com. Follow @VinnyBonsignore on Twitter.