Raiders defense will be without 4 starters vs. Chargers
Updated December 16, 2020 - 1:53 pm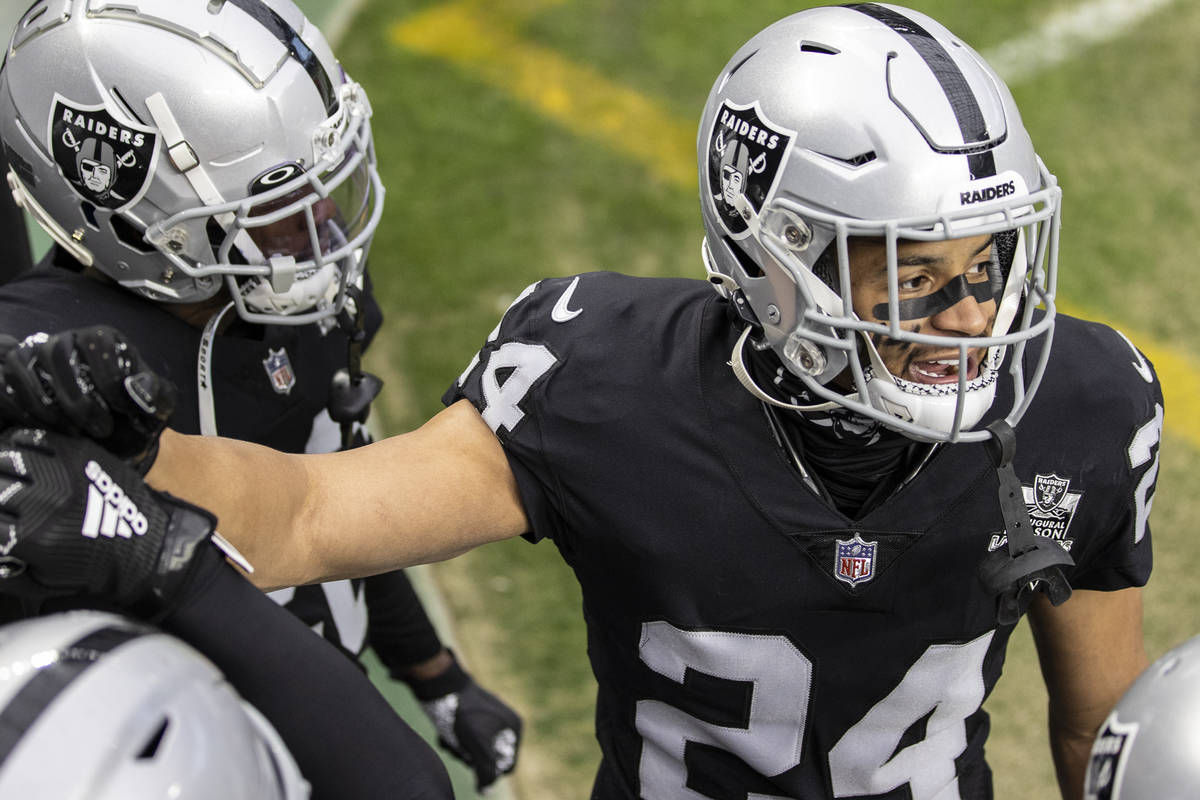 The Raiders have selected five players in the first round in the last two drafts in hopes of building a foundation that could once again make the team regulars in the postseason.
Four of those players will miss Thursday's prime-time game against the Chargers that is pivotal for their hopes of making the playoffs this season.
Coach Jon Gruden announced Wednesday the team would be without safety Johnathan Abram and cornerback Damon Arnette because of concussions. Defensive lineman Clelin Ferrell suffered a shoulder injury against the Colts last week and will also miss the game.
Wide receiver Henry Ruggs was already expected to miss the game after he was placed on the reserve/COVID-19 list on Tuesday.
Arnette and Ruggs were first-round picks this year. Ferrell and Abram were picked in the 2019 draft.
Linebacker Nicholas Morrow was also ruled out due to a concussion, meaning Rod Marinelli will be without four starters as he steps into the role of defensive coordinator just days after Paul Guenther was fired from the role.
Marinelli wasn't specific about injuries when he spoke to the media on Tuesday, but said his unit would be prepared regardless of who was available.
"We're going to get it done. I don't care who's up, who's not," Marinelli said. "I'm going to build off of want-to this week."
Here are three things to watch.
Find a way
Despite the adversity, the Raiders need to win their final three games and get a little help if they want to qualify for the playoffs.
On the short term, Gruden said that means several players must step up. Against the Chargers, defensive end Carl Nassib, a healthy scratch the last two weeks, will be asked to play a prominent role. Special teams ace Dallin Leavitt will get plenty of reps at safety, and cornerback Daryl Worley, who was just re-signed this week, will play more than expected in the secondary.
The coach insists the team is holding up well through all the uncertainty. That is in spite of dropping three of its last four games, creating an uphill battle to make the postseason.
"We have very good morale here," he said. "We're not going to go in the tank. We're going to stay strong mentally. We're going to keep getting better and better and better, and do the best we can every single time out, OK?"
Expect the unexpected
The Raiders have won the last three meetings against the Chargers to extend their all-time series lead to 66-54-2.
None of the victories in the current winning streak have been by more than seven points, including the wild 31-26 victory in Los Angeles last month.
That game wasn't decided until several minutes after the clock showed all zeroes. That's because the officials mulled over several replays to determine whether the Chargers secured a last-second reception in the end zone for what would have been a game-winning touchdown.
"The last three times we have played the Chargers, it's come down to the wire," quarterback Derek Carr said. "We may have won those games, but that doesn't mean it couldn't have gone one way or the other with one play."
You again?
The Raiders will get their second look at breakout star Justin Herbert of the Chargers on Thursday, a quarterback they can expect to see twice a year for many seasons to come.
Herbert threw for 326 yards and two touchdowns in the first meeting, with his final pass being ruled incomplete in the end zone on what would have been a game-winning touchdown.
Marinelli doesn't expect to throw too many new wrinkles at the rookie first-round pick, especially since he's only had three days on the job to prepare for the game.
"You've got to be careful how much you do new in a week because you don't want to beat yourself easy," Marinelli said. "We've got to make sure we know what we're doing, how we execute, how we work together, how we tackle, how we strip a ball. That's a ton of stuff to do, and so, it's not so much the opponent."
Contact Adam Hill at ahill@reviewjournal.com. Follow @AdamHillLVRJ on Twitter.