Raiders' Divine Deablo hopes more muscle equals better season
Updated June 6, 2023 - 6:00 pm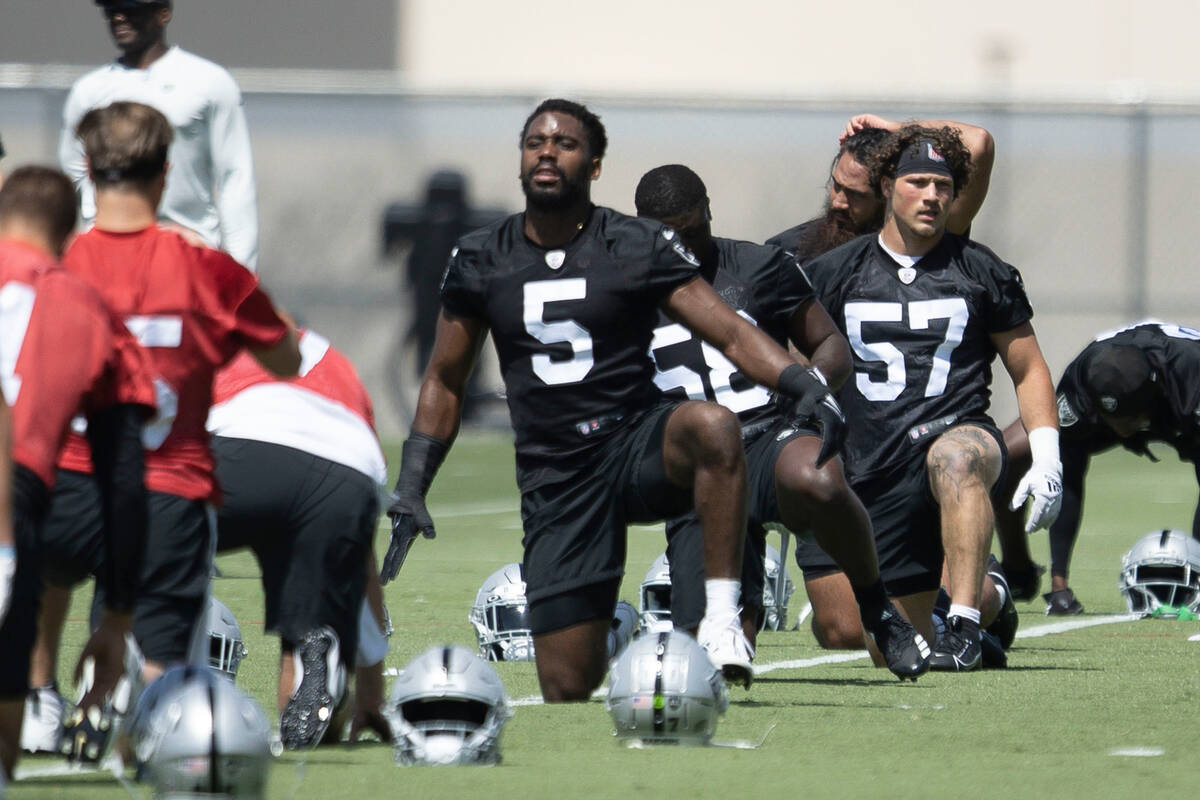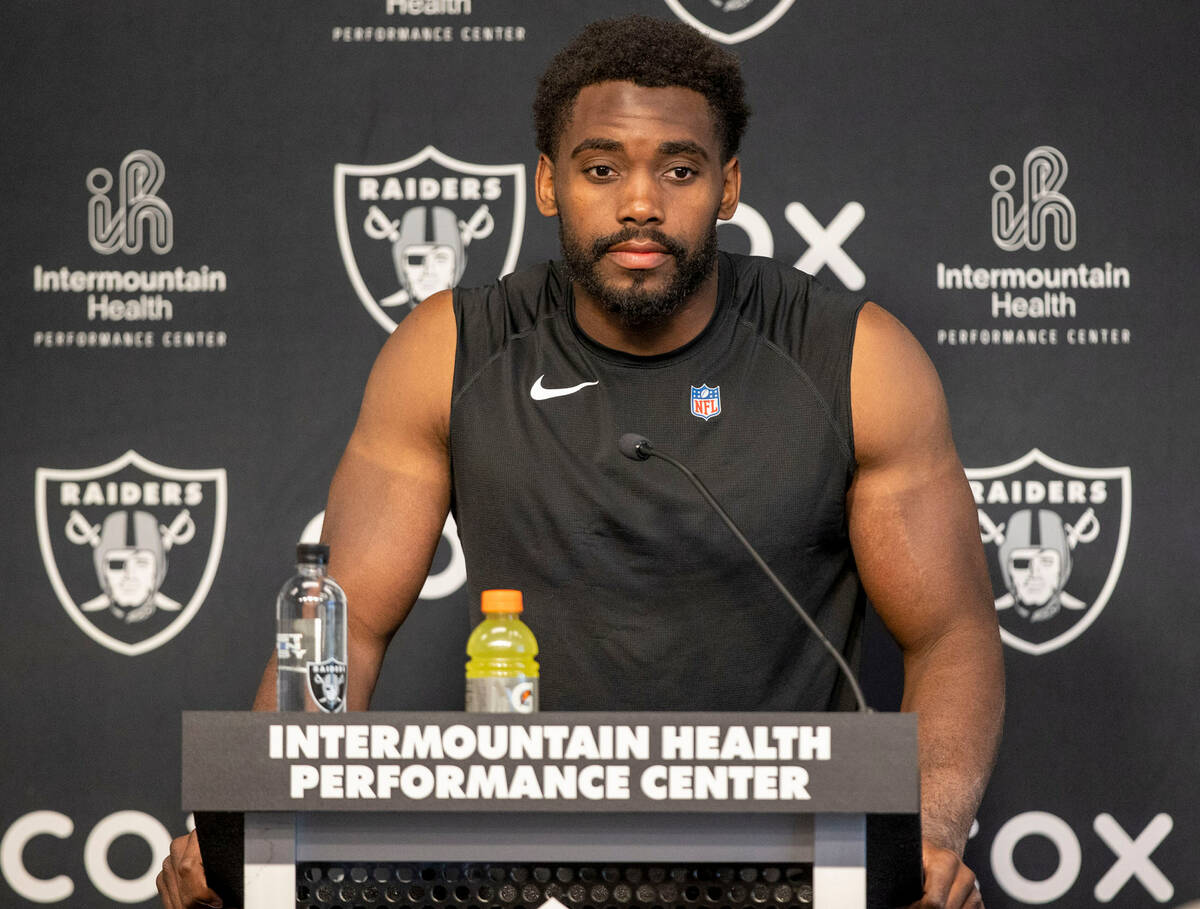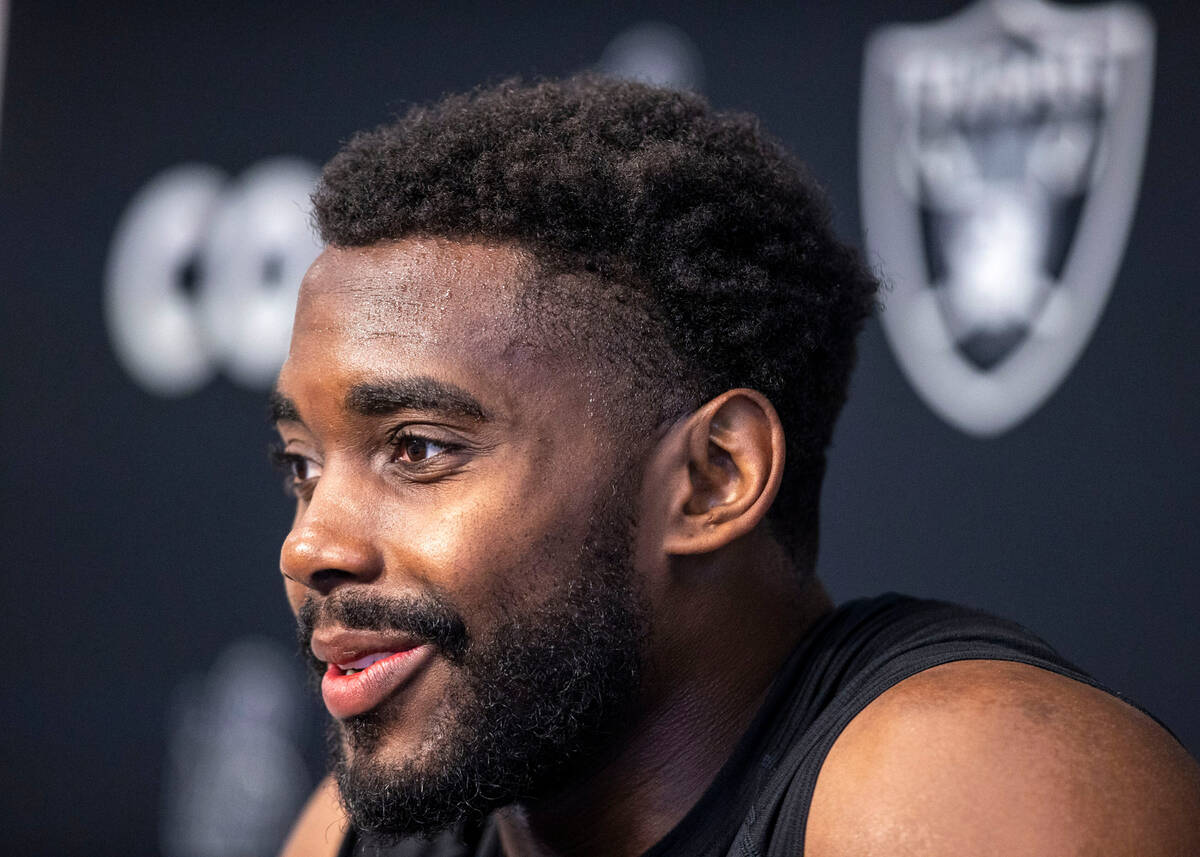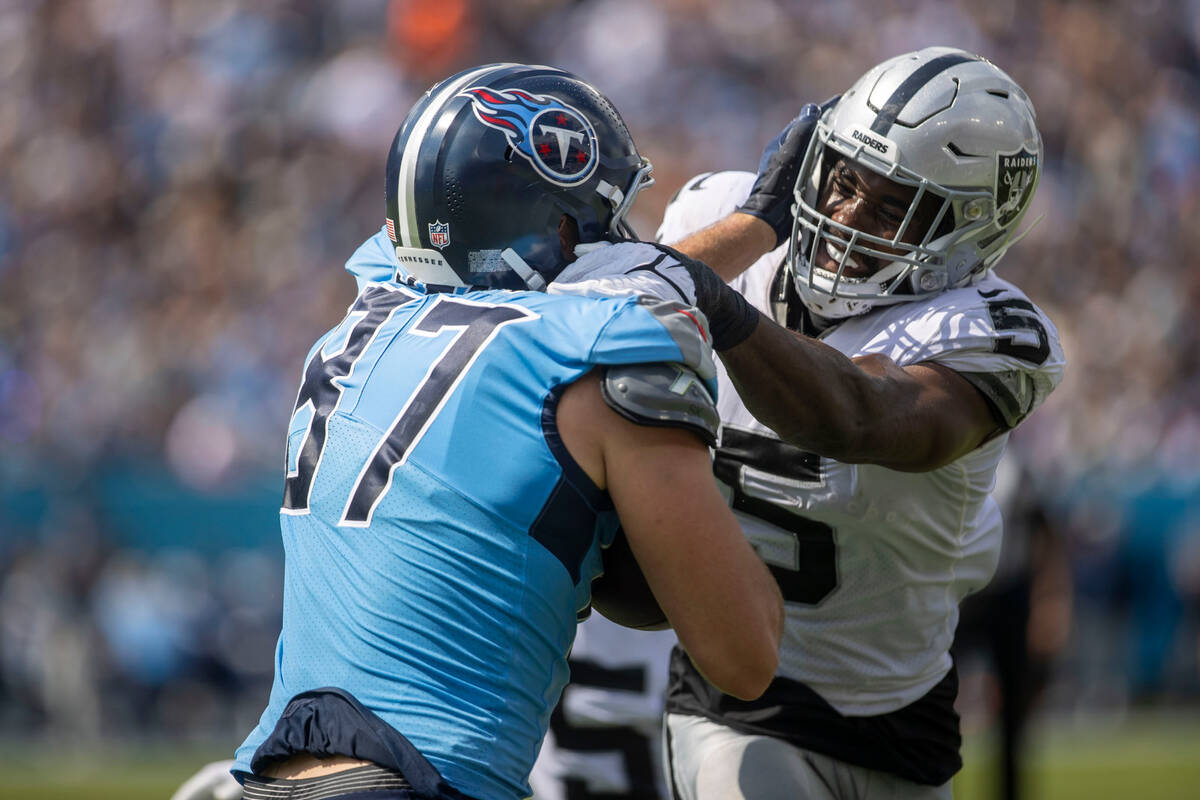 As soon as Patrick Graham laid eyes on Divine Deablo at the outset of the Raiders' organized team activities, two things popped into the head of the club's second-year defensive coordinator.
The first is that Deablo spent his time wisely this offseason relative to eating right and working on his body. As far as the second, let's just say Deablo spent a lot of time at the gym.
Deablo reported to OTAs looking like a completely new man after adding 13 pounds of muscle since last season — the sight of which prompted Graham to start thinking it was time for him to hit the weights.
"He's definitely been motivation for me to get in the weight room and try to get my arms up to his level," Graham said.
The motivation for the body change was simple. Now in the third year of his transition from college safety to NFL linebacker, the former Virginia Tech player has a much better grasp of the physicality needed to play closer to the line of scrimmage as he deals with the extraordinarily large human beings standing between him and the running backs he's chasing.
Coming out of college, Deablo was known for his speed and pass-coverage abilities. And, to be sure, those are critical traits for the modern-day linebacker being asked to cover running backs, tight ends and even wide receivers.
But there is still that part about being stout in the run game, which often means fighting through blockers before reaching the ball carrier. In sizing up that part of the job description, Deablo realized he needed to fight power with power.
"I needed to increase weight to keep up with the linemen," he said.
So he hit the weights more than ever. That, combined with adhering to a strict nutritional program, resulted in a body that has become quite the subject of conversation among the Raiders.
"He walks around looking big, swole right now," Graham said. "Arms looking big."
It's a bit of a fine line for Deablo, who is still trying to find a sweet spot that leaves him powerful enough to deal with 300-pound offensive linemen but fleet enough to be effective in pass coverage.
"I'm still working on it," he said.
Hence the importance of the on-field portion of OTAs and the Raiders' three-day minicamp, which kicked off Tuesday in Henderson. Teams can't hit and tackle this time of year, but there is plenty of running and pass-cover drills with which Deablo can get a handle on whether the added weight will hinder his speed and quickness.
That was initially the case when Deablo topped out at 238 pounds and sensed a decrease in quickness.
"I might have gotten a little too heavy," he said.
In about a week, he dropped four pounds. During the remainder of minicamp and OTAs, he wants to figure out whether that is the correct fit for him for training camp and the season.
Deablo will carry much more than added weight this season. Coming off a season that was cut to eight games after he suffered a season-ending forearm injury in Week 9, his role is expected to change considerably if he ends up as the Raiders' defensive play-caller, which appears to be the plan.
"He's wearing the green dot in practice, which is obviously a role that young players, once they have that on their shoulders, now they're responsible for more than just their job," coach Josh McDaniels said. "They have to communicate to everyone else. They have to be alert and aware of situational football because they're essentially the quarterback of the defense."
It's a decisive vote of confidence for a young player whose head was spinning this time last year while absorbing his third defense in three years. A year later that is growing less frequent.
It was an easy call for McDaniels, who has grown fond of a player who had a team-leading 74 tackles when he was injured.
"Divine knows a lot more, he understands the whole scope of the defense," McDaniels said. "We're trying to get him to learn it from that perspective so he can help others … and he's embraced that."
Contact Vincent Bonsignore at vbonsignore@reviewjournal.com. Follow @VinnyBonsignore on Twitter.