Raiders quarterback quandary: Any one of three could start Sunday
Updated September 29, 2023 - 11:07 am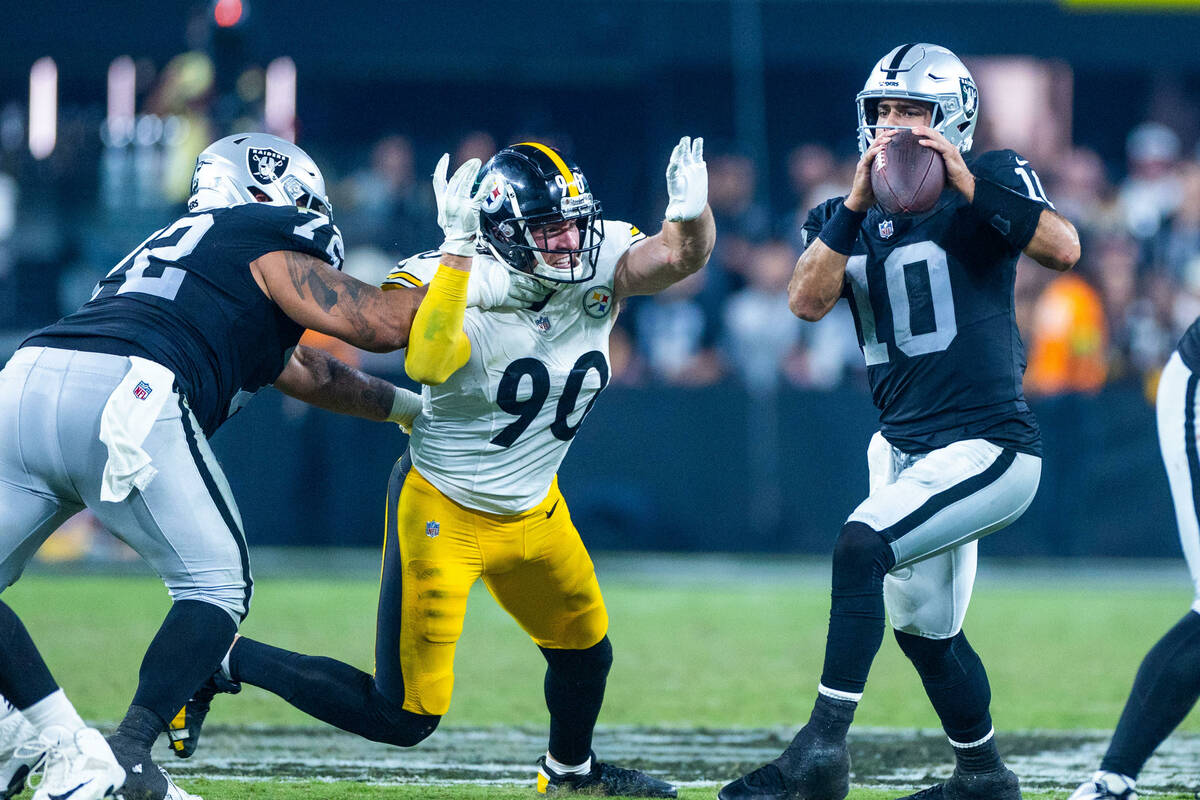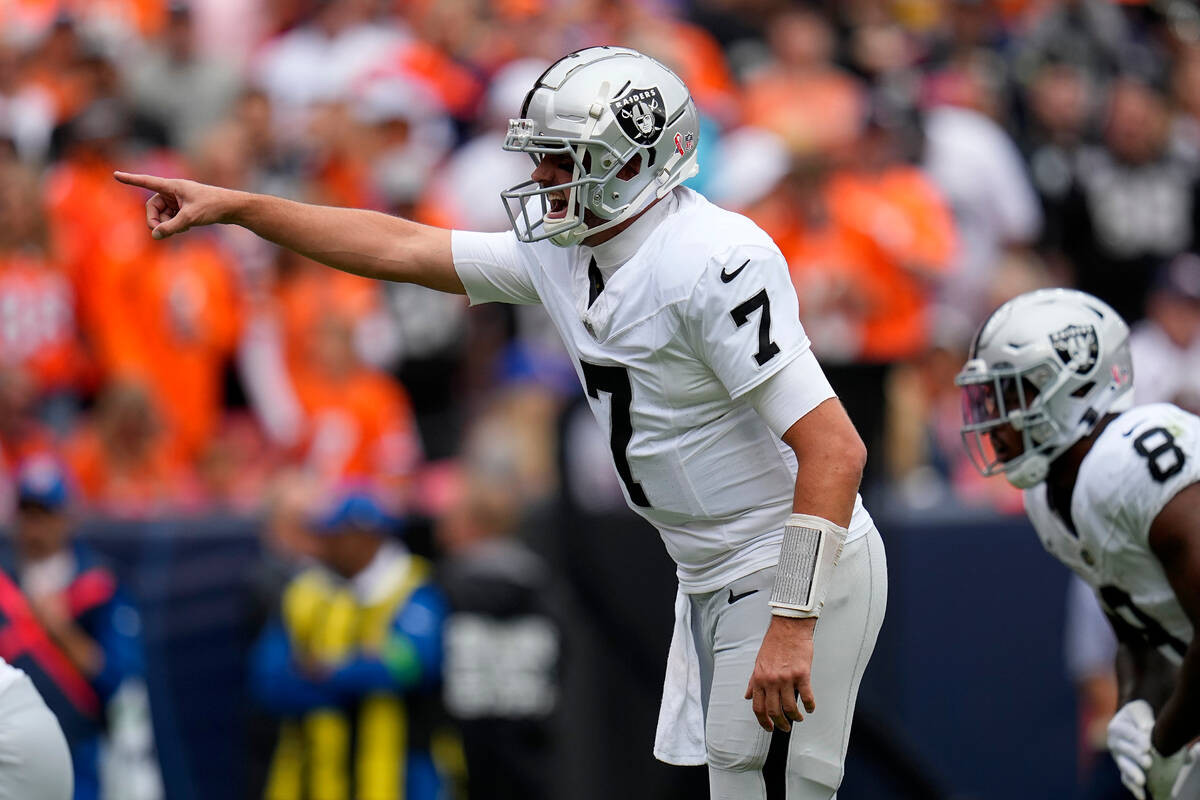 Raiders quarterback Jimmy Garoppolo returned to the practice field Thursday, a positive sign that he could clear concussion protocol in time to play against the Chargers on Sunday at SoFi Stadium.
But there are no guarantees. Thursday represented progress, but it's just one part of a comprehensive process players must work through to return to the field after suffering a concussion.
That means the Raiders continue to prepare backup Brian Hoyer and rookie Aidan O'Connell for the game against their division rival.
In that sense, it leaves the Chargers to guess which quarterback they might face. But it also puts the Raiders in limbo until Garoppolo's status is determined.
Here's a breakdown of their options:
Garoppolo is cleared
Even if Garoppolo is cleared, the Raiders have a decision to make on his playing status. He missed Wednesday's practice and was limited Thursday.
"Every player is quite different in that regard (coming off an injury)," coach Josh McDaniels said. "Just kind of see where we're at. I don't want to speculate on a hypothetical on that."
McDaniels said Garoppolo, like all players in his situation, would have a say in the decision.
"It's not just how I feel or somebody else," McDaniels said. "They would have to feel comfortable with being able to play without practice."
Bottom line: If Garoppolo is cleared, he probably will play.
Go the veteran route
There is a reason Hoyer has stuck around for 15 seasons in the NFL, though it has more to do with the safety net he provides and his mentorship.
His primary job this season is an in-game emergency replacement for Garoppolo and tutor to O'Connell.
When it comes to giving his team the best chance to win, Hoyer has not done that in the past few seasons.
He has lost the past 12 games he has started, including an 0-6 record with the 49ers in 2017. The last time he won a game as a starting quarterback was 2016.
The Raiders put the experience level in the proper context.
"It doesn't mean that it's going to determine how it's going to go for one guy versus another," McDaniels said. "There's a lot of guys that don't have a lot of experience that can play well because they're prepared. Ultimately, what matters is how they perform, not how long they've been in the NFL."
Bottom line: If Garoppolo can't play, Hoyer should replace him only if the Raiders determine O'Connell isn't ready to start an NFL game. Hoyer has no future with the franchise. It remains to be seen if O'Connell does.
The rookie
It didn't take long for O'Connell to make an impression with the Raiders.
"I don't really pay too much attention to college, but I think he's surprised a lot of people for what he's done," star wide receiver Davante Adams said. "He's shown a lot of poise and some promise for sure."
It's impossible to predict how a rookie quarterback will fare in his debut, but any chance the Raiders get to evaluate O'Connell is worth it.
The Raiders need to see if the 25-year-old can play at this level. How he performs could determine how aggressive they are in pursuing a quarterback in the 2024 draft.
In evaluating his quarterbacks, McDaniels said he looks at "consistency of performance, understanding the plan and his job, and his role in it."
Bottom line: If Garoppolo can't play, the call has to be O'Connell.
Contact Vincent Bonsignore at vbonsignore@reviewjournal.com. Follow @VinnyBonsignore on X.
Up next
Who: Raiders at Chargers
When: 1:05 p.m. Sunday
Where: SoFi Stadium, Inglewood, Calif.
TV: KLAS-8
Radio: KRLV-AM (920), KOMP-FM (92.3)
Line: Chargers -5; total 48½