Raiders report: Injury updates on Josh Jacobs, Darren Waller
Updated October 25, 2021 - 4:40 pm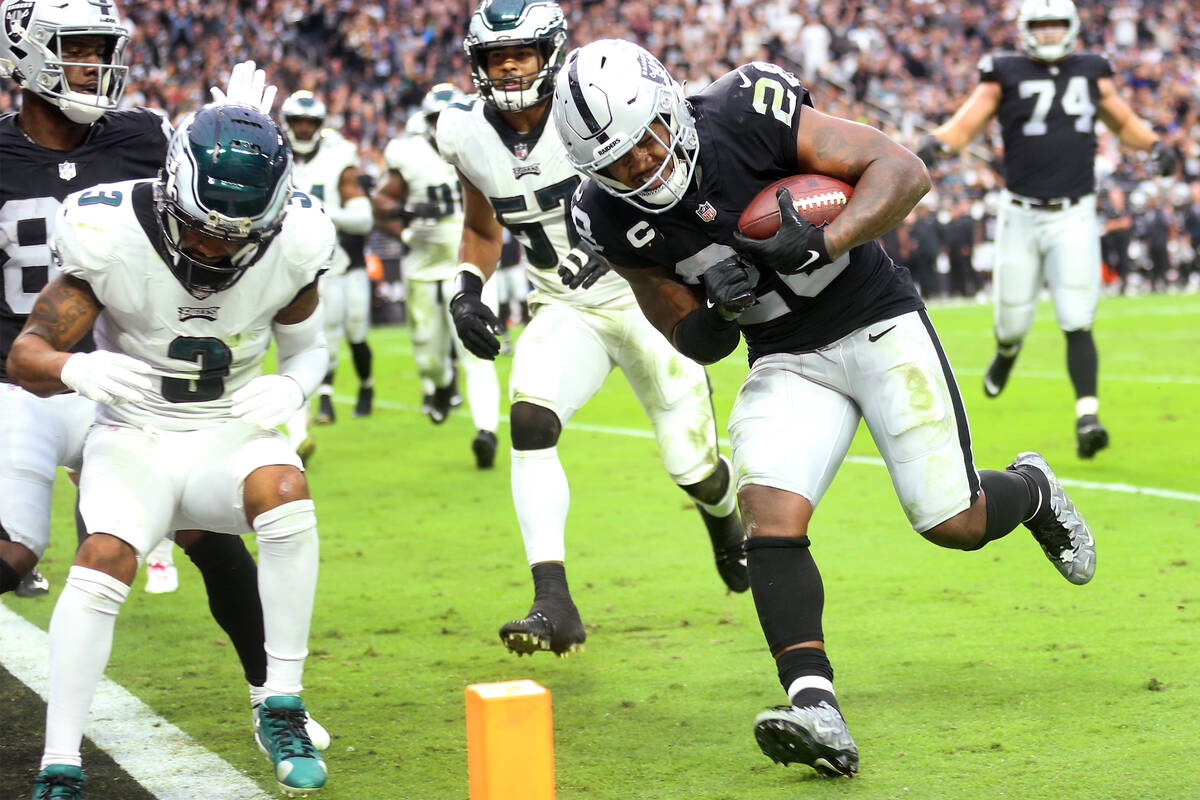 RAIDERS REPORT
Schedule
All practices at Intermountain Healthcare Performance Center, unless noted:
Tuesday-Sunday — Off (bye week)
Monday — Off
Tuesday, Nov. 2 — Off
Wednesday, Nov. 3 — Practice, 11 a.m.
Thursday, Nov. 4 — Practice, 11 a.m.
Friday, Nov. 5 — Practice, 11 a.m.
Saturday, Nov. 6 — Off
Sunday, Nov. 7 — at New York Giants, MetLife Stadium, East Rutherford, N.J., 1 p.m.
Injury report
Raiders running back Josh Jacobs is expected to be fine despite leaving Sunday's win over the Eagles late in the first half.
"He ended up with a chest contusion," Bisaccia said. "He should be fine. He had a good workout today and we didn't think there were any issues."
The Raiders have a bye week and won't return to action until Nov. 7 against the Giants on the road. Bisaccia hopes to have star tight end Darren Waller back for that game, as well.
Waller did not play Sunday after injuring his ankle late in practice on Friday.
Bisaccia said he is day-to-day and will get treatment at the team facility throughout the bye week.
"There is no break we're aware of," Bisaccia said of Waller's ankle.
Guard John Simpson left Sunday's game twice with injuries. Bisaccia said he is still being evaluated.
Quote of the day
Raiders' interim coach Rich Bisaccia has done his best to deflect any personal attention since taking over after Jon Gruden resigned earlier this month.
But after 38 years in the profession and an impressive 2-0 start to his tenure, the veteran coach admitted Monday he is enjoying this opportunity.
"Me personally, I'm having the time of my life," he said. "I've told these guys time and time again that I have three priorities in my life. I have my wife, I have my children and I have the players. So, that's the same thing when I was just doing special teams and it hasn't changed here. We end a lot of the meetings the night before the game with you just have to try to find a way to have more fun than you've ever had before and sometimes in this league the only way to have fun is to win games. So, that's part of it."
Transactions
The team confirmed the signing of tight end Daniel Helm on Monday in addition to a pair of practice squad transactions.
Helm began his career in the Chargers organization as an undrafted free agent out of Duke in 2019, but was released in training camp and signed with the 49ers.
The 26-year-old has also spent time in the Chiefs and Buccaneers organizations.
Offensive lineman Hroniss Grasu was added to the practice squad Monday as safety Ha Ha Clinton-Dix was placed on the COVID-19 Reserve list.
Grasu was a two-time All-American at Oregon and a third-round pick of the Chicago Bears in 2015. He has played in 27 games, including 16 starts in a career that has seen him make stops with the Ravens, Dolphins, Titans and 49ers.
Clinton-Dix was elevated to the active roster for the game against the Chargers, but did not play.
Trade winds
The Raiders enter their bye week at 5-2 and tied for the best record in the AFC.
At this point of the season, there is no doubt they are among the contenders who could be looking to improve their roster ahead of the trade deadline on Nov. 2.
Not preparing for a game this week gives the coaching staff and front office time to analyze whether moves need to be made or if they are comfortable with the current roster.
Bisaccia is now a key part of that process, though he said Monday he will leave much of it up to general manager Mike Mayock.
"Certainly that's kind of Mike's area a little bit and we keep having daily conversations about all sorts of things," he said.