Which teams would be interested in trading for Derek Carr?
Updated January 18, 2023 - 10:21 am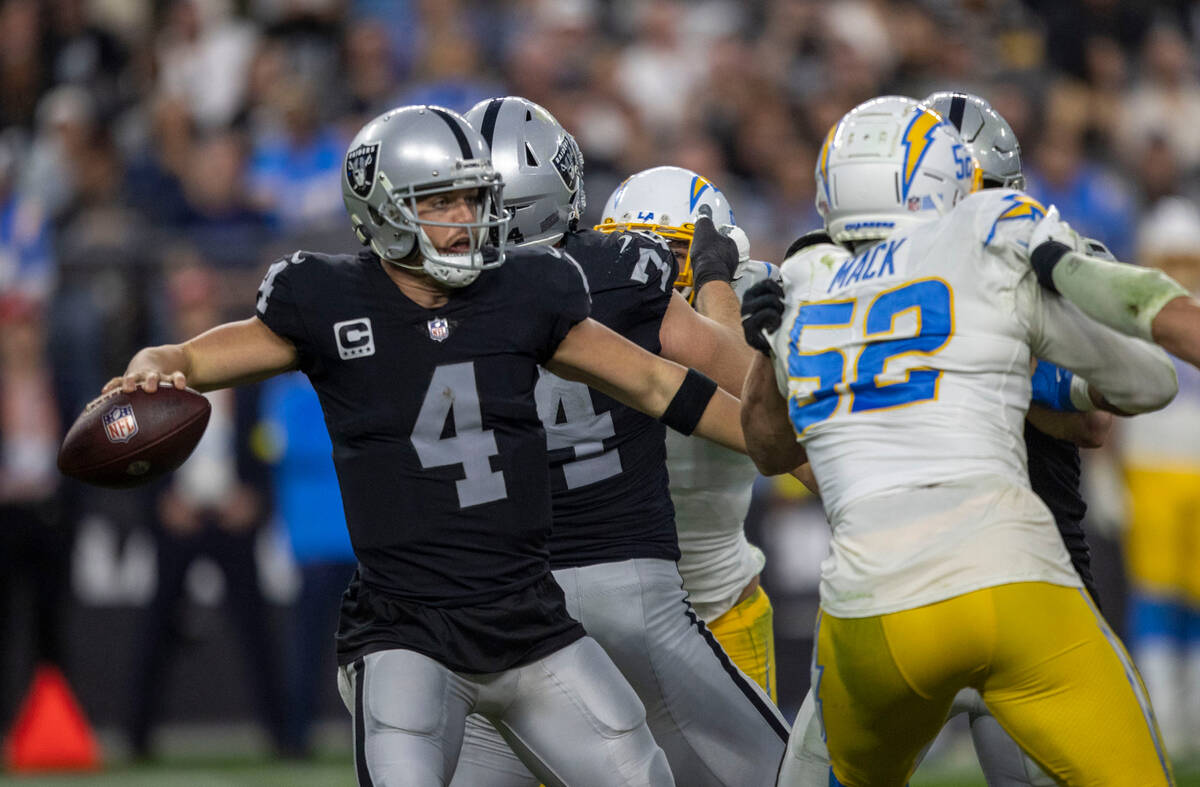 With the Raiders and quarterback Derek Carr headed toward a breakup, the question becomes, how will their relationship end?
There are two ways it will go down. The first and potentially more favorable one for Carr and the Raiders is a trade.
In that scenario, the Raiders get something for Carr, and he's assured that the three-year, $121 million contract extension he signed in April remains intact. But they must agree to terms on a deal before a Feb. 15 deadline, when a $40.5 million roster guarantee kicks in for Carr.
The other scenario is the Raiders cut Carr, saving them about $30 million in salary cap space for 2023 and avoiding the $40.5 million roster guarantee.
Carr could benefit from a release as much as he could be hurt by it. On one hand, he and his agent can possibly negotiate a new contract on the open market that surpasses his current deal. On the other, there are no assurances a similar deal is achievable.
Why would a team give up an asset when it could wait on Carr to hit free agency to sign him? There will be competition for his services, so a team could prefer to lock up its quarterback in a trade rather than relying on free agency.
If the first scenario plays out — which would include Carr waiving his no-trade clause — here are some potential landing spots for him:
Tampa Bay Buccaneers
The possibility of Carr replacing the quarterback who replaces him in Las Vegas exists.
We are talking about Tom Brady, of course.
It makes some sense, too. The Buccaneers' roster is better than their 8-9 regular-season record and the blowout loss to the Dallas Cowboys in the playoffs.
The offensive line was in shambles for most of the season, but that was because of a slew of injuries as opposed to a lack of talent. There are ample offensive weapons and a defense that ranked 15th in the NFL. The Buccaneers just need a veteran quarterback to take over for Brady if he leaves.
New Orleans Saints
The Saints' defense gave up the ninth-fewest points in the NFL. They have a solid offense and play in a division in which the champion finished 8-9. If they improve from their 7-10 season, they could compete for the NFC South title next season.
That's where Carr plays into things. Andy Dalton and Jameis Winston were the Saints' quarterbacks this season. He's a better option than either of them and undoubtedly will be under consideration.
Another factor to consider: Saints coach Dennis Allen was Carr's first NFL coach in Oakland, and they are still friends.
Washington Commanders
The Commanders won eight games despite playing three quarterbacks who completed a combined 62.1 percent of their passes while throwing 24 touchdowns to 16 interceptions.
Better quarterback play could push the Commanders to the brink of the postseason, and improving at that position is their primary objective. Carr will be among the quarterbacks they consider.
New York Jets
The Jets think they are a quarterback away from competing for a playoff spot. Carr will be under consideration, though Jimmy Garoppolo's ties to the coaching staff make him a possibility, too.
Carr's durability could be the deciding factor over the injury-prone Garoppolo. And while some wonder whether Carr can operate under the media pressure of New York, keep in mind he's been the face of a lot of losing seasons with the Raiders and took his share of the blame. It never affected his play.
Tennessee Titans
With incumbent quarterback Ryan Tannehill a candidate to be released and a new general manager taking over soon, the Titans make a lot of sense for Carr.
Tennessee is a run-oriented team that needs an efficient game manager at quarterback. Carr could provide that and more.
Indianapolis Colts
The Colts make a lot of sense. They have everything in place — other than a quarterback — to be a playoff contender.
But after spending the past few years on a quarterback merry-go-round trying to replace Andrew Luck, they are likely to draft the new face of their franchise with the No. 4 pick.
Carolina Panthers
The Panthers traded for Sam Darnold and Baker Mayfield the past two offseasons, and neither worked out.
They draft ninth, which probably means they won't get one of the top prospects. Carr would provide stability and an escalated level of play.
Contact Vincent Bonsignore at vbonsignore@reviewjournal.com. Follow @VinnyBonsignore on Twitter.