Hill: 'Get harder': Cassidy has more than just words for Golden Knights
Updated May 30, 2023 - 5:32 pm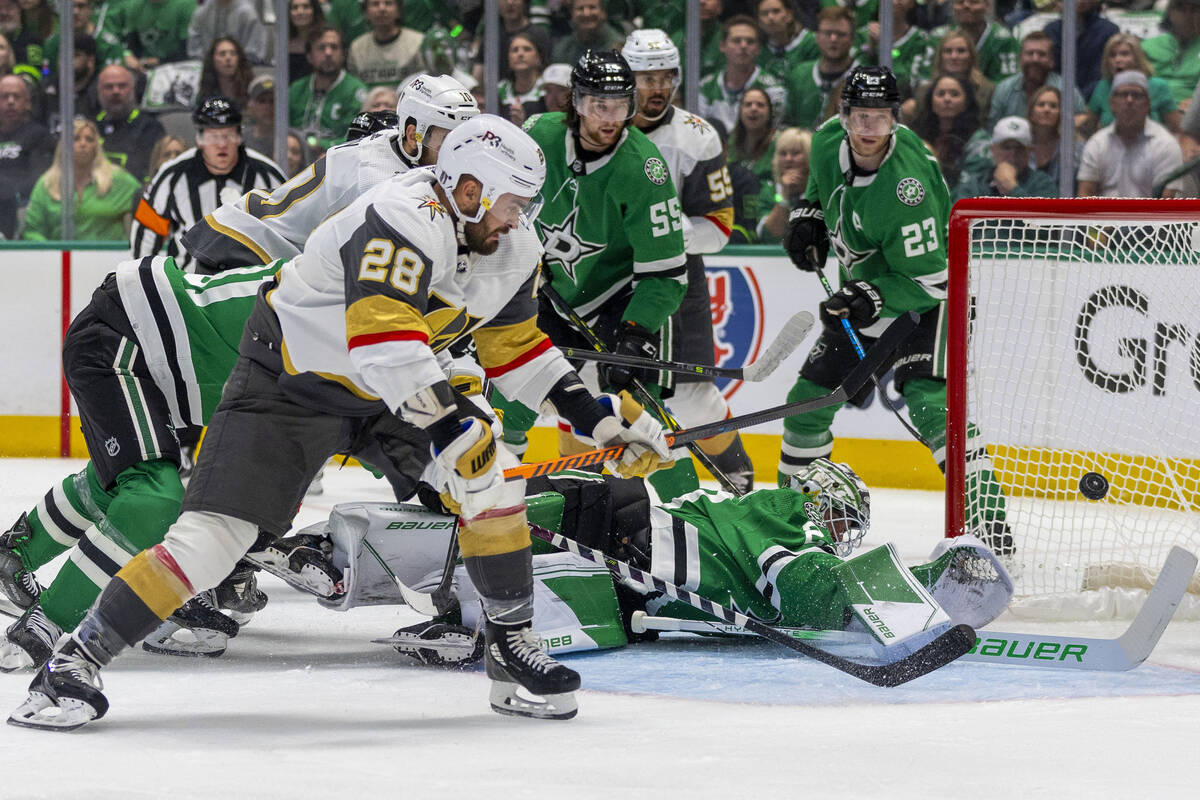 DALLAS — The message Golden Knights coach Bruce Cassidy delivered to his team after two straight losses was simple and direct. And his players heard him loud and clear.
"Get harder."
But Cassidy's two-word mantra wasn't just lip service from a coach who had watched his team allow the Stars new life in the Western Conference Final. He also made a move that would help the Knights do exactly what he had asked.
Cassidy, who said after Saturday's loss that the fourth line hadn't done its typical solid work, reunited center Nic Roy with his familiar mates, Keegan Kolesar and William Carrier.
The group responded immediately. It took the ice to start the game and flew around, sending a message with physical play and creating offensive zone chances on the first shift.
It made life difficult on the Stars' top unit right out of the gate.
It got harder.
One shift later, that chaos turned into an early lead when the group forced a turnover with its forecheck and Carrier skated across the front of the goal to beat Jake Oettinger for the first goal en route to a 6-0 win at American Airlines Center that propelled the Knights to the Stanley Cup Final.
"We wanted to rebound from the last two games," Roy said. "Bruce puts a lot of trust in us to start the games. He's been doing that a good part of the year, and we take pride in that. We wanted to come out strong on the first couple shifts."
Expect to see that fourth line on the ice for the opening puck drop in Game 1 on Saturday at T-Mobile Arena against the Florida Panthers.
The three earned it.
"We wanted to come out harder, and (the fourth line) kind of set the tone for that," forward William Karlsson said. "Then we all just followed suit."
The line was physical, as is its calling card. After the Knights had been outhit 70-44 in the past two games, they won that category Monday. The fourth line had 16 of the team's 36 hits, including eight from Kolesar.
But there are plenty of physical lines in the NHL. This one also can be productive.
"(Those three) as a group have been pretty incredible," forward Mark Stone said. "There's a lot of teams around this league that would love to have them as their third or second line, right?"
That's a major reason the Knights are on the verge of what they hope to accomplish with four more victories.
Carrier and Kolesar each scored a goal Monday. Roy picked up his fifth assist of the series, as the three finished with five points.
"They were fantastic," forward Jack Eichel said. "They were great all night. They've been a huge part of our group all season. It's great to see them get rewarded."
Cassidy glowed when discussing the line's performance 48 hours after publicly calling it out.
"Everything," he asked of what the performance meant to the team, which prompted him to rhetorically ask out loud the obvious follow-up of what took so long to put the three back together after breaking them up during the Edmonton series.
It started with some uncertainty about Karlsson's status in the last series, and Cassidy then kept Roy higher in the lineup to try to generate more favorable matchups. But after the Knights' bottom six was uncharacteristically outplayed, Cassidy fell back on his trust in his team's depth and put the band back together Monday. After all, his is a team that is best when exerting its own will and not worrying about the opponent.
"It's just a little of the adjustments that go on in a series, but it looked like they were happy to be reunited," he said. "Those are good soldiers, and those are great stories. The fourth-line guys don't get the ink. They're not talked about, but you don't win without them."
Roy had an inkling the line would produce Monday.
"It's not going to be like that every game," he said. "But we knew we'd have a good game. When us three play our games, we're three big guys, and we make plays. We were ready to play, and we're hard to play against."
That's exactly what Cassidy wanted.
Contact Adam Hill at ahill@reviewjournal.com. Follow @AdamHillLVRJ on Twitter.