Defensive TD helps bettors squeeze some sportsbooks on props
Updated February 12, 2023 - 10:59 pm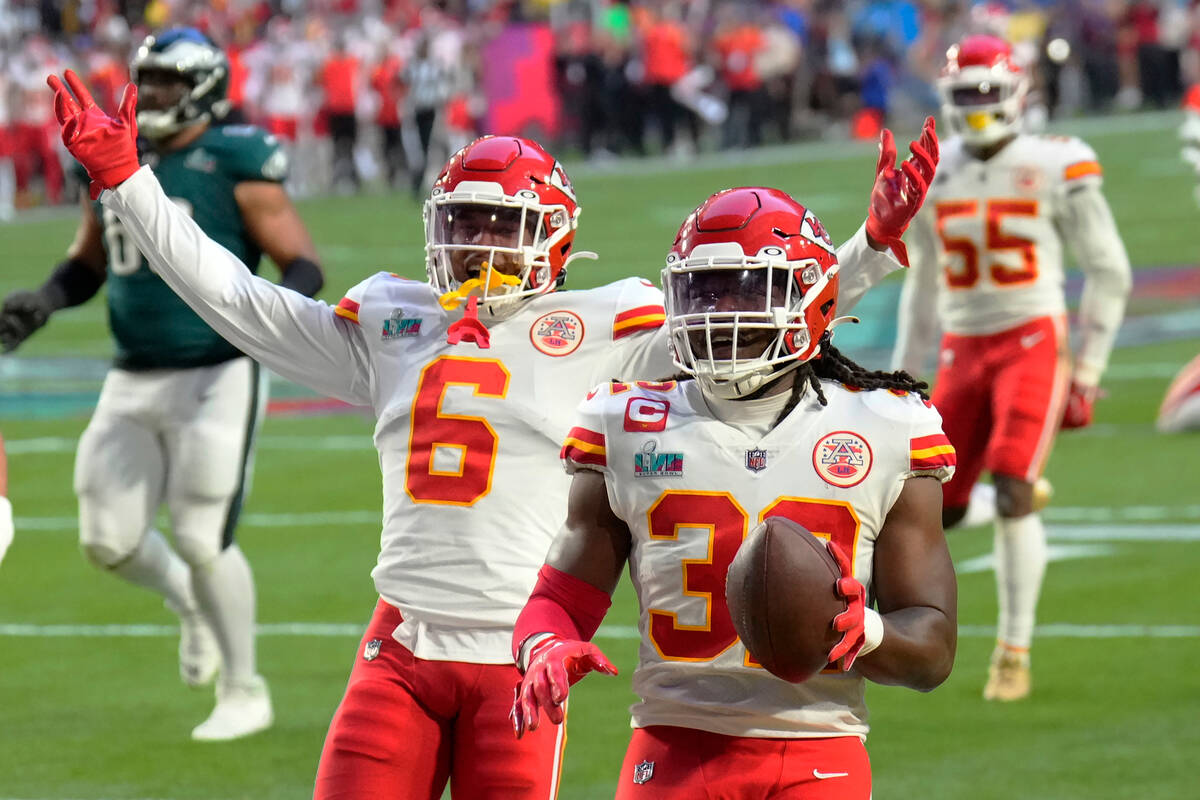 When Eagles quarterback Jalen Hurts lost a fumble in the second quarter of Sunday's Super Bowl and Chiefs linebacker Nick Bolton returned it 36 yards for a score, countless bettors roared at sportsbooks, and bookmakers let out a collective groan.
A defensive touchdown is traditionally one of the most popular props and paid almost 3-1. The score dealt Boyd Gaming a loss on the ever-popular props, which account for more than 60 percent of the action on the game at some books.
"That defensive touchdown was our biggest loss," Boyd Gaming sportsbook vice president Bob Scucci said. "Overall, the props were not good."
Boyd Gaming bettors also cashed on both teams scoring touchdowns on their first drives, which paid 10-1, and on the two-minute warning to land on exactly two minutes, which paid 2-1.
Several books, including Caesars Sportsbook, Circa Sports and the South Point, were still grading their props hours after Kansas City rallied for a 38-35 comeback win over Philadelphia.
"High scoring games rarely bode well for books, though," Circa sportsbook director Matthew Metcalf said in a text message.
Caesars vice president of trading Craig Mucklow said props usually determine the outcome of the Super Bowl.
"The public got off to a great start today," he said. "Tails was a huge win for the public. The coin toss cost us double, because the public had Kansas City winning the coin toss as well. As they say, 'tails never fails.'
"Patrick Mahomes was a really big winner for the public on the MVP market and to go over his passing TD total (2½). Travis Kelce going over on the receiving yards and scoring a touchdown also made bettors' day."
A BetMGM bettor won $100,000 on a $225,000 wager on Mahomes to go over 1½ TD passes (-225). He finished with three, though he stayed way under his passing yards total of 293½ with 182.
Station Casinos and the Westgate SuperBook were small winners on the props.
"Some of the bigger props on two-point conversion, a defensive score and the score landing exactly three weren't good," Red Rock Resort sportsbook director Chuck Esposito said. "And Hurts, Kelce and A.J. Brown to score weren't good. But overall it was a good winning day for us."
Kelce scoring a TD in the first half paid +230 at the Westgate and, along with the defensive score, dealt the book a hit. But Kelce didn't score again and went under his total receptions (6½), finishing with six.
"It looked like Kelce was in line for a huge game," SuperBook vice president Jay Kornegay said. "That's what's so impressive about Kansas City's comeback. They basically did it without Kelce."
The Chiefs stormed back from a 24-14 halftime deficit with second-half TDs by Isiah Pacheco, Kadarius Toney and Skyy Moore.
Hurts scored the game's first TD and accounted for four scores, rushing for three.
"One of the things that saved us was Hurts scoring three TDs, so we didn't have all these different players scoring TDs," Kornegay said. "Every time a different player scores, it's usually a negative result.
"When it looked like it was going to be a shootout, we were pretty concerned about the propositions. But when the smoke cleared, we took some hits. But we won a lot of smaller decisions, and we're going to end up on the plus side on our props."
Back to the futures
Boyd and other books did well on Super Bowl futures and on live wagering.
"In-game wagering was good," Scucci said. "When the Chiefs were down, people were betting the Eagles. Some people were hedging their over bets by betting the under at various parts of the game.
"Most of the money we won on the game was just from futures. The way futures work, when we post the final winner it calculates all the futures for the year. You don't collect on the losing teams until you post the winning team."
Contact reporter Todd Dewey at tdewey@reviewjournal.com. Follow @tdewey33 on Twitter.