Bryce Hamilton, Marvin Coleman lead UNLV past New Mexico
Updated January 18, 2020 - 7:56 pm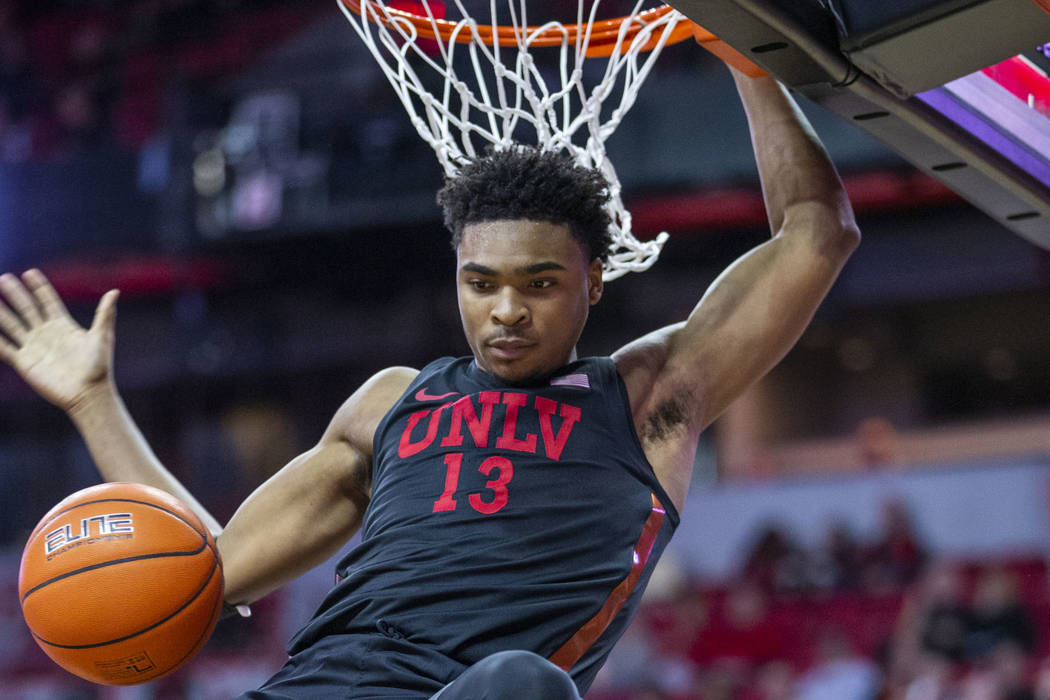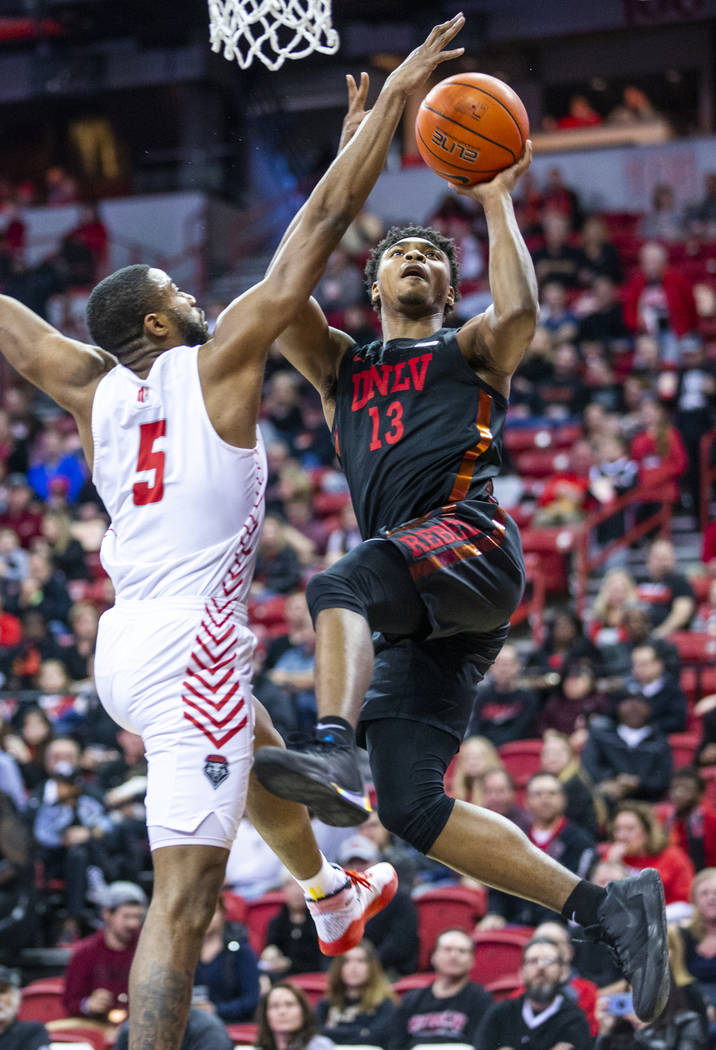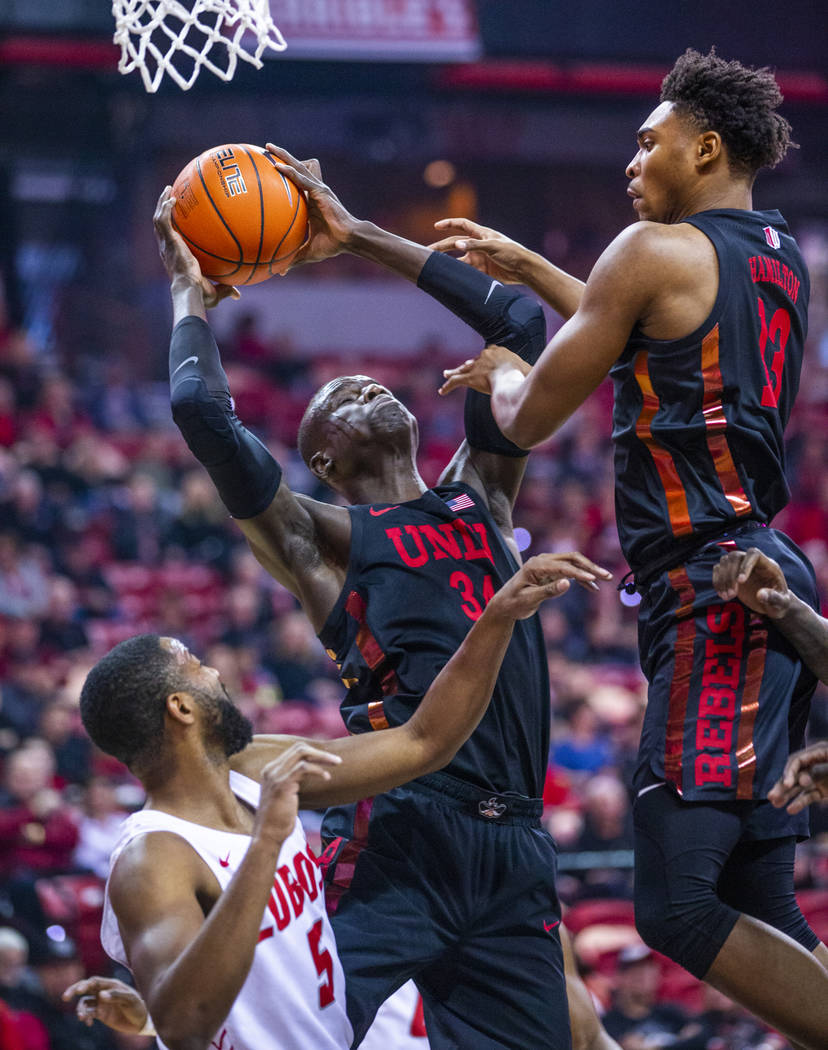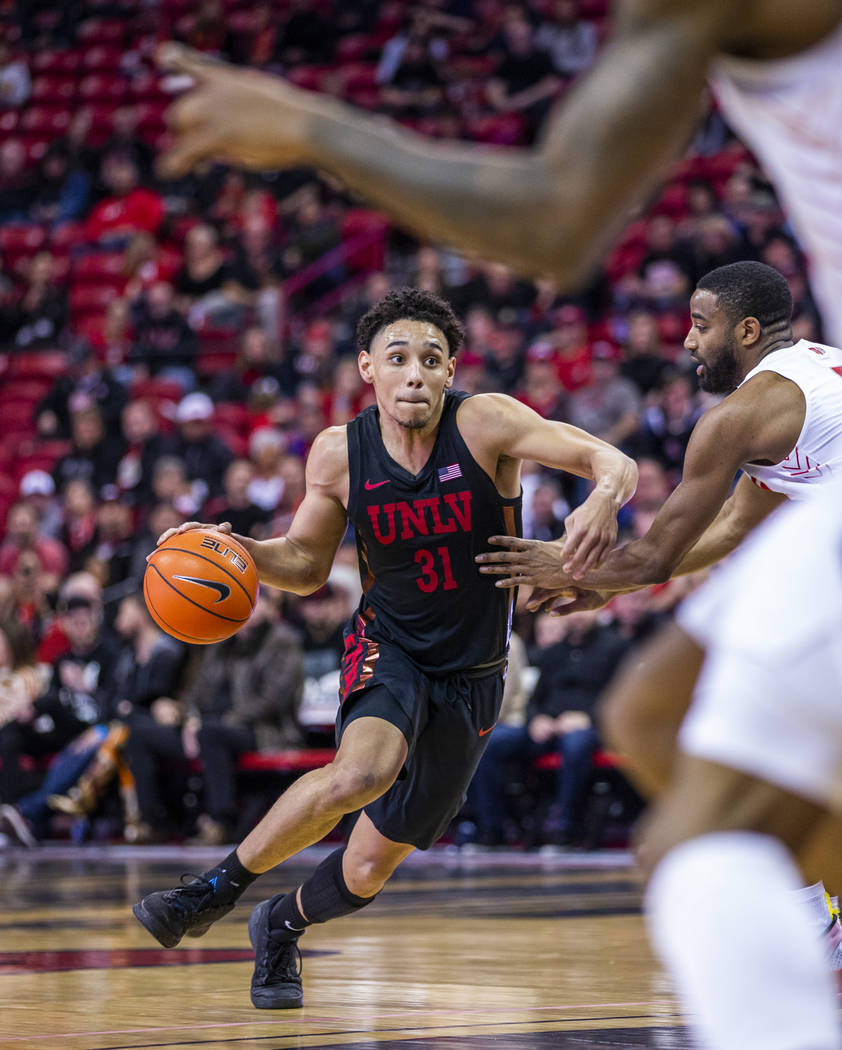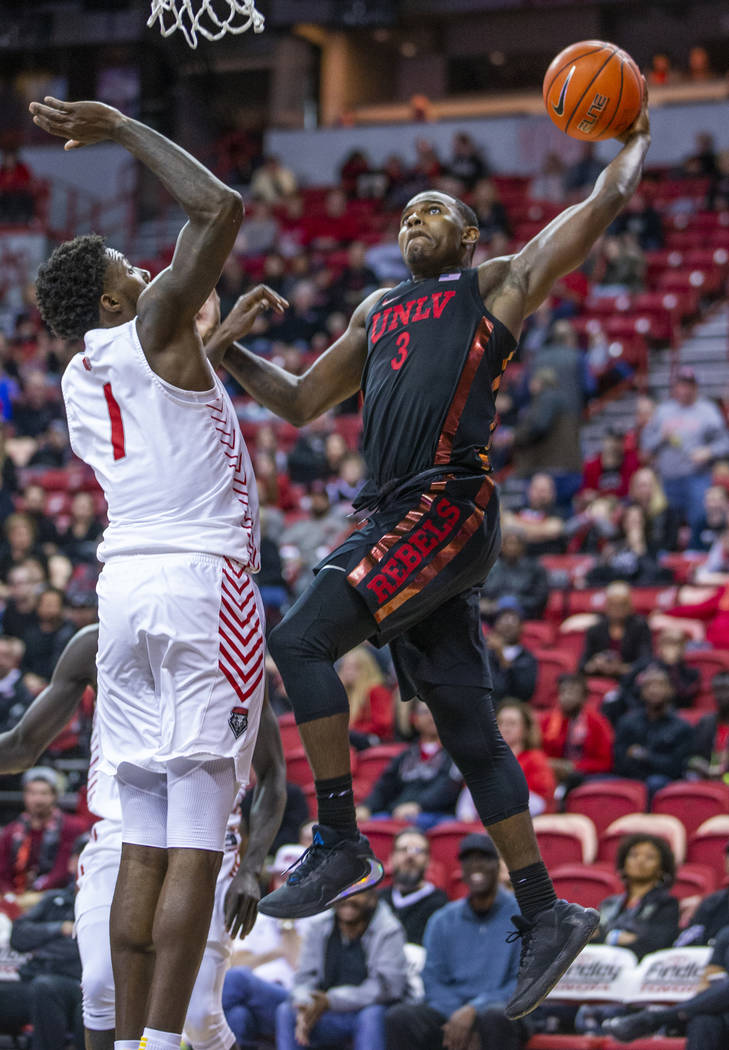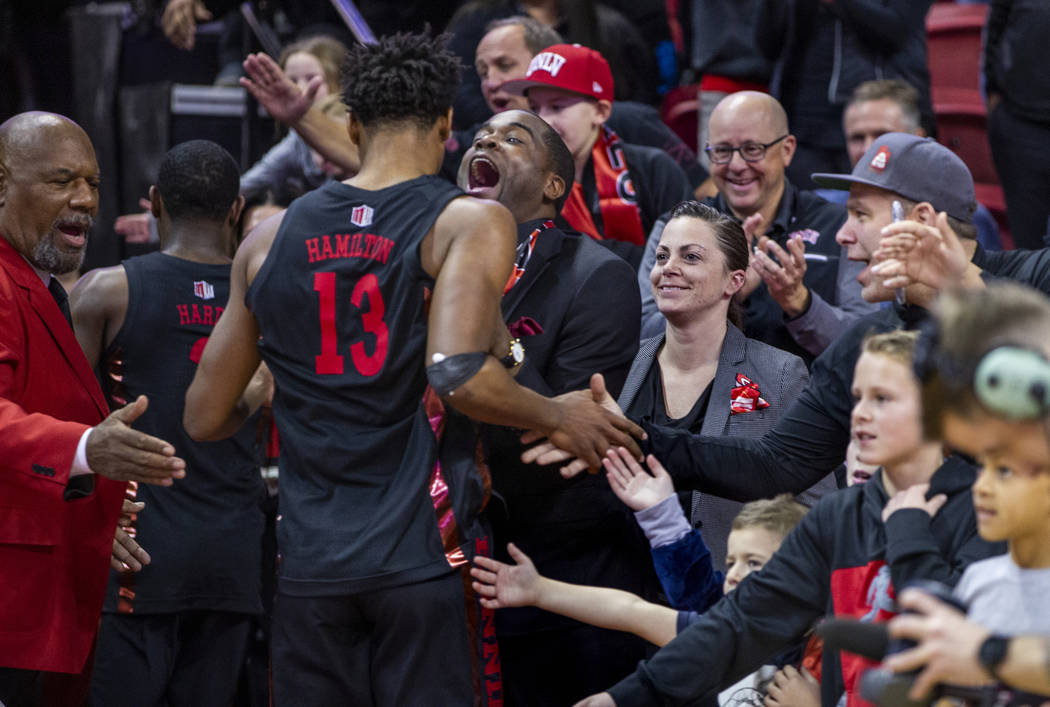 Bryce Hamilton blew past his career high with 35 points.
Marvin Coleman became the first UNLV player in more than 20 years to post a triple-double.
And the Rebels are off to their best start in Mountain West play in 12 years after Saturday's 99-78 victory over New Mexico at the Thomas & Mack Center.
UNLV (11-9, 6-1 MW) has won seven of eight games, including three in a row, and is in second place in the conference. This was the first time the Lobos (15-5, 4-3) have lost back-to-back games. They are down three starters, and it showed.
The Rebels had their highest-scoring game since defeating Southern Utah 101-82 on Nov. 25, 2017. They have scored 197 points in their past two games.
"Our guys are playing for each other," UNLV coach T.J. Otzelberger said. "They're playing hard. They're playing the way that we need to play to be successful. At the same time, we've got a lot in front of us, and we need to keep getting better."
UNLV visits UNR on Wednesday, when it will try to go 7-1 in league play for the first time since 1998-99 when the Rebels were in the Western Athletic Conference.
"It's telling the league that we're here," Coleman said.
Here are three takeaways:
1. Hamilton is living up to four-star status.
He was a disappointment last season and didn't seem to fit into the offense earlier this season.
But since a heart-to-heart talk with Otzelberger after the Dec. 18 game against Pacific, Hamilton has been a different player. Otzelberger said he told Hamilton it was "time to grow up."
The sophomore has scored in double figures seven consecutive games, and he crushed his previous career high of 21 points on Dec. 4 at Fresno State.
He has been especially effective at getting to the rim, and he made 14 of 19 shots against the Lobos.
"Coach has wanted me to stay aggressive," Hamilton said. "Also, my teammates look for me in the right positions, and I just make the play."
2. Coleman is the story of the year.
If Hamilton was the hotshot recruit from two years ago, Coleman was on the opposite end as a walk-on from Foothill High School.
He since has earned a scholarship and secured the starting point guard job. His line of 11 points, 12 rebounds and 11 assists was UNLV's first triple-double since Mark Dickel against Mississippi Valley State on Nov. 19, 1999.
"A lot of times people get concerned with how many stars are next to guys' names," Otzelberger said. 'To anybody that has that mindset, I'd like them to check how many stars Marvin Coleman had next to his name and the last time someone had a triple-double in a big rivalry win."
Teammate Amauri Hardy told Coleman he was within a point of a triple-double, and the sophomore got it with 3:54 left.
"I got the steal on the fast break, and Amauri's like, 'Marv, Marv, Marv!'" Coleman said. "He told me I had one more point, so I had to lay it up."
3. Four-guard lineup changed the game.
Otzelberger needed to break New Mexico's 1-3-1 zone, and he found it with a switch to a four-guard lineup. The Rebels scored the final nine points of the first half to take a 43-40 lead and never trailed again.
"Our pace and our flow wasn't great early," Otzelberger said. "We thought we needed multiple ballhandlers out there."
Contact reporter Mark Anderson at manderson@reviewjournal.com. Follow @markanderson65 on Twitter.