Fifth-year guard provides calm for UNLV ahead of Boise State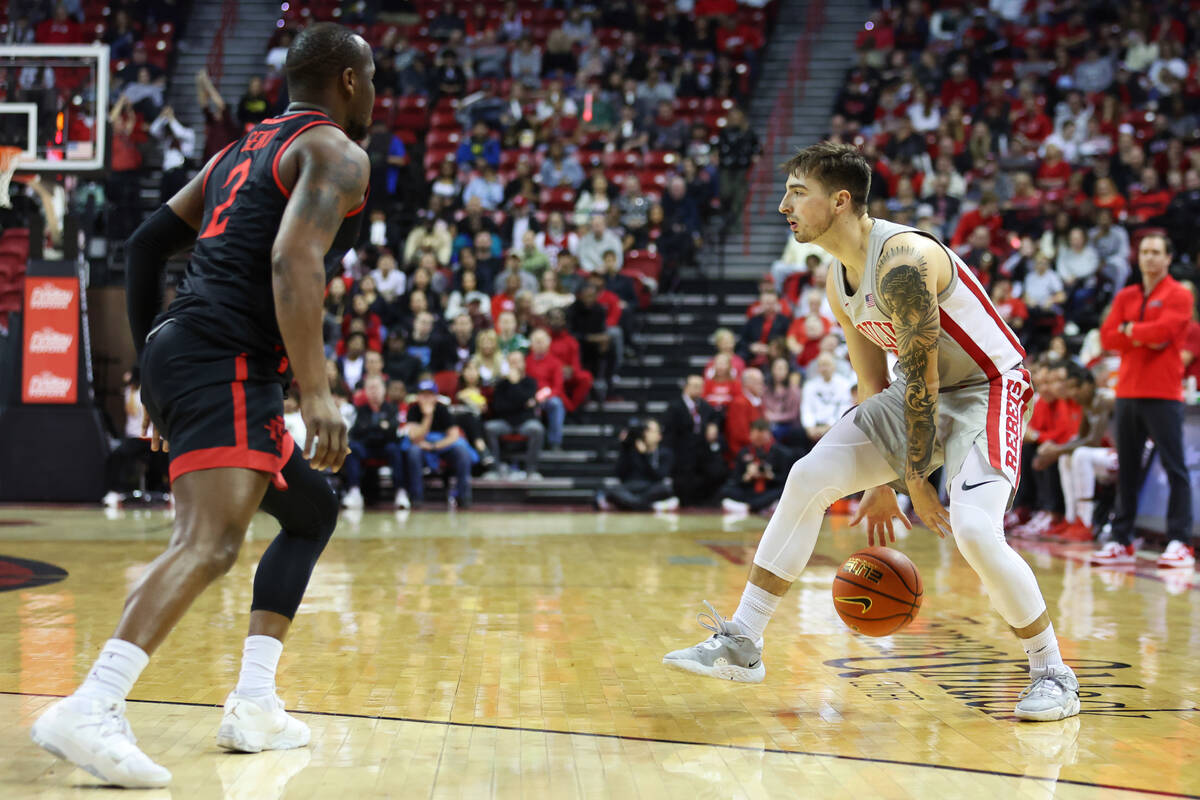 Less than two minutes into the Rebels' 84-77 upset win over ranked New Mexico Saturday, UNLV coach Kevin Kruger turned to his bench.
Sophomore point guard Keshon Gilbert had already given the ball away twice while being hounded by Lobos' guard Jaelen House and Kruger needed someone to get the game back under control.
Enter fifth-year point guard Jordan McCabe.
The former West Virginia guard, now in his second year at UNLV, did exactly what Kruger needed. He settled things down, took care of the ball and prevented the game from getting out of hand.
"He came in the game and changed the flow," UNLV's senior center David Muoka said, "calming everything down and being consistent as a leader."
McCabe's already done several different jobs for UNLV this season. After starting all 31 games he played for the Rebels during the past campaign, the fifth-year guard shifted into a reserve role following Gilbert's breakout to begin the season.
McCabe's minutes have increased since fifth-year wing Elijah Parquet's knee injury Dec. 10. He's still playing less than he did during his first year in Las Vegas, but McCabe has arguably been more effective as UNLV prepares to welcome Boise State to the Thomas & Mack Center at 8 p.m. Wednesday with a chance to get back to a .500 record in the Mountain West.
"I tried to take a step back and reflect on what I can do better and how to prepare better," McCabe said. "I think that then carried over into looking at our team, how I can be better for us at practice and take guys along with me.
"As a result, basketball gods kind of reward you at times."
McCabe is averaging 19.8 minutes during the past five games for the Rebels (12-3, 1-2 Mountain West), almost eight minutes more than he averaged across his first nine games of the season. He's scored 36 since assuming a bigger role, including a season-high 12 points against the Lobos, and was plus-4 off the bench in 22 minutes.
However, his most valuable trait has been his calmness on the ball while running the offense. McCabe has nine assists during the past five games against just three turnovers. His two giveaways against New Mexico's scrappy defense were his first since Dec. 17.
"He's done a really good job," Kruger said. "He's making sure we get shots up. He's doing a really good job protecting the ball, getting it moving, getting guys touches."
McCabe says his new role doesn't have specific objectives. His job changes on a nightly basis depending on who UNLV plays, but he mainly wants to do the little things Kruger requires. He also leans on his experience.
Five years into his college career, he's played in some of the most historic arenas, in front of the biggest crowds in all types of situations. All that experience has made him adaptable, and he believes it can help the Rebels build on their momentum Wednesday against the Broncos (12-4, 2-1).
"I've been down 30 against Texas Tech, I've been up 10 against Kansas, won at the buzzer, seen it all," McCabe said. "I sat on the bench for a long time, too, and tried to help there. You name an experience in college basketball and I've pretty much had it."
Contact reporter Andy Yamashita at ayamashita@reviewjournal.com. Follow @ANYamashita on Twitter.