North Carolina overpowers UNLV men's basketball in Maui Invitational
Updated December 1, 2020 - 6:23 am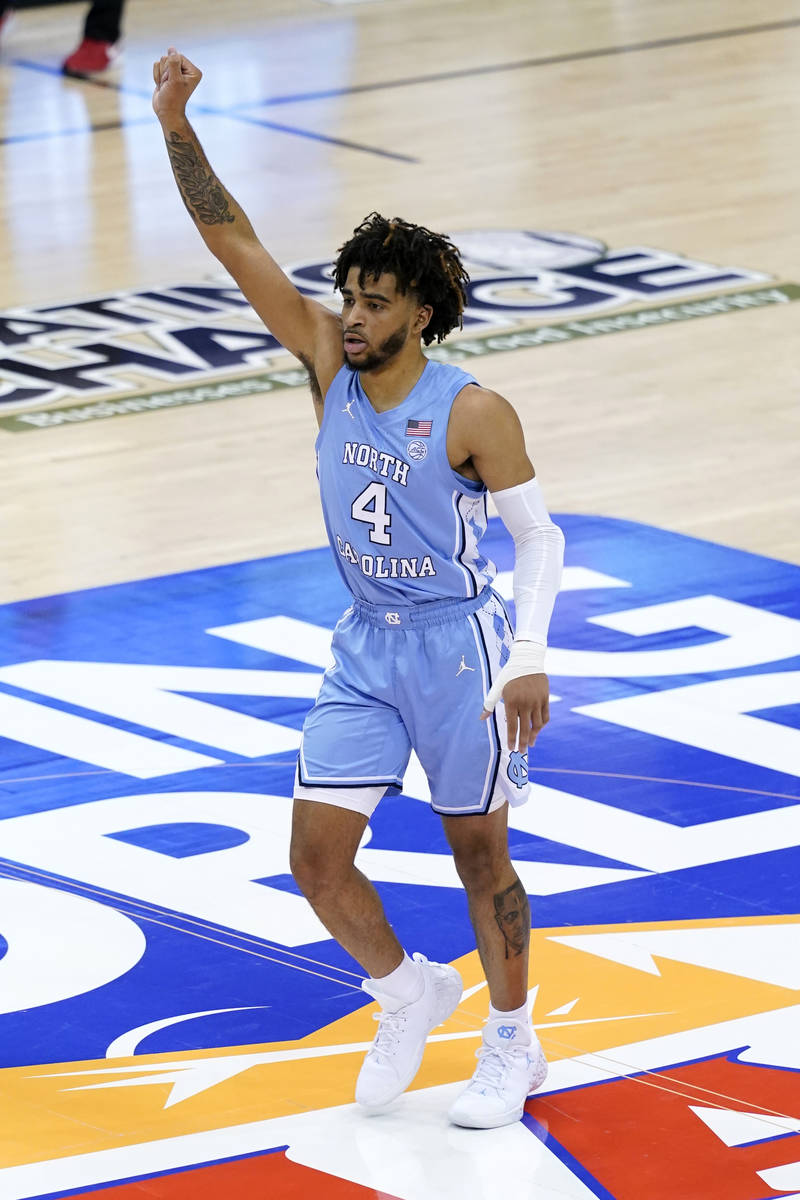 UNLV started so well in its first game of the Maui Invitational on Monday that North Carolina's Hall of Fame coach Roy Williams sent four of his starters to the bench less than four minutes into the game.
The Rebels were active on defense and aggressive on offense and led 13-0 at the first media timeout. Their good times didn't last long.
After a few stern words from Williams, the No. 14 Tar Heels turned the game around. North Carolina went on a 28-4 run after UNLV took a 27-22 lead and never looked back en route to a 78-51 victory in Asheville, North Carolina.
"I told them when it was the TV timeout that I didn't get us in the problem; they did," Williams said. "After the first six minutes or so I thought we did some good things and got better and I hope and think we learned a lot from tonight."
The Rebels (0-2) fell to 1-5 in their six all-time meetings with the Tar Heels (2-0). They play Alabama in their second game of the tournament at 6:30 p.m. Tuesday.
Here are three takeaways from the loss:
1. Tar Heels' size wears Rebels down
UNLV stuck to a four-guard starting lineup against North Carolina, which has one of the best frontcourts in the country.
The results were predictable.
The Rebels battled hard early and rattled the Tar Heels by sending a double team whenever the ball entered the post. But they could only scrap so much against a team that throws waves of big men at opponents. North Carolina played four players listed 6-foot-10 or taller: senior Garrison Brooks, sophomore Armando Bacot and freshmen Day'Ron Sharpe and Walker Kessler. The Rebels played one: senior Mbacke Diong.
UNLV lost the rebounding battle 54-35 and gave up 19 offensive boards. The Tar Heels also had a 21-9 edge in second-chance points and a 32-18 advantage in points in the paint.
"As they built that confidence of getting that push into the paint, they continued to go at it," Rebels coach T.J. Otzelberger said. "They're looking to wear you down with bodies and physicality in the paint and going to the boards."
2. Offense struggles after strong start
The Rebels' offense was rolling early before things went downhill.
UNLV made its first five shots, including three 3-pointers, and took a 13-0 lead 3:36 into the game. The team made 13 field goals the rest of the way.
The Rebels finished the game shooting 18-for-62 from the field (29 percent) and 8-for-37 (22 percent) from 3-point range. North Carolina relentlessly pressured the ball and made it difficult for UNLV to get going. Otzelberger and junior guard Bryce Hamilton both said after the game there were times the Rebels were initiating their offense 35 to 40 feet from the basket.
Even when they did get separation, the Tar Heels had their humongous front line protecting the rim.
The combination led to tough nights for several players. Hamilton had 15 points but missed 12 shots. Junior guard David Jenkins Jr. was 1-for-8 from 3-point range and scored four points.
"As the game wore on, they picked up the pressure, brought some presses, traps, denied entries more on the wings," Otzelberger said. "We didn't do the job we needed to do to be stubborn to get open."
3. A short memory?
North Carolina — with its talent and size — was always going to be a difficult matchup for UNLV.
The Rebels can't let one loss turn into three this tournament, or four this week. The team has quality opponents waiting for it on the consolation side of the Maui Invitational bracket. Alabama received votes in the latest Associated Press Top 25 poll and ranked 47th entering Monday by KenPom.
Providence (61st on KenPom) and Davidson (77th) also lost their opening games Monday. That means UNLV will have two chances to pick up solid wins Tuesday and Wednesday before traveling to play Kansas State on Saturday.
Contact Ben Gotz at bgotz@reviewjournal.com. Follow @BenSGotz on Twitter.