Shakur Juiston steps into spotlight for UNLV basketball
Updated October 23, 2018 - 4:08 pm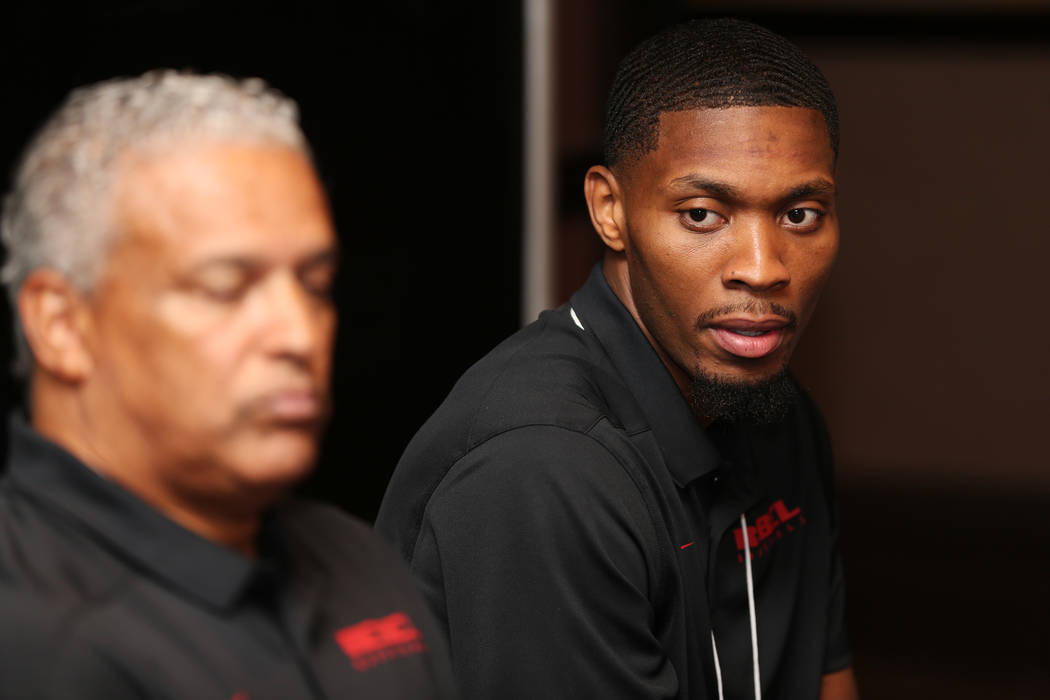 Five-star recruit Brandon McCoy became the immediate face of the UNLV program when he signed last year, capturing and sustaining most of the attention of the media, fans and opposing defenders.
Teammate Shakur Juiston wasn't completely ignored, but he operated in the shadows of McCoy's spotlight.
Now Juiston is the program's face, which means, at least early this season, the attention that McCoy attracted now will be directed at him — from the media, fans and, more important, opposing defenders.
"Because he's the one they know about, obviously he'll be a point of emphasis on the early scouting reports for sure," coach Marvin Menzies said. "I hope as the season goes on they'll have more guys to worry about."
UNLV opens its season Nov. 10 against Loyola Marymount at the Thomas &Mack Center. The Rebels play an exhibition Nov. 2 at home against Montana State-Billings.
They hope to improve on their 20-13 record from last season, but were picked by the media to finish sixth in the Mountain West poll.
Juiston, a 6-foot 7-inch forward, returns after averaging 14.6 points and 10.0 rebounds while shooting 63.9 percent. He was named second-team all-conference.
Those numbers came playing alongside McCoy, who averaged 16.9 points and 10.3 rebounds before turning pro and then going undrafted.
Juiston said he wasn't concerned about possibly facing double teams.
"If they do, we still have other people to make plays," he said. "We still have a team of playmakers. If they double team me, I'll trust that another teammate will make a good play."
UNLV needs Juiston to do more than post big numbers again. With 10 freshmen and sophomores on the roster, he's being counted on to provide senior leadership.
"He's been much more vocal opportunistically," Menzies said. "He's not just talking to talk. His words carry a little more weight now because, one, he's been through it and, two, they're a little more thoughtful. He was like a freshman last year. It was his first year in Division I basketball, and everyone's getting a feel for when to talk and how much to talk. We had a lot of dominant personalities, and he's finding his niche in the way of a leadership role."
Juiston is more willing to speak out in practice to help young players improve their skills. He remembers the difficult transition he made as a freshman at national power Hutchinson (Kansas) Community College.
"People frowned upon me because I was a freshman playing starter minutes," Juiston said. "I took that and ran with it. It was motivation for me, and I talked to some of the freshmen and sophomores (at UNLV), 'Don't get caught up in the hype or even the critics. Just play your game. Come out there and produce.'"
Juiston compared himself to a wolf in the rear of a pack in that he would in his own quiet way have his teammates' backs.
"That's how I've been my whole life," Juiston said. "I haven't really been in the limelight. I like to lead from the back because it feels comfortable, and I still get the job done."
More Rebels: Follow all of our UNLV coverage online at reviewjournal.com/Rebels and @RJ_Sports on Twitter.
Contact Mark Anderson at manderson@reviewjournal.com. Follow @markanderson65 on Twitter.
Shakur Juiston file
Year: Senior
Position: Forward
Size: 6 feet 7 inches, 220 pounds
Hometown: Newark, New Jersey
Last season: Averaged 14.6 points and 10.0 rebounds and was named second-team All-Mountain West.