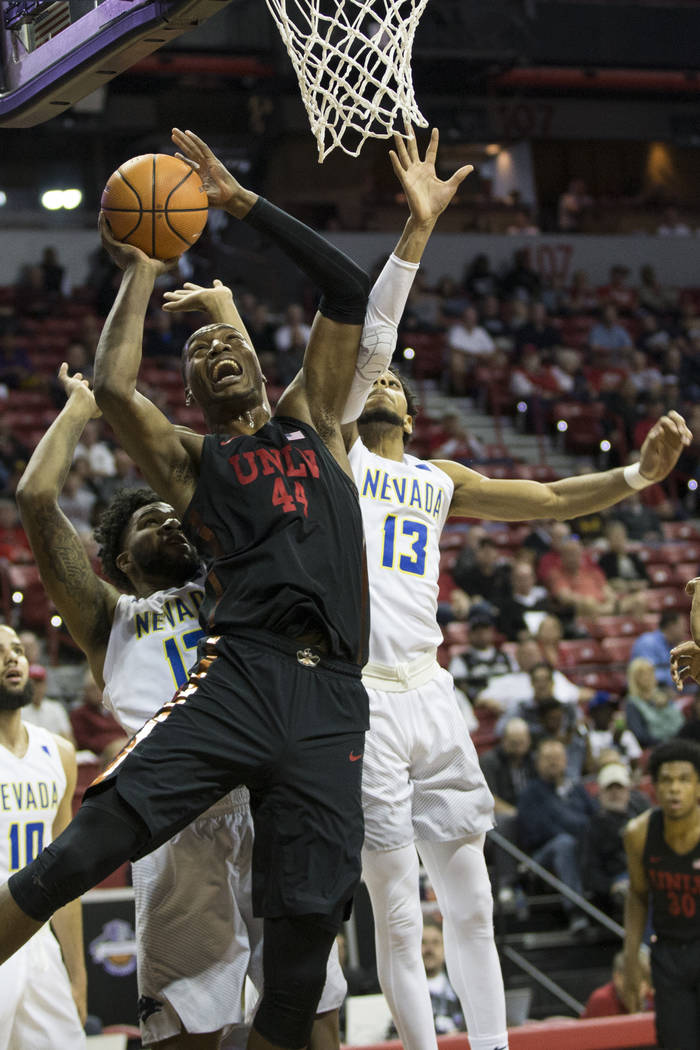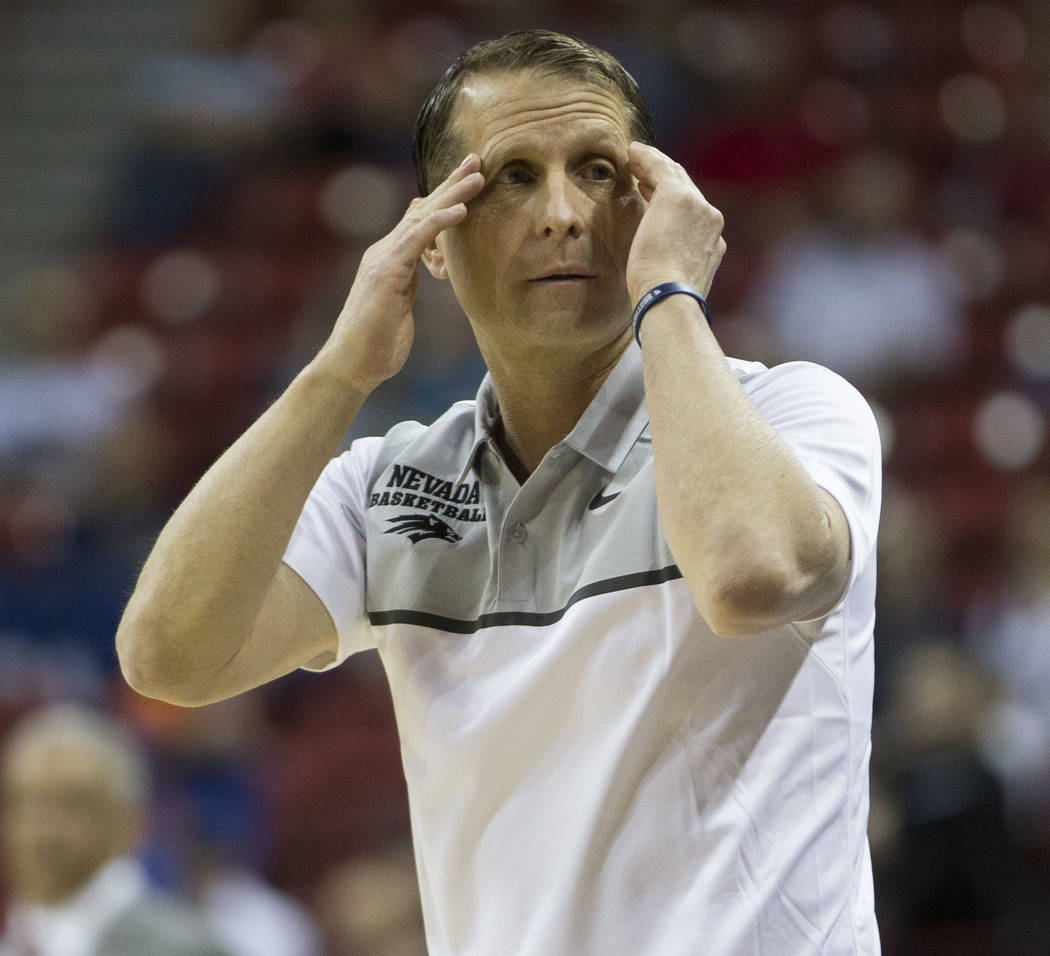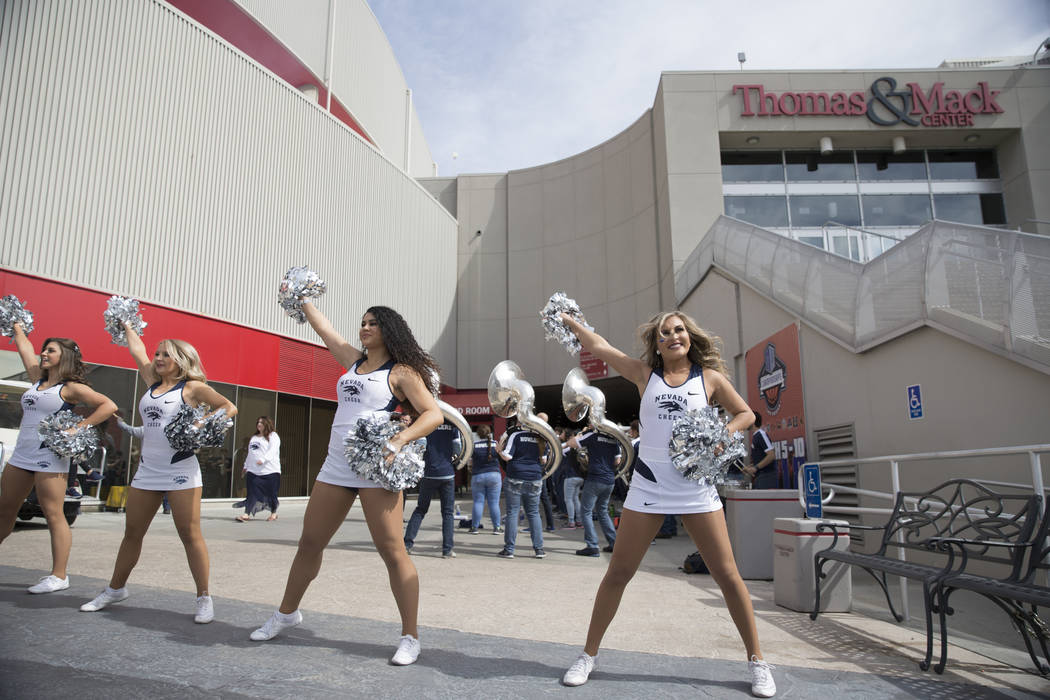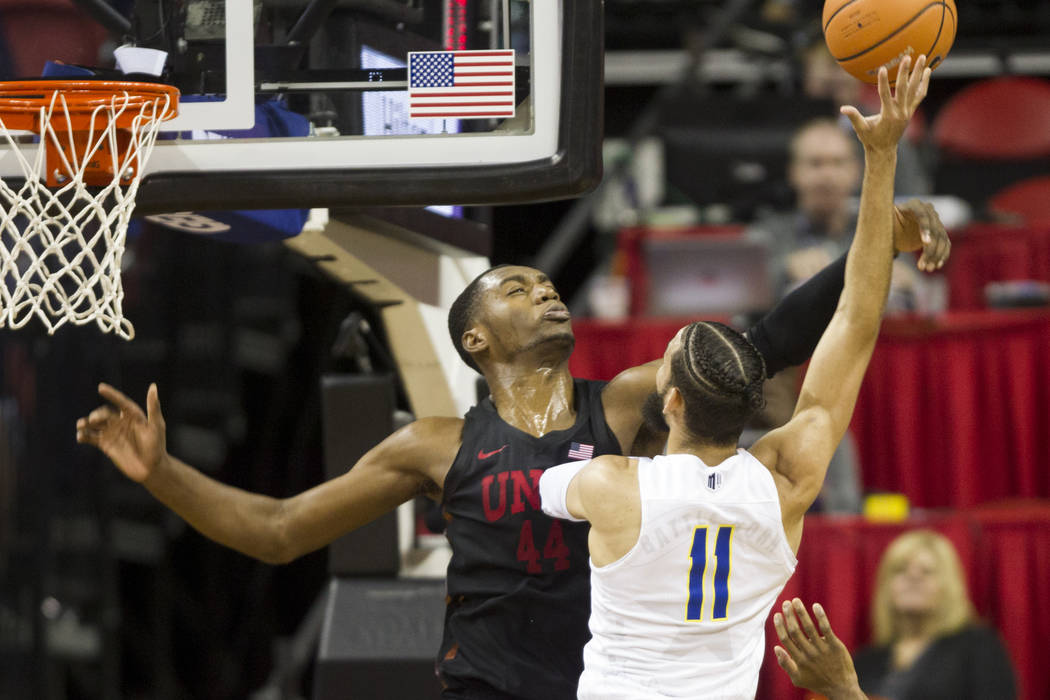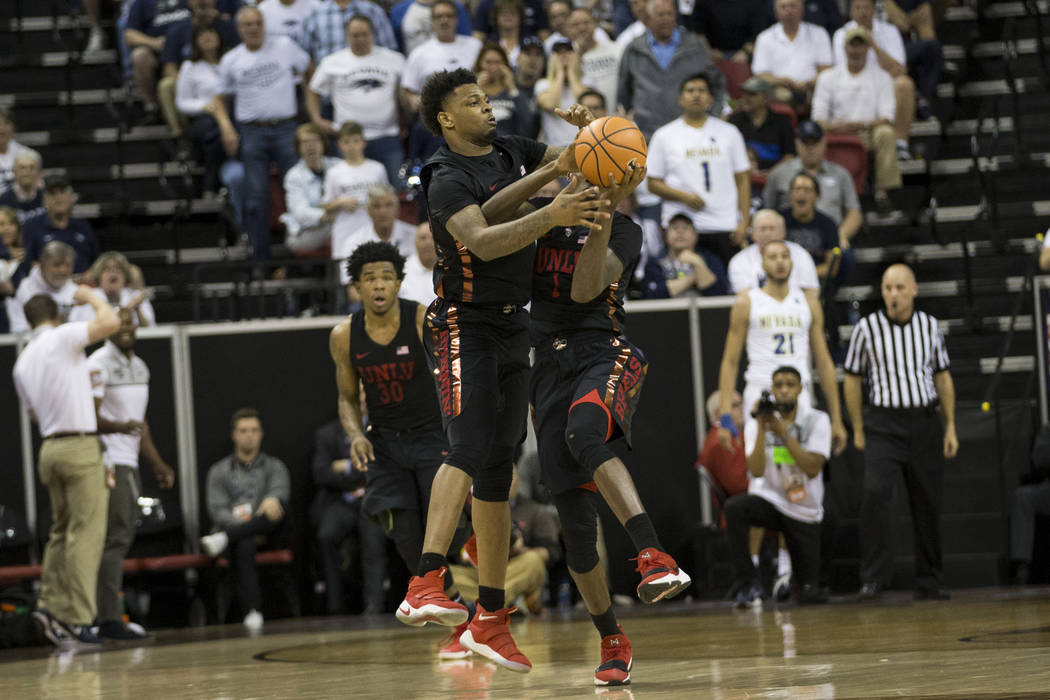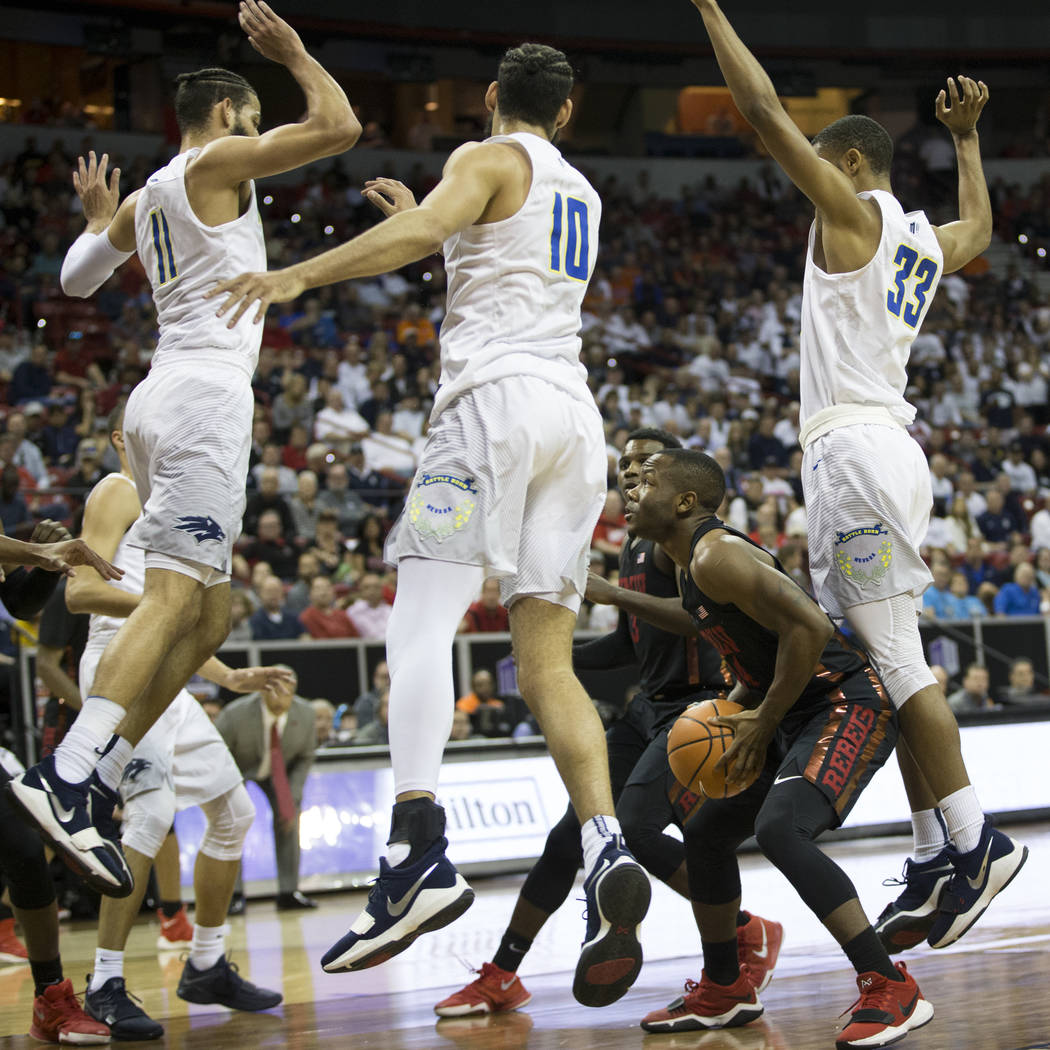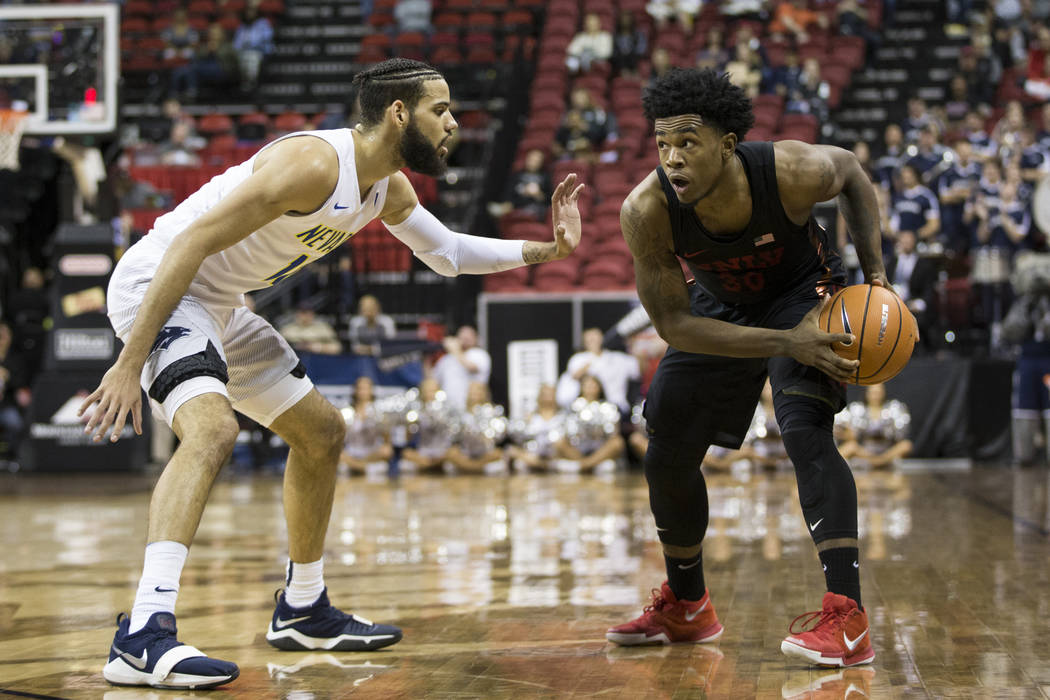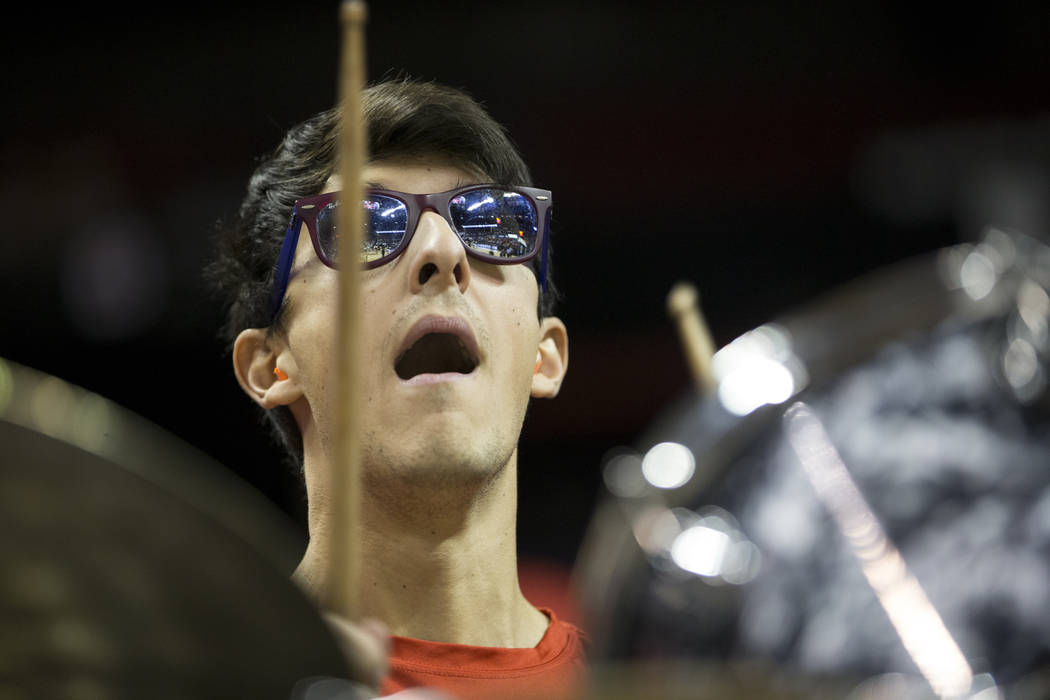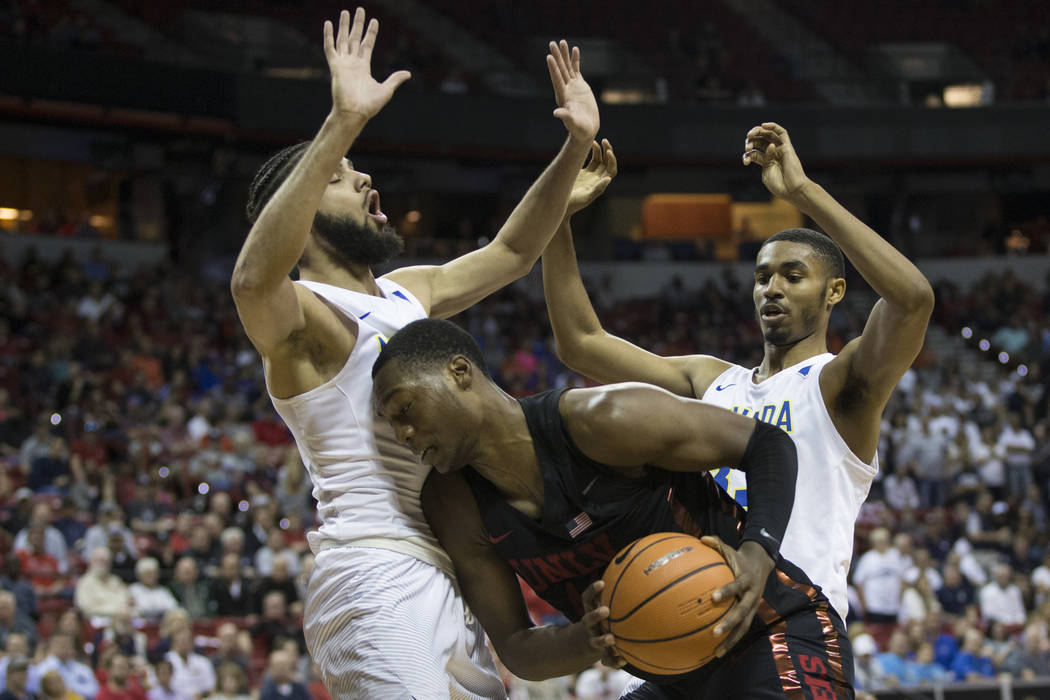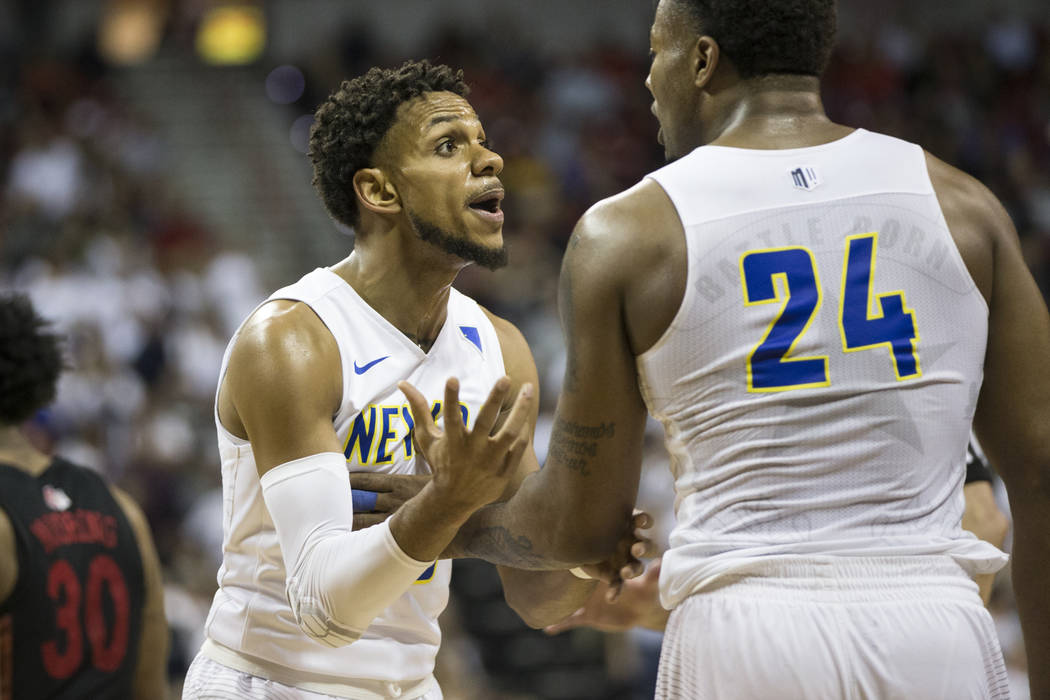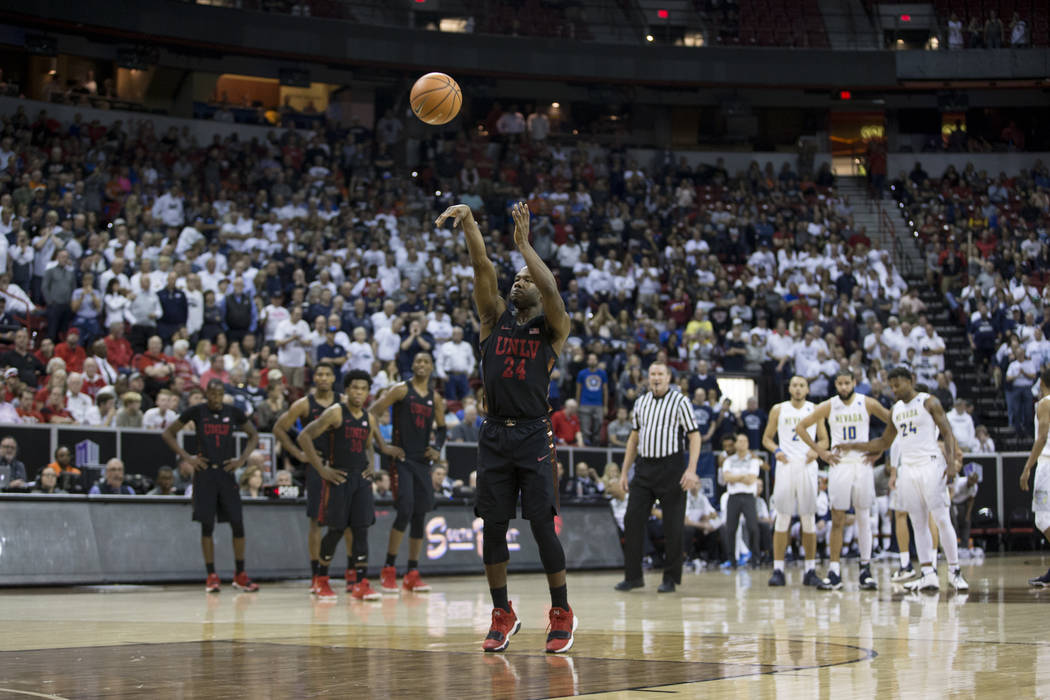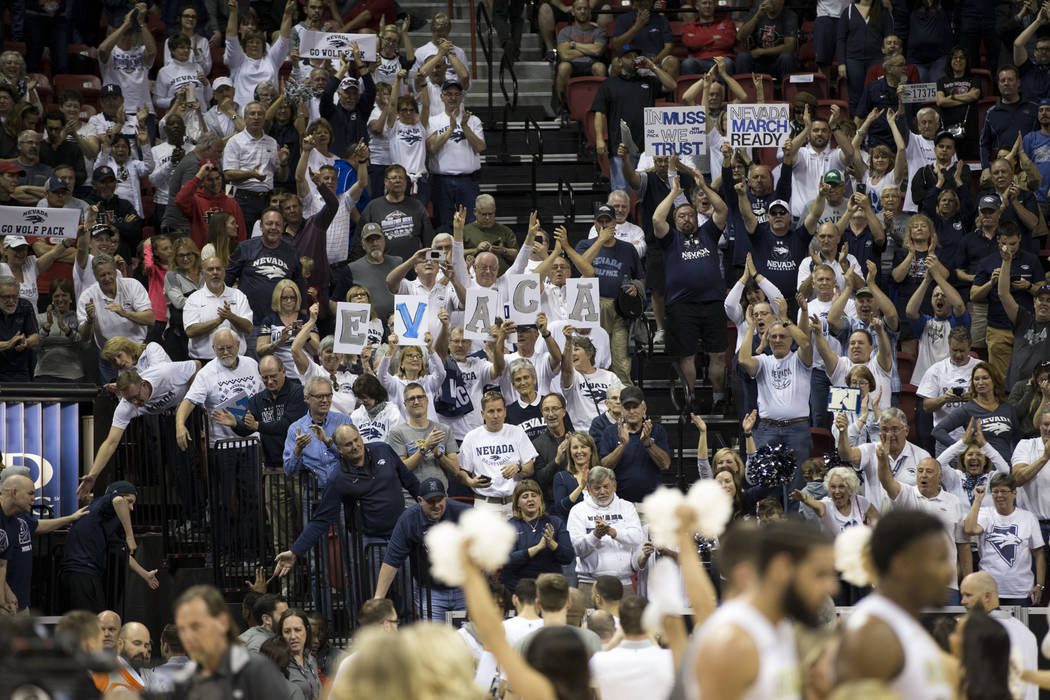 UNLV players sat in the locker room not saying a word, most staring into empty space.
Brandon McCoy looked straight down at his phone before getting up to leave. A Mountain West official told him he had to remain for another four minutes to satisfy the conference policy on media availability.
It only prolonged the agony of Thursday's 79-74 loss to No. 22 UNR in the Mountain West men's basketball tournament quarterfinals at the Thomas & Mack Center.
"I feel like we did leave it all out there," said McCoy, who had 12 points and 14 rebounds. "I don't think this was the best we could've played because we're so talented, but we'll see next year."
Whether McCoy will be part of next year's plans remains to be seen. The freshman forward is widely believed to be on his way to the NBA, though he said no decision has been made.
If he does leave, his final on-court memory will be of Jovan Mooring's missed 3-pointer with six seconds left that would have tied the game and then Josh Hall sealing the victory for top-seeded UNR with two free throws with five seconds remaining.
The season probably is over for the eighth-seeded Rebels (20-13). They aren't expected to receive a bid to the National Invitation Tournament, and coach Marvin Menzies indicated a lesser tournament was out of the question.
"I don't have the zeal to play in those tournaments for a host of reasons," Menzies said.
UNLV athletic director Desiree Reed-Francois confirmed that the Rebels would not accept an invitation to a lower tournament.
UNR (27-6), which two years ago won the College Basketball Invitational, took another step toward its second consecutive NCAA Tournament appearance. The MW tournament appears to be a matter of improving its NCAA seeding, but coach Eric Musselman isn't taking anything for granted.
"Until you see your name Sunday, you're not in," he said. "I keep telling the guys every day that, my wife, my two sons, my daughter. We're not in. I don't want to hear it. We've got to keep winning."
The Wolf Pack won Thursday after falling behind by 12 points early in the second half. But UNLV starting guards Mooring and Jordan Johnson each collected four fouls, forcing Menzies to juggle his lineup with almost 14 minutes remaining.
Menzies also lost track of timeouts, calling his final one with 9:52 left. He said he probably mistook the number of fouls on the scoreboard for the number of timeouts remaining, and an assistant coach alerted him too late about the error.
"I messed up," Menzies said.
On the other end, Musselman switched 6-foot-7-inch Cody Martin to guard the 6-2 Mooring in the second half. Mooring made three 3-pointers in the first half and scored 13 points, evoking memories of his 31-point performance in UNLV's 86-78 victory Feb. 7 in Reno.
With Martin guarding him in the second half, Mooring took only four shots and went scoreless.
"Not often you can put a four-man and tell him to now guard a combo guard," Musselman said. "I thought he forced Mooring into some really, really difficult shots, especially late in the game."
Kris Clyburn picked up the slack, scoring 14 of his team-high 19 points in the second half. He helped keep the Rebels close against an opponent that beat them by 26 points last week.
"We played with more heart," said UNLV's Shakur Juiston, who had 14 points and 12 rebounds. "We played with more of a chip on our shoulder. We wanted to come out and play for the fans, the coaches and the two seniors we had. So we gave it all we had."
Other Mountain West games
San Diego State 64, Fresno State 52 — Trey Kell scored 16 points to lead the No. 5 Aztecs (20-10) past the No. 4 Bulldogs (21-11). Bryson Williams had 23 points and nine rebounds for Fresno State.
Utah State 78, Boise State 75 — Chandler Hutchison missed a tying 3-pointer with one second left for the second-seeded Broncos. The No. 7 Aggies (17-16) took the lead for good at 74-73 on a free throw by Dwayne Brown Jr. with 57 seconds left. Teammate Sam Merrill made a 3-pointer with 31 seconds remaining for a 77-73 lead. Merrill made 7 of 10 3-pointers and scored 28 points for Utah State. Lexus Williams scored 24 for Boise State (23-8).
New Mexico 85, Wyoming 75 — Joe Furstinger scored 23 points to lead the No. 3 Lobos (18-14) over the No. 6 Cowboys (20-13). Alan Herndon scored 19 for Wyoming.
Friday's schedule
UNR vs. San Diego State, 6 p.m.
Utah State vs. New Mexico, 8:30 p.m.
Contact Mark Anderson at manderson@reviewjournal.com. Follow @markanderson65 on Twitter.