UNLV falls to Fresno State, now tied for last in Mountain West
Updated January 21, 2023 - 6:52 pm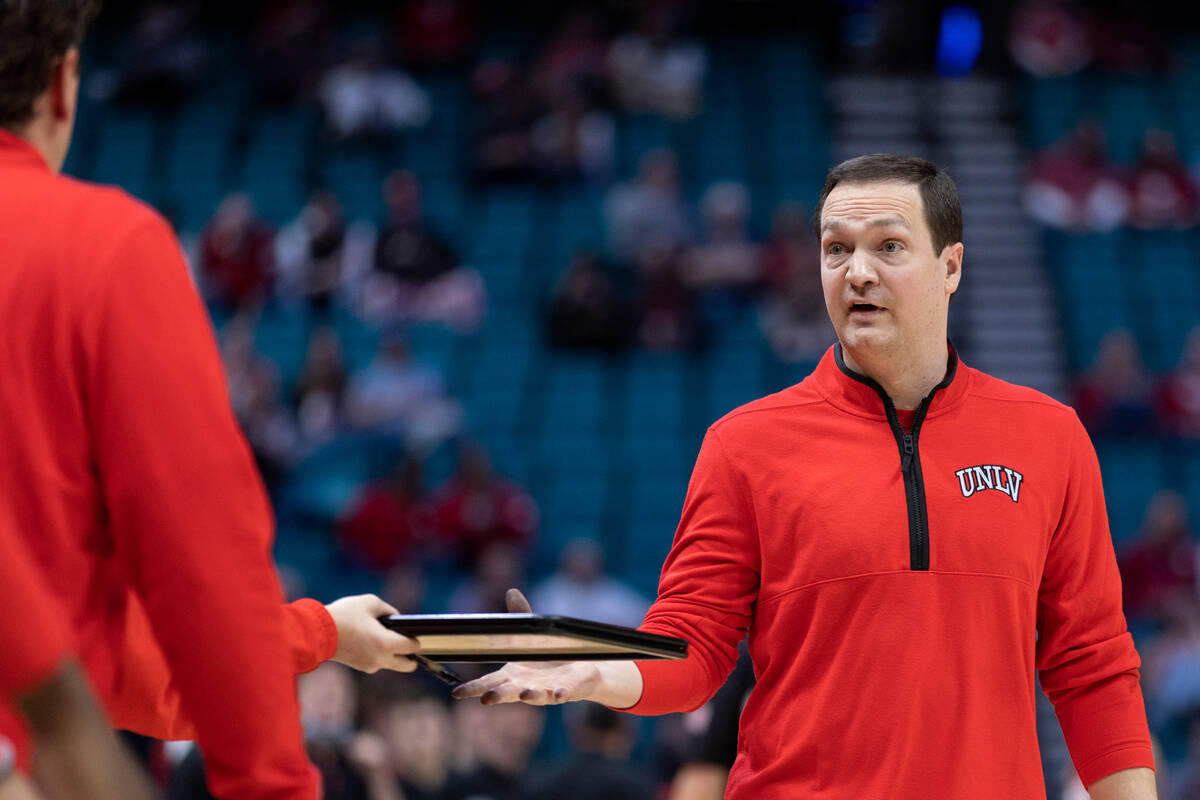 Ahead of UNLV's game against Fresno State, coach Kevin Kruger wanted the Rebels to rediscover their edge. He needed them to find some fire, to reignite their spark — anything to break them out of their slump.
Instead, the Rebels stumbled to another loss.
"We've got to adjust some things," he said. "We've just got to get that edge back, and that's hard to do when you're struggling."
UNLV lost its fourth consecutive game Saturday, falling 76-63 to Fresno State at the Save Mart Center in Fresno, California.
Fifth-year guard EJ Harkless had 15 points, sophomore Keshon Gilbert chipped in 11 points, and freshman Keyshawn Hall scored 10 for the Rebels (12-7, 1-6 Mountain West). Senior guard Isaiah Hill scored a career-best 28 points for Fresno State (7-11, 3-4), and junior center Eduardo Andre added 16.
The Rebels are just 2-7 in their past nine games. UNLV is tied for last place in the conference with Wyoming, which finally claimed its first Mountain West win Saturday by beating Colorado State 58-57.
The Rebels and Cowboys face off at 8 p.m. Tuesday at the Thomas & Mack Center.
"We can't be timid," Kruger said. "It's not going to change if we are. We've got to go swinging until it turns."
UNLV's defense struggled all night against Fresno State. The Bulldogs — who entered with one win in their past four games — shot 54.3 percent from the floor and 47.4 percent from 3 against the Rebels.
Fresno State dissected UNLV's defense with clean, precise passing. The Bulldogs assisted on 16 of their 25 made field goals and turned the ball over just 13 times, despite the return of the Rebels' fifth-year wing Elijah Parquet.
The Colorado transfer made his Mountain West debut against Fresno State, returning to the court after a knee injury forced him to miss eight games. Parquet had four points, two rebounds, an assist, a block and a steal, but was minus-7 in 31 minutes. He also fouled Hill on a 3 with 1:17 remaining and UNLV trailing by five points, which sparked an 8-0 run by Fresno State to seal the win.
Hill got loose from 3 early. He started the game by going 3-for-3 from beyond the arc and finished the first half with 13 points, two assists and two rebounds. Hill added 15 points after the break, mostly from the free-throw line, where he went 10 of 12 for the game.
"He just did a really good job getting in his rhythm early," Kruger said. "Anytime you've got a guy like that who's able to get in a rhythm, it can be tough."
UNLV's rebounding problems also re-emerged. Fresno State won the rebounding battle 33-23, led by Andre's 13. The Bulldogs turned eight offensive rebounds into nine second-chance points. At one point in the first half, Fresno State had five offensive rebounds while UNLV had five total rebounds.
Harkless tried to take the game over down the stretch, but had a rough shooting night. His 15 points came on 3-of-13 shooting and he was 1 of 5 from 3.
Hall provided a spark off the bench again. He was an efficient 4 of 6 from the floor, but was picked on defensively and was minus-11, the lowest plus-minus among UNLV's reserves. UNLV senior wing Luis Rodriguez was also held to just five points, the third time in four games he's failed to reach double figures.
"We're going to get through it," Kruger said. "We're going to be fine. We're going to get better. We're going to continue to work."
Contact reporter Andy Yamashita at ayamashita@reviewjournal.com. Follow @ANYamashita on Twitter.