UNLV guard named to media's All-Mountain West 2nd team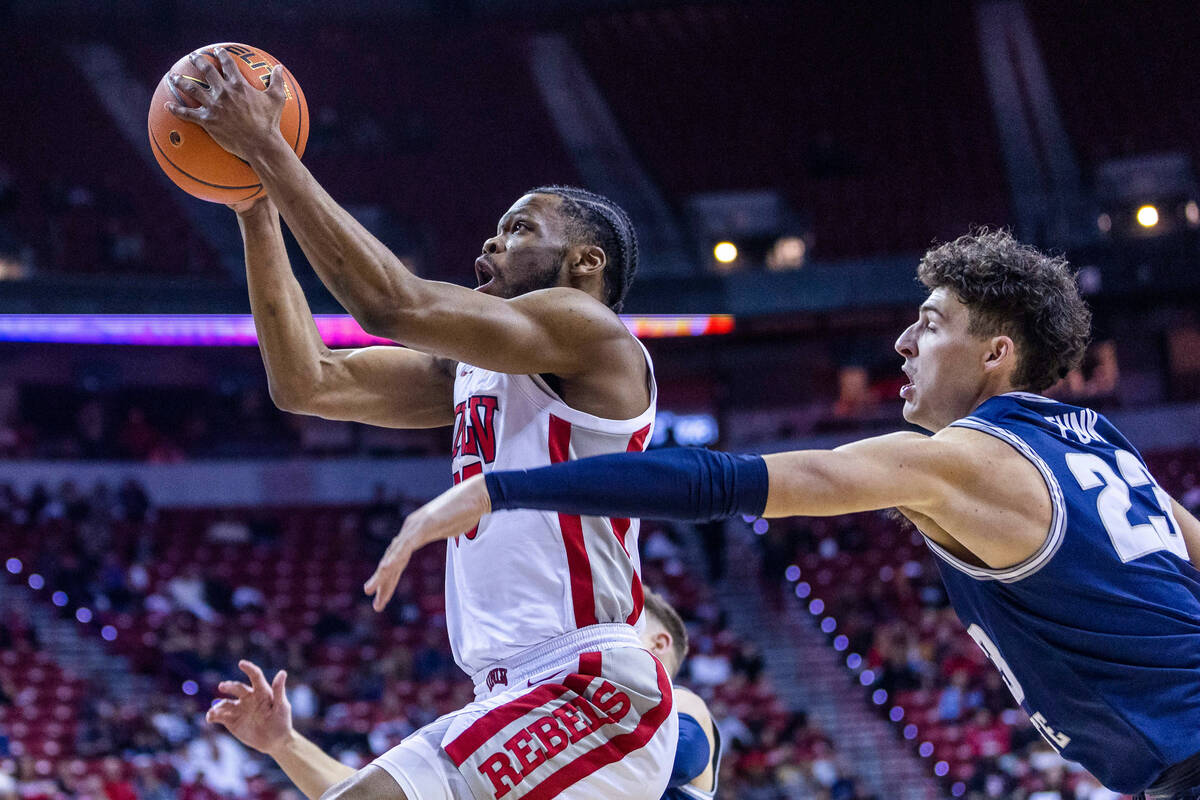 UNLV fifth-year guard EJ Harkless was named a second-team All-Mountain West selection in the media poll released Monday.
Harkless finished second for Newcomer of the Year, one vote behind New Mexico's Morris Udeze.
"There's a lot of people that didn't think I could play at this level," Harkless said recently. "Just being able to show that I could play at this level and prove myself — it's been a great experience."
UNLV (18-12, 7-11 MW) is the No. 7 seed for the conference tournament and will play No. 10 Air Force at 1:30 p.m. Wednesday at the Thomas & Mack Center.
Harkless averaged 18.6 points, second best in the conference behind New Mexico guard Jamal Mashburn Jr. He also averaged 5.0 rebounds and 3.2 assists.
Harkless was the only UNLV player to receive votes.
San Jose State guard Omari Moore was named Player of the Year, and the Spartans' Tim Miles was named Coach of the Year. San Diego State guard Lamont Butler was named Defensive Player of the Year, Utah State forward Dan Akin was named Sixth Man of the Year, and UNR forward and former Bishop Gorman star Darrion Williams was named Freshman of the Year.
Contact reporter Andy Yamashita at ayamashita@reviewjournal.com. Follow @ANYamashita on Twitter.
Mountain West media poll
First team
Omari Moore, guard, San Jose State
Tyson Degenhart, forward, Boise State
Isaiah Stevens, guard, Colorado State
Matt Bradley, guard, San Diego State
Jaelen House, guard, New Mexico
Second team
Steven Ashworth, guard, Utah State
Jamal Mashburn Jr., guard, New Mexico
EJ Harkless, guard, UNLV
Morris Udeze, forward, New Mexico
Hunter Maldonado, guard, Wyoming
Third team
Max Rice, guard, Boise State
Jarod Lucas, guard, UNR
Kenan Blackshear, guard, UNR
Will Baker, center, UNR
Marcus Shaver Jr., guard, Boise State
Player of the Year: Omari Moore, San Jose State
Coach of the Year: Tim Miles, San Jose State
Defensive Player of the Year: Lamont Butler, San Diego State
Newcomer of the Year: Morris Udeze, New Mexico
Sixth Man of the Year: Dan Akin, Utah State
Freshman of the Year: Darrion Williams, UNR