California, Arizona State off UNLV's football schedule
Updated July 10, 2020 - 7:42 pm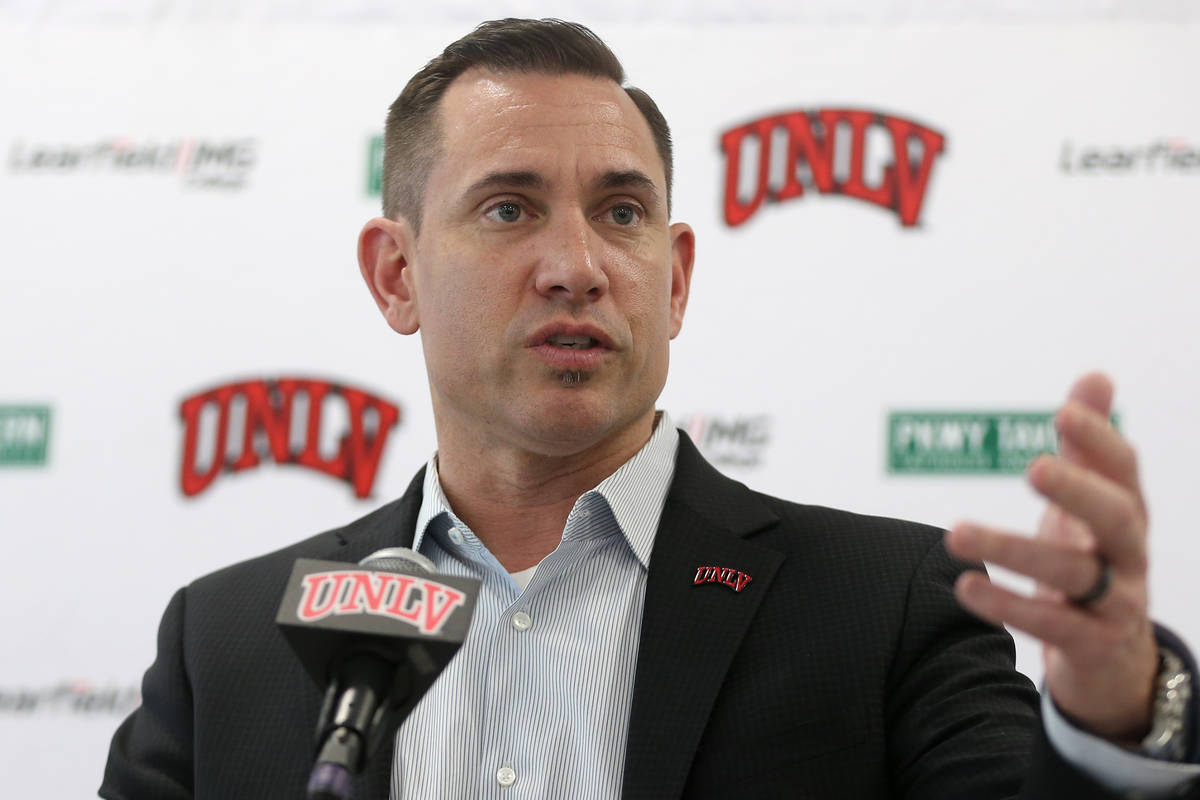 UNLV's nonconference football schedule took a big hit Friday when the Pac-12 announced it plans to play only a conference schedule this season, meaning the Rebels won't host California and Arizona State at Allegiant Stadium.
The Rebels were scheduled to play Cal on Aug. 29 in the first college football game in the $2 billion venue, and Arizona State was scheduled to visit Sept. 12.
"The health and safety of our student-athletes and all those connected to Pac-12 sports continues to be our No. 1 priority," Pac-12 Commissioner Larry Scott said in a statement. "Our decisions have and will be guided by science and data, and based upon the trends and indicators over the past days, it has become clear that we need to provide ourselves with maximum flexibility to schedule and to delay any movement to the next phase of return-to-play activities."
UNLV's athletic department issued a statement that read: "We are aware of the Pac-12 announcement today and we will continue to work with the Mountain West regarding our fall schedules."
The Rebels' other two nonconference games, Sept. 5 against Louisiana Tech at Sam Boyd Stadium and Sept. 19 at Iowa State, are still on the schedule for now. Those games could get dropped or moved, however, as various leagues cope with a resurgence of the COVID-19 pandemic.
With the Aug. 29 and Sept. 12 dates now open, one possibility is moving the Louisiana Tech game to Allegiant Stadium. A UNLV spokesman said there were myriad details involved in such a move, and the athletic department was working through them.
The Mountain West has not made any announcements regarding its plans.
"As has been the case since the onset of the pandemic, we are fully engaged with our membership and advisors on a nearly daily basis exploring the myriad of potential scenarios around returning to competition," MW Commissioner Craig Thompson said in a statement. "We were aware of this possibility and will continue to evaluate the appropriate decisions and the proper timing going forward. The safety, health and wellness of our student-athletes, coaches, staff members and campuses remain our top priority."
UNLV had hoped to make a big splash this season playing in a state-of-the-art stadium just off the Strip and under a new coach in Marcus Arroyo. It's possible the Rebels will play a conference-only schedule this fall, or they could wind up playing in the spring if the coronavirus pandemic remains a major problem.
Should no football be played this season, UNLV's athletic department would take a financial hit well into the millions of dollars, and even a conference-only schedule would mean the loss of substantial revenue.
The new Mountain West TV deal was projected to pay between $3 million and $4 million for football and basketball. What that figure now would be is impossible to figure, given how many variables still exist.
With the reduction in the football schedule, UNLV will receivd reduced game-day revenue and much less,revenue from Mountain West and NCAA distributions. According to the athletic department's 2018-19 budget, UNLV received $1.9 million in ticket sales for that football season and $4.7 million for all sports. The conference distributed $2.1 million and the NCAA $1.4 million.
The Rebels were contracted to pay Cal and Arizona State each $250,000 for visiting this season, and both games were the front ends of home-and-home series. UNLV still has three more games remaining against Cal after this season, and the Rebels are scheduled to visit Arizona State next year.
The cancellation fee for both games this season is $1 million, but both contracts contain what are called force majeure clauses, which means there is no liability for what could be considered an act of God. Cal and Arizona State likely would argue that clause applies here, especially since it was the Pac-12 that canceled the games. UNLV would have to determine whether it was worth the effort to try to reach some sort of legal settlement.
UNLV also could reach an agreement with those two schools to play future games at Allegiant.
The Rebels' contract with Iowa State, which is a two-year deal beginning this season, calls for the home team to receive all income. Louisiana Tech's deal, which completes a two-games series, calls for UNLV to pay a $150,000 guarantee.
The cancellation fees for the Iowa State and Louisiana Tech games is $500,000 apiece, and force majeure clauses also are in both deals. Whether those games, if canceled, are rescheduled remains to be seen.
Contact reporter Mark Anderson at manderson@reviewjournal.com. Follow @markanderson65 on Twitter.
UNLV's ticket policies
Postponement
— Tickets still are valid for a rescheduled date.
— Fans can exchange tickets for a different date at the same or lesser value.
Cancellation or games played without fans
— Credit can be applied to tickets for other 2020-21 sporting events.
— Unused funds can roll over into the 2021-22 season.
— Tickets can be donated to first responders, COVID-19 medical workers or military service members and their families.
— Unused credit can be donated to the Rebel Athletic Fund to help pay for scholarships.
More information
— UNLV will work with season ticket holders to come up with a different solution depending on the situation.
— Fans who bought tickets through third-party sites need to contact those companies.