Vipers finally secure first win after wild final sequence
Updated March 18, 2023 - 11:23 pm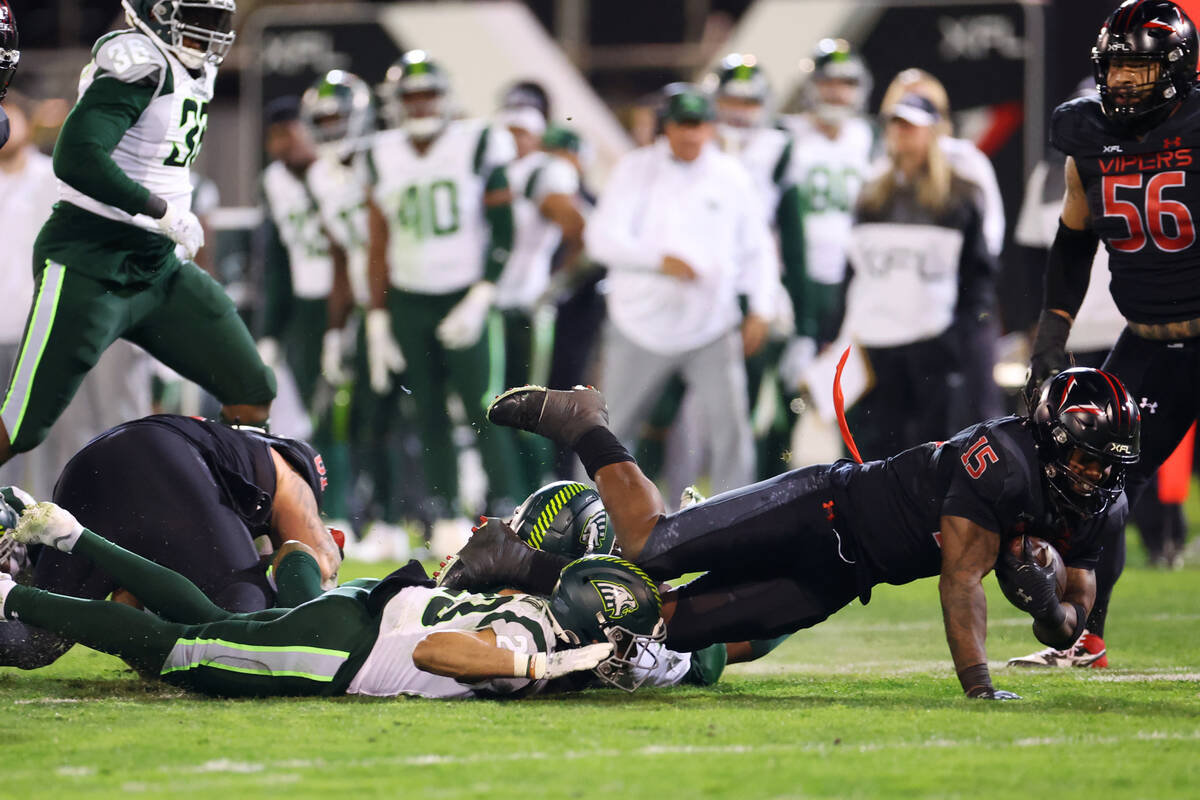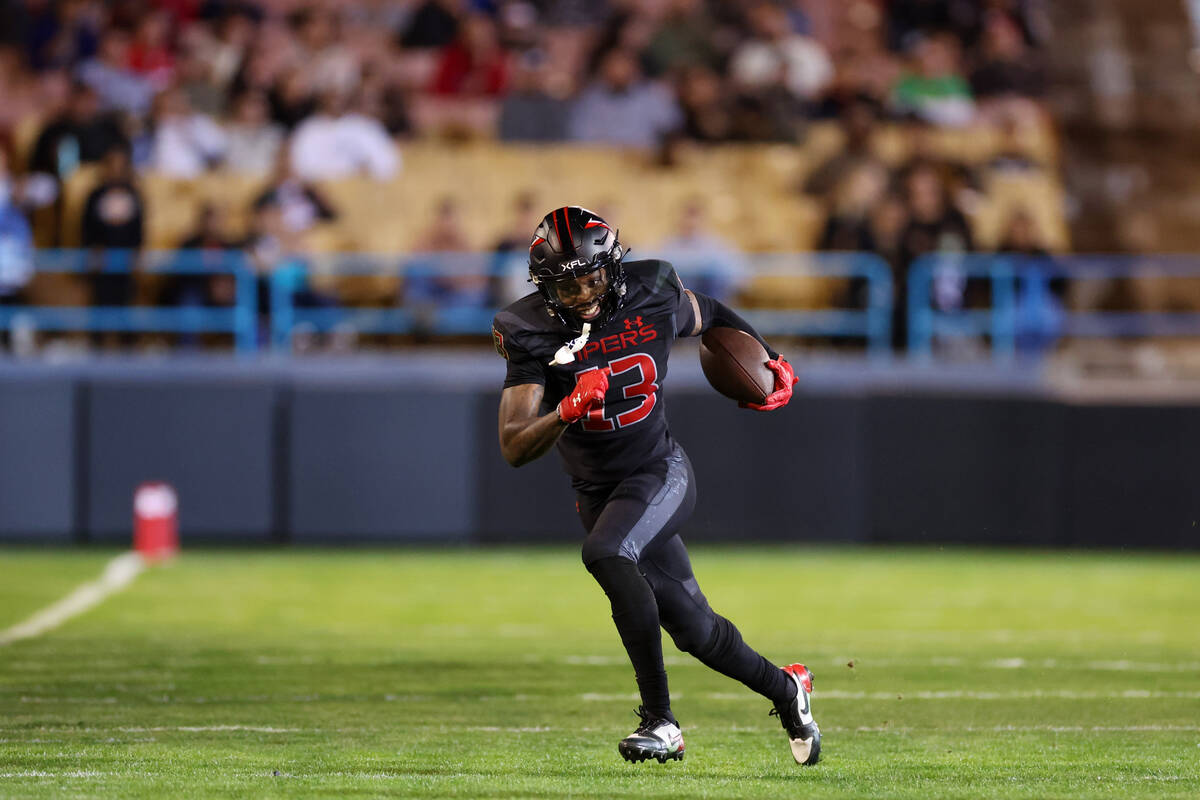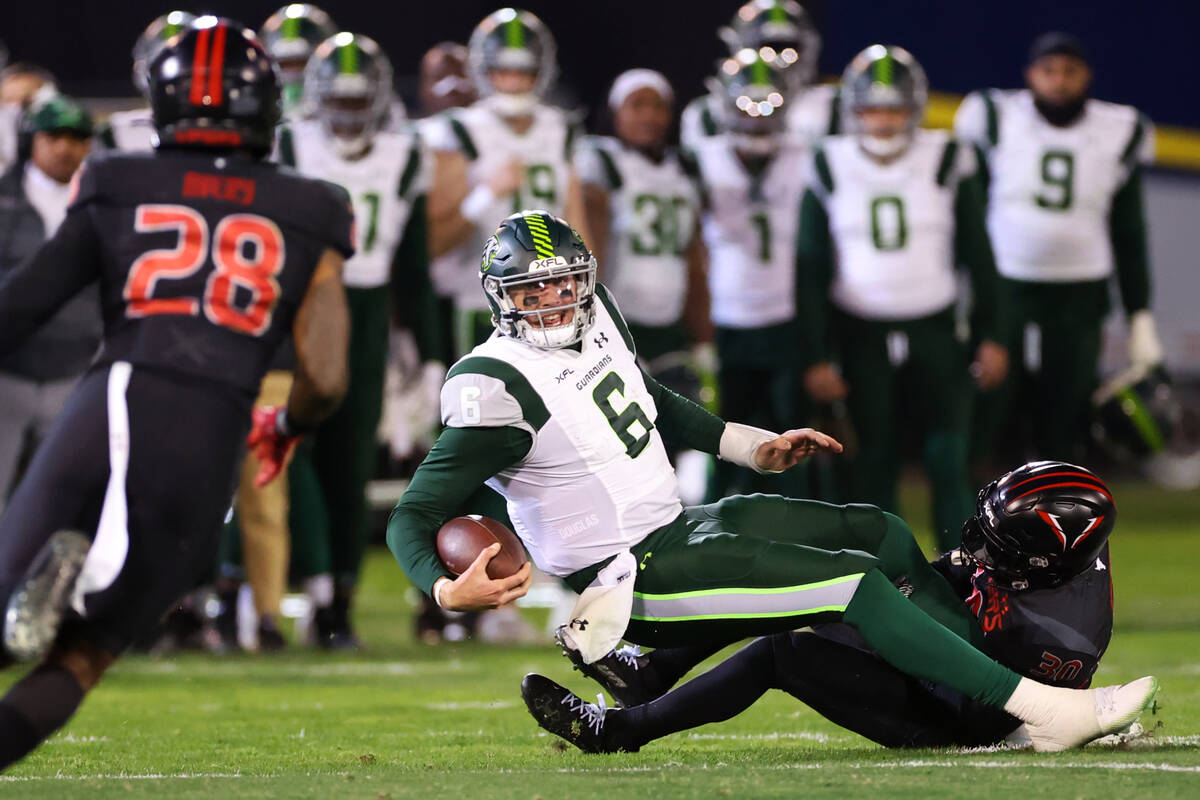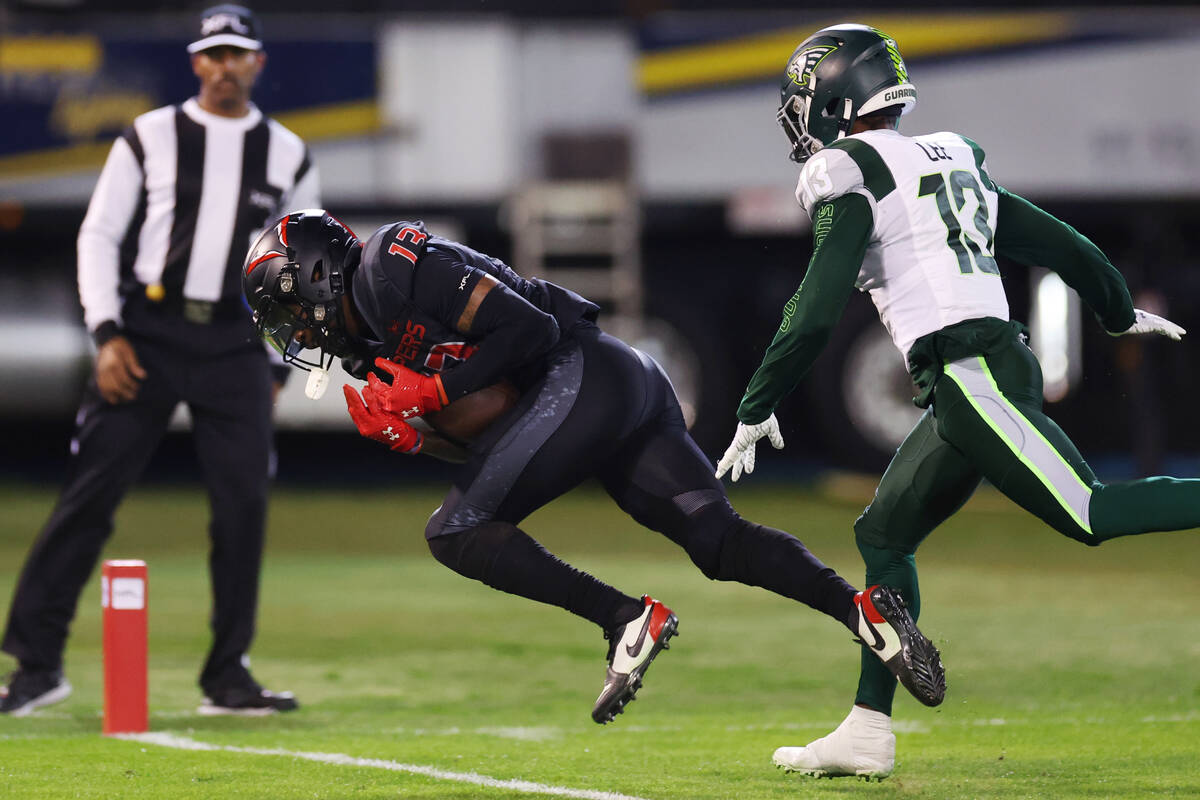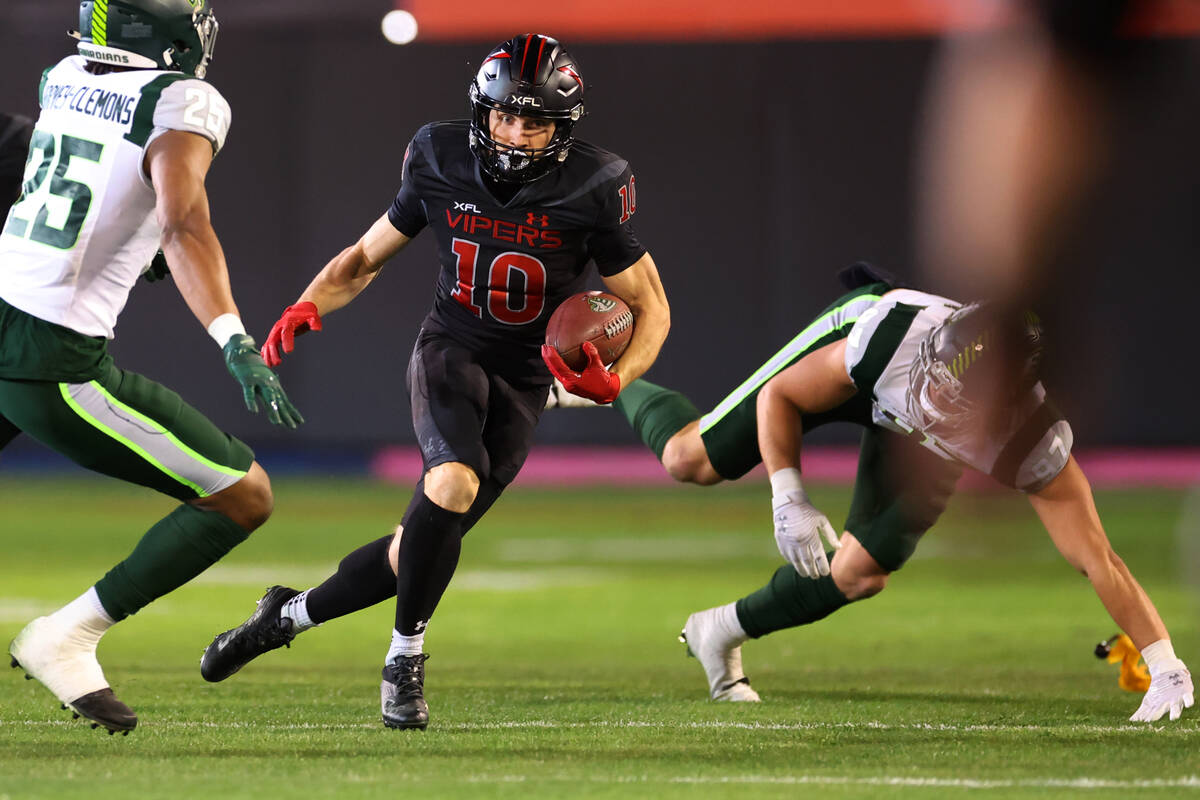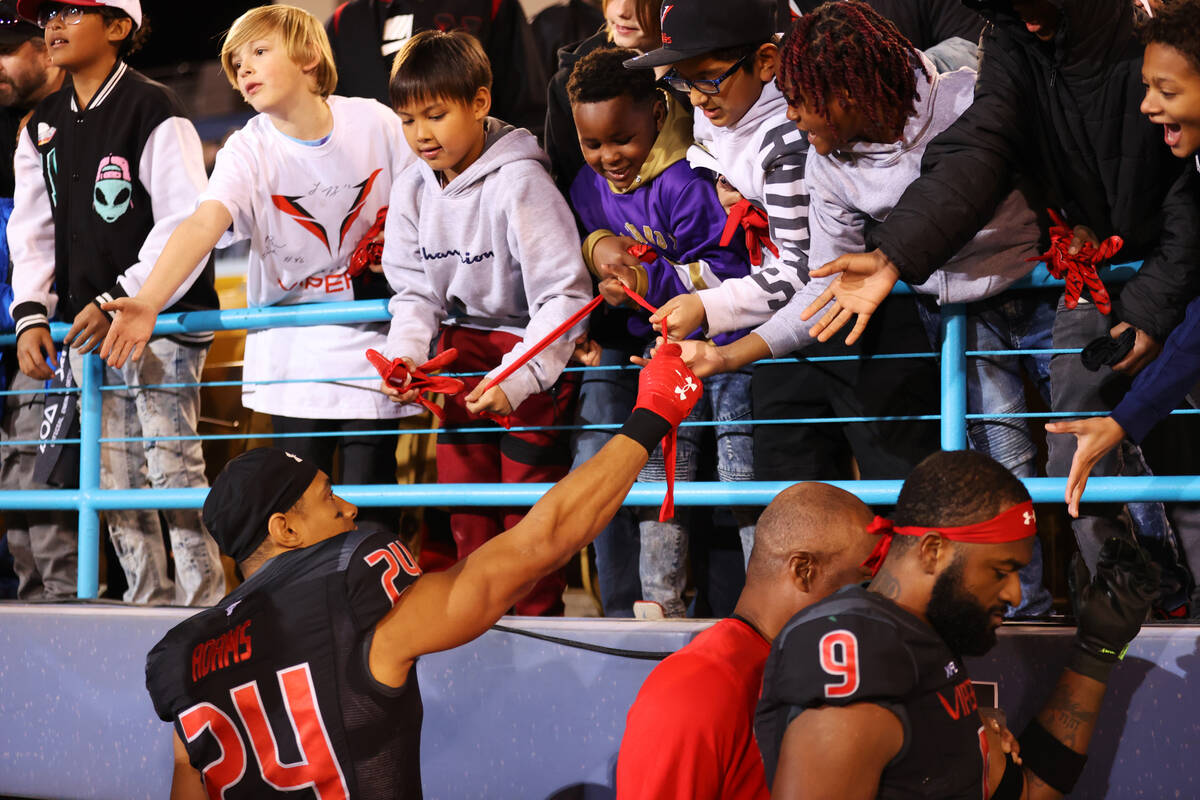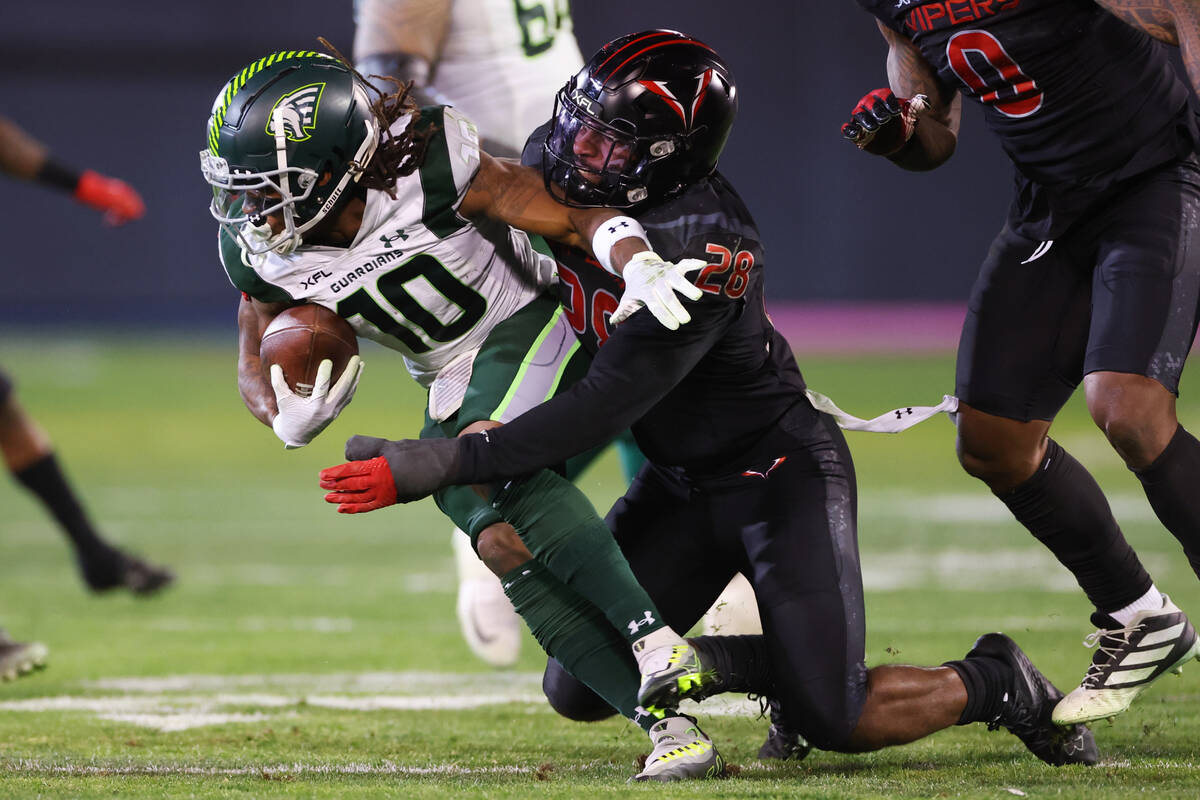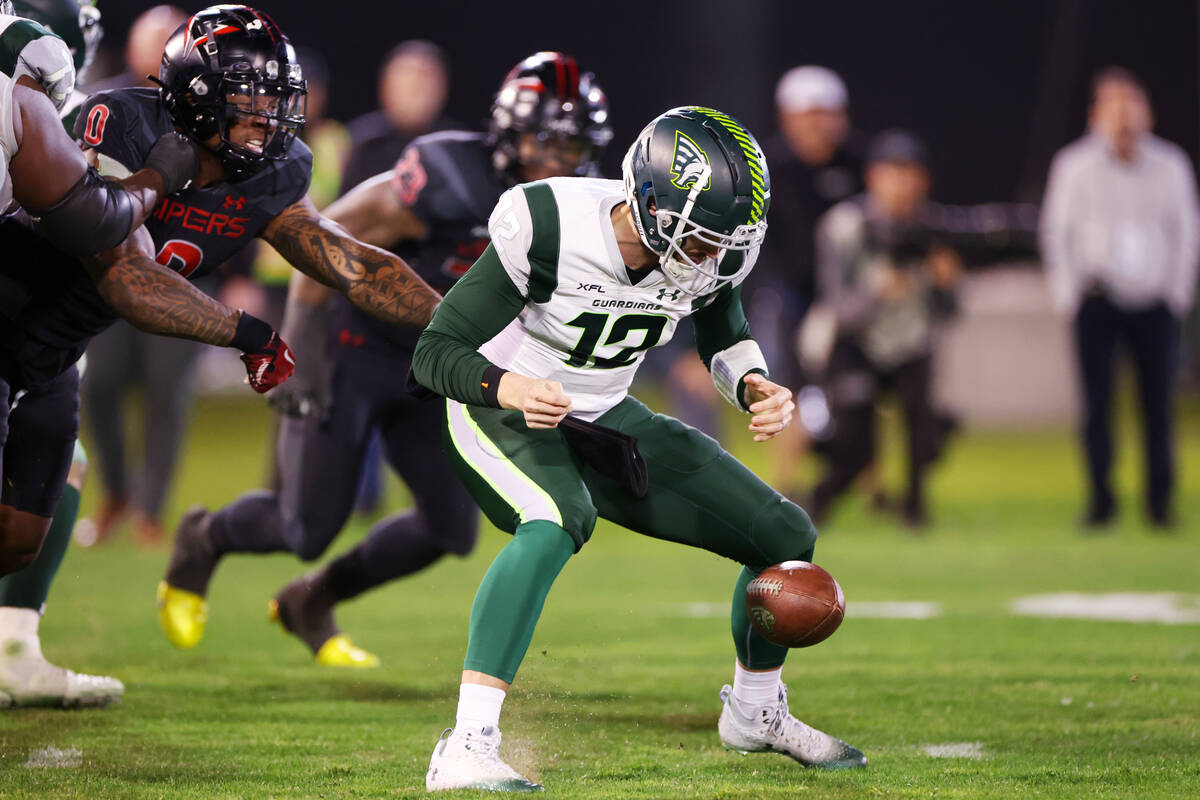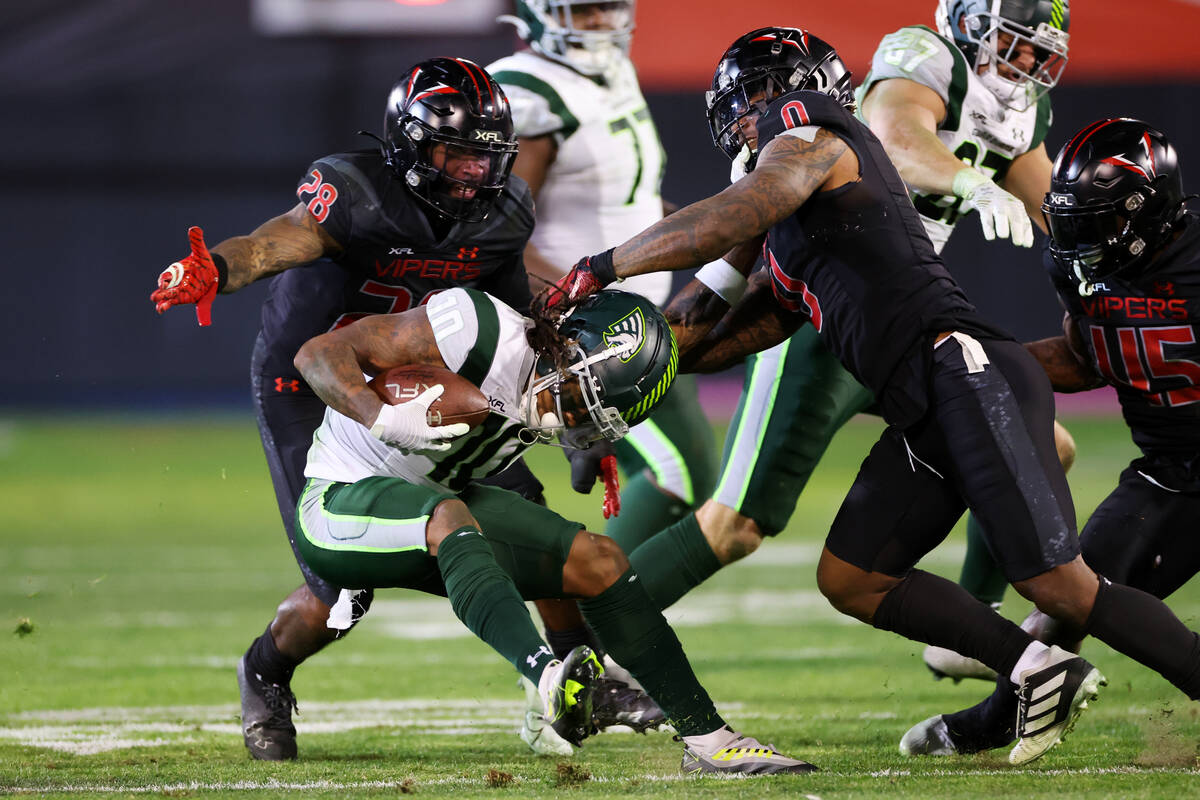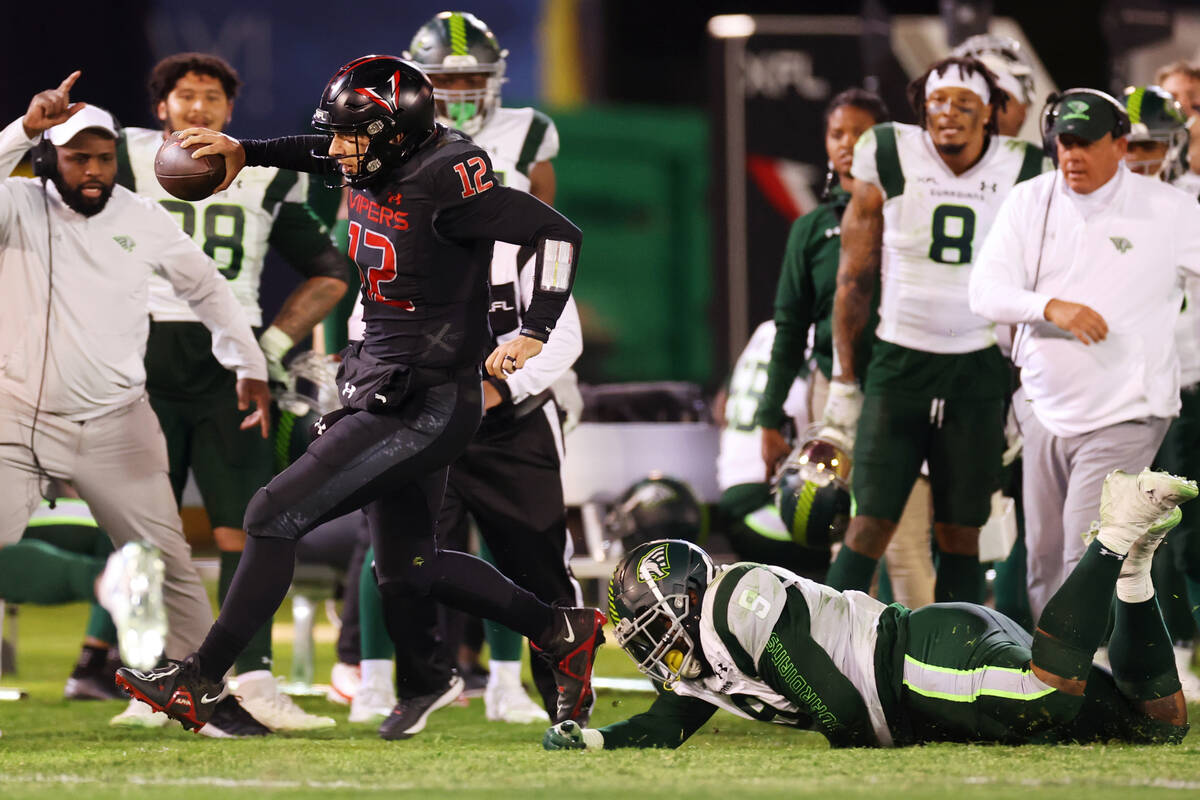 The Vipers' defense needed to make a play for the team to earn its first win of the season Saturday night at Cashman Field.
Then another. And another.
Eventually, the Orlando Guardians ran out of chances, and the Vipers secured a 35-32 home win in front of 6,008 fans after a wild final couple of minutes.
"It's a half-smile," coach Rod Woodson said. "We got a win. We did not play great on defense tonight or really the last three weeks. So we have a lot of corrections to make. We have to move forward, though."
It wasn't easy.
Orlando's Quinten Dormady found Cody Latimer down the middle for a 45-yard touchdown with 1:12 remaining, and a three-point conversion attempt that could have tied the game was unsuccessful.
Under XFL rules, the Guardians had a chance to try a fourth-and-15 from their own 25-yard line to keep possession. Pita Taumoepenu forced a fumble, and while Dormady was able to recover it, the defense swarmed and wrapped him up, sparking another brief celebration.
But it still wasn't over. The Vipers (1-4) couldn't run out the clock and had to settle for a field goal attempt on fourth-and-6 with 52 seconds remaining. When the Guardians (0-5) jumped offside, coach Rod Woodson elected to send his offense back on the field and put the game away with a first down.
Luis Perez's pass was incomplete, and the Guardians took over at their own 10-yard line. Woodson instructed his offense to go for it, but hoped they would keep the ball on the ground instead of trying to throw it on fourth-and-1.
"I didn't want a pass play," he said. "We were running the ball pretty well throughout the day. Rod (Smith) is a big physical back. I would have loved to see the ball given to Rod and let him (run it). It didn't happen.
"But (the offense) played so good. If they hadn't scored 35 points, we wouldn't have won. Our offense has gotten better each and every week. I give a lot of praise to the offensive coaches. That just wasn't the exact play I wanted."
The incompletion gave the Guardians one last chance, but they couldn't take advantage. Orlando committed two false starts, each resulting in 10-second runoffs, that killed the remaining clock, and the Vipers were able to celebrate their first win for real.
It was a finish befitting the struggle the Vipers have had to get their first victory. Saturday marked the fourth time they held a halftime lead, but they had lost on each of the first three occasions.
The difference Saturday was an ability to make plays in key situations in the second half. While the defense made the last few plays, the offense had put the team in position for the victory.
Perez completed 20 of 28 passes for 269 yards and three touchdowns, and Smith added a pair of scores on the ground as he carried the ball 18 times for 62 yards.
Jeff Badet had five catches for 80 yards and two touchdowns, including a 25-yarder on third down with 6:26 remaining to put the Vipers up nine points.
Their efforts were needed, as the Vipers' defense struggled to get stops against Dormady, who entered the game in relief and capped off a controversial week with a 22-of-25 passing effort for 256 yards and two touchdowns in the loss.
Former NFL first-round draft pick Paxton Lynch led the opening drive for the Guardians. He commanded a 13-play journey that covered 65 yards before Quinton Flowers came into the game and found the end zone on a 1-yard run to put the Guardians ahead early.
"I've always been aggressive, back to my days as a player. I don't want to be a timid coach not believing in my players," Woodson said, referring to the beginning and end of the game. "I believe in my guys that if I call something, they're going to make a play. I put my defense out there first. I deferred. I thought they would stop them and they didn't. But our offense responded. … Defensively, we have to look in the mirror as a staff and decide what we want to be. We gave up too many big plays."
Perez rallied the Vipers to the next 17 consecutive points before Dormady came in for Lynch and took control for Orlando.
Dormady was only brought back to the team in the middle of the week after he was initially released due to an accusation he had shared plays with other teams in the league. After an XFL investigation, he was cleared and reinstated
"It has been determined that allegations of impropriety were unsubstantiated and there is no basis for disciplinary action," the league said in a statement.
He almost did enough to carry the team to a win in his return, but the Vipers' defensive front made plays at key moments.
"They've got good edge rushers," Dormady said. "They made it home in a situation when they knew they could pin their ears back and come after us. So credit to them. They're good up front."
The Vipers are now two games behind the second-place tie between Seattle and St. Louis for the final playoff spot in the North Division.
Woodson said the postseason remains the goal at the midpoint of the season.
"Our dream is still not dead," he said. "We have to play St. Louis two times and Seattle again, so our dream is not dead. Anybody who thought it was is sadly mistaken."
The Vipers continue their three-game homestand when they host St. Louis at 4 p.m. Saturday.
Contact Adam Hill at ahill@reviewjournal.com. Follow @AdamHillLVRJ on Twitter.