Vipers hope accountability, small tweaks lead to first win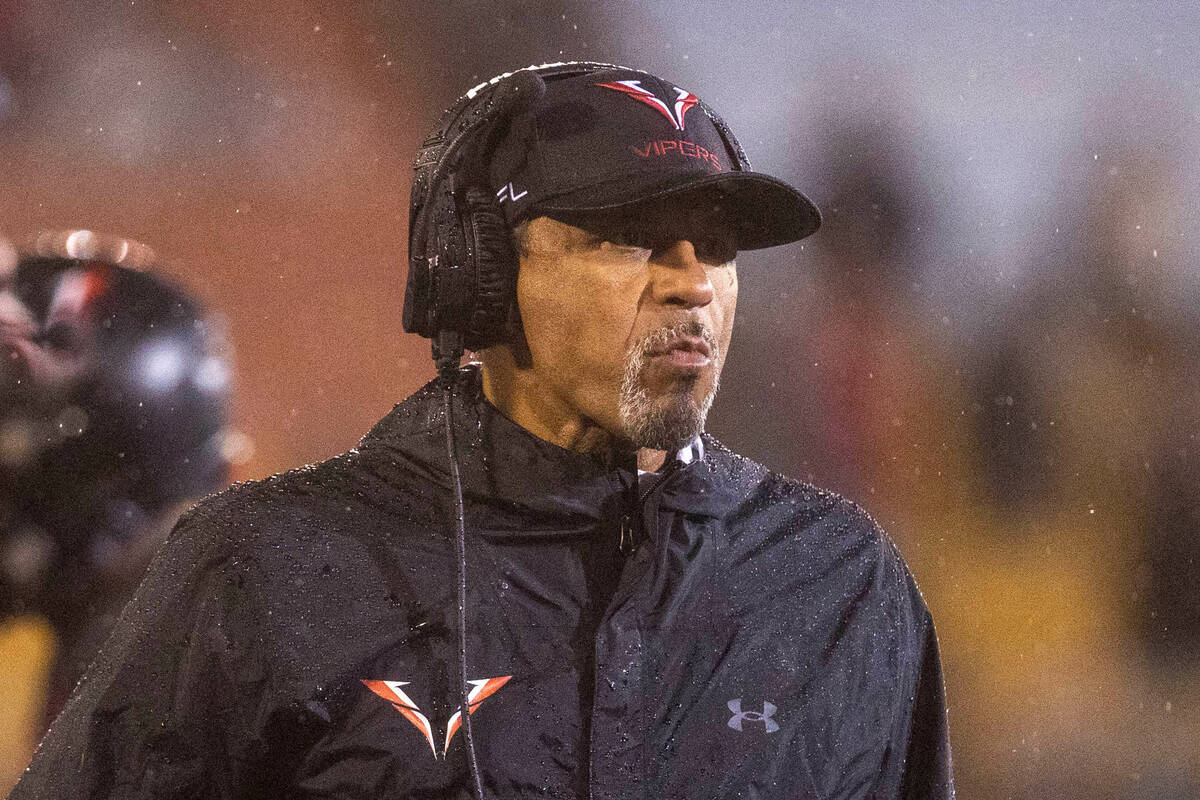 Vipers coach Rod Woodson still believes his team has a chance to reach the XFL playoffs.
They will need to find a way to win a game first.
"There's four teams in our division," Woodson said. "We have to finish in the top two. So it's not over. In my wildest dreams, I did not think we'd start 0-4. With that being said, it's one game at a time. Let's be 1-0 this week and then take it week by week and see where the season ends up."
The Vipers return to Cashman Field on Saturday to host the winless Orlando Guardians at 7 p.m.
Woodson doesn't think his team is far from getting in the win column.
"Offensively, we're getting better and better each week," he said. "Defensively, we've regressed. I've challenged my guys this week to get rid of the mess-ups in practice, because those little things have been popping up and hurting us. Let's see if we can just play one full game."
Putting together an entire 60 minutes has been an issue for the Vipers. They led at halftime in each of the first three weeks and had a chance to tie the game or take the lead at halftime last week only to get stopped inside the 1-yard line as time expired.
However, the games have gotten away from the Vipers after halftime.
"It's frustrating, but it's just a process," said Marwin Evans, a former Packers safety. "We've been hitting on all cylinders in the first half, but we haven't been finishing. That's what it comes down to.
"I feel we've displayed what we can do. It's just about doing that for all four quarters."
Woodson said he believes that starts in practice. He said the team has been allowing what seem like very minor mistakes to go unchecked during the week and then paying the price when the ball goes up in the air for real.
The Pro Football Hall of Famer took personal responsibility for that in a message to his team at practice this week.
"I apologized to my players for not holding them more accountable on the little things," he said, "because that's really what's been snake-biting us inside of games, and I told them they're going to get the real Rod Woodson in the sense I'm going to be overly anal about things in the way I was when I was a player and when I was coaching with the Raiders with things I want to see my players do."
There is plenty of blame to go around. While the offense sputtered out of the gates this season, it has bounced back. Lately it has been the defense struggling to rediscover its identity.
"We've been getting snake-bitten throughout each game, and it's been spread across the board from offense to defense to special teams," Woodson said. "And it hasn't been just one player. It's been a multitude of players. That really makes it first evident to me that I have to do a better job and make sure they're accountable at practice and walkthroughs and film studies, that they are putting their best foot forward."
It might help if Woodson can find a leader at quarterback. He hopes that either Brett Hundley or Luis Perez, who have both started, can seize the reins. Woodson hasn't committed to a starter, but Hundley has been on the injury report with a thigh issue.
Contact Adam Hill at ahill@reviewjournal.com. Follow @AdamHillLVRJ on Twitter.
Up next
Who: Vipers vs. Guardians
When: 7 p.m. Saturday
Where: Cashman Field
TV: FX
Line: Vipers -7½; total 42