Vipers may have settled on a quarterback … for now
Updated March 24, 2023 - 11:09 pm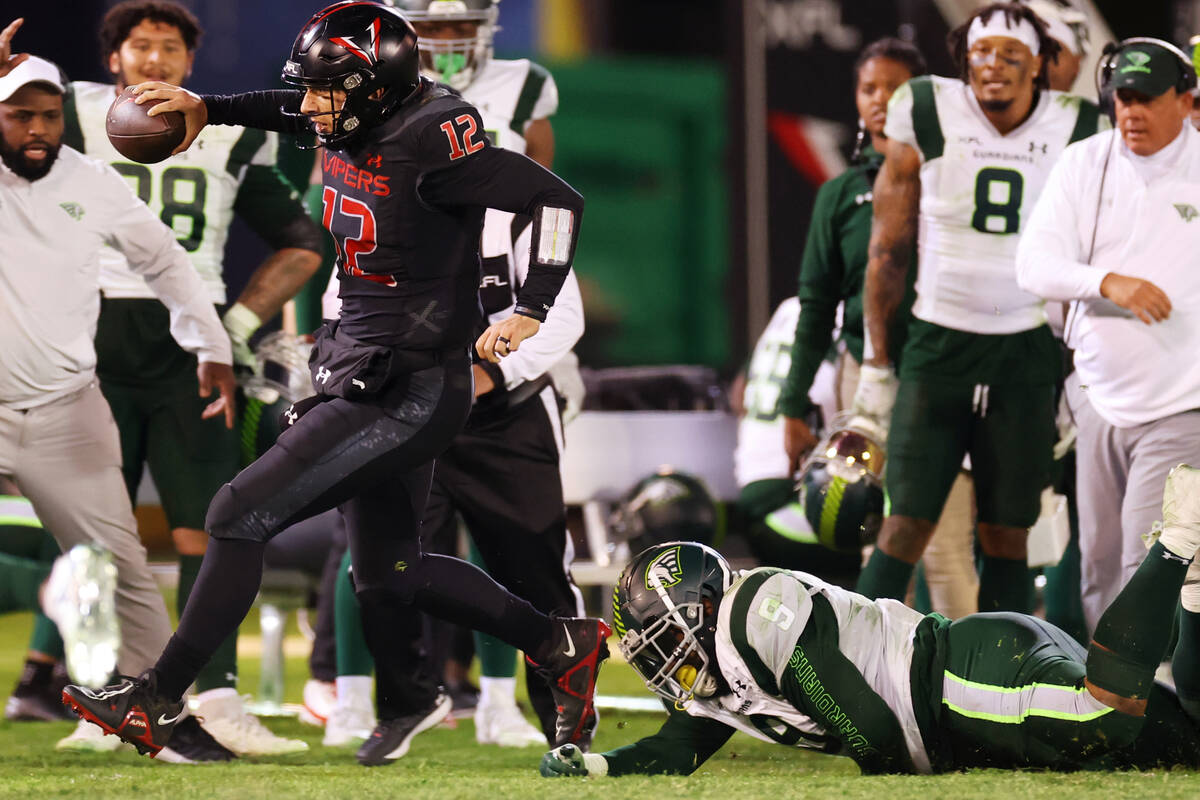 Luis Perez has earned another opportunity to start at quarterback for the Vipers when they host the St. Louis Battlehawks at Cashman Field on Saturday.
Coach Rod Woodson isn't ready to make any guarantees beyond that.
Perez has been engaged in a battle with former Packers quarterback Brett Hundley for much of the season, with each experiencing their share of ups and downs. Hundley has been dealing with a leg issue but is off the injury report.
Perez went the whole game last week and guided the Vipers (1-4) to their best offensive showing and first victory in a 35-32 win over Orlando. He completed 20 of 28 passes for 269 yards and three scores.
"They're going to let me know how long they want to play (with their performance)," Woodson said. "If Luis plays the way he played last week and the way he's capable of playing, the possibility of him playing the rest of the year is going to be in his hands."
So Hundley will again be on standby as the Vipers look to build on their first win. The Battlehawks are tied with Seattle, two games ahead of the Vipers, at 3-2 in the XFL North Division standings for the second and final playoff spot.
A loss would be crippling for the Vipers' hopes of turning their inaugural season around and trying to earn a playoff berth with a strong second half.
For now, those hopes will rest on Perez.
"Luis is a pro's pro," Woodson said. "He's always ready. He's like a grandfather on the field to everybody. I love watching him play and seeing his success. Because I know when he's on target, Luis plays really good football."
While Perez and the offense have started to find a rhythm after struggling early in the season, Woodson thinks the unit can still be better.
"We're trying to keep progressing in the right manner, and we know there's a lot of growth still to be had," Woodson said. "We want to be a very diverse offense. We have some really good skill players, so as long as our quarterbacks can keep playing at the level they're capable of playing, we'll have a really good offense."
Early in the season when the offense was struggling, it was the defense keeping the team in games. Now the Vipers are having trouble getting stops.
"I believe in our defense, but I know we have to get a lot of things corrected," Woodson said. "When we're playing at our best, we're flying to the ball, and getting 11 hats there. We haven't been doing that the last couple weeks, and we haven't taken the opportunities that have been given to us as a collective defense."
Any hope of a late-season playoff run will have to include figuring a way to get both units clicking at the same time. Woodson believes that can happen, particularly because of the tough lessons his team learned in an 0-4 start.
"There's going to be failures," Woodson said of football. "But I tell my guys there are only losses if you don't learn anything from it. But if we learn something from everything we go through, hopefully we will get better at that."
Contact Adam Hill at ahill@reviewjournal.com. Follow @AdamHillLVRJ on Twitter.
Up next
Who: Vipers vs. St. Louis Battlehawks
When: 4 p.m. Saturday
Where: Cashman Field
TV: FX
Line: Battlehawks -3; total 44½