'Happy to show everyone how we get down': Aces welcome All-Stars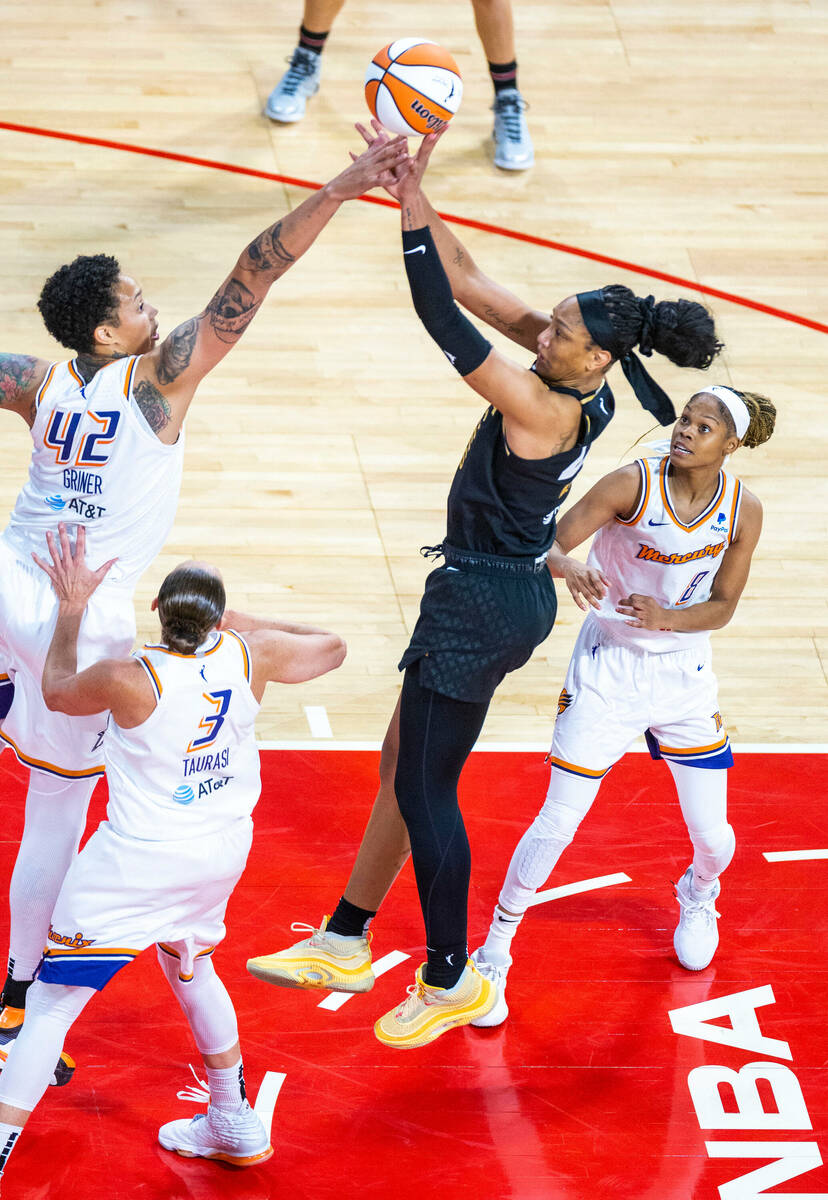 AROUND THE ALL-STAR GAME
What: WNBA All-Star Game
When: 5:30 p.m. Saturday
Where: Michelob Ultra Arena
TV: KTNV-13
Radio: KWWN (1100 AM, 100.9 FM)
Line: Wilson -6, total 249½
Happy hosts
WNBA All-Star weekend officially began in Las Vegas on Friday, as players and teams gathered for practice, the skills challenge and the 3-point contest.
However, Aces star A'ja Wilson said she already feels like All-Star weekend's been going on for at least a day.
"It's crazy to think yesterday was just Thursday," Wilson said. "I feel like All-Star weekend started yesterday, but it obviously starts today. We're going to have a lot of fun and entertain."
Wilson and the rest of the Aces organization welcomed the WNBA's All-Stars on Friday. The weekend's events offer another opportunity for the Aces to show off their city and the growth of women's basketball here to fans of the sport and the league's other players.
"We're home, we're here, and we're happy to show everyone how we get down here in Vegas," Wilson said.
The reigning WNBA MVP isn't alone in her excitement for hosting the league's best players. All-Star guard Chelsea Gray, who won the WNBA skills challenge with teammate and fellow All-Star guard Kelsey Plum, said she enjoyed seeing new and familiar faces in the crowd.
Gray, who wasn't an All-Star last season, said she's excited to share the experience with her teammates. She added that being a professional athlete is only a short period in a person's life, and so moments like All-Star weekend have to be treasured.
"It's pretty cool," Gray said. "I know the vibes are going to be great."
BG is back
Brittney Griner didn't think she'd be sitting at a podium at All-Star weekend. She didn't even think she'd be in the country.
"It's a great feeling to be here," she said.
The Phoenix Mercury center spent almost 10 months wrongfully detained in Russia, missing the entire 2022 season. She returned to the U.S. on Dec. 9, and is averaging 19.5 points, 6.6 rebounds and 1.9 blocks this season.
Now, she's an All-Star starter for Team Stewart on Saturday.
"I'm just really looking forward to it already," Griner said.
The 2022 WNBA All-Star Game was full of tributes for Griner. Each player wore her No. 42 for the second half of the exhibition.
New York Liberty forward and All-Star captain Breanna Stewart said Griner's absence loomed large over the entire season. She said efforts like the All-Star number display were to make sure Griner knew her WNBA colleagues were still thinking and fighting for her.
"It's really inspiring, the way that she's been able to carry herself," Stewart said, "to be the BG we all know and also use her platform for something bigger, something more."
Griner said her experiences have made her more appreciative of being an All-Star. She added that her experiences during the past year have made things like running sprints at practice or waking up early for workouts easy.
"Being here right now, it's a little surreal, a little bit," Griner said. "Just taking it in."
Contact reporter Andy Yamashita at ayamashita@reviewjournal.com. Follow @ANYamashita on Twitter.