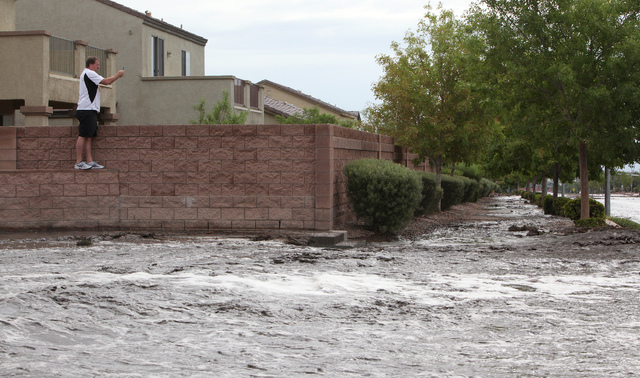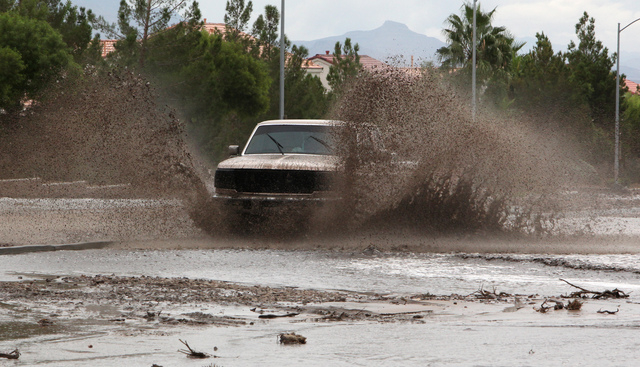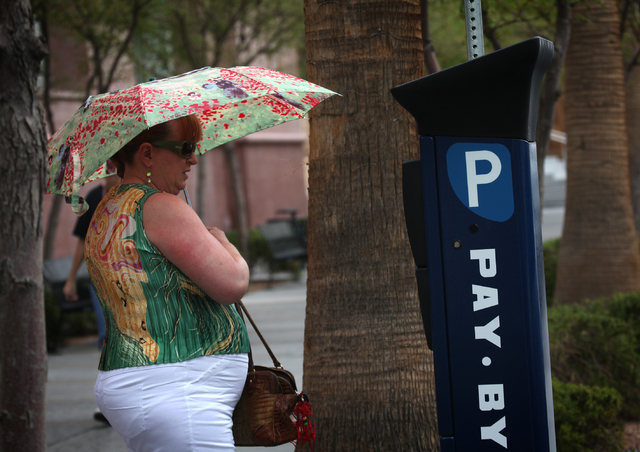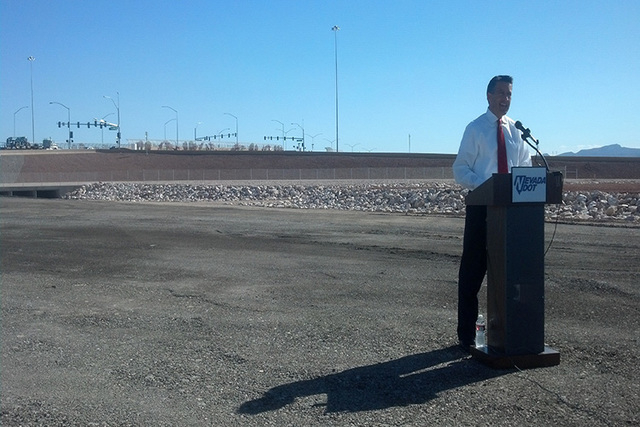 Sunday's torrential storm left the Las Vegas Valley dealing with chain-reaction effects of floods and road washouts stemming from a drainage basin and the recent Carpenter 1 Fire.
The National Weather Service extended the flash flood watch until 9 p.m. today.
The storm brought about 1,300 acre-feet of water rushing into the Kyle Canyon Detention Basin in the northwest part of the valley.
According to the Regional Flood Control District, that is the equivalent of a football field with enough water on it to reach the top of the Stratosphere tower.
"It's really an unbelievable amount of water," district spokeswoman Erin Neff said.
The water level in the basin rose to 30 feet in just four hours Sunday. Neff said that by midmorning Monday, the water level had dropped to 19 feet.
Much of that water drained onto Grand Teton Drive, causing some of the flooding and street closures.
Neff said the master project for flood control, including the Grand Teton portion, has not been completed because of lack of funding after the economic downturn.
Neff sympathized with residents about the inconvenience but said that without the basin, the 1,300 acre-feet of water would have ravaged a much bigger area and could have endangered lives.
Clay Morgan, a meteorologist with the National Weather Service, agreed.
"It's not even worth speculating on what a disaster that would have been," he said.
The rain also brought a slippery mixture of ash and water from the burned areas of Mount Charleston onto valley roads, creating driving conditions similar to driving on ice.
Kyle Canyon Road was closed after part of the road washed out, but one lane was available for residents Monday, the Nevada Highway Patrol said.
The Nevada Department of Transportation expected to reopen the road to all traffic Thursday if more storms don't hinder repair.
"The road is gone," Highway Patrol Sgt. Kevin Honea said. "The eastbound lane collapsed, and it will take crews two days to fix it."
Harris Springs Road, off Kyle Canyon Road, also received heavy rainfall and was damaged; an information kiosk was swept away in the storm.
"The road looks more like a wash now," U.S. Forest Service representative Skye Sieber said.
Near U.S. Highway 95 and Horse Drive, 3.3 inches of rain was recorded Sunday, the weather service said.
Only 0.08 inch was recorded there Monday.
The area with the highest rainfall over the past two days was Grapevine Springs near Moapa, which received almost 4.5 inches.
Motorists were advised Monday to avoid Fort Apache Road, El Capitan Way and Durango Drive in the northwest.
Grand Teton Drive, between Hualapai Way and Durango Drive, was closed Monday evening. Elkhorn Road was recommended as an alternate route by city officials.
Damage in the northwest was estimated to be between $300,000 and $500,000.
North Las Vegas traffic crews closed a portion of Aliante Parkway to clear debris, but it reopened Monday evening.
Red Rock Canyon National Conservation Area experienced some flooding too. Bureau of Land Management spokeswoman Hillerie Patton said washouts on the scenic loop forced a closure of the whole road.
Heavy equipment was working to clear debris most of the day, Patton said, but she was unsure whether the road would remain closed today.
Despite the road conditions, school buses were able to transport children to and from school without a problem, said David Roddy, a spokesman for the Clark County School District.
"We've had a few buses that have had to take alternate routes because of the conditions of the road, but it's nothing serious," he said. "The good news is that things don't sound too bad at the moment."
Flooding also closed U.S. 95 in both directions at the California border near Interstate 40, according to the Highway Patrol
Looking into next week, the National Weather Service predicts several more days of rain because of a weather system originating in Mexico and moving into Nevada on Thursday or sooner.
In Northern Nevada, winds were still blowing in smoke and ash from the Rim Fire near Yosemite National Park to Reno, Carson City and Lake Tahoe.
The air quality in Carson City reached 210 at 9 a.m. Monday, or "very unhealthy." Reno air quality was rated 160, or "unhealthy."
Reporter Ed Vogel contributed to this story. Contact Steven Slivka at sslivka@reviewjournal.com or 702-383-0264. Follow him on Twitter @StevenSlivka. Contact reporter Annalise Porter at aporter@reviewjournal.com or 702-383-0391.