A "concept report" might be drawn up during the new year examining how to widen Interstate 15 between Barstow, California, and Primm, the director of the Nevada Department of Transportation said Thursday.
Representatives from NDOT and the California Department of Transportation will study costs and freight movement and try to make a case for adding traffic lanes along the heavily traveled stretch of freeway, NDOT Director Rudy Malfabon told the Regional Transportation Commission of Southern Nevada's board of directors.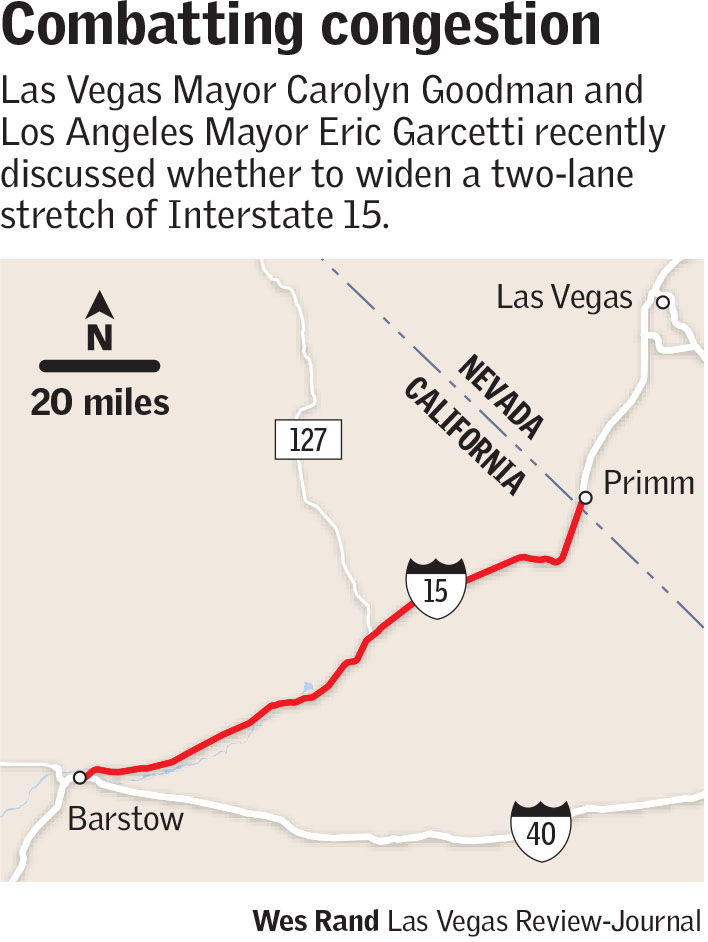 Caltrans would have to pay for the 113-mile widening project because it lies entirely in California, but Malfabon said that "the bottom line is that there's limitations on the money that they have."
The average travel time between San Bernardino and Las Vegas is 3.5 hours, while the southbound trip can last up to seven hours on Sunday afternoons because of bottlenecks near Primm and Barstow, according to an updated master plan released earlier this year by Caltrans.
Of the 42.9 million visitors to Las Vegas in 2016, about 27 percent came from Southern California, the majority of whom drove along Interstate 15, according to the Las Vegas Convention and Visitors Bureau.
Widening I-15 between Barstow and Primm was never on the agency's list of planned projects into the near future. Instead, the agency is focusing on interchange improvements in Barstow and Devore.
The move comes after Las Vegas Mayor Carolyn Goodman asked Malfabon to reach out to Caltrans and propose the I-15 widening project as a way to bolster interstate trade and tourism between the Silver and Golden states.
Contact Art Marroquin at amarroquin@reviewjournal.com or 702-383-0336. Follow @AMarroquin_LV on Twitter.